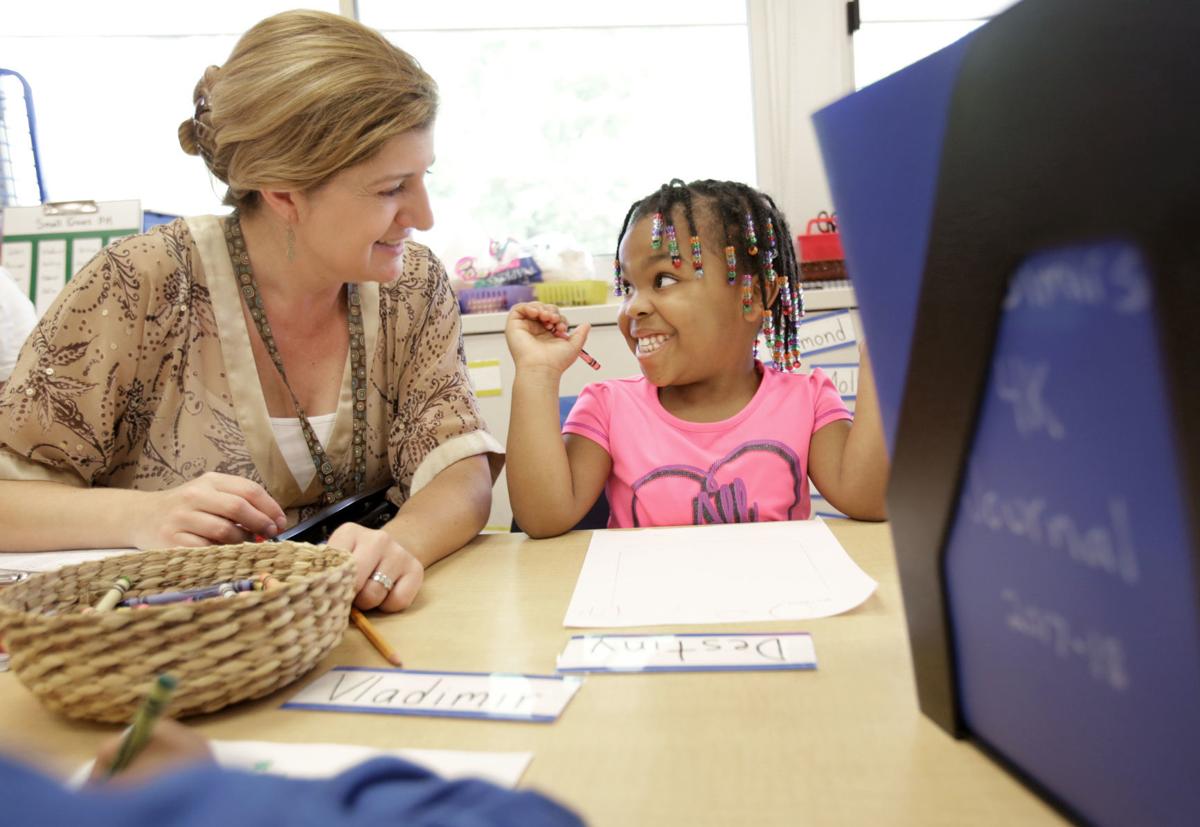 A pair of bills that would expand access to and funding for 4-year-old kindergarten will require further discussion following a public hearing Thursday that brought out concerns from child care center operators.
One of the bills could pave the way for full-day 4K in Madison and around the state, while the second would allow children to begin taking 4K programs earlier.
The bills were among a package of recommendations made earlier this year by the bipartisan state Blue Ribbon Commission on School Funding. Both have proposals in the state Senate and Assembly, and state Sen. Luther Olsen, R-Ripon, a sponsor on both and the chair of the Senate Committee on Education, is hopeful they can be approved.
"I would like to pass these soon," Olsen said. "I just want to make sure if there's amendments we can handle those. There's some discussion that needs to be had on some of these things."
That discussion is likely to include how to satisfy community child care centers. Three members of the Wisconsin Child Care Administrators Association spoke against the bills Thursday, questioning how effective they would be and sharing concerns about what the proposed changes would mean for the private child care industry.
Linda Kudrna, who runs a child care center in Cottage Grove, said 3- and 4-year-olds are a major part of her business and help subsidize care for younger children because of larger student-to-staff ratios.
"If you take that away from us, if we can make it work, if I can get my middle class families to double or triple their fees, then I can stay in business," Kudrna said. "If I can't, then I don't, so now you've lost that too."
One bill would increase state funding for 4K by recognizing students as 1.0 for state aid and revenue limit purposes, above the 0.5 or 0.6 under current law — which would allow many districts like Madison to expand to full-day 4K instead of its current half-day program. According to a fiscal analysis of the bill by the state Department of Public Instruction, 32 districts now offer full-day, five-day-a-week 4K programming. The bill would also allow those districts to repurpose funding for other uses.
The second bill would change when a student can enter 4K. Currently, a student must turn 4 by Sept. 1 of a given school year to enter a program, but the new bill would allow a child turning 4 by Dec. 31 to enter in the fall and one that is turning 4 in the spring to enter beginning Jan. 1.
Many districts, including Madison, partner with child care organizations on a fee basis to house some of their 4K programming. Kathy Stachura, a daycare operator from the Green Bay area, was concerned about putting students into "a larger, more institutional setting" with older students around them if in-school 4K expanded to earlier ages and the full school day. She was also concerned about the future of the daycare industry, expressing concerns about creating more "daycare deserts" around the state.
"Hopefully it will survive, how it survives is going to be in your hands," she said. "I feel that somewhere in the law, it needs to be written that it's incentivized for these school districts to partner with their community providers."
Dipesh Navsaria, the president of the Wisconsin Chapter of the American Academy of Pediatrics, told the Cap Times on Wednesday he supports expanding access to early learning, but also said expanding 4K could harm already-existing child care facilities.
"When school districts have opened up 4K programs, there has been a loss of good, quality teachers from the existing preschool systems simply because the pay and benefits are better," he said. "It's not just about having the school district do this — we have to make sure that all of these people are funded better."
State Rep. Joel Kitchens, R-Sturgeon Bay, is the vice chair of the committee on education, and said daycare deserts were a major impetus for the bills in the first place.
"Not every facility is high quality and we have a lot of places in the state that don't have it," Kitchens said. "That's sort of the intent of this, to provide that atmosphere to all kids.
"Ideally, there's a win-win where (community providers) would be part of that."
Madison School Board member Cris Carusi, who specified she was not speaking on behalf of the board, said she supported the bill to recognize 4K students as 1.0 for funding purposes.
"Madison students experiencing homelessness are half as likely as their peers to enroll in 4K," Carusi said. "Their families cite half-day 4K as a major barrier to their participation. They value, and need, the stability that full-day 4K offers."
Olsen said at the end of the hearing work on the bills would last "however long it takes" to get it approved, and a vote can be expected "as soon as we make sure that things are good to go."
Share your opinion on this topic by sending a letter to the editor to tctvoice@madison.com. Include your full name, hometown and phone number. Your name and town will be published. The phone number is for verification purposes only. Please keep your letter to 250 words or less.