When Gene Delcourt was a student at the University of Wisconsin-Madison, a visit with teachers and students from Malcolm Shabazz City High School ended up altering his career path.
"I was so impressed by what they had to say and how articulate the students were, I just told myself, 'That's where I need to student teach.' I really have to be there," said Delcourt, a social studies teacher at Shabazz.
Next spring, Delcourt will retire after 18 years at the school. Reflecting on what drew him there, Delcourt said it was a more flexible approach to learning.
"Shabazz was designed to be an alternative school for the sake of it being an alternative school, rather than it being a last chance for diploma completion or the last chance for kids who were falling through the cracks," Delcourt said.
"When the school was founded, it was originally founded by students who were motivated to learn something other than what mainstream schools were teaching. Teachers responded to that by teaching their passion and for most of my career we've had that sort of freedom."
A common misconception of Shabazz is that it is a place of last resort. But for those familiar with the small north side school that draws students from around Dane County, it's a successful alternative for those who have felt they didn't fit in with traditional public schools. Some of the school's biggest advocates are the kids themselves.
In contrast to many traditional high schools where a large part of the curriculum offered is standardized classes with testing as a means to judge success, Shabazz emphasizes hands-on, experiential learning. The school takes a student-centered learning approach, creating a personalized learning experience. Classes include community work and travel.
A 2014 Madison School Board report on high school coursework recognized Shabazz for having a welcoming, supportive climate and culture. The school was also acknowledged for its project-based classes, a practice the district is pushing for more schools to follow.
For that report, students from Madison's public high schools took part in focus groups that allowed them to share their high school experience, said Alex Fralin, the district's assistant superintendent for secondary schools. Parents and teachers were also able to weigh in.
"At Shabazz, students and parents feel like there is a strong sense of belonging. Shabazz functions as a small learning community," Fralin said. "There are around 130 students, so that gives teachers, staff members and families the ability to get to know each other well and build on a foundation of relationships that is really important."
Madison Metropolitan School District Superintendent Jennifer Cheatham said that "Shabazz for many years has really embraced the idea of student ownership, student leadership and they've really built their school around the idea of students leading their own learning."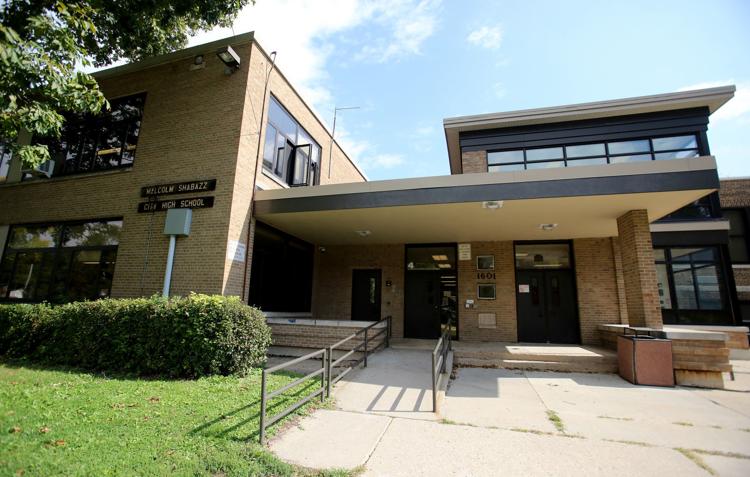 In the early 1970s, there was a push for more diverse, community-based education in Madison. Two alternative high schools — Malcolm Shabazz High School, 1601 N. Sherman Ave., and City High School — were founded to fulfill those needs.
Malcolm Shabazz opened in 1971 with a curriculum focused on relevant, modern issues in society and City High School was established in 1972, where classes promoted individuality, community-based learning and democratic management by students and staff.
The schools merged in 1979 to create a learning environment that promoted social and political activism, tolerance and using creative ways to solve problems.
Some teens who attend Shabazz say it's changed their feelings about school and learning.
Tiara Smith, a junior, transferred there in January after what she said was a negative experience at her previous Madison high school. She said difficult life circumstances influenced her behavior: She skipped classes, didn't respect authority and didn't care for those around her.
Tiara said the support she's received at Shabazz has helped her personal growth. Teachers have been helpful and she feels her classmates accept each other.
"They're really polite and welcoming here. No one gets judged by what they wear, how they talk or how they act," Tiara said. "I feel like I'm a bigger person now. I go to class, I'm passing them and I wake up happy to go to school."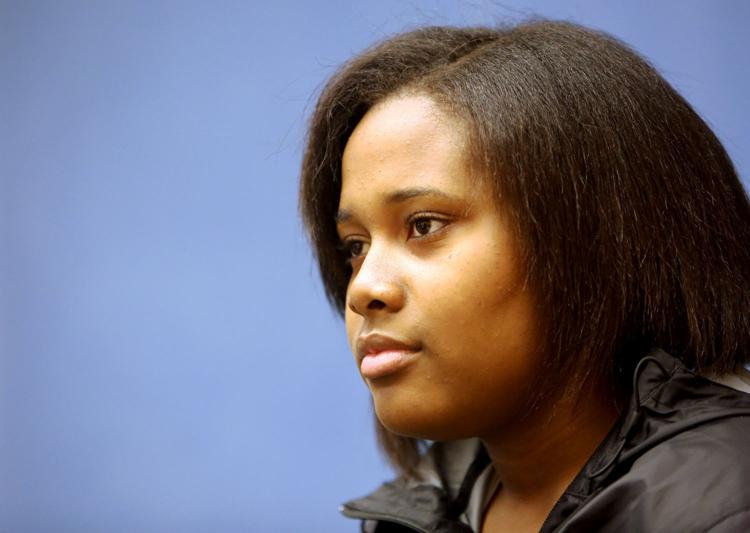 Tiara recalled how friendly her peers were on her first day. They were helpful in showing her around the school and tried to get to know her. During lunch, she said they sat next to her so she wouldn't feel left out.
"I love Shabazz and I feel like they motivate me that I'll be something in life. I just have to keep trying," she said.
Tiara's relationship with her mother, LaDonna Hunt, has also improved since the move to the new school, both of them said.
"She's been doing much better. She has hasn't gotten into fights with any girls, she's been going to school and she just got a new job in Fitchburg," Hunt said. "Our relationship is also better."
As a single parent, Hunt said raising Tiara and her siblings has been hard. Tiara's academic improvement has been a positive change.
"The teachers, social workers and the secretary at Shabazz have been real helpful. Even the nurse has helped out Tiara when she was sick. A lot of good people are there at Shabazz and I just want Tiara to keep on pushing hard and keep up the good work," Hunt said.
While the other four Madison public high schools' enrollment ranges from around 1,450 to 2,000 students, Shabazz has an average enrollment of 130 students per year. Aric Soderbloom, Shabazz's principal, said the small size makes it easier to meet the needs of each individual.
"We have clear expectations here at Shabazz. We are very focused here on growth and change and we challenge our students to take positive risks and step out of their comfort zone," Soderbloom said.
"We look at how you solve problems, how you think critically, how you interact with others," he said. "We strive for personal development and much of what we do here includes that. The focus is very different and students feel that when they walk in."
To transition to Shabazz, a student must complete an application, interview and complete a shadow day, where he or she attends a full day of classes. The student is expected to write down his thoughts about the school which is shared with the interviewer. Shabazz accepts an average of 15–20 students per quarter.
Rather than letter grades, Shabazz uses a pass/no credit system. To pass a class, students must complete at least "C" level work. Students who earn an incomplete have the first two weeks in the following quarter to finish the work or they do not receive credit.
Instead of quizzes or exams, Shabazz uses performance-based assessments. Students must demonstrate an understanding of concepts and effectively communicate their ideas through presentations, essays and projects.
Three classes are required for all students. The Shabazz Experience, Introduction to Shabazz Writing and Mirrors of Discrimination are to be taken during the first two quarters they enroll in the school.
Around 75 percent of students graduate within four years and 95 percent graduate within five. During graduation, teachers introduce students and speak about each of them personally, then students take the stage to talk about their experience at Shabazz.
Although Shabazz doesn't assign class rankings, it can still provide a general standing of a student to any college or university that requests it.
"Most colleges have an admission process that handles alternative schools," Soderbloom said. "Every teacher writes a thorough evaluation of their students and it gives colleges a chance to learn about the student and how they were in their class. It gives them a personal snapshot of the student."
Seventy percent of Shabazz graduates go to college, with 40 percent pursuing a 4-year degree and 30 percent attending a 2-year college.
Shabazz's small enrollment makes it easier for teachers to provide individual attention and support, students said. Teachers will call students outside of school to check up on them, have provided financial help for students who have a hard time affording class trips and serve as mentors.
"Teachers don't just care about your grades in class, they actually care about how you're doing in the setting outside of the classroom," said Dana Nelson, a Shabazz senior.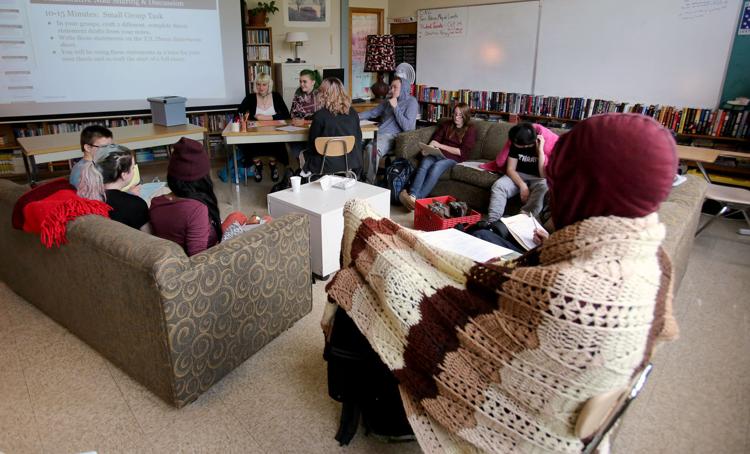 William Eifler agreed, noting: "Teachers try to support you and they are more of your friend than an authority figure. They actually put time and effort into what they're teaching and make sure you understand it."
That supportive culture is particularly helpful when students struggle with difficult times.
For Tiara, the death of Tony Robinson, the 19-year-old African-American teen who was killed by Madison police in March, was hard on her as well as other students of color across the district in particular. Smith said the school social worker and student peers provided her with a sense of comfort she'd never experienced before.
And Shabazz is a safe space for LGBTQ and gender nonconforming students. Students are encouraged to express their identity in all facets, said senior Mars Jindrich.
Mars, who identifies as pangender, prefers the pronouns they/them/theirs because it is inclusive of all genders. Mars was in middle school when they realized they didn't fit in with one gender and joined the Gay-Straight Alliance club once they entered high school.
GSA was a great way for Mars to relate to other gender nonconforming students and for a while, it was a support system for them. When the school's GSA group disbanded, they decided to transfer to Shabazz.
"I've been very comfortable ever since I came to Shabazz. I can talk about gender stuff and people wouldn't shut me down or ignore it," Mars said. "As part of introductions, teachers ask what your preferred pronouns are so they know how to refer to you."
A part of school's curriculum focuses on service learning, where some classes involve students taking educational trips or doing community work. With six classes a day at 50 minutes each, students are immersed in real-world situations where they are expected to observe their surroundings, think critically and draw conclusions from their experiences.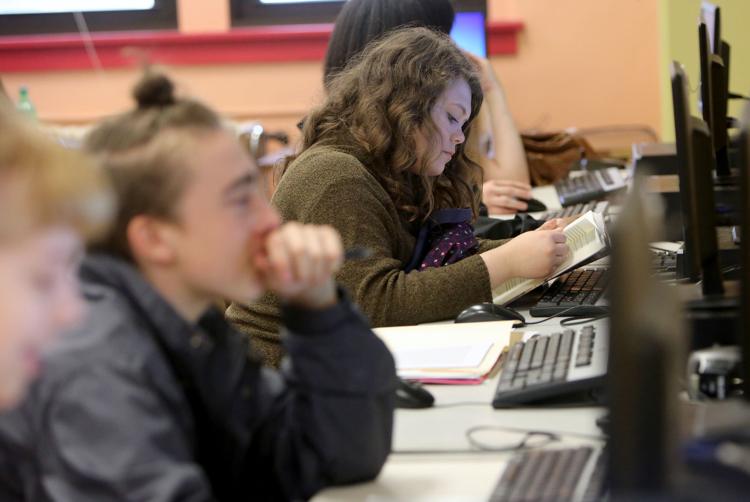 In Project Green Teen (PGT), a service learning class, students study ongoing issues in the environment and take a one-week trip to Avalanche, Wisconsin, to participate in science-based restoration projects. Once they return, they are expected to write about their experience and what they learned, which is then published in the Shabazz's PGT magazine.
PGT has been a favorite class of senior Eddye Toral-Wood.
"I really liked it because of the sense of community and I've never taken a class on ecology before. It made me realize how interested I was in that kind of stuff," Eddye said.
In Road to Indian Country, a social studies class that Delcourt teaches, students learn about contemporary Native American issues and about Pine Ridge Reservation, home to the Oglala Lakota in South Dakota.
Every fall and during spring break, Delcourt takes his class to Pine Ridge to volunteer with Re-Member, a nonprofit organization in Pine Ridge that works to improve the quality of life on the reservation. Students build homes and bunk beds, construct outhouses and complete other work projects for the Lakota people. Delcourt has been taking his class to Pine Ridge since 2008.
"The students absolutely love it and come away learning things they didn't even know existed in this country," Delcourt said.
In November, the Community Activism class will take a trip to Hawaii. Students will go to an immersion school that teaches Hawaiian language, culture and history.
William Eifler, a senior, said the Coming of Age class was one of his best experiences at Shabazz. The class, which includes a weekend retreat where students are separated by gender, is for graduating seniors to formally recognize the end of childhood and beginning of adulthood.
"Our society doesn't really have anything to prepare you for adulthood. You just graduate, go to college and go through some life changing experience," William said. "Coming of Age doesn't make you an adult but it gives you the tools you need once you become an adult."
Pairing up with local organizations to gain hands-on experience is another way the school provides a non-traditional education.
In the Community Activism class, students donate books for Wisconsin's Book to Prison program, a project that sends books to prisoners in Wisconsin. The books are for inmates to read to their children through taped recordings or for themselves. Donated books are also sent the prison's libraries.
Students also partner with Lake View Elementary School to write and illustrate books for the kids in a Writing Stories for Children class. The finished products are given to the children to keep.
And new partnerships are in the works. 100state, a nonprofit organization that provides workspace and resources for startup companies and entrepreneurs, hopes to create internships, mentoring and work opportunities for Shabazz students.
Garrett Lee, 100state's liaison for Shabazz, has his own startup company called We Help One Another (WHOA), an organization that addresses problems created by socioeconomic conditions. One goal is for students to spend a couple mornings per week at 100state working with community startups that match their interest and skills, while earning class credit at the same time.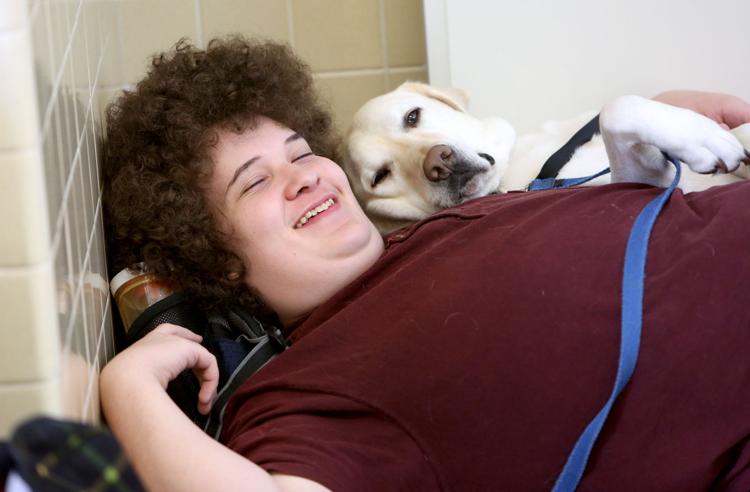 "I'm passionate about education but I stepped up to be with Shabazz because I wanted to learn more about this cool alternative school," Lee said. "I wanted to find every way to come here to work at this high school that has such a loving, attractive vibe."
Shabazz is planning bring its students to 100state next spring to get them familiar with the organization.
Strong ties formed at Shabazz continue for one alumna. Reva Saffran graduated in 2010 as class valedictorian. She transferred during her sophomore year after feeling bored and out of place at her previous school. Her older brother went to Shabazz and encouraged her to do the same.
"I first thought it was a place where all the bad kids went, but my mom making me go there was the best thing she ever did for me," Saffran said. "I was still learning as everyone else but did it in captivating way."
During her time at Shabazz, Saffran enjoyed the close-knit community of the school and having the ability to choose classes that kept her interested. Some memorable classes she took were Project Green Teen, a class about gay history in the U.S., and Coming of Age. She stated the teachers were the best aspect of the school because they provide students with the support and guidance they need, and made them feel safe.
"Teachers scoop you up, take you for you who are and put the effort into seeing how they can help you if you're going through something difficult in life. They take the time to get to know you as a person rather than just a student and they let you have time to yourself if you really need it," Saffran said.
Saffran is currently a special education teacher at Sherman Middle School. Sherman and Shabazz are connected and share a cafeteria. Two teachers at Shabazz have been Saffran's mentors throughout high school and college.
Now at Sherman, Saffran says she's able to walk down the hall to Shabazz and ask her former teachers for guidance when needed. They've had an influence on how she navigates her career as a special–ed teacher.
"I've learned to be very flexible, selfless and compassionate as a teacher and I learned that from Shabazz. The school saved me in a lot of ways," Saffran said. "It gave me the emotional connections that I needed, the academic challenge that I needed and a safe space for me to be. Shabazz brought out the best in me and gave me tools to be successful."