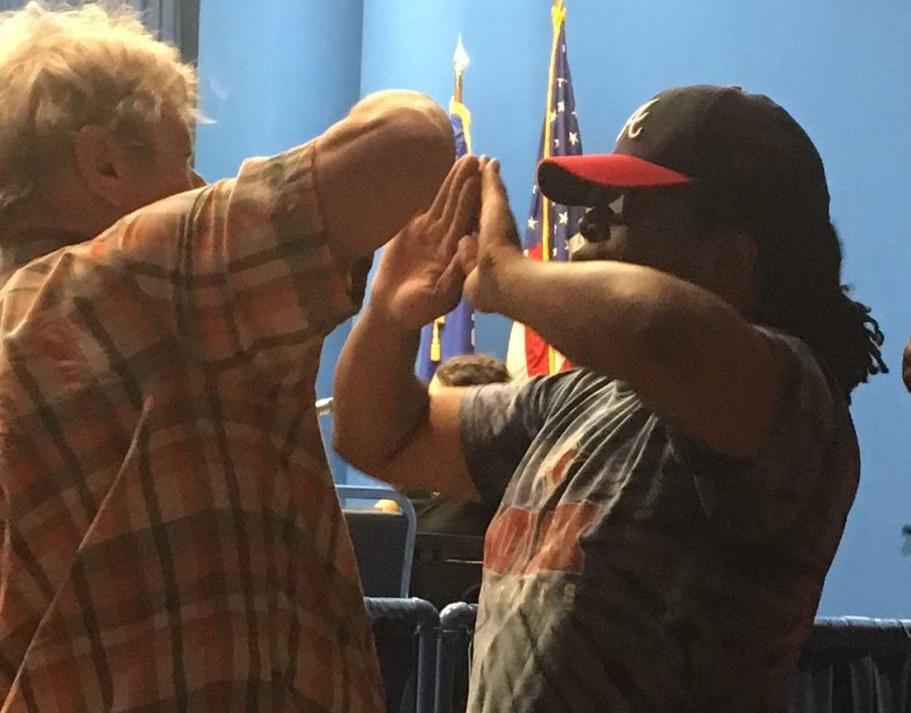 A public hearing on a proposal to redefine the Madison School District's relationship with police descended into chaos Wednesday when factions confronted each other with invective, insults and physical altercations.
The proposal would remove armed educational resource officers from the district's four main high schools and replace them with at least 20 specially trained school liaison officers that would develop relationships with all district schools and respond to incidents when needed.
The proposal drew no support from 20 people who registered to speak, many of them members of Freedom Inc., a grassroots social justice group that sees the move as an increase in policing efforts. But a small minority of speakers blasted the committee in charge of drafting the new policy for proposing to remove armed officers at East, West, La Follette and Memorial high schools.
"Think of that potential school shooter out there," said Patrick O'Loughlin, an accountant who teaches business math at a local private high school. "Experience tells us that they think about it for quite some time before acting. What is he going to think when you kick the armed officers off campus?"
O'Loughlin suggested that the draft proposal was intentionally light on statistics supporting the elimination of EROs. He went on to list the kinds of statistics the proposal should have included.
"You can take your statistics and shove them," said Mahnker Dahnweih of Freedom Inc.
The district commissioned the ERO Ad Hoc Committee last year after concerns from parents, students and others that police intervention was falling disproportionately on students of color, contributing to the so-called "school-to-prison pipeline."
The hearing took on increasing rancor as speakers hurled invective at the committee and at conservatives like right-wing gadfly David Blaska, who spoke against removing the armed officers and suggested expanding the ERO program to middle schools amid heckles and jeers.
On his blog, Blaska has taken aim at Freedom Inc. activists, and several activists physically blocked him from taking video of opposing speakers in what became a running skirmish that continued throughout much of the proceeding. Another disturbance broke out when one activist accused a woman supporting EROs of physically assaulting her.
In coming up with the proposal, the committee looked at similar-sized school districts across the U.S., heard from hundreds of community members, students, teachers, administrators, police, social workers and others.
The committee has been meeting for the past 16 months to develop the policy, and acrimony has become a regular ingredient at meetings.
"I hope we have a rich and detailed discussion on Wednesday," said school board member TJ Mertz, a member of the committee, said on Tuesday. "We've had some difficulties having those."
Following the public input portion of the meeting, committee members set to the arduous task of refining the proposal in anticipation of its eventual introduction to the school board for consideration. The committee adjourned before completing a final draft and agreed to resume the effort at a later date.
The proposal would eliminate police intervention in incidents that don't involve criminal conduct. Currently school officers often take on duties akin to social work. Legal professionals, not police, would advise students on laws, ordinances and the juvenile code.
Some committee members expressed concern that the proposal is light on detail. Mertz, in a Tuesday interview, noted that the proposal might incur costs, such as beefing up school security and social work staff, which aren't addressed in the draft proposal. Nor is it clear who would pay for training the liaison officers.
Police Chief Mike Koval expressed skepticism of the proposal, though he withheld final judgment pending the finished product, which could form the basis of future contract negotiations.
The current three-year contract between the district and the city ends next summer.
"Either you want our officers in the school or you don't," Koval said Wednesday prior to the meeting. "I don't need to engage in speculation ... I have to wait and see what the terms of that contract are and then I will respond to them."
He added: "I obviously believe that public safety is better served if we have a presence as an ERO in each of our major high schools."
Koval, who was not consulted by those who drafted the liaison proposal, rejected the notion that school officers were contributing to race disparities in the juvenile justice system, saying, "that's just wrong. I don't accept that."
He said a more realistic approach would be to look for more alternatives to measures that would land students in the criminal justice system.
"We're all for that," he said.
He also was skeptical of the plan to put 20 officers — a significant portion of the day shift — in a position where they'd might be required to jettison their street duties to respond to a school incident.
"These officers aren't in the position of being able to drop, rock and roll and head on over to MMSD because there's a problem," he said. "That's not going to happen."
Share your opinion on this topic by sending a letter to the editor to tctvoice@madison.com. Include your full name, hometown and phone number. Your name and town will be published. The phone number is for verification purposes only. Please keep your letter to 250 words or less.