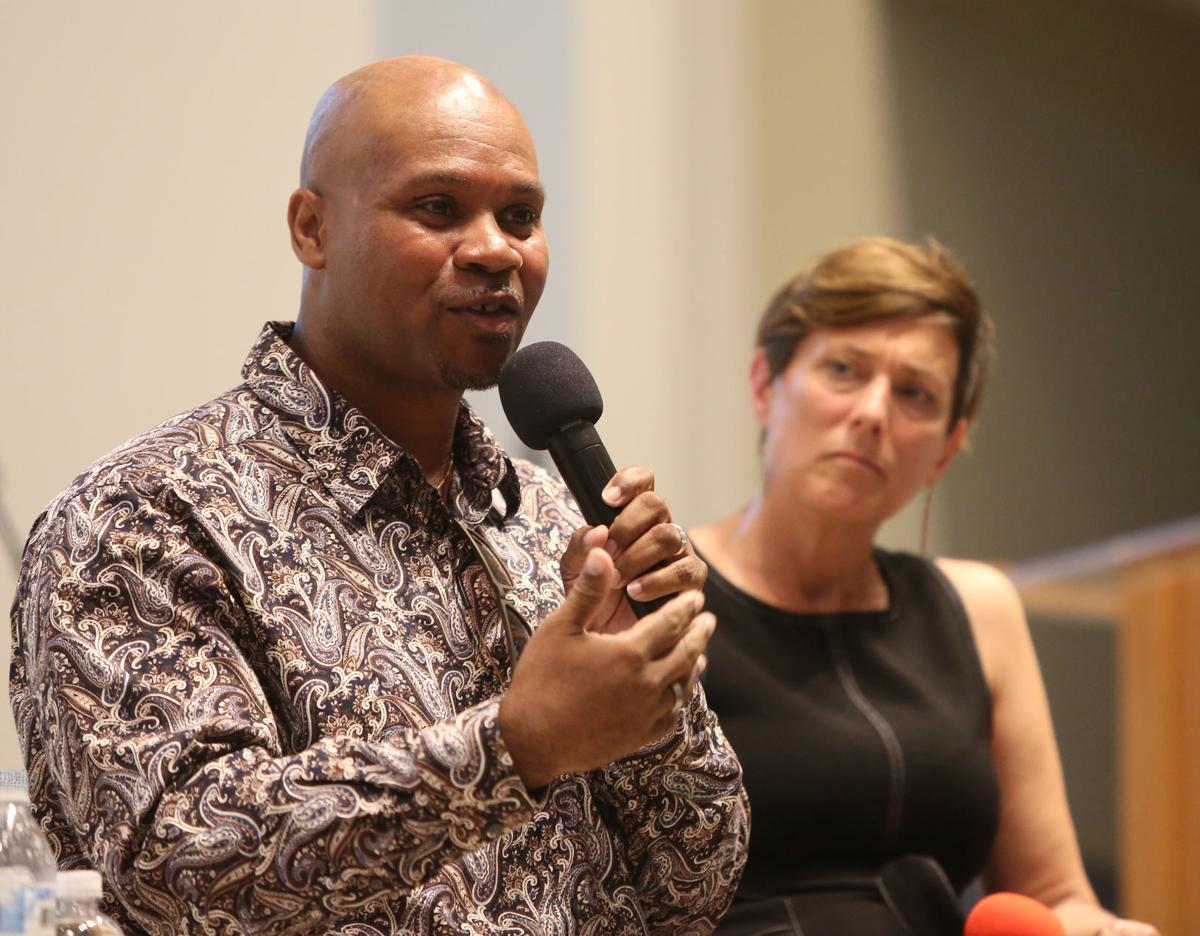 When Aaron Bird Bear first arrived at the University of Wisconsin-Madison two decades ago, he was shocked by its lack of infrastructure for retaining and graduating Native and Hawaiian students.
Coming from Seattle, Bird Bear quickly realized not all schools were like the University of Washington in Seattle, a pioneer in the field. UW-Madison did not yet understand how to reconcile its historic complicity ethnic cleansing and support Native students, said Bird Bear, the university's first director of tribal relations.
"Our university wasn't uninterested in thinking about supporting Native Americans. It just needed a lot of help and guidance," Bird Bear said during a Cap Times Idea Fest panel discussion Tuesday. "I spent about three angry years, my first years on campus, just like, 'What is going on? I don't understand' ...  Before one can have reconciliation and collaboration with indigenous peoples, you first have to have truth."
Patrick Sims, UW-Madison's former chief diversity officer, agreed: "It is not for lack of interest or desire to engage communities of color," he said, but long-standing obstacles that continue to stand in the way. In August, Sims started in a new role as executive vice chancellor and provost at the University of North Carolina School of the Arts.
The panel was moderated by Dawn Crim, secretary of the Wisconsin Department of Safety and Professional Services. As one of the founders of the Madison Network of Black Professionals, Crim said professionals of color in Madison, especially young, single people, often struggle in predominantly white workspaces and ultimately leave the city. And even when they do successfully find community, the burden is often on them to seek it out, Crim said.
Esther Cepeda is still living this experience firsthand, as a freelance journalist and special education teacher new to the city. Cepeda said she still hasn't found the communities, like a Mexican church or the perfect spot for carnitas, that feel like home, which the COVID-19 pandemic has only made more difficult.
The panelists shared their first experiences in the city — from the late 1990s for Crim to just last year for Cepeda — feeling like one of few people of color in Madison or their workplaces. Still, Cepeda said she plans to stay and that her move was motivated by the school district's "phenomenal focus" on racial equity. 
"This is the first time I've seen a school district that is so passionately committed, and not just saying they're passionately committed, but aligning their curriculum, assessment and professional teaching standards to a very specific point," Cepeda said. "That is Black excellence and raising the achievement gap and making sure everything we do is an equity strategy to empower students of color."
Long-term racial equity, however, relies not only on recruiting professionals of color, but retaining and supporting them. Sims said one essential resource are the informal pathways to new career opportunities, like the Madison Network of Black Professionals or 100 Black Men — where you can "let your hair hang down but you're not talking shop."
"It was eye-opening to get a sense of the breadth of Black excellence that we have. Even though we're small, it's a formidable group," Sims said about his time in 100 Black Men. "In a space that is predominantly white, like Madison is, those cultural affirmations are few and far in between, so you really have to work at it."
Bird Bear also nodded to the influence of strong mentors, both at UW-Madison and in the city. High-level administrators offering him opportunities to serve on committees, or community leaders hosting Native potlucks, were pivotal during his early years in Madison.
He added that the city is a hub of nonprofit organizations that can help nurture Native professionals.
"We have a real big capacity issue," Bird Bear said. "We need to figure out how to tap into the resources that can help such a small community organize … How do we actually reach the Native Americans who are not involved in our campus life, our town life, that we're unaware of?"
As for larger institutions, Cepeda said it is urgent that the city question its own vision and incentives for diversifying in the first place. Madison's powerhouses, such as Epic and Exact Sciences, have the potential to commit to real, substantial change, she said.
Cepeda called on viewers to "look in your streets and look in your classrooms," emphasizing the need to represent the city's real population in politics and education.
"How much does the city want a thriving Latino community? How much does the city want a thriving na community or a stronger wider base of African American workers?" Cepeda said. "How does the city show that it's important to them?"
Sims called this the million-dollar question: "Do you really want me here?"
The work toward racial equity is cyclical and cumulative, he said. Though past successes are worthy of celebration, Sims said there is still a long way to go, and he is "keeping his eye on the prize," seeing his work as only laying the foundation for someone else to build on.
"We talk a good game, and arguably the intentions are there," Sims said. "But they're in and of themselves insufficient for the change that's gonna be sustainable, to eventually get the critical mass that says, 'Yes, this is as much my space and place to be as it is someone else's."