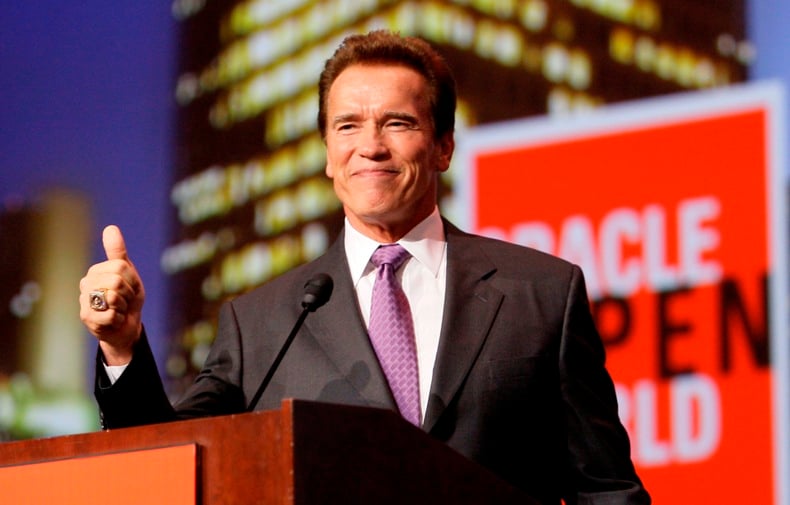 The University of Wisconsin-Madison's men's basketball team hosts UW-Superior in an exhibition game Wednesday night at the Kohl Center.
Since this is a higher education blog, we'll stay away from breaking down the matchup and instead pose a question: Who is the most famous person to earn a degree from UW-Superior?
Would you believe that California Gov. Arnold Schwarzenegger got UW-Superior all pumped up in 1979 before leaving the small campus in northern Wisconsin with a bachelor's degree in international marketing of fitness and business administration?
According to a 2003 article in the Los Angeles Times, Schwarzenegger -- a native of Austria and a six-time Mr. Olympia bodybuilder -- arrived at UW-Superior in 1979 when he was 31 years old. He was largely recruited to campus by UW-Superior psychology professor Rhea S. Das, who invited him to campus as a guest lecturer.
Schwarzenegger, the Times article notes, was within striking distance of a degree after earning a "hodgepodge of college credits" in the early 1970s, mostly at Santa Monica College and in UCLA's extension program.
The article states that after Schwarzenegger accepted a position at UW-Superior as a "cooperating faculty member," administrators could then waive residency requirements so he could participate in the university's fledgling "extended degree" program while specializing in fitness marketing and business administration. He paid in-state tuition even though he was completing most of his classwork from Los Angeles. The article notes that Schwarzenegger received some credits for his "life experience" as a fitness expert. But he was unable to convince UW-Superior's communications arts department to give him credits in acting for his pre-blockbuster film career, which included the B-movie "Hercules in New York," in which his accented voice was dubbed. But he did receive credits for film production.
When needed, Schwarzenegger would reportedly fly in from Los Angeles to meet with professors and take exams. Schwarzenegger quickly finished his degree requirements in less than a year, earning the bachelor's in November of 1979. The degree was formally given to him at a May 1980 commencement.
The Terminator returned to UW-Superior in 1996 to receive an honorary doctorate for his work with Special Olympics and the Inner City Games.
On a related note, prior to the start of the 2008-09 Badger basketball season, UW coach Bo Ryan told the Cap Times that guard Trevon Hughes was stronger after another summer of conditioning.
"He's stronger. But Arnold Schwarzenegger, what kind of basketball player would he have been at Superior?'' quipped the UW coach.