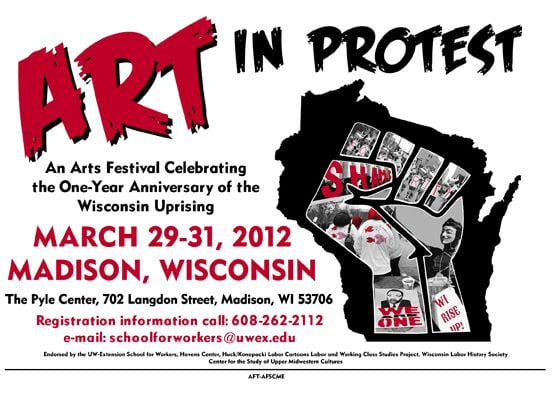 Artists from around the area say they were looking forward to participating in "Art in Protest," which was being billed by promoters as an opportunity for people to exchange music, images, written works and other art that grew out of the mass protests against Gov. Scott Walker's union-busting legislation introduced last year.
But when Rep. Steve Nass, R-Town of La Grange, got wind of the event -- which was being sponsored by UW-Extension's School for Workers -- his office strongly suggested it be called off.
"It's an arts festival designed to celebrate the one-year anniversary of the Wisconsin uprising," says Nass spokesman Mike Mikalsen. "Well, maybe here in Madison that's a great thing. But there are lots of Republicans and conservatives around the state who are still very angry about that whole thing. We just suggested that now, with all the tensions that still exist, this may not be the appropriate time for this arts festival."
Mikalsen met last week with School for Workers director Corliss Olson and Rosemary Potter, the director of government relations with UW-Extension and UW Colleges. And on Tuesday, Olson emailed those involved with the festival that due to a "variety of reasons," now "is not the best time" to hold the event.
Two people with knowledge of the situation contacted the Cap Times indicating they had been told Mikalsen threatened to have funding pulled from the School for Workers unless the arts festival was called off.
In separate interviews Tuesday, Mikalsen and Olson stopped short of indicating threats were made -- but it's clear plenty of pressure was applied.
"Well, I think (Olson and Potter) recalled that Rep. Nass had once tried to cut (taxpayer) funding for the School for Workers, and that is still something he believes should be done," says Mikalsen. "But we mostly reminded them that Rep. Nass and other Republicans are working closely with UW-Extension on WiscNet and some other pretty important issues, and that if this issue were to go bad and upset conservatives and our supporters around the state, we'd have a problem working together."
"Was it a threat or was it a statement or was it a concern?" poses Olson. "Language is tricky. The whole thing about pulling our sponsorship was to ensure the long-term interests of the people we serve."
The School for Workers was the lead sponsor of the arts festival, which was scheduled for March 29-31 at the Pyle Center on the UW-Madison campus. And some of those who have been working on putting the event together since this past fall were outraged that it had been called off.
"I understand why the School for Workers had to make this move," says Mike Konopacki, a Madison labor cartoonist and UW-Extension adjunct lecturer who was helping organize the event. "They're in survival mode. But I'm outraged. This is an attack on freedom of speech and freedom of expression, and is an attack on academic freedom."
UW-Extension's School for Workers dates to 1925 and is the oldest university-based labor education program in the country. The school has long brought teaching, research and outreach to thousands of workers, unions and employers throughout Wisconsin and the nation.
Last fall, Olson says her school joined with a range of individuals and organizations in planning the "Art in Protest" event. It was modeled on similar "labor arts exchanges" in Washington, D.C., and California. These festivals are designed to commemorate the cultural and artistic expression of working people.
"We asked why is the School for Workers and UW-Extension listed as sponsoring this when certainly it's more appropriate for a labor organization or a labor union to come in and rent the facilities and do that -- which would be fine," says Mikalsen.
The "Art in Protest" event had already lined up a range of songwriters, poets, photographers, cinematographers and many others, says Olson. Festival organizers also planned to display a collection of signs and other arts memorabilia from the protests.  The idea of this local labor arts exchange was to recognize the creativity and artistic expression that resulted from the 2011 Wisconsin protests in and around the Capitol.
But Mikalsen argues late March is certainly not the time for such an event.
"March 29 to 31 is going to be right in the heat of the recall situation, and things are going to be very tense," he says. "The state is divided. There are a lot of people who pay taxes who don't support the protests. There are a lot of them that do, but is this something that UW-Extension wants to be sponsoring? We just said, 'Look, you can't be running events celebrating the protests, which were heavily aimed at Republicans, and then expect that Republicans are going to smile nicely and sit down and try and work issues out with the university."
But many would argue the state's Republican leadership has shown little interest in backing the UW System. Walker's 2011-13 biennial budget cut $250 million in state support for the UW System -- tying the record hit then-Gov. Jim Doyle included in his 2003-05 budget. News on this front went from bad to worse when just last week the Walker administration finalized plans for the UW System to absorb an additional cut of $46.1 million over the first six months of this year to help balance the state's budget.
Nonetheless, Olson ultimately decided it would be best to call off "Art in Protest."
"I kept saying to (Mikalsen), it's about art, it's about people's creativity," says Olson. "But I brought his concerns back to our faculty and we had a conversation and we decided, you know, this is probably not the best time, with all these heightened sensibilities, to go ahead with this festival."
Be the first to know
Get local news delivered to your inbox!