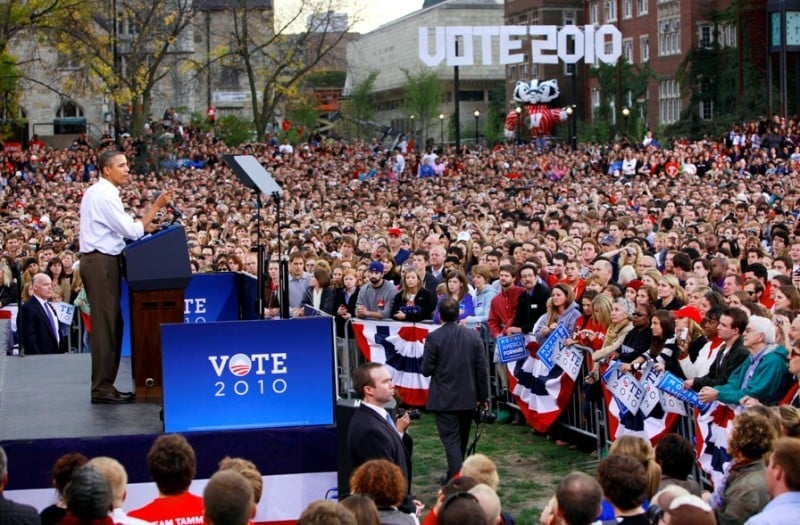 When the television networks projected Barack Obama had secured the presidency at 10 p.m. on Nov. 4, 2008, much of the UW-Madison campus erupted in jubilant celebration.
Students who packed the Rathskeller in the Memorial Union to watch the election coverage whooped it up, hugged and high-fived. Similar scenes took place across campus, and the Cap Times reported a spontaneous celebration eventually became a parade that made two trips up and down State Street to the Capitol. At one point, the parade was estimated to be more than 1,000 strong.
Rosey McAdams was beating two pans together as she walked down State Street with her friends, most of them UW-Madison juniors, chanting "O! Ba! Ma!"
"I have never felt better to be an American than at this moment right now," McAdams told the Cap Times that night. "It's absolute bliss."
Almost two years later, Obama was attempting to rekindle that unbridled enthusiasm during his trip to campus Tuesday evening for what amounted to a pep rally put on by the Democratic National Committee.
To the surprise of no one, however, Tuesday's gathering at Library Mall was distinctly pro-Obama.
Campus Connection is hoping to gather the thoughts of those who attended the rally.
What stood out -- good or bad -- from the event?
Can the president still electrify a partisan crowd? Or is his star fading -- even among those who enthusiastically supported him in 2008?
Perhaps most importantly, will Obama's visit to UW-Madison help reenergize his once-enthusiastic supporters and boost Democratic candidates across the state come Election Day? Or will the pep rally be long forgotten and only have a minimal impact when it comes time to vote in five weeks?
According to this ABC News blog, only 55 percent of voters 18 to 28 said they were "absolutely certain" to go to the polls this fall. As a comparison, more than three-fourths of those 50-and-older were certain they'd be voting.
Post a comment and let us know what you're thinking. And if you can do so without name calling or shamefully appealing to the lowest common denominator, we'll give you a gold star for the day.
Shortly after the president wrapped up his 40-minute talk, some students were willing to share their thoughts on Obama's speech with Campus Connection. Here is what they had to say:
Tom Black, a UW-Madison senior from Stillwater, Minn., said: "I think it was nice to hear a more focused agenda from the (Democratic) party. That's probably the biggest criticism of the party now, that it's not organized. But I think there was a lot of excitement and direction, and that was nice to see."
Y.J. Choi, a UW-Madison sophomore from Whitefish Bay, said: "I thought the president's speech was very electrifying and motivating to the students. He really connected to the students well. He didn't speak above our heads. He didd't dumb it down too much for us. I really felt that compared to the emotions that were running around during the 2008 elections, I think he sort of re-bolstered that energy and the momentum that had been stored up. I think he released that back again, so it was a really refreshing speech to listen to."
Paige Polzer, an Edgewood College senior from Brooklyn, Wis., said: "I really hope this fires up a lot of college students to go out and vote. I'm really pumped and hopefully everyone will go and turn out on Nov. 2."
Marcus Stanford, an Edgewood College senior from Madison, said: "I thought it was great. He talked about some great things. It was wonderful to see him in person. It's my birthday today, so it was the best birthday present ever. I'm speechless."
Virginia Townsend, a UW-Madison senior from Northfield, Minn., said: "When the election isn't for president, it's usually just kind of off my radar. But the president convinced me it's worth my time to go and vote. So I think the speech inspired me."
Shannon Henry, a junior at Sheboygan South High School, said: "It was what was needed. It's great he's getting out to the swing states because you're hearing all this negative talk and a lot of lies about him and things that aren't necessarily true. And it's great to hear him defend himself and tell Wisconsin what they need to hear."
According to estimates provided by UW-Madison Police, about 17,200 people watched the rally from the fenced-in area inside Library Mall. Overall, officials estimate 26,500 people took in the Obama speech when one includes those on Bascom Hill, in front of Science Hall, on the East Campus Mall and in part of the State Street Mall.
A glance at what some national news sources are reporting about Obama's visit to Madison:
The article notes that because the event was little more than a pep rally set up by the Democratic National Committee, UW-Madison Chancellor Biddy Martin had to "weigh the many benefits of a visit by a sitting president against the naked political purpose of that visit." The Times quotes Martin as saying, "There was never a question whether we wanted President Obama to come to our campus. That was clear. But the question was how to do this in a way that was fair to everyone in the community."
Another story in the New York Times starts out: "President Obama, seeking to avert potentially devastating losses for Democrats on Election Day, delivered an impassioned appeal to a cheering throng of college students here Tuesday night, telling them to 'keep believing change is possible' and pleading, 'You've got to stick with me, you can't lose heart.' "
The Fox News website used this Associated Press article, which starts out: "Embattled Democratic candidates in Wisconsin joined President Obama at a rally Tuesday, urging the 17,000 college students in attendance to get energized to ensure Republicans don't have an enthusiasm gap in the midterm election."
The Wall Street Journal says that "President Barack Obama swooped into this college town Tuesday evening, hoping to rekindle the youth vote that helped propel him to the White House for the benefit of Democrats in next month's mid-term elections."
This Washington Post article notes, "President Obama delivered an impassioned argument to young voters Tuesday night, declaring that the changes he promised in 2008 are underway and that 'now is not the time to give up.'"
And this ABC News blog notes Obama tells young Democrats that 'if everybody who fought for change in 2008 shows up to vote in 2010, we will win.' "
Be the first to know
Get local news delivered to your inbox!