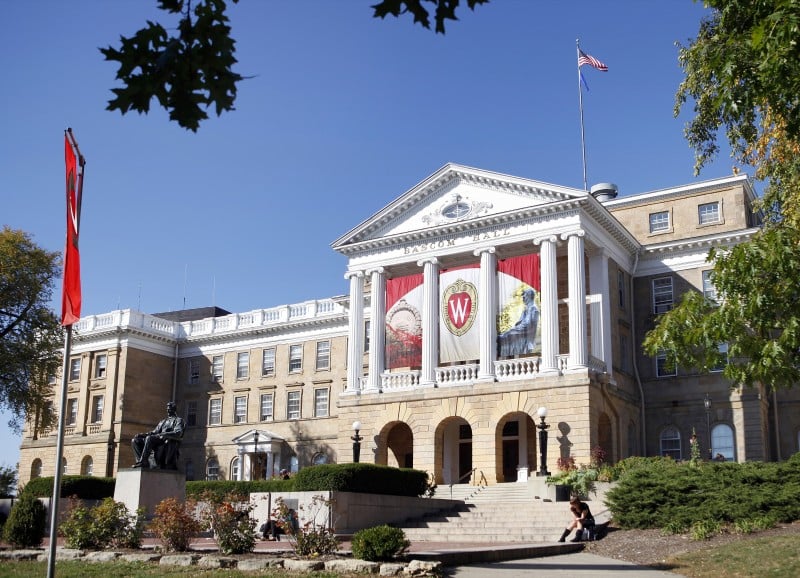 University of Wisconsin System leaders appear to be scrambling after learning their cut in state taxpayer support over the 2011-13 biennium will be significantly deeper than anticipated.
Gov. Scott Walker's 2011-13 biennial budget, which was signed into law over the summer, reduces state support for the UW System by $250 million.
While that blow was significant — tying the record cut of $250 million to the UW System by former Democratic Gov. Jim Doyle over the 2003-05 biennium — it now appears the hit will jump by at least another $65.7 million over the next two years.
On Monday afternoon, Ray Cross, the chancellor of both UW Colleges and UW-Extension, sent an email to colleagues noting that the UW System received notice from state Department of Administration Secretary Mike Huebsch "announcing the allocation of a required biennial lapse (one-time reduction) for 2011-13. While technically this 'agency' lapse was included in the 2011-13 biennial budget, it comes as a surprise to many of us. It was not part of the $250 million base reduction targeted toward the UW System when the budget was passed."
The total lapse to all state agencies is $174.3 million over the biennium, with the UW System being directed to lapse $46.1 million in 2011-12 and an additional $19.6 million next year, for a total of $65.7 million.
That figure represents 37.7 percent of the overall state lapse amount. It's not clear why the UW System is being forced to absorb such a significant hit.
DOA spokesperson Carla Vigue forwarded the Cap Times a copy of the memo Huebsch sent to state agency heads on Friday, but said in an email, "We have no further comment."
The Huebsch memo states, "As you are aware, the national and global economies are still recovering from one of the worst recessions in 70 years. While the Wisconsin economy continues to recover, the potential impact of these national and global trends is undeniable."
Some across the UW System indicated they were hoping for the best but expecting the worst.
"We knew there was a provision in the budget that provided discretion to implement lapses," says Darrell Bazzell, UW-Madison's vice chancellor for administration. "For me, I was waiting to see what the state revenue estimates look like, whether they were going to take a dip or not. Those estimates are not yet out, but certainly the memo (from Huebsch) suggests the direction state finances are headed."
Adds Bazzell: "When the state budget passed, one of the positives was that we all perceived it to be in balance. So clearly the economy must be turning down; that would have to be the assumption."
The Huebsch's memo also indicates that the lapse requirement could go as high as $300 million state-wide if state revenues are weaker than predicted. If that happens, the UW System could be asked to absorb a one-time reduction of up to $113.3 million this biennium, writes Cross. When one adds in the $250 million in base cuts, the UW System could be facing a potential $363.3 million reduction in state taxpayer support over the next two years.
The Huebsch memo notes that "as in the past, the lapses may not be taken from sum sufficient or federal appropriations. Unlike past biennia, the lapses may not be taken from segregated appropriations or any program revenue appropriations within the University of Wisconsin System."
Agencies are expected to submit lapse plans to the state by Nov. 7 outlining how these cuts will be taken.
UW-Madison's share of the base budget cut over the next two years is $94 million. Its share of the lapse will be at least $25.8 million over 2011-13, according to figures released by the UW System.
In his letter to colleagues, Cross notes that "upon learning this news, you may have questions such as: What are the exact cuts coming to the UW Colleges or UW-Extension? Who will decide what gets cut? How will my unit or I be affected? Even though there are no specific answers at this time, I felt it was important for everyone to have this information and be aware of the situation."
The Huebsch memo concludes by stating: "These lapses will present operational challenges and opportunities to state agencies. The governor remains committed to putting Wisconsin's state government on a stable fiscal footing while ensuring that it functions as efficiently and effectively as possible. We appreciate the efforts of you and your staff in identifying creative ways to manage these reductions."
Cross notes the UW System hopes to meet with DOA officials to see if its lapse can be adjusted to a lower number. "While we are not too hopeful that our proposed share of this lapse will be changed, we are trying to make our case," writes Cross.
Be the first to know
Get local news delivered to your inbox!