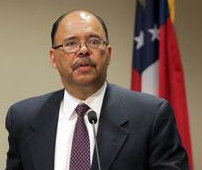 Former local business executive Erroll Davis, 66, who was chairman and CEO at Alliant Energy and then led the University System of Georgia, has now been tapped to lead the embattled Atlanta Public Schools.
The largest district in Georgia, with about 50,000 students, is reeling from a scathing, 800-page report released July 5 that showed nearly 180 teachers and school administrators were involved in systematically changing students' test answers at 44 of 56 of Atlanta's elementary and middle schools accused of cheating.  The adults provided answers to students or erased and corrected tests so students appeared to be performing at or above local and national performance benchmarks.
Davis replaces former Superintendent Beverly Hall, who resigned at the end of June. Known across the country as a strong proponent of school accountability, Hall was lauded for her accomplishments in improving student achievement during her dozen years in Atlanta and named the top American school superintendent in 2009 by the American Association of School Administrators.
In the report, Hall is accused of creating a culture of fear, silencing critics and pressuring schools, administrators and teachers to meet increasingly high goals on standardized tests. She insists that she knew nothing about test  tampering.
Before the cheating scandal, Atlanta was often cited by education officials as a shining example of an improving urban school district.
Atlanta is not the only school district where teachers and principals have been accused of systematic cheating on standardized tests. In March, USA Today reported that more than 100 Washington, D.C. schools had unusually high rates of erasures on standardized tests between 2008 and 2010. Proven cases of cheating at three schools there have lead to test scores being thrown out, and the Washington Post reported earlier this month that federal investigators have joined a local probe of the DC schools.
Davis was originally asked to serve as interim school superintendent while the Atlanta School Board looked for a successor to Hall, who retired on June 30 and immediately left for a vacation in Hawaii. Because student performance had appeared to improve dramatically under her watch, Hall has received annual bonuses that total almost $500,000 over a dozen years. One School Board member has asked that Hall be required to return the money.
As the scope of the scandal grew following the release of the report on July 5, board members asked Davis to commit to leading the district through the crisis for a year. He accepted. Davis left Alliant Energy in 2005 and was chosen shortly thereafter to lead the Georgia university system. He retired from that post June 30.
Leslie Ann Howard, CEO of Dane County's United Way,  worked closely with Davis in the past, and considers him a mentor. Davis was involved with a number of community organizations in the Madison area, including United Way, during his nearly two decades as a local top executive, first at Wisconsin Power and Light and later when WP&L became part of Alliant Energy.
"I'm not surprised at all that the Atlanta School Board is looking to Erroll for leadership during this crisis," Howard told me when we spoke on Friday by phone. She says he's known for his integrity as well as his ability to understand and improve complex systems.
She cites his most recent experience as chancellor of the University of Georgia System as good background for taking up the challenge of the Atlanta schools, and says he has always had a strong interest in education.
"Erroll was instrumental in influencing the United Way to address the issue of the achievement gap through the Schools of Hope project," she says.
Although Davis has no background, per se, as an educator, Howard doesn't believe that should be a problem.
"Actually, I think the different perspective he brings to the district will be helpful. And, he loves a challenge," she adds.
All four deputy superintendents under Hall have been removed from their positions along with two principals. Davis said all teachers and administrators named in the report for tampering with tests are being asked to resign or they will be fired, CNN reported  Saturday. Hall has repeatedly said she had no knowledge of any efforts to change test answers, most recently in a brief interview with an Atlanta television reporter who tracked her down in Hawaii.
According to Georgia law, test tampering is a criminal offense, so educators involved in the scandal may be facing penalties that go beyond losing their jobs.
Calls from The Capital Times to the Atlanta school district's public information office were not answered or returned.
Be the first to know
Get local news delivered to your inbox!