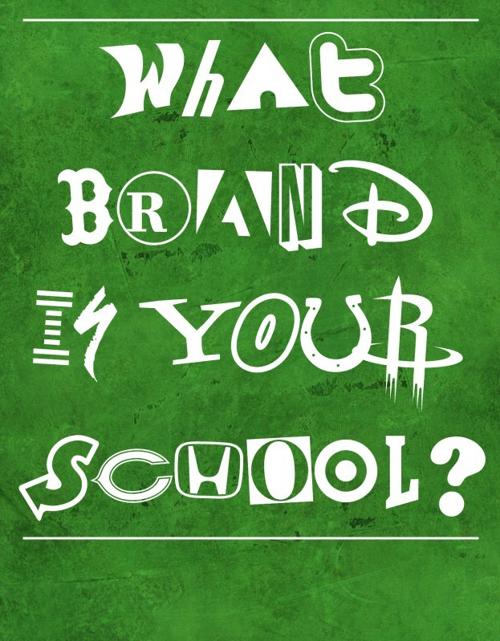 As consumers, we'd have to live in a barrel not to have brand awareness of our favorite sports team or blue jeans, the beverages we buy or the cars we drive. Last week, when I wrote about perceptions or brands of Madison high schools, our designers came up with a cover idea that was all text in more or less familiar logos or symbols: WHAT BRAND IS YOUR HIGH SCHOOL? The brand/letters of the headline were set against that familiar (but probably dated) symbol of the classroom, the chalkboard . 
After the story ran, a couple of marketing teachers and several other readers said they knew most of the symbols that made up the headline, but weren't sure about all of them. (I couldn't identify all of them, either).
So I went to our designers and asked them to provide a key for the curious.
On a related branding note, I came across an interesting article about children and branding that ran earlier this year in Marketing Week, a London-based magazine. Kids, as early as six, were not just brand aware, but brand savvy, with a strong sense of what they thought was cool, and what was not.
The research suggested that "adulthood in general seems popular with today's children, who even rank their own parents as 'cool.' "
Although one research director suggested the parental cool factor may simply be a product of the parents' ownership of a "multitude of desirable objects such as mobile phones and iPods" her study also revealed that "parents themselves are what children would miss most if they had to spend a day without them (68%), beating TV, games, films and the internet." Is it reassuring that the parental bond strongly exists for almost 70 percent of all British children? What about the other 30 percent?