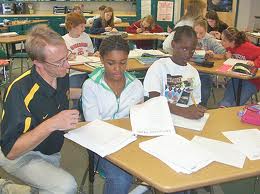 Coming out of negotiations this spring, Verona School District teachers and staff felt hopeful. In the face of unprecedented cuts in state aid to public schools, they were encouraged by the words of their administrators and School Board members about the value of shared sacrifice and the importance of pulling together to ensure a quality education for the district's students.
Then, last week, the School Board gave district Superintendent Dean Gorrell a more than 7 percent raise.
Now many Verona teachers and support staff — education aides, cooks and custodians, among others — feel betrayed, both by their School Board and their administration. They say it's not the additional money — just under $9,500 — that Gorrell will receive on top of his $130,000 annual salary, but the principle involved.
"It's not the dollar figure," insists Jennifer Murphy, a high school math teacher who is president of the Verona Area Education Association, the union representing the teachers. 
"We finished negotiations and felt like we were in a pretty good place. We felt lucky compared to other districts, and walked away with a very positive attitude, instead of an us-vs.-them mentality," Murphy says. 
Verona district employees, like most of their counterparts in public schools across the state, are taking a cut in pay due to an increase in their share of pension contributions and health insurance premiums mandated by Gov. Scott Walker's budget passed in June. They must now pay 12.6 percent more of their health insurance premiums and 5.8 percent more toward their retirement fund. 
In Verona, the sting of those salary cuts was eased somewhat by a collaborative effort last spring among staff, the School Board and administrators to hammer out a contract extension that also called for a wage freeze but protected what staff and administration agreed were important elements of quality education.
According to Murphy, the Verona staff was more than willing to take the financial hit, believing it would help preserve programs, prevent increasing class sizes and keep people in their jobs. "We felt recognized and respected by the School Board and our administration with a sense of shared vision, and shared sacrifice," she says. 
But that collaborative vision of all district employees pulling together in the same boat vanished Aug. 1 when the Verona School Board voted unanimously to give Superintendent Gorrell a substantial raise of 7.3 percent. The hike, according to a story which ran in the local Verona Press, will offset the salary cut he would have experienced from the increased contributions to his pension and health insurance benefits. 
Charyn Grandau, treasurer of the Verona School Board, defends the superintendent's raise, explaining that she and her colleagues have been concerned that Gorrell's $130,000 annual salary lags behind his counterparts in other Dane County school districts. According to the Verona Press story, Gorrell's salary has been frozen for the last two school years due to budget cuts in the district, although he is still on track to receive a $50,000 longevity bonus in 2013, to be paid into a retirement account.
"We have a policy of trying to pay our employees at a rate that's in the top one-third of the districts in Dane County because we want to attract high-quality employees," Grandau says. "Dean Gorrell is in the bottom quarter of the pay scale for county superintendents, and Verona is a larger, more complex district to run than some of the smaller districts in our area." 
According to Department of Public Instruction figures, the top superintendent wage in Dane County, not surprisingly, goes to Daniel Nerad, head of the 24,806-student Madison district, who makes $201,438. Other superintendent salaries in the higher tier include:
• Oregon, 3,725 students, $155,900
• Middleton-Cross Plains, 6,104 students, $155,675
• DeForest, 3,249 students, $146,243
• Mount Horeb, 2,337 students, $143,000
• Sun Prairie, 6,977 students, $142,193.
Superintendent salaries in Verona and Stoughton are $130,000; Verona had an enrollment in 2010-2011 of 4,889 students and Stoughton had 3,379 students. 
"If we want to remain competitive, we need to pay our staff," Grandau says, noting that teacher salaries in the Verona district fall within the top third of the pay range for all Dane County districts, a goal Verona is aiming to reach for all staff. Starting salary for a Verona teacher with a bachelor's degree is $35,293 annually. Starting hourly wages for support staff are around $10 an hour. 
"We have been luckier in Verona than in some other districts, and it's important that we're not just reacting to the current situation. We have to think of the future; we have to move forward toward our policy goals," she says.
Grandau notes that the increase in Gorrell's salary not only met a board goal regarding the superintendent's pay, but was done in a budget neutral way because of the contract's new requirements for the contributions toward health insurance and pension. 
According to the Verona Press story, Gorrell did not request the increase in salary. Efforts to reach him for comment were not successful.
In notes from the Aug. 1 School Board meeting, members also discussed whether to give themselves a 2 to 3 percent raise. A decision will be made later this month. 
Murphy says the board's decision to significantly hike Gorrell's salary, and his willingness to accept the raise, has brought a flurry of angry comments from teachers and other staff members.
"People really are upset. He could have said, 'No, I'm not going to take the increase this year because my staff isn't getting anything to offset the cuts they're taking.' I guess it feels like a betrayal of that idea of shared sacrifice. There's a fear of the unknown, and questions about how our district will be run. Will it all be top down? For me it symbolizes a lack of commitment ... It's talking the talk, but not walking the walk," she says.