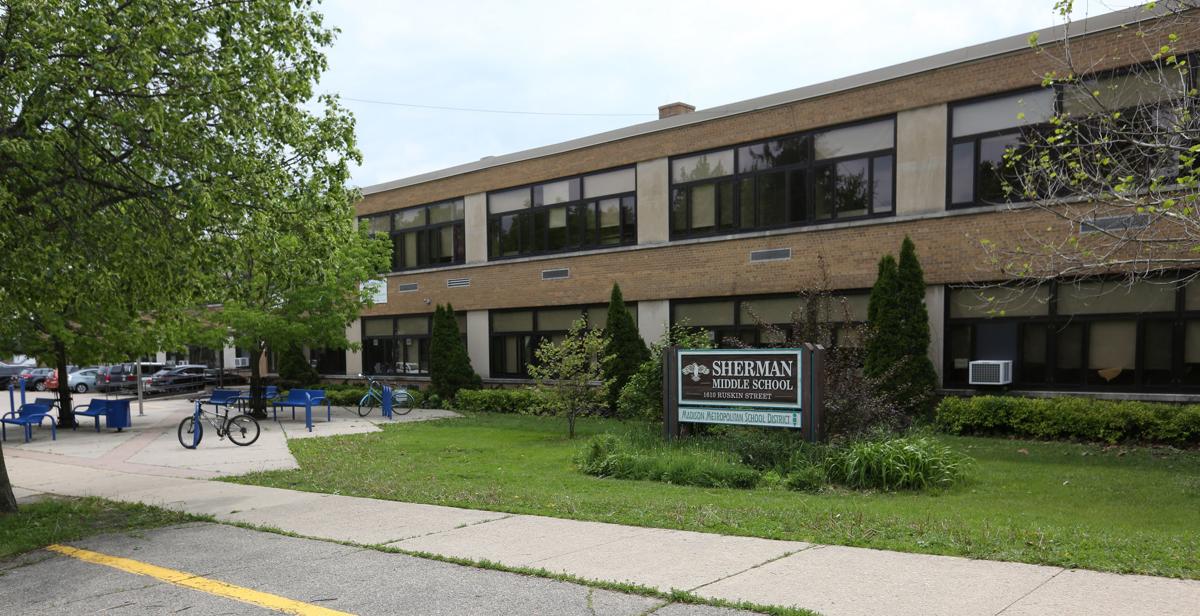 Editor's note: An earlier version of this story incorrectly stated that the School Board voted on and approved the Urban Triage contract. Because of a protest disruption on Monday night, the School Board did not vote on the contract as planned, district spokesperson Tim LeMonds said Friday. It is scheduled to be voted on at the board's March 23 meeting unless a special meeting is scheduled before that date.
More black students in Madison middle schools could soon have the opportunity to be part of a group with their peers.
Black Student Unions are already present at each of the four comprehensive high schools and some middle schools. The School Board had been set to consider a $45,665 contract Monday with Brandi Grayson's Urban Triage organization to add two more to that list, but the vote was interrupted by a protest and not taken. The item was tabled to a future meeting.
Grayson began leading a BSU at Sherman Middle School this year, and will hire facilitators to lead similar groups at Whitehorse and O'Keeffe middle schools.
"(BSU) empowers, inspires and moves kids to understanding that they do not have fit the narrative that is fed to them, whether it's through the public education curriculum or other systems or other narratives," Grayson told the Cap Times. "I hope and pray that the thing they walk away with is the tools to navigate spaces and understanding how to create a different reality in their life versus the one that's sold to them and told to them."
In a memo to the board, MMSD director of equity, partnerships and engagement Nichelle Nichols wrote that the Black Student Union pilot project would help "uplift Black Excellence in students."
"The project is designed to increase students' sense of pride in who they are, their history and/or confidence to develop their own agency and voice as a leader," she wrote.
In a letter included with the contract request Monday, Sherman's Madison School Community Recreation site director Kenneth Cole wrote that the BSU had allowed students to "feel empowered within their own identity."
"Our students have been able to engage in artistic projects with poetry and Black History Month door decorations," Cole wrote. "We have also been able to incorporate a variety of media channels using YouTube and videos online to teach about systemic oppression in the history of this country as well as black excellence and perseverance through such oppression."
Grayson said one of the best conversations she's had with the group so far was about the use of the n-word, an oft-discussed topic around Madison over the past two school years as the district has worked through how to handle its use by staff.
"We discussed the n-word and the history of it and where it comes from and why people use it and why different subgroups use it," Grayson said. "We watched movies around why black people use the n-word."
"They came to the conclusion with enough information … that maybe this word wasn't the best word for them to use."
She said that starting up the new groups will "take us into next semester to develop an understanding of what's required in each school."
"Each school requires different things," she said. "It takes time to build relationships, not just with the students but the staff as well. It really is a collaborative effort to ensure that the program is successful and that the kids are engaged."
Cole wrote that continuing the BSU is "vital" at Sherman.
"It is important that we offer this space and make inclusion a priority for our students," he wrote. "Not only should (we) make sure they feel included but also we should make sure they have the tools, self confidence and wherewithal to thrive."
Grayson said she hopes to see BSUs at every level of Madison schools soon, but wanted to focus on middle schools for now because some lacked any programming specific to black students. She's hopeful that the BSUs can be part of the solution to the ongoing racial opportunity gap between white and black students in Madison schools.
"When kids value themselves, they care about what happens tomorrow and they care about consequences of their behaviors and consequences of their action or inaction," Grayson said. "Ultimately, encouraging our kids to be critical thinkers will help them create a different reality from what the trajectory is based on the educational gap."
Share your opinion on this topic by sending a letter to the editor to tctvoice@madison.com. Include your full name, hometown and phone number. Your name and town will be published. The phone number is for verification purposes only. Please keep your letter to 250 words or less.