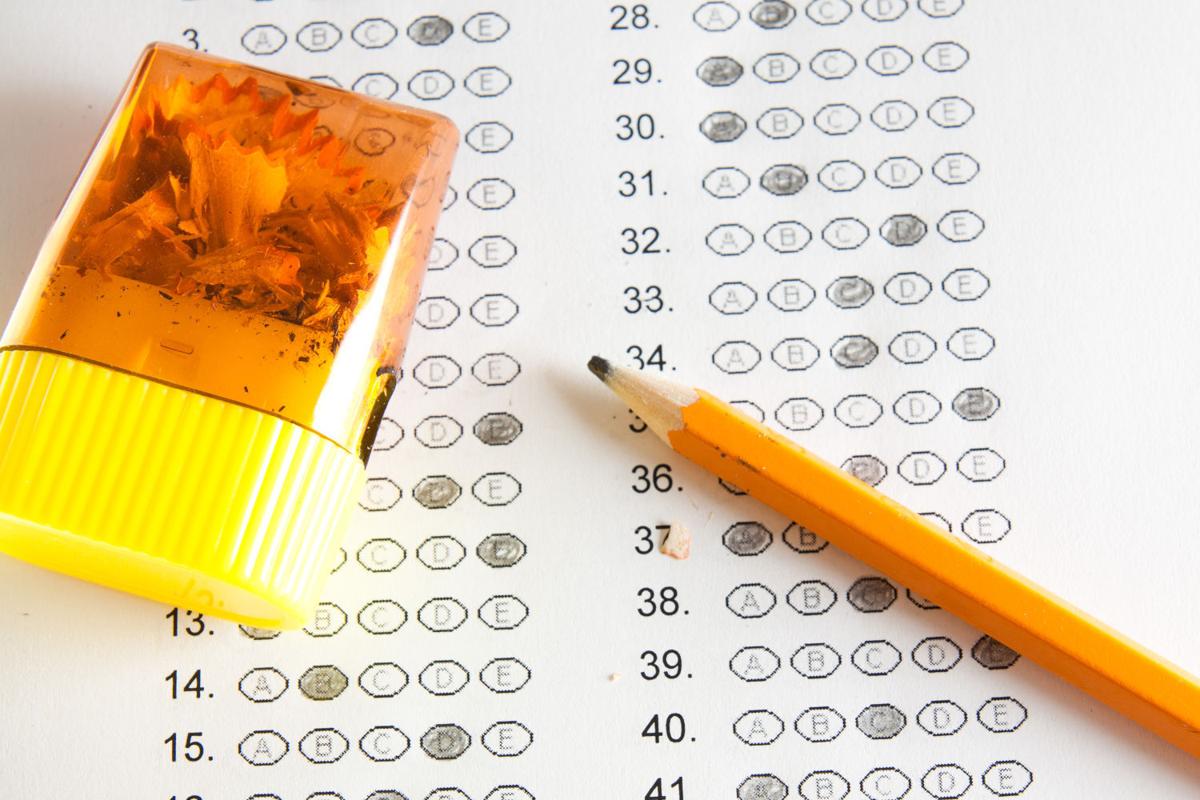 Last spring, the COVID-19 pandemic led admissions departments nationwide to implement test-optional policies, but these changes may end up lasting longer, as the College Board and institutions of higher education rethink traditional approaches to standardized testing.
In January, the College Board announced it will no longer offer individual subject tests or the optional essay portion of its SAT. The traditional, three-hour SAT includes three sections in mathematics, reading and writing with an optional extra essay. Subject tests, separate tests for students to prove additional competency in areas including history, foreign languages and science, are also optional.
Few students in Wisconsin take the SAT standardized tests, given a state requirement that all high school students take the ACT. The Madison Metropolitan School District started offering the ACT at no cost years prior to that change, said Tim Peterson, the district's director of assessment.
"It was a good assessment and it gave us a good view of where students were at," Peterson said. 
Peterson estimated that only a couple hundred students take the SATs each year in Madison. Still, many say that the College Board's change marks a hopeful step away from higher education's historic emphasis on standardized testing as a reliable marker of competence and success. Standardized tests consistently favor white and Asian students and those of higher socioeconomic status, attributable to test question bias and high costs of test preparation.
Edgewood College, a private Dominican institution with an acceptance rate of about 72%, required ACT scores for admission prior to the pandemic. SAT scores were converted to ACT scores.
Though the 2,000-student college became test-optional through fall 2021, Amber Schultz, vice president for enrollment management, said the college is considering extending the policy through next fall and perhaps even more permanently. She added that test scores should ultimately be more useful for placement, not admissions, purposes.
"We have been having conversations about what it would look like if we started using something else. What would that something else be? How do we ensure that we're living up to our mission around equitable and accessible education?" Schultz said. "We applaud all efforts to improve access to college."
At Madison Area Technical College, standardized test scores are not required for admissions but useful as a placement tool, said Scott Ritter, director of testing and admissions services.
Three years ago, the college began a grant-funded "multiple measures" project to explore the use of GPA and other factors to more reliably examine high school students' performance. Ritter said these approaches reduce barriers to access, as GPA reflects a wider range of factors — both academic and non-cognitive, such as goal-setting and motivation — over longer periods of time. 
"How we interface with test scores … is not getting people through the door," Ritter said. "Anyone can get through the door. It's starting in the right place."
The College Board said that eliminating subject tests will "reduc(e) demands on students." It added that recent increases in Advanced Placement tests, which are also offered by the College Board and tied to AP-level high school courses, have rendered SAT subject tests obsolete.
MMSD has seen AP tests more than double — from about 1,800 to 4,000 tests per year — in the past seven years, Petersen said, due to continually increasing standards of college and career readiness.
AP scores help students gain college course credit before arriving on campus, and even ACTs and SATs are useful predictors for course placement, Ritter said. Still, Madison College administrators continue to explore ways to better understand how to best place students at appropriate course levels.
"Do these tests measure what they're supposed to? They're more of a barrier than anything to students getting into the college," Ritter said. "What we're looking at is, 'Can we look at other factors beyond tests for course placement?'"
Most University of Wisconsin System schools did not require test scores prior to the pandemic, but those who did have adopted a System-wide test-optional policy through spring 2023. André E. Phillips, UW-Madison's director for admissions and recruitment, said in a news release in August that the university never used minimums or ranges for ACT or SAT scores.
"While test scores have been a requirement for an admissions decision, they have always been only a portion of the holistic review we give each and every applicant to UW–Madison," Phillips said. "Our team will be further trained to not make judgements about the presence or lack of test scores in a prospective student's application so that no one is disadvantaged by not providing scores."
The UW-Madison admissions office declined to provide additional comment on the College Board's changes.
MMSD will continue to make both the ACTs and SATs available to students on national test dates, and Peterson said the district continues to address issues of equity and bias in testing.
"We're pushing on our vendors to ensure that they can tell us about the steps they're taking to remove bias from questions," Peterson said. "No single test describes a student, a child, as a learner or as a person, so you cannot ascribe the success or worth of a student based on any test score. They give you a look at the student where they were that day." 
The subject and essay tests will only be offered through June, according to the College Board.