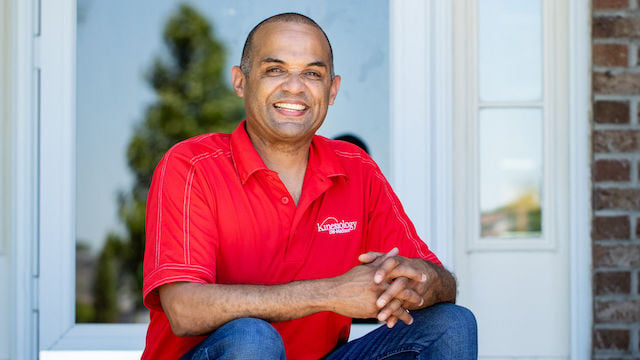 This is the second in a series of stories about research at UW-Madison inspired by the COVID-19 pandemic.
In 2008, then-University of Syracuse professor Luis Columna was invited to conduct a sports camp for 25 blind and visually impaired children in Guatemala. He arrived expecting an equal number of 25 instructors, but panicked to see only three — leading him to start his physical education program, Fit Families, by mistake.
Columna had no choice but to ask parents, who were dropping their children off at camp, to stay throughout the day. He and his team then trained them to learn about and become educators for their own children, creating the model for Fit Families when Columna returned to the United States.
"One mother said it was a life-changing experience," Columna said. "Even though she had read about physical activity, it's not the same reading it versus doing it."
Fit Families, now based at the University of Wisconsin-Madison, started as an extension of Columna's work in Guatemala for children with visual impairments, but now offers workshops for children with autism. They focus on four areas: physical activity, as opportunities are lacking among children with autism; aquatics, as drowning is the leading cause of death for children with autism; and sensory integration and communication, which Columna calls the "hallmarks" of the disability.
Columna and his team hosted parents for weekend sessions, teaching them over 200 games and activities. They also started organizing activities into a book for families to take home and purchasing physical education equipment for the families with grant money, his favorite part of the program: "I feel like a Puerto Rican Santa every time."
"One of the things that parents face is a lot of barriers. Financial barriers. They don't have the time. But the most important barrier is that they don't know how to engage their kids in physical activity," Columna said. "The grand majority love physical activity, they believe it is important, but they don't know how to do it."
Columna immediately began adapting Fit Families to UW-Madison's kinesiology department when he arrived in January of 2019. Though he was able to get the program off the ground by 2020 — a process he said should have taken three to four years — with a new team of faculty and students, the COVID-19 pandemic quickly forced them to move online.
The program serves 23 families through a 12-week program with three weeks per topic. It begins with data collection on parents' and children's motor skills, such as drawing or kicking, after which participants are divided into three randomized groups: a waitlist control group, a group that attends the training workshops and a group that only receives equipment and books to take home.
Data from Syracuse showed that both groups improved and retained motor skills, Columna said. When Fit Families started hosting workshops virtually in March, the team was unable to collect follow-up data in person, instead assessing children through video calls or creating instructional videos teaching parents how to do so themselves.
"We discovered a new way to collect data, which is fantastic," Columna said. Though it is currently difficult to compare pre- and post-program assessments, given the difference in methodology, he added that the qualitative findings have been clear: "They felt supported and that they were not alone in this."
Columna also communicates with families through phone calls and text messages, allowing them to share information and provide feedback. And, by adapting to virtual workshops that reach both in-person and at-home groups, he said the pandemic has better prepared Fit Families to eventually expand into Wisconsin's rural areas and even beyond the country.
Now, Columna is working on grant proposals that will help determine when to begin the next program. With more money, he said he can create longer, 16-week programs with the same topics, but with more practice time. He also hopes to collaborate with Madison public schools to train children alongside their own physical education teachers.
"When COVID hit, parents told us during the interviews they don't know what they would have done without the program, because the program became the PE curriculum for the entire family," Columna said. "I always knew that I wanted to do this all over the world, but what COVID did is push us to do it sooner."