Another Madison School District staff member disciplined under the district's "zero tolerance" practice for racial slurs is sharing her story in hopes of a policy change and the rescinding of a disciplinary suspension now on her record.
Nuestro Mundo social worker Sandra Rivera said Friday afternoon at the Madison Teachers Inc. headquarters that she used the n-word during a School Based Leadership Team meeting among other staff members in March. Rivera said she used the word repeating what a student had said in demonstrating to a coworker the need to be prepared to respond to students using the word.
"I shared a recent example that I had witnessed," Rivera said. "In wanting to be clear, I quoted the student and said the n-word out loud and in its entirety. I did not direct the word at anyone."
Two of the at least seven cases of a staff member using a racial slur over the last year are under appeal, MTI executive director Doug Keillor revealed this week, and Rivera's case is one of them. She and the district argued their case in front of an impartial hearing officer — the third step in the appeals process in the employee handbook — on Sept. 16, and both are preparing legal briefs for the officer to review, Keillor said.
Rivera is going public with her story the same week Marlon Anderson, a West High School security guard, had his firing rescinded after international backlash. Anderson, who had worked in the district for 11 years, was fired Oct. 16 for an incident a week earlier, in which he said a student called him a "b**** a** n****" and he told the student not to call him a "n****."
His firing led to more than 1,000 students and staff walking out of West Friday, Oct. 18, to the Doyle Administration Building. A group of students met with district leadership there, and Monday afternoon, the district rescinded his firing. He is not back at the school yet as a transition plan remains in progress.
Rivera said following the Anderson news "triggered me and I felt really sad that happened," and that helped inspire her to share her story.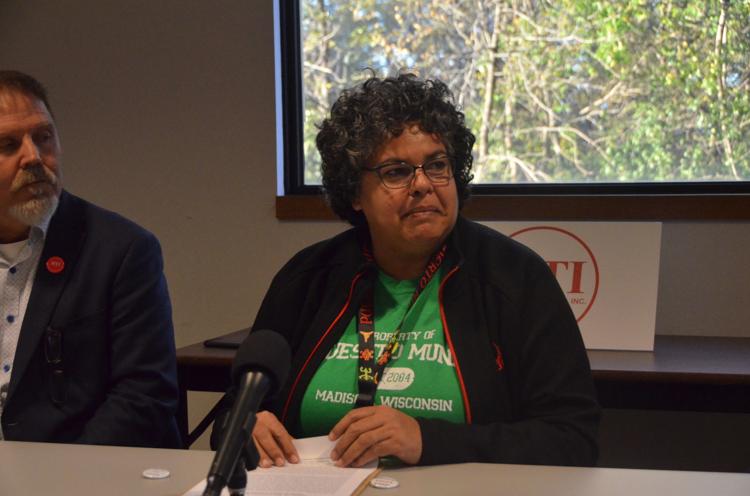 "My silence has kind of contributed to this way of responding to situations like that," Rivera said. "It has contributed to the damage that it continues to do."
Interim superintendent Jane Belmore and School Board President Gloria Reyes have both said since the Anderson firing the district will review the zero tolerance practice and reconsider how context should be taken into account in similar situations. A statement from Belmore emailed by MMSD chief of staff Michael Hertting said the district "cannot discuss the details of personnel matters or an active appeal."
"We would encourage our community not to speculate on details, but to recognize any situation like this is incredibly complex," Belmore said in the statement. "We have committed to examining our approach and are beginning that work. We remain dedicated to protecting our students and staff from harm by implementing practices that are reflective of the humanity involved. We will grapple with complexity and assess it through a lens of deep racial equity."
Rivera, who described herself as a black Puerto Rican, said Monday that she understood the district's messaging on racial slurs to mean you could not direct them at another person in a derogatory way — something she supports. The 20-year MMSD staff member, who has been at Nuestro Mundo for the last five, said the lack of clarity has created a climate of "stress, low morale, fear, mistrust, lack of risk taking" at the school.
The discipline from the district, which did not involve her missing any time at the school, took three weeks to hand down, she said. MTI attorney Tamra Packard said a disciplinary suspension is the most significant discipline the district can give without firing someone. Rivera said she received no communication in the three weeks waiting for her discipline, and that was hard.
"I was prepared to get fired," she said. "I was prepared to figure out what to do with my family. It was a time where I didn't know who to ask for help or who to trust."
It's still having an impact on the school staff, she said.
"It's hard to have open and honest conversations with colleagues," she said. "We're trying, but it's not easy. People are afraid to express how they feel and it's distracting our work. It's distracting this important work that we're trying to do. Our community was hurt by this, it wasn't just me."
Packard said they expect a decision from the hearing officer, which can be sustained, overturned or modified by the school board, around the end of December or early January. Rivera said the focus on the word instead of the context surrounding it is harming important work the district needs to do on race.
"One situation or one word has kind of hijacked that work," she said. "That is interrupting our learning."
Share your opinion on this topic by sending a letter to the editor to tctvoice@madison.com. Include your full name, hometown and phone number. Your name and town will be published. The phone number is for verification purposes only. Please keep your letter to 250 words or less.