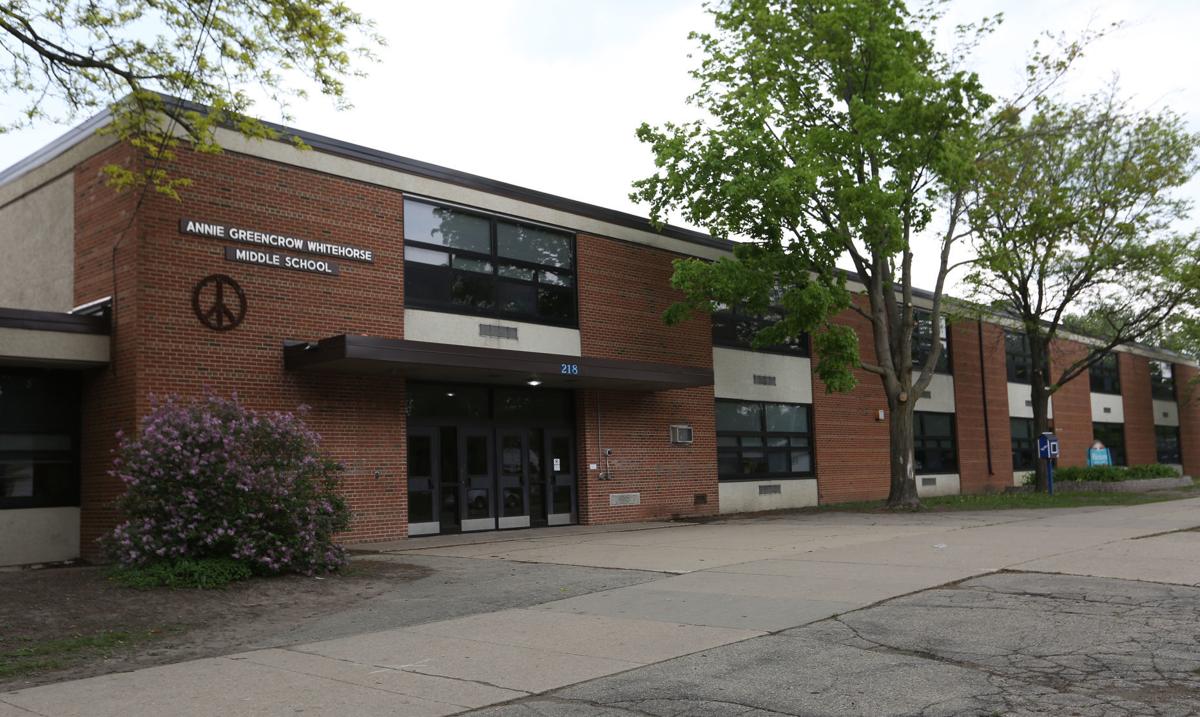 An administrator who allegedly punched, pushed and pulled out braids of a Whitehorse Middle School student on Feb. 13 will not return to the school, according to the Madison Metropolitan School District. 
The student's mother, Mikiea Price, who is also a substitute teacher within MMSD, told Madison365 she saw security video where Rob Mueller-Owens, the school's dean of students, threw her 11-year-old daughter to the ground. 
"It's still being investigated and we are trying to sort out what happened," MPD spokesman Joel DeSpain said. "We know there is a parent involved who is making a lot of claims as to what transpired, and we of course are checking out those claims and any other facts that we can glean so we can come to a conclusion."
The district is planning to release the video later this week once the police investigation is completed, according to the report.
Per MMSD policy when incidents such as this are reported, the employee was put on administrative leave. The name of the staff member involved is not typically released by MMSD because of its human resources confidentiality policies. 
"As a district we take any situation of this nature very seriously. All of our students need to be safe and supported in school, and we have a thorough investigation process and protocol that we follow," Rachel Strauch-Nelson, a district spokesperson, said in a statement. "While we cannot talk about the details of a specific student or personnel situation, it is our responsibility to consider all of the facts of the situation and determine the right next steps."
Strauch-Nelson said MMSD's central office team is still determining those steps.
Price's daughter, who is black, was "crying and her lip was cracked, bleeding and she handed me three of her braids that were pulled out from her scalp," her mother told Madison365.
Price did not immediately respond to a request for comment from the Cap Times.
Price told Madison365 that a teacher had called on Mueller-Owens, who is the dean of students, because Price's daughter and another student had sprayed too much body spray and had initially refused to leave the room.
"When he came in, he asked (my daughter) to step out and she didn't listen, and didn't step out and as he walked toward her, she said she went toward the window and just wasn't following direction, and he told her in front of the whole class, to the teacher, 'Take the class somewhere else,'" Price told Madison365. "And (my daughter) said, 'No, that's fine. They can stay, I'll go.' And as she was heading out, she said he pushed (her) with two hands trying to push her out the classroom, and she turned around and said, 'Don't put your hands on me.' And he pushed her again … and she said he started punching her."
Mueller-Owens is one of a slew of educators who have been been under investigation for racial incidents since October. Several teachers and substitute teachers across the district have left their positions after allegedly using racial slurs in the presence of students. A teacher at Middleton High School also was under investigation for using a racial slur. A school bus driver in Middleton was fired last fall after hitting a black child. 
The incident comes at a time when MMSD is grappling with how to best support black students, who make up 18 percent of the district's enrollment. MMSD announced a Black Excellence Plan last summer and have worked to improve conversations about race and identity in the classroom. Still, racial incidents have continued to happen. 
Mueller-Owens has been with MMSD for about four-and-a-half years, according to his LinkedIn profile. He has worked as a positive behavior support coach and an assistant principal. Mueller-Owens has done extensive work on restorative justice. In 2015, he traveled to Washington D.C. with Superintendent Jennifer Cheatham and attended a conference about reforming school discipline organized by the White House in 2015. 
Mueller-Owens said he is working with Madison Teachers Inc. as the investigation is underway.  
"It is important for the public to know that MTI strongly supports the full, fair and timely investigation of allegations made against any school district employee, including members of MTI. Our public schools need to be safe and welcoming learning environments for all students and MTI members invest their working lives to realize those goals," MTI Executive Director Doug Keillor said in a Friday statement.
Keillor said it's important for allegations to be fully and fairly investigated before conclusions of facts are made.