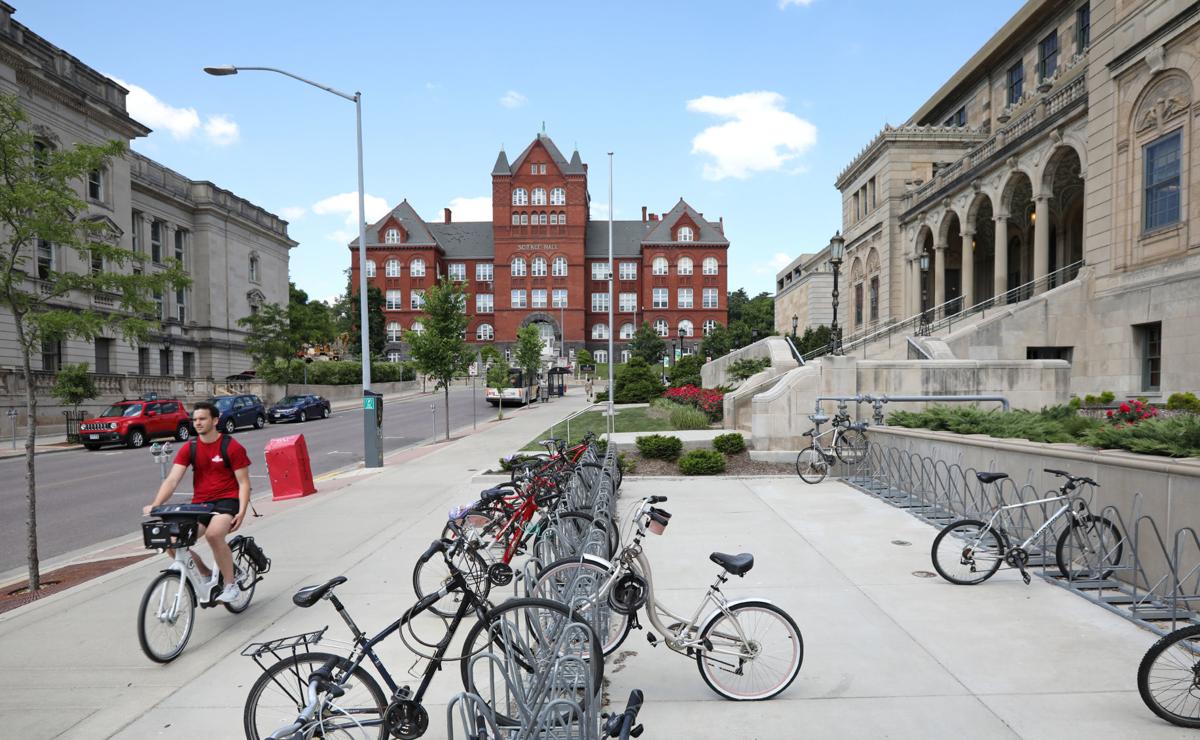 With five weeks left in summer break before the start of fall classes, hundreds of University of Wisconsin-Madison students, graduate workers and academic staff say they are uncomfortable returning to campus, citing confusion about reopening policies and lack of clear communication from administrators.
According to a survey conducted by the Teaching Assistants' Association and United Faculty and Staff, 86.4% of respondents reported feeling uncomfortable or extremely uncomfortable with the university's Smart Restart plan, a hybrid online and in-person teaching model for the semester beginning Sept. 2. Eighty-four percent of respondents were graduate workers or academic staff, while the remainder were faculty or university staff.
Top concerns included student health or their willingness to follow safety restrictions, prevention measures and the safety of working and living conditions. Kate Diamond, co-chair of the UFAS job security working group, said the survey helped gain a more "thorough understanding of the specific concerns that workers are feeling right now."
"It's really frustrating and demoralizing to be in a position where we don't hear clear guidance from university administration, in spite of the many emails that they send out," Diamond said. "It's really like we're seeing two different worlds, in terms of hearing what the university's line is on this great, wonderful plan, versus the confusion and concern that people are experiencing on the ground."
UW-Madison is among 34% of universities and colleges planning for a hybrid model this fall, according to information from over 1,250 schools compiled by The Chronicle of Higher Education. Fifty percent are planning for in-person courses, while only 12% will be fully online.
Thirty-seven percent of classes at UW-Madison will be fully in-person this semester, while 8% will be a hybrid of online and in-person, according to an email from university spokesman John Lucas. Classes with fewer than 50 students are most likely to have in-person components, with distanced desks and increased access to cleaning and protective supplies, but individual departments are responsible for deciding how each course will be offered.
Staff point to decentralization among schools and departments as cause for poor communication. Thirty-four percent of survey respondents said they don't know about personal protective equipment (PPE) availability, and 15% said it is not provided, although it is a central part of the Smart Restart plan.
On Monday, faculty organization PROFS and the elected University Committee — which also serves as PROFS' Board of Directors — published a statement saying that faculty still have many unanswered questions, "many of which have been further compounded because they don't feel as though they have been consulted or given a chance to voice those concerns as equal partners to those making policy."
"Much of the information they are receiving from their departments, and their schools and colleges, is inconsistent, unspecific, and changes frequently," the statement said. "A lot of information is simply not making its way from the working groups down to the units and rank-and-file faculty."
Among other demands, PROFS and the UC called on the university to hold frequent town halls, make all working groups' contact information openly available, offer a clear statement for faculty concerned for their health and safety.
Provost Karl Scholz addressed professors at a UC meeting Monday, acknowledging that "communication perhaps hasn't been exemplary" in unprecedented circumstances. He also reaffirmed the university's commitment to localize much of the process: "It's always better to go through school/college leadership."
In addition to a town hall last week, Scholz said there will be three more in coming weeks. Communication from administrators in recent weeks has also included more information about reopening and working groups, although biomedical engineering professor Kristyn Masters said a recent email felt like a long body of text that was "thick to wade through."
"I don't think a lot of people are going to feel very helped by that, as much as we really want to just give them the information that they need," Masters said at the meeting. "On the Smart Restart site, there are things that I feel are really critical that are still missing."
As of late June, about 75% of professors and teaching faculty who responded to an American Association of University Professors survey said they prefer to teach online. The majority said they had been asked about their preferences between teaching online or in person, but that they did not yet know whether their requests would be accommodated.
"We're still getting these anecdotal concerns from people about what they're being asked to do, what they're being told, what they still don't know even though the start of classes is rapidly approaching," said Diane Farsetta, the working group's other co-chair. "This is exactly the kind of thing where you need to understand and hear from people who are in very different kinds of positions, different parts of campus, because all of these things are going to be unique."
Requests from some faculty and teaching staff to teach online only have been denied, according to UFAS leadership. Diamond said it is "disconcerting" to think that the university will require employees to disclose private health information to obtain proper accommodation.
"I have not seen any firm commitment from the university saying that they will not do that," said Diane Farsetta, the working group's other co-chair.
In response, Lucas said instructors file requests through their home departments, which are being reviewed at the local and central levels. He added that students should have learned this week how their courses will be offered.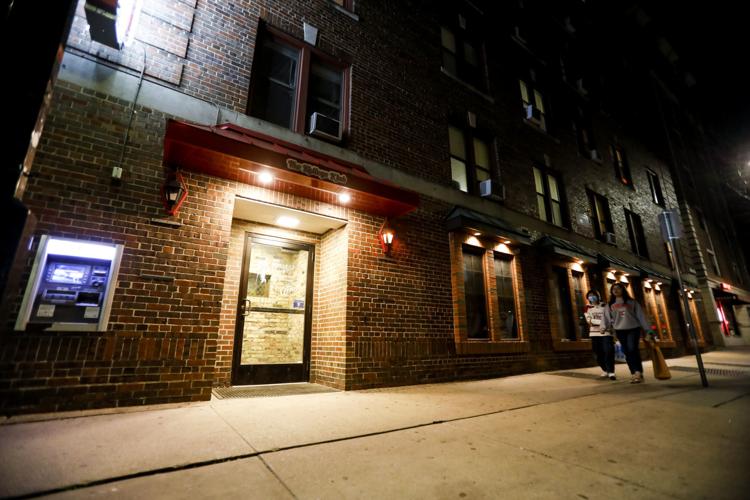 Students also concerned
Undergraduate students have also pushed back on Smart Restart, demanding that the university improve communication and lower tuition.
On July 18, about 25 people attended a rally on the UW-Madison campus to publicize their concerns after receiving testimonials opposing Smart Restart. Lisa Yang, one of the event organizers, said that the reopening announcement was wordy and vague.
"Why do we have to choose between living and an education?" said Yang, a senior. "We can hold both of these things together — wanting to live and wanting to be safe, but also finding ways for education to be accessible and at its full potential online."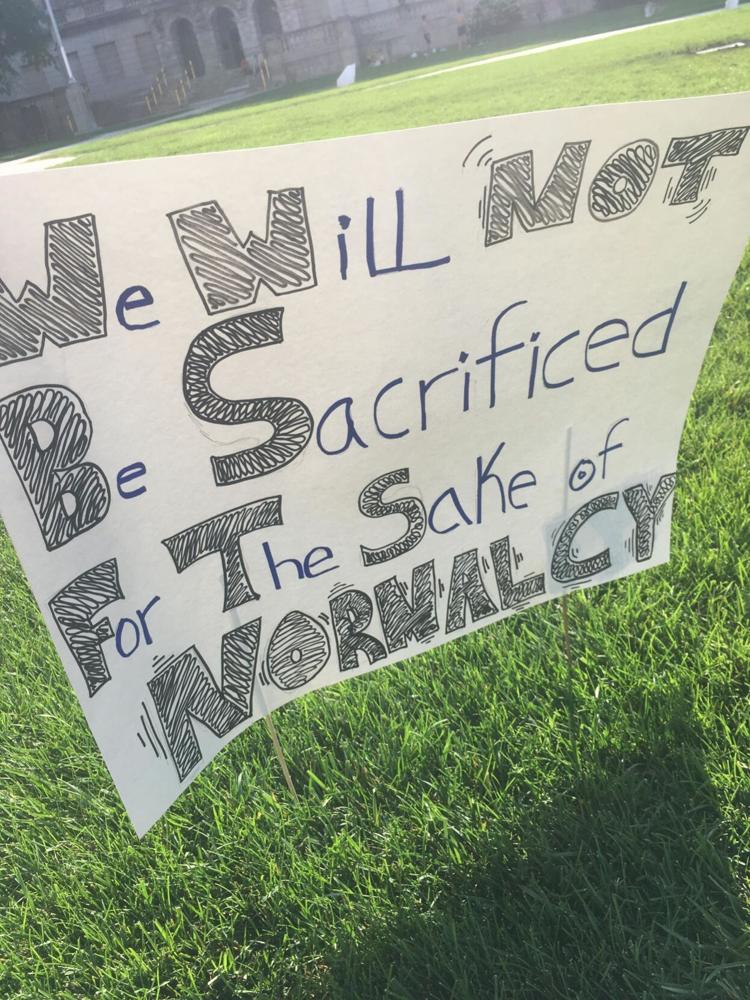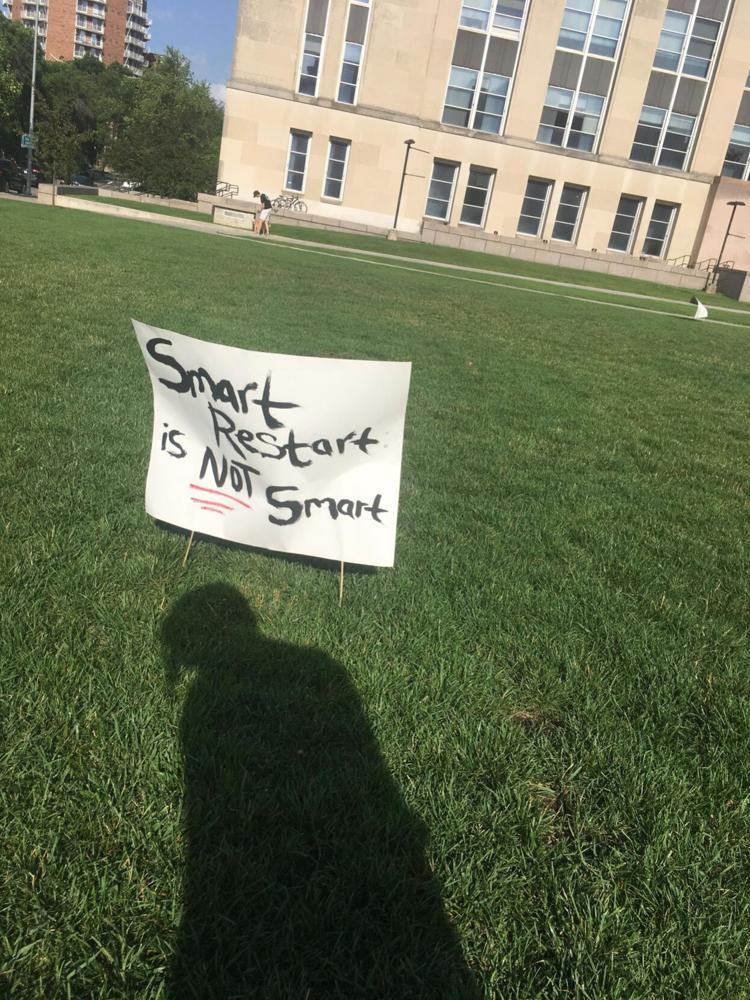 About 1,400 students have signed a petition calling for lower tuition rates this fall. In a blog post Friday, Scholz said the costs for the university, such as course design, testing and contact tracing, have increased during the pandemic and that peer institutions are also not discounting their tuition.
"In these uncertain, difficult times, the economic value of an outstanding college degree will only increase," Scholz wrote. "The returns on a college degree are higher now than at any time in decades, and these benefits will be even more apparent as we move through and recover from the pandemic."
Other student demands include continued pay for student workers and university staff if classes move online and guaranteed virtual options for seniors who need to graduate, which Ananda Deacon, another organizer, said would be "priceless."
Deacon, a senior, also said the university should more explicitly emphasize the fact that no students are required to attend in-person course elements. She said it felt like an afterthought that "you could easily have missed" in the announcement.
"We are working to provide robust virtual course choices for those students who will not be on campus and ensure they are making progress toward their degree," said university spokeswoman Meredith McGlone in a July 7 email. "There may be cases where students will need to delay completing a specific course, such as a lab or clinical experience, that must be completed in person."
Outside the classroom, Smart Restart outlines testing, physical distancing and PPE as pillars of UW-Madison's reopening strategy. The university has ordered thousands of face shields for instructors to use in classrooms, and there will be a minimum of two testing sites, where anyone on campus can receive free, unlimited testing. Select people — such as those living in residence halls — will be required to receive regular tests at dedicated locations.
Steve Cramer, vice provost for teaching and learning, said Monday that there is still some available space to add more in-person classes, and that the university aims to ensure all students can have at least one, if they wish. Some courses currently utilize Pyle Center and Memorial Union spaces, and 16% of courses are scheduled into extended times during the evening or on Saturdays.
Cramer added that the university also hopes to make about 500 to 1,000 seats available on campus for students who might need quiet or private spaces to study even while taking remote courses. 
"I almost look back nostalgically to March when all we had to do was switch to remote," Cramer said. "As hard and traumatic as it was, it's easier than what we're doing now. The ability to look at all the contingencies and issues is very, very difficult, and we're working through a lot of them."
The university is also actively interviewing and hiring contact tracers who will start training in early August, Lucas said. Protective measures including testing and hiring contact tracers are expected to cost $35 million to $40 million for the 2020-2021 academic year.
McGlone said in her email that the university will continue tracking the pandemic as positive cases, especially among young people, rise both across the United States and Dane County. TAA and UFAS plan to present the survey's findings to administrators next week.
Though it is unlikely the university will move away from the hybrid model, Farsetta said the only option for fall semester should be moving all courses online with the exception of necessary labs or clinical experiences.
"How you can craft some sort of public health plan that would keep not just campus, but community, safe even though you're bringing 7,700 students back to dorms … and not have repercussions is just stunning," Farsetta said. "I don't understand how you do this safely for students, for workers, for the community, in any other way."
Be the first to know
Get local news delivered to your inbox!