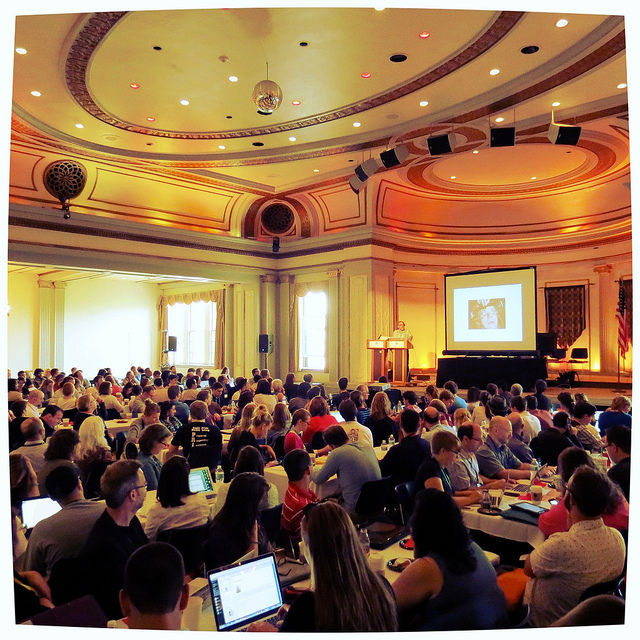 It will also result in the end of the Games+Learning+Society center, a Madison-based project that helped change the way video games are treated as vehicles for learning in both academia and the gaming industry itself.
"It kind of founded the games and learning movement," said James Paul Gee, an author and pioneer in the learning games field.
In addition to its impact in the broader world of gaming and academia, the group — which Squire and Steinkuehler co-direct — has also been a pivotal part of Madison's burgeoning video game economy. It has played a direct role in the founding of companies like Filament Games, and helped funnel millions of dollars worth of grants toward local developers.
GLS, currently housed in the Wisconsin Institutes for Discovery, has never incorporated as a nonprofit, or any other kind of legal entity. Rather, Squire says that it's "a grassroots, self-organizing group" of a few dozen developers and UW researchers who strive to marry research on learning and design with actual game development.
The group also helps implement games in schools and other learning environments, and organizes an annual conference that's seen as a major event in the learning games field.
Squire has confirmed that GLS will close in January when he and Steinkuehler, his wife, leave this January. The two are taking jobs at the University of California-Irvine, citing the caustic political atmosphere surrounding the University of Wisconsin as a factor in their departure.
Squire did note that while GLS will end, many of the researchers and game developers that have been a part of the project will remain at the university and in the Madison area.
"We really do care deeply about the university and the community," said Squire. "Although (the departure) is going to create challenges for some people, we hope people continue to thrive here."
Squire, Steinkuehler and Gee spearheaded the creation of GLS in 2003. The goal of the project at the time, according to Squire, was "to call attention to the potential of games to transform learning environments," and to "start a dialogue between game developers, game researchers, game producers which didn't exist."
Another way of putting it, said Squire, was that GLS was there to sell people on the idea that video games were worth taking seriously.
"Games are not just a waste of time," said Squire.
According to Gee, GLS has accomplished its mission. Through events like the annual GLS conference, it brought together people from different perspectives and fields to collaborate in the realm of learning games.
"It allowed the field to grow by bringing people out of their silos," said Gee.
That's why Gee says he's actually not at all disappointed by GLS's impending closure. He said that thanks to the group's efforts, the idea of games as learning tools has become widely embraced, and the group's original platform is no longer needed.
"We live in a different world now," said Gee. "Inevitably, you move on."
Squire agreed. He said that even prior to his and Steinkuehler's resignations, GLS's leadership had talked about disbanding the group to pursue a "new, fresh" direction.
However, while Squire said that GLS's closure would not create a vacuum in the realm of learning games at the national level, it may leave a hole in the local gaming economy.
It's likely that companies like Raven Software, Filament, and PerBlue will be fine without GLS, said Squire. However, he said that to some extent, the rate of growth in Madison's video game sector would likely slow down without GLS's connections to the national gaming industry and its work setting up contracts and directing grant money to local developers.
He also noted that he and Steinkuehler had been trying to establish stronger opportunities at the UW for students to enter the industry of video game and learning game development. The end of GLS makes the likelihood of such a UW program uncertain.
Dan Norton, a co-founder of Filament, said that certainly for his company, GLS played an outsized role.
"Kurt and Constance were absolutely pivotal in their support for Filament and the field of games and learning that we inhabit," wrote Norton in an emailed statement. "They were and are a classic example of how research at universities spurs innovation and new job creation opportunities for the communities that support them."
Paul Jadin, the president of the Madison Region Economic Partnership, said that the GLS played a huge role over the last few years in bringing the importance of the gaming industry to the attention of local business leaders. Now, as the center closes, he said he's optimistic about the local industry's future.
"The future of game development is very bright in Madison, even though the loss of Kurt and Constance is a big one," he said.
He did note, however, that the creation of more undergraduate opportunities at the UW for specializing in game development would be a boon to the burgeoning local network of game developers.
"That's the thing I'd be most concerned about now — can we get that talent pipeline flowing from the UW?" said Jadin.
Squire says that he and Steinkuehler will almost certainly be applying the GLS model to their future work at UC-Irvine.
"Partnering academics with industry is desirable for a lot of universities," he said. "We anticipate working very closely with the companies out there."
In the meantime, Squire said he would devote his energy to wrapping up outstanding projects at GLS, including the development of some games, as well as on the final GLS conference, to take place next month at Forward Fest, a local entrepreneurship conference and festival.