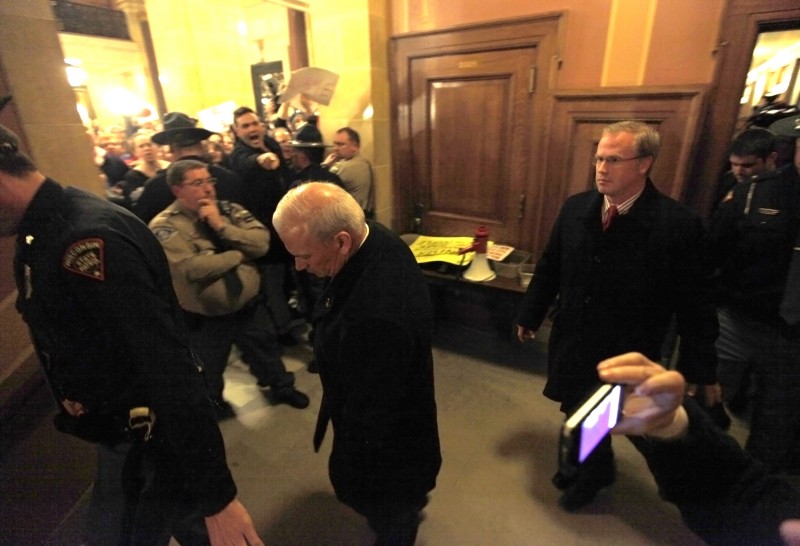 Threats to lawmakers during the Capitol collective bargaining standoff made good reading this week after the state Department of Justice released records of phone calls, emails, letters and social media statements that were investigated by law enforcement.
But the threats were only part of the story. Last week, two months after I requested police reports of arrests, incidents of disorderly conduct or other infractions on the Capitol grounds during the protests sparked by Gov. Scott Walker's proposal to effectively end bargaining rights for most public employees, the Department of Administration released about 400 pages of reports. Most of them were merely describing police activity like shift changes, responses for "check person" calls and unlocked doors that were not worth documenting, and the other mundane tasks that typically fill the bulk of an officer's day.
But some of the reports describe bad behavior by participants on each side of the debate. Most of it is small-time stuff: protesters refusing to comply with police orders, dope smoking in the Capitol, vandals, thieves, drunks. With hundreds of thousands of people descending on the Capitol in an atmosphere that alternated between anger and partytime, it's about what you'd expect.
But a couple of incidents of high emotion stand out.
One involved state Sen. Scott Fitzgerald, the Republican Senate majority leader who spent much of February trying to corral 14 Democratic senators who high-tailed it out of the state to avoid voting on the collective bargaining rights bill, a move that deprived Republicans of a quorum to vote on the measure.
On Feb. 17, the day the Democrats vanished, Sen. Mark Miller's chief of staff, Jamie Kuhn, contacted police to complain that Fitzgerald went off on her.
"Fitzgerald told Kuhn that she was stupid and Miller was stupid, amongst other mean and hurtful things," the state Capitol Police report says. "Kuhn was intimidated by Fitzgerald's aggressive and angry nature during the conversation."
Kuhn went to Fitzgerald's office to tell the senator that she couldn't get hold of Miller after Fitzgerald staffer John Hogan visited Miller's office to say that "if her boss didn't get the Democrats back into the state (Fitzgerald) was going to fire all of Miller's staff," according to the report.
Kuhn asked the officer to stay near Miller's office until she left the building to avoid any further disturbances. She also told the officer that "she didn't want to make a big deal out of this or have Fitzgerald or his staff involved in the report."
There was no indication that the officer contacted Fitzgerald's office about the matter, but he obviously felt it was worth mentioning.
Fitzgerald, who told me he doesn't even remember the incident, says that he was reaching a boiling point at the time because Miller had completely "checked out."
"At that time, even his staff was saying, 'We can't get him. He will not return our phone calls,'" Fitzgerald says. "It was a difficult period of time because I was making decisions about my staff, other legislators' staffs, Democrats' staffs, the whole thing."
Fitzgerald, who days later unsuccessfully tried to have Miller detained by police and brought by force to the Capitol, says: "There certainly were some heated exchanges. I don't remember the one you're referring to, but it was a difficult time, there's no doubt about it."
Miller has chosen to be a good sport over the incident.
"I am trying to find a way that we can work in a professional manner," he says. "So I'm perfectly willing to let bygones be bygones. We need to proceed with the people's business."
In another Capitol moment, on Feb. 19 a state trooper responded to a report of an "intoxicated subject" and found a staffer for Rep. Joan Ballweg, R-Markesan, sitting on a bench. When approached, a deeply besotted Jonathan Pollitt informed the cops that he'd locked his "f---ing keys" in Ballweg's office and wanted help retrieving them, the report says.
Turns out, Pollitt had the keys, but he was trying to get into the wrong office.
The trooper opened Ballweg's door with a key provided by Pollitt, but because Pollitt didn't have any identification, the trooper didn't let him in.
"You are so fired," Pollitt reportedly told the officer.
The trooper agreed to take Pollitt to the Capitol Police office so he could be identified. At the office Pollitt continued to berate the officers.
"You think you're exempt from the Senate bill, but I'll have you fired," he told officers, apparently referring to the fact that Walker's proposal to strip public workers of collective bargaining rights didn't apply to public safety employees.
Long story short, Pollitt was given a chance to walk away, he didn't, and was eventually handcuffed and taken to detox.
Pollitt, who wasn't charged with anything, declined comment.
"I'm actually not allowed to make any sort of comment to the media," he says.
All in all, considering the epic clash between state government and a seething mass of humanity, the number and severity of mishaps was surprisingly small.
One of the most detailed incidents concerned two young men who illegally put up a tent on the Capitol's third floor then went inside and lit a joint.
"Upon opening the tent flap I noticed a great amount of smoke coming from the interior of the tent," the police report reads.
There were chanters who disrupted a Senate meeting and juveniles drinking alcohol. There was one protester -- the report doesn't say on which side of the debate -- who repeatedly called another protester a "n----r" while making shooting motions with his hands, which a police supervisor apparently didn't think was worth the trouble to pursue. There were a couple of kicked-in doors and other damage, including a spray-painted fist on an entrance portico, and ink from a marker that soaked through a bedsheet on which protesters were writing onto marble.
Then, of course, there were the many nasty messages, which overworked police officers had to decide whether or not to pursue.
I had asked the Department of Administration days ago for someone to explain to me how police decided which ones merited follow-up, but I never got a response. Reading through the reports, however, it appears that the first question officers had to ask was whether or not a message constituted a threat or merely a statement.
It was apparently a high bar. So far, only two messages have been prosecuted. State prosecutors say 11 cases are still being investigated.
Here's a particularly articulate example that was emailed to Gov. Scott Walker:
"Go f--- yourself. Please. Just f---ing die already. The greatest thing anyone could do for our proud state of Wisconsin is accidentally slip some cyanide into your morning coffee or accidentally push you down the stairs of our great state capitol. You are the worst thing that has ever happened to Wisconsin, and all the red-necked hillbillies that elected you should be ashamed of themselves. It will not be long until my brothers and sisters in Madison have forced you out of office. I sincerely wish you harm, Mr. Governor. I hope you and your dictatorial regime spend (sic) get to spend and (sic) extended amount of time in Hell. Honestly. How do you live with yourself after the tragic death of Jared Kellner on the 24th of June, 2010. It was your responsibility as county executive to ensure that the O'Donnell was safe after cracks were discovered. Anyway, I digress. As the son and nephew of several Wisconsin educators and nurses, this legislation disgusts me. You Republicans and you're (sic) damned budget cuts. You really dropped the ball on the whole high-speed rail situation too. But really, what can I expect? A 2.6 at Marquette. You are a moron, aren't you?
"Yours truly and full of scorn."
Whaddaya think? Threat or political commentary? Police determined it to be a mere statement of opinion. Case closed.
Be the first to know
Get local news delivered to your inbox!