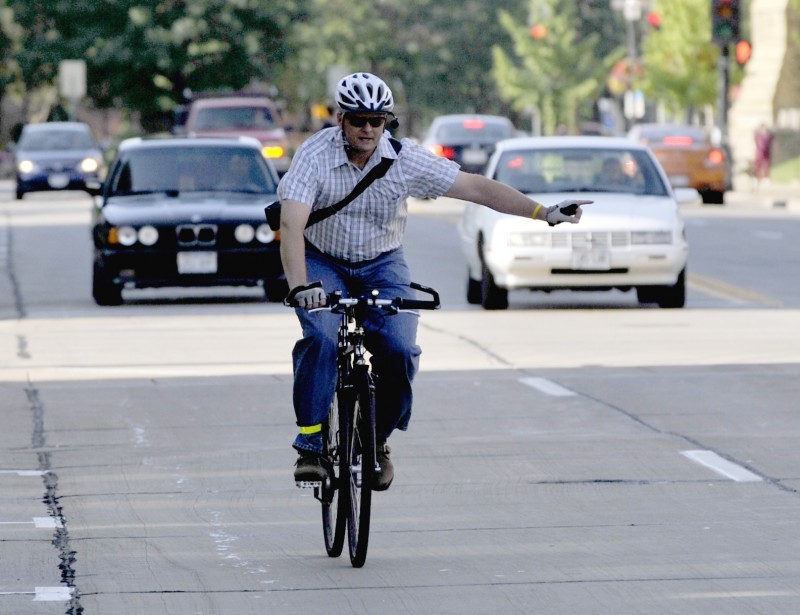 With all the partisan rancor in the Legislature, who'd of thought that bicycling could bring the parties together.
But in at least one instance, it has. I mean, how many times can you find the name of uber-liberal Mark Pocan on the same piece of legislation as right-wing firebrand Glenn Grothman?
A bill introduced last week by state Rep. Keith Ripp, R-Lodi, would give cyclists some new rights: allowing them to signal with either hand (right now it's only allowed with the left), use studded snow tires, and dispense with the rear reflector if they use a red light.
"These aren't gigantic issues," says Kevin Hardman, executive director of the Bicycle Federation of Wisconsin, "just some small issues that will make bicycling better."
The Wisconsin League of Conservation Voters and 1,000 Friends of Wisconsin have also lobbied on behalf of the proposal.
The bill also clears up the definition of a hand-powered cycle as a bicycle -- "It's a little vague in the law right now," says Hardman. It would allow motor vehicles to cross the center line in no-passing zones to get by slower moving vehicles. And it would allow municipalities to ban mopeds from sidewalks and bicycle parking areas.
The item that will probably get the biggest thumbs-up from bicyclists is the hand-signal provision, Hardman says, which will make it easier, and safer, for racers or bikers in a crouched position to signal their intentions.
The current law, he says, "is a legacy from when people used their hands to signal in an automobile."
Hardman acknowledges that there is often a perception that Republicans are not friendly to pro-bicycle legislation, but that's not always the case. After eight years of dealing with Democratic Gov. Jim Doyle and Democratic legislative leaders with some power, the onset of total Republican rule, he says, "has given us the opportunity to forge relationships with folks on the other side of the isle."
He points out that nearly 50 percent of Wisconsinites enjoy biking, and they come from all political stripes, including conservatives. After all, biking is big business in Wisconsin, bringing in both manufacturing profits and tourist money.
"They realize that it's one of those things that sets us apart, makes us more competitive, interesting and vibrant," Hardman says.
But the Bike Fed's next move could test that bipartisan spirit. Within the next month or so, Hardman hopes to find legislative backers of a bill that would put bicyclists, pedestrians, motorcyclists and others in a protected class, similar to the law for accidents involving construction workers. The so-called "vulnerable users statute" would increase penalties for motorists when they are found at fault in crashes with cyclists and others who are not in a cocoon of steel.
"There have been several cases where people have lost their lives through the fault of somebody operating a motor vehicle and there's been no weight in the law to provide any penalties," Hardman says.
It might not be a slam-dunk. Similar bills have passed in other states. But in Texas a vulnerable users statute fell victim to Gov. Rick Perry's veto pen two years ago. With Perry as the frontrunner for the GOP presidential nomination, will state Republicans listen to the Bike Fed, or will they want to be like Rick?