Madison police officials shouldn't have delayed the release of a police report regarding an officer arrested in June for driving drunk with her 5-year-old child in the car, according to the Wisconsin Department of Justice's open government authority.
Officer Kelly Hoeft, 41, formerly a safety education officer, was arrested on June 1 after driving erratically and mowing over signs with her mini-van, according to the police report released on Friday, three months after the arrest.
The incident came to light last week when a Milwaukee talk radio host who had been pursuing the case posted a story on it.
Dan O'Donnell of 1130 WISN requested the report shortly after Hoeft was charged on July 5, but police withheld it because of a law, commonly referred to as the Woznicki law, that they contended required notifying Hoeft, then giving her 12 business days to contest its release.
The law requires the notification process to kick in if the record contains "information relating to an employee" that "is the result of an investigation into a disciplinary matter involving the employee or possible employment-related violation by the employee."
"I don't believe Woznicki would be required in this case, because I don't think the record that we're talking about here is one that was the result of an investigation," said Paul Ferguson, head of DOJ's Office of Open Government.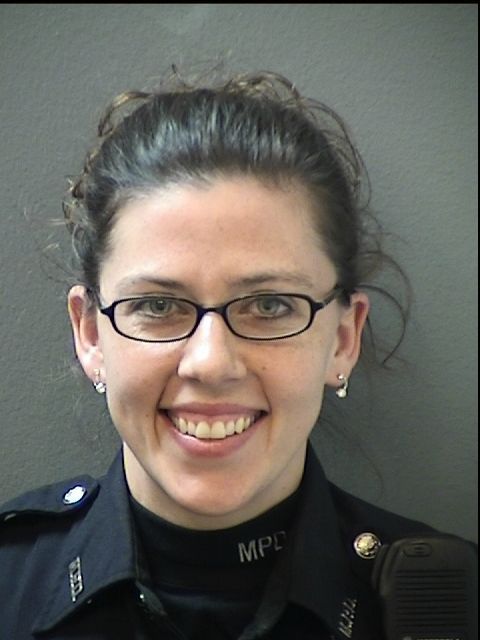 O'Donnell contended in his story that it was a case of the police protecting their own.
Lt. John Radovan, the Madison Police Department's records custodian, said he was following the advice of city lawyers.
"We follow the guidance of the City Attorney's office on these matters," he said in an email.
City Attorney Mike May was not available for comment Friday.
According to O'Donnell's story, the delay in releasing the report was extended because Hoeft took leave after she was charged and she couldn't be reached.
Ferguson said the Woznicki requirement puts police in a unique position.
"That's kind of the weird wrinkle on that," he said. "It's their employee and they're the ones that generated the report."
He added, "I think it might be an easy mistake to make."
He said the situation more appropriately merited a "courtesy notice" to "let an employee know that the records have been released."
"But that can't be contested," he said. "When we do courtesy notices here at DOJ the goal is not to hold up the process."
O'Donnell also suggested that the Dane County District Attorney's Office had given Hoeft preferential treatment by initially charging her with driving with a child in the car with a prohibited blood alcohol content of between 0.08 and 0.15 percent. Hoeft's blood-alcohol content was measured at 0.27 percent, more than three times the legal limit.
The charging decision is significant because a conviction for having blood alcohol content above 0.15 percent could result in the requirement for an ignition interlock device, which could prove problematic and embarrassing in her job.
Hoeft has been reassigned from her duties teaching safety to grade school kids to working as a patrol officer.
Dane County District Attorney Ismael Ozanne attributed the incorrect charge to a "scrivener's error."
"Once the error was found the charging language of the complaint was amended," he said in an email.
The police report released on Friday contained the same error.
According to the report, a woman driving on South Gammon Road spotted Hoeft's blue 2008 Chrysler Town and County van being driven erratically shortly before 10 p.m. on June 1. The woman reported that the van hit a curb, crossed the yellow center lines, then plowed into two signs in the center median at the intersection of McKenna Boulevard and Raymond Road.
According to another witness, one driver had to "slam on his brakes" to avoid hitting a large sign that fell into the road. 
The woman followed the van, which stopped in the oncoming left lane at a red light on McKenna Boulevard, then turned left.
Officers trying to intercept the van ended up going to Hoeft's house and waiting for her to arrive, which she did minutes later with her van leaking a stream of oil, the windshield cracked, the mirrors broken and bent and the body of the car scarred with an array of dents, cracks and scratches. Her 5-year-old son was in the back seat.
In the carriage area of the van officers found a nearly empty 1.75-liter bottle of Fleischman's gin and a bottle of juice. Also inside, near the front of the vehicle, was a container of pepper spray and the van's detached rearview mirror.
Hoeft, who fumbled in her wallet looking for an ID, handed an officer a credit card in lieu of her driver's license and said, "I've definitely been drinking."
When an officer asked her what she had been drinking, Hoeft responded: "Just do what you need to do. I've clearly drank too much."
At one point, Hoeft walked back to her van and an officer, fearing she might have a weapon inside, blocked her path and shouted at her to remain in place.
Hoeft refused to perform field sobriety tests and instead had her blood-alcohol content gauged with a breath analysis.
Hoeft eventually told officers she had started drinking at 5 p.m. at her home and then went to her ex-husband's house. She said she stopped drinking at about about 8 p.m., consuming four to five drinks in all.
Her son told police that Hoeft was driving him from a Mallards' baseball game on the city's north side.
Police released the boy to his father and they released Hoeft to the custody of a neighbor who agreed to be responsible for her.
Hoeft was issued a civil citation for hit-and-run. She was charged with first-offense drunken driving, also typically a civil forfeiture but raised to the level of a misdemeanor because she had a child in the car. She was also charged with operating a vehicle with a child in the car with a prohibited blood-alcohol content above 0.15, also a misdemeanor.
She is scheduled for a final pre-trial hearing on Sept. 26. A jury trial is scheduled for Nov. 30, but the case could be settled with a plea agreement before then.
Correction: An earlier version of this story incorrectly reported that Hoeft had waived her right to contend the release of the police report of her drunken driving arrest.