David Edwards had no beef with the guy who killed him.
On March 1, 2017, Jordan Sharlow allegedly fired several bullets into the 31-year-old father of three at an east Madison gas station, reportedly confusing him with Riccardo Simms, the man he intended to kill.
Simms was gunned down five months later.
The murders of Edwards and Simms contributed to a grim milestone for Madison: 12 homicides in a single year, counting one in the town of Madison, a soon-to-be-annexed pocket on the city's south side. That's the most on record. Nine of those homicides were by gunfire, again a record, surpassing the six gun homicides in 2016.
It would be easy to write off Edwards' death to random violence, to say it could have happened to anyone. But there was a big factor that increased Edward's chances of falling victim to gunfire: He was a black man.
Of the 15 people killed by gunfire in a two-year spike starting in 2016, nine were black men. That's 60 percent of the gun deaths in a city where blacks comprise just 7 percent of the population.
In those two years, not a single white man in Madison was killed by gunfire.
According to Ald. Sheri Carter, whose southside district has seen two murders in the past nine months, the gunplay in the city is causing "emotional stress" to residents where it occurs.
"You could probably call it PTSD," she said. "And this is another thing that we're going to have to start addressing very shortly. The PTSD effect on these neighborhoods and residents."
The demographics of murder in Madison mirror state and national trends. According to FBI statistics, since 2015 gun homicides have increased dramatically, following more than a decade of no real change. In 2016 the number of people shot dead by others hit 11,004, a 32 percent increase over 2014.
And black men are bearing the brunt.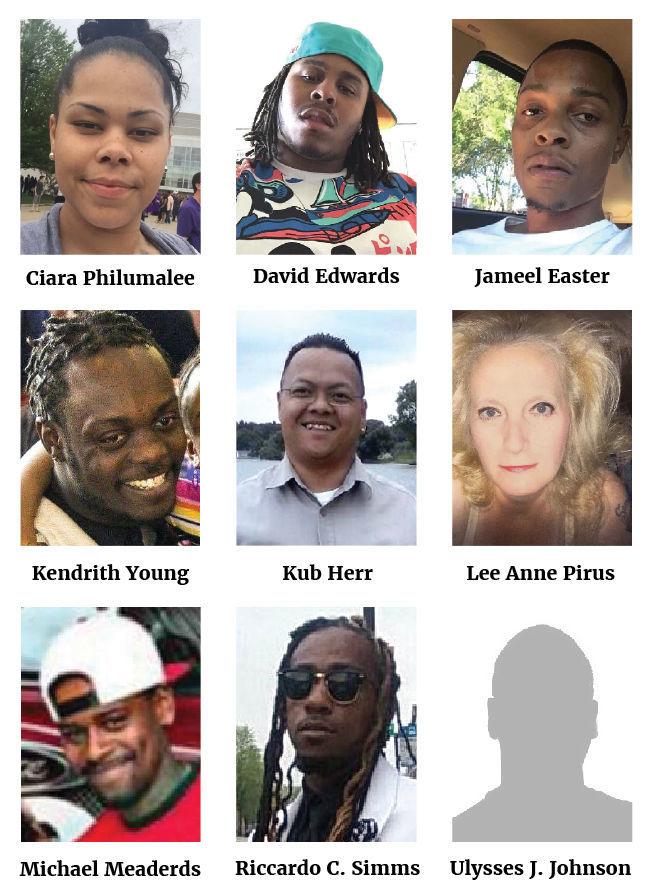 According to the Centers for Disease Control's fatal injury database, there were 256 murders in Wisconsin in 2016. Of those, 188 of the victims were shot, a 55 percent increase from 2014. In a state where blacks comprise only 6 percent of the population, 69 percent of the shooting victims in 2016 were African-American; 88 percent of those were men.
(This data does not include suicides, which are overwhelmingly committed by white men.)
A black man in Wisconsin that year was 55 times more likely to become a gun homicide victim than a white man. The African-American murder rate in 2015 earned the state a No. 2 ranking — behind Missouri — from the Violence Policy Center, a Washington D.C.-based anti-gun violence group.
"I don't know why they're exposed to that," said Carter, who is African-American. "I do know that it's obvious that they are. A disproportionate amount of young African-American men are engaging in violence as a way to resolve a disagreement. And that's concerning."
Non-fatal shootings show similar demographic trends. According to the Madison Police Department, in 2017, the first year for which the department compiled such data, there were 30 non-fatal shootings, 25 of which involved victims who were black men.
The proliferation of gun violence, Carter said, has had a devastating ripple effect.
"The shootings are tragic, not only for the victims, the shooter and the neighborhood," she said. "Because everybody's affected, although in different ways. It affects the victim's family. It affects the shooter's family, and it affects the community in which the incident happened."
There are a number of explanations for the disparity in gun homicides, most of them tied to the state's vast racial disparities in poverty, education and incarceration.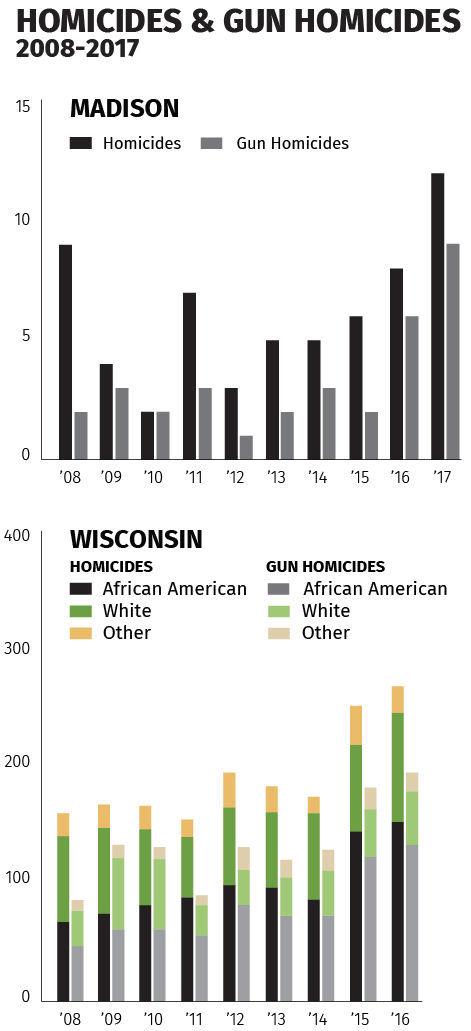 "I understand how when guns are more readily available, guns are used more frequently," said Jeri Bonavia, executive director of the Wisconsin Anti-Violence Effort (WAVE). "But I think to understand it more fully, we would also need to be considering the hopelessness of an area and the economic situation of an area."
That hopelessness is a common theme, especially in Dane County, where racial disparities are, by some measures, the worst in the nation. The disparity in homicide deaths, some say, is just an extension of the others.
"When we hear reports about racial disparities, drop-outs, mass incarceration, why are we shocked that we're seeing guns?" said Rev. Alex Gee, whose Justified Anger Coalition strives to address racial disparities. "This is part and parcel of what happens."
Gee said Madison needs to develop a strategy to deal with the core issues that lead to violence.
"Part of what we have to figure out is, what's making Madison attractive to this activity now?" he said. "This has never been a part of our history. We've got to create more opportunities for unity and we have to create more leadership and access for African-Americans, for all folks who are considered disenfranchised, otherwise I see this as becoming the trend."
The racial disparities that are particularly prevalent in Wisconsin have existed for decades. But in recent years the discontent and disenfranchisement they foster have been accompanied by an unprecedented proliferation of guns. And research has drawn a direct connection to the number of guns and gun violence.
During the presidency of Barack Obama, which coincided with numerous mass shootings, U.S. gun demand reached unprecedented levels.
A 2012 Congressional Research Service report estimated that in 2009 the number of guns in the U.S. had reached 310 million, for the first time exceeding the population. Since then, the number of guns produced in the U.S. has more than doubled, from 5.6 million in 2009 to 11.5 million in 2016.
According to an analysis by the Washington Post, the spike in gun production coincided with a spike in gun homicides, which rose nationally more than 30 percent from 2014 to 2016, reaching the highest proportion of total homicides in 80 years of federal data gathering.
In Wisconsin, according to the state Department of Justice, the number of handgun purchase requests submitted to the state's handgun hotline — which licensed sellers must call to request background checks — has exceeded 100,000 every year since 2012, reaching 156,201 in 2016 and totaling more than 800,000 prospective gun sales over six years. And that doesn't include purchases at gun shows and from private dealers, which are not tracked.
Since the state adopted a concealed carry law in 2011, the number of valid permits has risen each year, standing at 336,105 in January of this year, according to the Department of Justice. While the concealed carry law was billed by its Republican backers as a public safety measure, a study from the National Bureau of Economic Research suggests that right-to-carry laws lead to increases in violent crime by 13 percent to 15 percent within a decade of their adoption.
The connection between guns and gun violence appears to be playing out locally.
"We're seeing a lot more guns on the street," said Detective Sgt. Diane Nachtigal with the Madison Police Department's Violent Crime Unit. "We're stopping people and arresting people in possession of more guns than we have before."
Many of those guns are obtained without government purview. Nachtigal said some are purchased from private sellers and therefore don't require background checks. Others come from the black market.
"We did have that rash of gun store burglaries, and we have recovered several of those weapons off some of our people we've arrested in violent crimes," she said. "We recover a lot of stolen guns off of people that we can track back, that were stolen from burglaries or stolen from people's cars, which is something I don't understand, why people leave guns in their cars."
Nachtigal attributed several of the deaths in 2016 and 2017, as well as non-fatal shootings, to a long-running dispute that turned deadly when Martez Moore, 30, was shot and killed on April 19, 2016, outside O'Grady's Irish pub on the west side.
Three weeks later, 38-year-old Darius Haynes, a close friend of Moore's, was shot dead while sitting in his car at a Verona Road gas station. The next day, Moore's brother, Kortney Moore, gunned down Elijah Washington III outside a Rimrock Road gas station in the town of Madison.
The hostilities bled into 2017, first when David Edwards was killed on March 1, allegedly by Jordan L. Sharlow, who reportedly mistook Edwards for Riccardo Simms. Simms was gunned down on Adderbury Lane on July 25. Police are still trying to piece together evidence in that killing; Sharlow is a suspect.
Sharlow is currently in custody for Edwards' murder. He has also been charged in Chicago for allegedly pumping seven bullets into a 22-year-old man on Oct. 15, 2017.
The feud that started in 2016 eventually claimed the lives of five men. But 10 others died by gunfire in other disputes and police are keenly aware that the mix of guns and bad blood could again erupt into violence.
"As we're investigating these homicides and we're making arrests in these homicides there are different groups that we're not aware of that are starting to become involved in weapons offenses," Nachtigal said. "It seems to just shift around a little bit."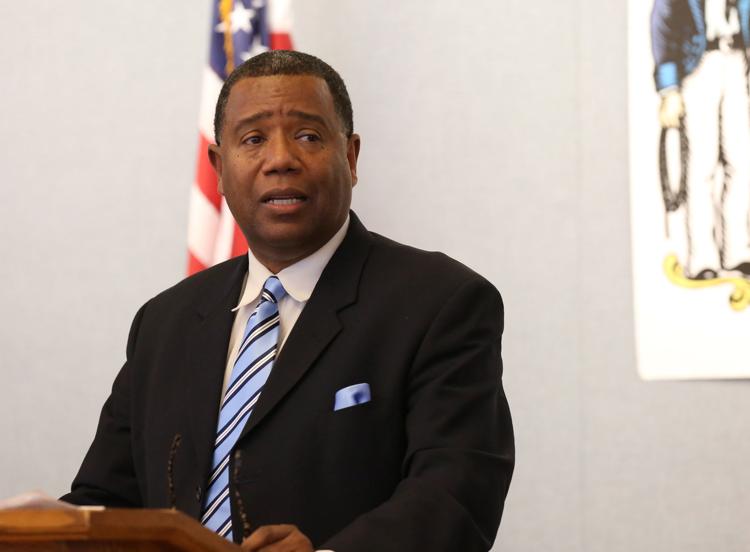 Nearly halfway into 2018, the rash of gun slayings appears to have tapered off. So far three people this year have been killed by guns: 33-year-old Andrew Thorland, a white man who was shot on April 1 by his father, who also killed himself; Amariah Kimbrew, 15, an African American girl from Cottage Grove who was shot for unknown reasons on June 13 in a Kwik Trip parking lot on Buckeye Road; and 24-year-old Rayshawn Jackson, a black man who was shot in the head on May 16 outside the Monona Shores apartments, reportedly in a dispute over a woman.
Monona Shores, which in its earlier incarnation as Broadway-Simpson was beset with drugs, gangs and violence, has in recent years seen a turnaround.
But Judy Cooper, who has lived in a condo across the street from the apartment building for nearly 20 years, said the building remains problematic, more so than a nearby apartment building under the same management.
"I don't know what it is," she said. "But I'll tell you this: Since I moved over here in '99, all the way through today, there is a stark contrast."
The shooting, she said, hit a nerve in the community.
"You could not see a whole lot of life around here for a few days," Cooper said. "Especially the night afterwards. It was almost like an eerie silence."
A few nights after the shooting, police and city officials met with residents to discuss the incident. Carter, the neighborhood's alder, said about 40 people showed up, including a young woman who tried to resuscitate Jackson.
"She was trying to give CPR to the young man," Carter said, "and she's a mother."
She said the woman was "traumatized" by the incident.
"But there were other people who were traumatized and asked a lot of questions," she said.
Nachtigal said the spate of murders has prompted an emphasis on staving off retaliation after hostilities emerge.
"We try to contact the other side of things relatively quickly, even if we don't have charges at that time, let them know that we know who they are, kind of put them on notice," she said. "We work really heavily with our gang unit, who are very familiar with a lot of these people that we're dealing with."
In recent months, police have started working with a private group, the Focused Interruption Coalition. Michael Johnson, former president and CEO of the Boys and Girls Club of Dane County, founded the group to provide services to victims' families. The coalition, he said, employs people with ties to the community rather than relying on social workers and the police.
He said the group also "bridges a crucial gap" in communities that don't trust law enforcement by mediating disputes in the hopes of diffusing retaliatory impulses.
"Sometimes when these issues happen there could be conflict between families and friends and we would find out intel around that and figure out if we could mitigate it by having conversations," he said. "If there were misunderstandings, we would have crucial behind-the-scenes conversations so people were not retaliating with one another."
But while that approach might help, he said it doesn't solve the core problem.
"We have the largest racial achievement gap in the United States, we lock up more African-American men in Dane County, in Wisconsin, than any place in the country," he said. "You look at the disparities in unemployment."
It's a recipe for hopelessness. 
"When they can't find a job, some start selling drugs," he said. "Some start living an unproductive life and sometimes that lifestyle comes with living a violent lifestyle."
Gee, of Justified Anger, said many people in the city turn a blind eye to the violence because they feel "it's not their problem." But he said the violence is having a detrimental effect on the entire community. The violence, he said, threatens to drive out emerging African-American leaders who could help turn the corner on racial disparities. And it threatens to "attract the kinds of activities we don't want."
"We need to do something in Madison that allows this toxicity to be shut down quickly," he said, "because when we begin to think that this is normal and the folks who don't have to live in Madison don't live in Madison, this is going to hell in a handbasket quickly."
Share your opinion on this topic by sending a letter to the editor to tctvoice@madison.com. Include your full name, hometown and phone number. Your name and town will be published. The phone number is for verification purposes only. Please keep your letter to 250 words or less.
Be the first to know
Get local news delivered to your inbox!