Before he could finish loading gear into his squad car for a February afternoon shift, Madison Police officer John Christian was dispatched to search for a possible person in distress after someone hung up on a 911 call.
Christian exhausted his leads and left a voicemail at the hang-up number. An hour later, he began his second — and what would be his last — call of the shift: investigating a woman's harassment complaint against her husband. Resolving the call took about six hours and ended in an arrest and a lengthy report.
As a patrol officer working in downtown Madison, it was a typical shift for Christian, who works six days in a row before getting three days off. He responds to calls for service, follows up on cases and writes reports. Some days he responds to a lot of calls and on others he spends a lot of time on just a few calls.
"I really liked the necessity of having a good working comprehension of what you can and cannot do," Christian said on his interest in policing. "There's always something to do. I like the variety."
In December, the California-based OIR Group concluded a yearlong study of the Madison Police Department's policies and procedures by releasing a report with 146 recommended changes. In the weeks following the report's release, MPD leaders, community members and elected officials have all discussed its findings, some of them at length in public forums.
But what about the men and women in uniform, those most affected by the report's recommendations and the policy changes that may or may not come from them? What do Madison cops think about how the community discusses their job performance and the high profile events that have generated that often-heated discussion?
About a dozen officers interviewed for this story said they were generally not surprised by the OIR Group's recommendations. Unless the report leads to changes in city ordinances or standard operating procedures, Christian said he believes he'll continue doing his job the same way he has for the past 10 years.
"When someone calls and wants something done about something, that's literally my job: to carry out the law," Christian said. "I don't think it's going to change the way we go about our daily life."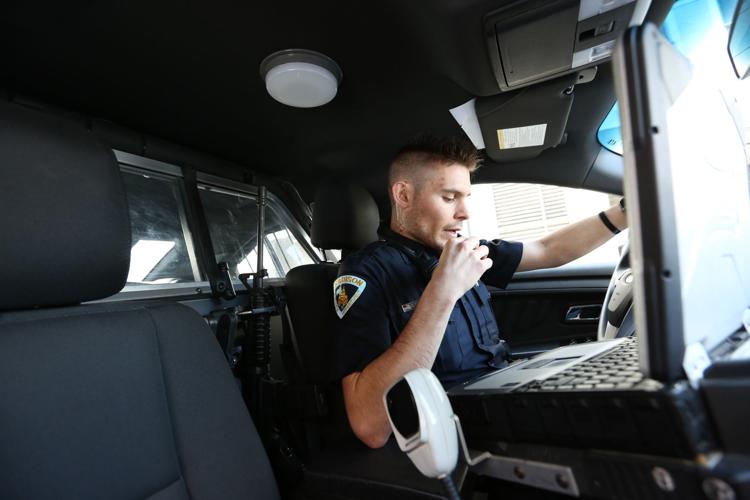 No surprises
In their report, OIR Group consultants found that the MPD is "far from 'a department in crisis,'" despite the divisive dialogue preceding the study. Many areas of the department were considered "unusually progressive" and the consultants found the MPD's efforts to connect with the public "conscientious and often laudable."
The most recent debate on how policing should look in Madison goes back to 2012, when officer Steve Heimsness shot and killed Paul Heenan on the east side. Heenan was unarmed. Concern over the MPD's use of deadly force amplified in 2015 when officer Matt Kenny shot and killed Tony Robinson, an unarmed black man, just a few blocks away from where Heenan had been killed.
In both cases, the district attorney declined to prosecute the officers and the MPD determined the use of force fell within its policies. However, the city's decisions to pay out $2 million to settle lawsuits related to Heenan's death and $3 million in connection to the death of Robinson increased doubt in the community about police operations.
The Madison City Council created the MPD Policy Procedure & Review Ad Hoc Committee following Robinson's death and it ultimately recommended hiring the OIR Group. In addition, the Council created the President's Work Group on Police & Community Relations that recommended its own short-term policy changes for the MPD.
The OIR Group suggested the MPD could make improvements in critical incident response, civilian oversight and officer performance reviews, among other areas. In what would be a major change, the consultants also recommended creating an independent auditor and community review board.
"Most of us weren't surprised at anything in there," said Nick Cleary, an officer who joined the department in 2016. "As a taxpayer in the city, I wasn't mad about $400,000 being spent on it, but I was like, 'Well, you're probably going to find out what we already know.'"
Still, Cleary said having a "base platform from the outside of what needs tweaking" aligns with the department's core values of self-improvement.    
In its response to the report released Jan. 31, MPD leadership said it was "gratifying" to see many of the department's strengths highlighted and that it views the recommendations not as a way to "fix" a troubled department but to move "an outstanding agency to an even higher level."
The report will inform the ad hoc committee's final recommendations to the City Council, which will review them and make further decisions. Right now, the MPD is not obligated to make any changes recommended in the OIR Group report.   
While the recommendations may not change the work of officers immediately, officer Tyrone Cratic Williams said the report affects everyone in the department at a broader level.
Cratic Williams was drawn to policing in 2014 because the job offered opportunities to work in the community. Moving forward as a department is a team effort, he said.
"Putting things on paper is always a good thing for measuring yourself and really being self-reflective," Cratic Williams said. "It's an ever-changing, evolving game that we're in. But now, having things on paper really helps us have goals for improvement and have something we can measure against."
Officer Emily Samson, with the department since 2001, has worked patrol out of every district in the city and is currently assigned to crime prevention. She said the report was not a "big thing looming over us."
"We go to work every day and we do what we need to do. We continue to do our job," Samson said. "I haven't seen a change in that."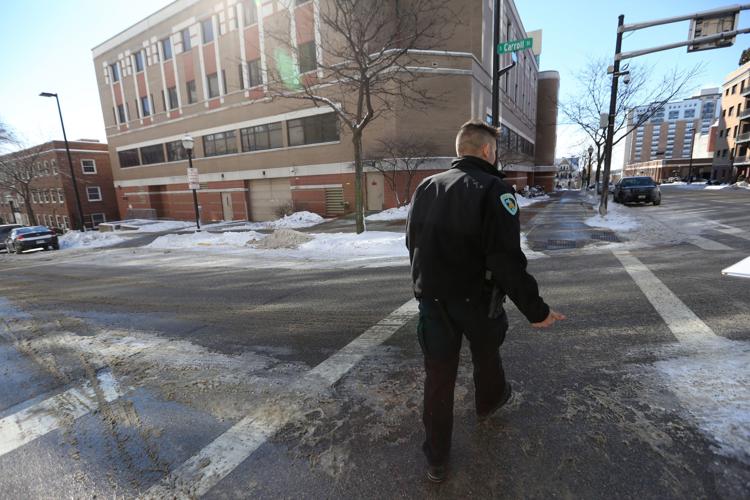 Use of force divides public opinion
Two years ago, Samson was at a crossroads in her career. She testified about a controversial pro-police petition at a July 2016 City Council meeting and acknowledged a divide between the community and police officers.
Samson said national police shootings and a local narrative of police mistrust had pushed her to look for employment outside the department. She ultimately stayed with the MPD and welcomes the OIR Group's recommendations.
"If there is a sentiment in the community, even a small sentiment, even a small population that feels as though we're not serving them the best way that we could, we need to take a look at that," Samson said.
In its report, the OIR Group synthesized Madison's disparate opinions on what policing should look like, from vocal supporters to those who reject the "community policing" model espoused by the MPD in favor of "community control of the police."
M Adams, director of Freedom Inc., argues in a Wisconsin Law Review article that implementing community control over the police in the black community "must manifest in the form of civilian boards, comprised of residents subject to police jurisdiction, with 100%-complete authority over the priorities, policies, and practices of the police."
During the OIR Group's review of the department, the forceful arrest of teenager Genele Laird at East Towne Mall was captured on video, the officer who shot Michael Schumacher on the east side in 2016 was cleared and a Madison jury awarded $7 million in damages as a result of a 2014 fatal shooting of Ashley DiPiazza because of fault with the involved officers' actions.
Despite the public attention on these incidents, the consultants found that the MPD's use of force "is limited in volume and primarily minor in nature." However, the consultants recommended implementing use-of-force procedures that are more restrictive than the constitutional standard.
MPD officers are authorized to use force, and deadly force, when it is "objectively reasonable based on the totality of the circumstances," according to the 1989 U.S. Supreme Court ruling in Graham v. Connor.
Both the department and the city attorney's office disagreed with the OIR Group's recommendation on use of force.
"Employing a more stringent standard may have the unintended effect of making the city and its officers open to greater liability, as claims might be made that failure to meet the city's new self-imposed standard was actionable," according to the city attorney's response.
Officer-involved shootings and other violent incidents involving officers in the past six years have some in the community calling for more accountability and influence over police procedures, while others argue for increased public support of the MPD. Wisconsin Professional Police Association executive director Jim Palmer said the heightened public scrutiny affects officers personally and professionally.  
"It's a challenging time to balance the views that are vocal that show up to Common Council meetings to those who are supportive but don't show up," Palmer said.
Officer Lore Vang, a member of the MPD's Community Outreach Resource Education team, said he often hears negative perceptions of the department from city residents.
"We hear that we don't fully understand the dynamics of power between law enforcement and the city to which they serve. We are this force, this governmental force that is highly privileged and takes advantage of that," Vang said. "That's disheartening, but that's what we are hearing."
'We don't trust you'
Use-of-force incidents, in any frequency, weigh on the community.
King, a Freedom Inc. youth organizer who goes by just that name, spoke at a City Council meeting Jan. 16 against adding more officers to the police department. As an 18-year-old black, queer, gender-nonconforming youth, King said police officers have made living in Madison more difficult.
"Safety for my community means housing, food, culturally specific social workers, community centers and community control over the police," King said. "We don't trust you all to keep us safe. We don't want more of you on our streets policing our bodies and destroying our communities."
Vang acknowledged the trust divide between some members of the community and the Madison police. The CORE team, a grant-funded unit that began in 2016, aims to break down barriers between youth and police like those described by King.
"We want officers to be a part of our community," Vang said. "When we talk about being part of the community, it's really a statement of having people trust that they can come to us with their problems."
A major opportunity to build trust with the community happens after critical incidents occur. The OIR Group pointed out that this is an area where MPD could do better and suggested conducting town halls and listening sessions after all critical incidents, including officer-involved shootings.
Consultants also suggested holding public debriefings of major incidents when investigations conclude.
Incidents that dominate public dialogue can shape the community's perception of the police. Corey Saffold, a patrol officer in the south district, said after critical incidents, police officers need to be responsive to questions and the community should be more patient.
 "After those high profile incidents, the community judges us on how they feel about us," Saffold said. "After that, it completely overshadows and outweighs the community outreach that we do, so we have to learn how to better respond to those incidents. We can't appear defensive."
Saffold explained the community's perception of Madison police, whether based on facts or not, can outweigh the department's record on paper. If that impression is not positive, Saffold said it is the department's job to turn it around.
"No matter how much we say we are a good police department — I believe we are — if the public perception of us is that we're not, that's the public's reality. Period," Saffold said.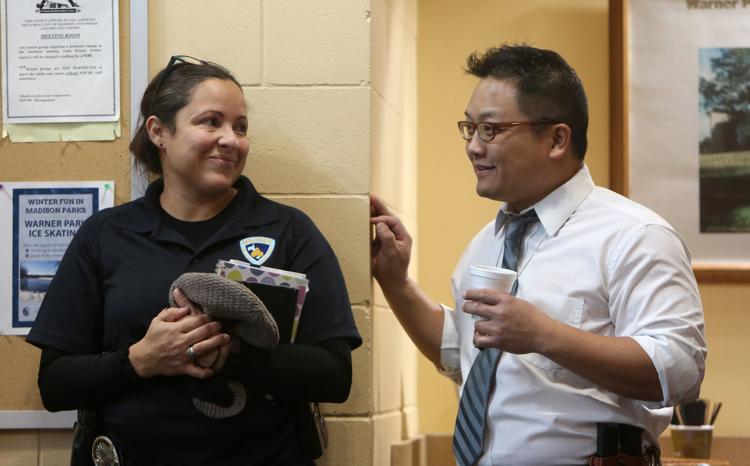 Staffing questions
Tied up in discussion of the OIR report are questions about the the department's size. The consultants did not conduct a staffing study and MPD leaders said some of the recommendations would require more people to do the work.  
Madison officers often say they want to go the extra mile on the job — spending more time on calls, talking informally to residents — but they are constrained by what several in the department have called a "staffing crisis."
"There is a pressure to get things done," Christian said, knowing that the Central District was down an officer when he was wrapped up in a lengthy call like the harassment case.
Officers say they're busier during shifts. They also say it's hard to take days off and working overtime is common.
"Even the days where it's slow and you're caught up, there are other people inundated with calls the day before that have to catch up," Cleary said. "It takes away your ability to just go walk a neighborhood and play basketball with the kids on the street or something like that."
Some methods used to determine staffing numbers include comparing Madison to cities of similar size or by population. The MPD uses a workload analysis and based on 2016 data, the MPD is short 15 officers, according to Assistant Chief Vic Wahl.
There are currently 468 commissioned officers and of those, 208 are authorized as patrol officers, according to Capt. Brian Ackeret. But, due to injuries and officers in the training academy, there are 187 officers currently working patrol shifts.
Madison Professional Police Officers Association president Dan Frei does not have a magic staffing number in mind, but he said that as a patrol officer working nights, the need for more people is apparent.
"As patrol, we're the initial line of everything that comes in," Frei said. "You can have a quiet night where there's not much going on — minor neighborhood disputes or civil disputes — all the way up to shootings, homicides."
In a survey of patrol officers for the OIR report, lack of resources and staffing were among the top concerns when officers were asked what they would change about their jobs.  
"When you're constantly being bombarded and stressing your officers out, you expect them to make high quality decisions, well then you end up in this downward spiral if you don't give them more cops," Cleary said.
Other concerns were public perception of the police, patrol pay and schedule, and the perceived lack of support from City Council members.
Last month, the City Council approved $416,385 to pay for eight additional officers and $163,530 to buy three marked squad cars. The ongoing annual cost for the eight officers is approximately $600,000 and $21,300 for the cars.
Though the decision was made on a 17-2 vote, the public comment and debate among alders was contentious. Ald. Rebecca Kemble, District 18, said she could not in good conscience add more budget authority to the MPD because the OIR Group pointed to a lack of data surrounding community policing.
"We don't have enough information to make a fiscally responsible decision on whether or not more patrol officers are needed," Kemble said of her no vote.
The OIR Group determined that the MPD is not measuring how much and how well officers working in specialized positions and on patrol are performing non-traditional police functions. Officer Natalie Deibel, who joined the department in 2014, agreed with the analysis that much of an officer's work is not recorded.
Officers use a computer-aided dispatch system, which notes when they are on calls. However, the work that officers are doing when they're not assigned to a call — paperwork, making follow-up phone calls, connecting victims to resources — is not recorded.
Deibel estimated 35 percent of her work on patrol is not reflected in the system, which would be helpful for the department and the public to know. But, she disagreed with the recommendation that officers keep track of their work in log books.
"I immediately blanched when I read that because that's another thing that I am now going to need to do on my shift and is going to take time away from me serving the people," Deibel said.
Two hours into a recent shift, Deibel had wrapped up work on a heroin overdose case and, in the course of a 20-minute phone call with a reporter, received a call about a domestic incident. Deibel said patrol officers are experiencing mental and physical tolls from their call loads, the frequency of overtime and a lack of control over taking days off.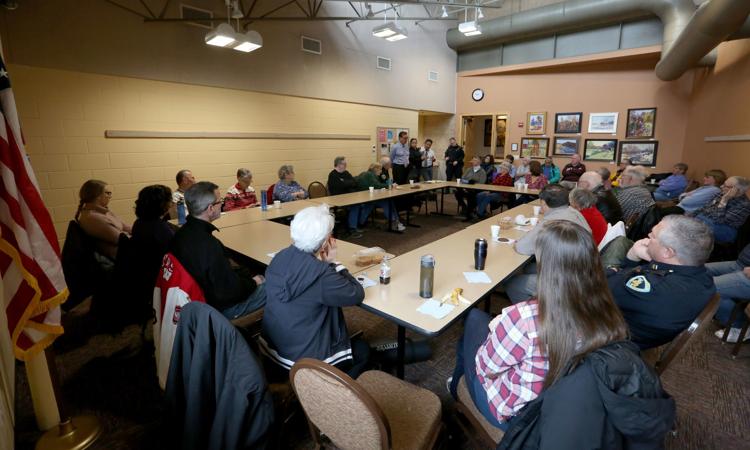 'There's no wizard'
As a Madison resident and taxpayer, Deibel said she understands reasons for limited financial resources and grievances brought by the community against the department. But, she said there is a disconnect in understanding the challenges that officers face.
 "People often think they know what police do, but when you pull the curtain back and you see that there's no wizard, it's very interesting to see what is happening on any given day," Deibel said.
Several of the officers interviewed said they wish more community members would go on ride-alongs to see firsthand what they do instead of making assumptions.
Frei, the union president, said "almost everyone thinks they know what our job is."
Cleary said he doesn't worry about the "talking heads" or the range of opinions on how he should do his job.
"I don't really care what people think outside and what we should do as long as I'm doing what's morally and ethically right," Cleary said. "We were picked for our positions because we have those moral and ethical judgments that can make the right decision for what's going on around us."
Amelia Levett, a neighborhood resource officer, agreed with the disconnect Deibel described. In some ways, wearing a uniform becomes an officer's sole identity.
"People don't see the human side of us," Levett said. "They see a badge and a gun. They don't see that I'm a daughter, a girlfriend and a mother to two cats and a blind, deaf dog."
The resentment and misconceptions expressed to Levett by community members and some of her own family members is draining. She said she didn't "sign up" for the vitriol or to get shot or to die in the line of duty.
Before entering the force, Levett studied criminal justice and law enforcement in graduate school and genuinely wanted to help the community by being a police officer. Now, she's preparing for possibly burning out of her career and has stepped back from helping out with the department's recruitment efforts because she feels disingenuous.
"I put so much of my time and life and education into doing this," Levett said. "I think about how bad I wanted this job and how much I really wanted to be a police officer and now I'm like, let's make sure there's other options."