A prevailing theme at a Saturday Cap Times Idea Fest panel on juvenile justice in Wisconsin was the distinction between reform and transformation.
The danger of the former, said Community Justice Network for Youth director Tracy Benson, is that it generates superficial changes to an inherently unfair and racist institution.
"We know that prison is the grandchild of the enslavement of African people. And when we think of slavery in terms of reform versus abolition, it'd be really hard to talk about reforming slavery. Like do we have a kinder slave owner?" Benson said. "We think of the prison system a little similarly. We can be kinder — and have, as they say, a cage with teddy bears and carpet."
"When you put lipstick on a pig, it's still a pig," said Sharlen Moore, the founder of the Milwaukee youth grassroots group Urban Underground, regarding reforms to Wisconsin's juvenile justice system. "We're not doing anything transformative."
Moore and Benson joined Erica Nelson, the Race to Equity coordinator with Kids Forward, for a panel discussion called "The Next Chapter for Youth Justice in Wisconsin," moderated by Cap Times state government reporter Briana Reilly in the Play Circle Theater at the Memorial Union.
The panel convened as the state's juvenile justice system undergoes a significant change. The state Department of Corrections plans to shut down Wisconsin's two juvenile detention centers, the Lincoln Hills School for Boys and the Copper Lake School for Girls, in 2021, per legislation passed in 2018 and 2019. Those prisons would be replaced by smaller regional facilities, some run by county governments.
Those changes follow investigations into allegations of inmate abuse at the hands of prison guards, including excessive use of force and excessive use of pepper spray, handcuffs and solitary confinement. A federal investigation into the allegations ended in 2018 with no criminal charges filed. The state has settled multiple lawsuits over the various incidents, resulting in millions of dollars in settlement payments, and agreements to end the use of pepper spray and scale back use of solitary confinement.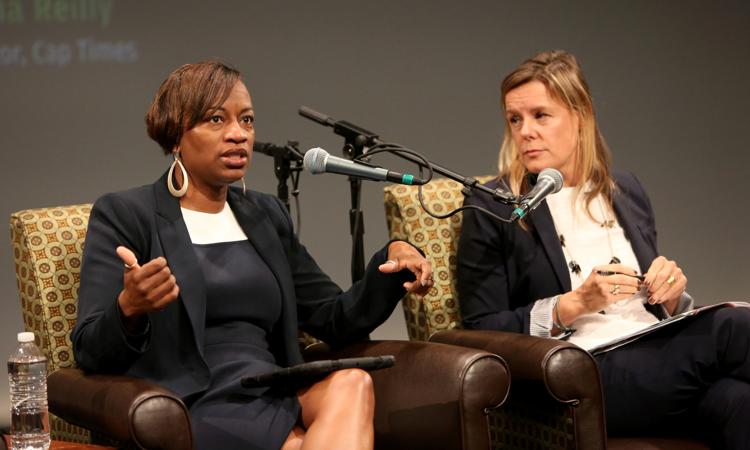 Nelson — who helped write the Race to Equity report in 2013 that cataloged racial disparities in the Dane County area across a number of measures, including incarceration — noted that as the state overhauls its facilities, levels of youth incarceration have also been changing. She said the total number of juvenile inmates has seen a decline since the "superpredator era" of the 1990s. However, she said that disparities in the racial makeup of inmates have remained.
"Racial disparities in the youth justice system are extraordinary within this state," said Nelson.
Benson said that trend has been mirrored across the country.
"You might feel like you've done the hard heavy lift of reform ... but largely it was white youth that benefited from that reform," she said.
Moore has long advocated for changes to the state's uvenile justice system — a major focus of her organization has been Youth Justice Milwaukee, a campaign that calls for alternatives to incarceration for juvenile offenders. She said that while the shutdown of the Lincoln Hills and Copper Lake facilities is a positive thing, she doesn't necessarily think the shutdown is happening in the right way.
"One thing that it didn't do was put money and resources into things that young people needed," said Moore. "(Lawmakers) didn't take the time to say, OK, let's take a look at what we need to do before Lincoln Hills and Copper Lakes close down."
Nelson agreed that bringing more people to the table, and having a more holistic conversation, is what's needed to effect real change in the state's juvenile justice system.
"What we need to do is extend the conversation to, how we invest resources. What is coming back into the community?" she said.
Moore noted that the state currently spends $144,000 per juvenile inmate each year — funds that she thinks could be put to better use helping families of would-be offenders.
Benson wound down the panel by encouraging the audience to think about what she described as contradictions in the justice system — the notion that "justice is blind" despite profound levels of racial disparities, for example, as well as the reality that community investment is treated as a separate issue from criminal justice. She also stressed the importance of involving knowledgeable adults whom youth can trust as part of any justice system, and pursuing alternatives to incarceration.
Moore said that in Wisconsin, she would like to see juvenile justice overseen by the Department of Children and Families instead of the Department of Corrections. She also suggested involving families of offenders more directly.
Nelson said that she hopes to see a fundamental shift in perspective in how people think of juvenile offenders.
"Somewhere in this process, before they got to these facilities, an adult failed them in some respect," she said. "We didn't ask them, what is your circumstance? Why are you here? Why did you behave this way? As opposed to, what's wrong with you? Here's your punishment."