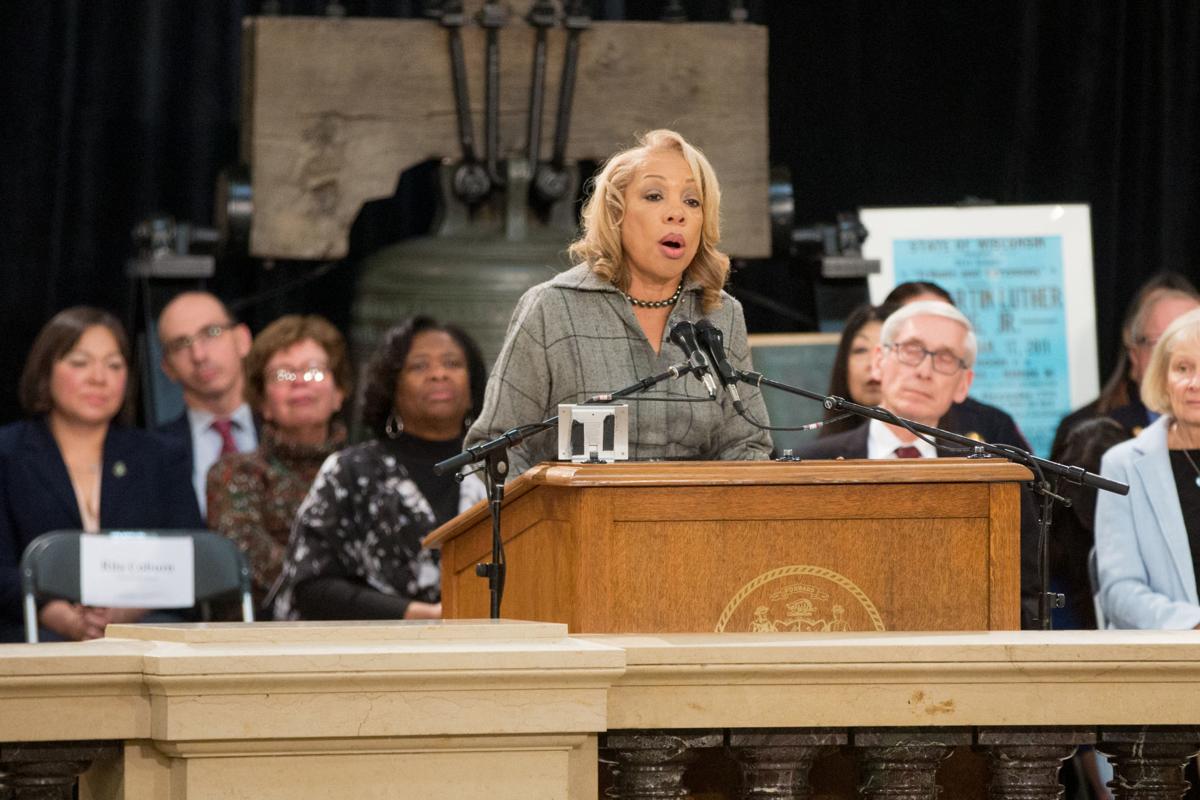 The audience gathered in the Capitol rotunda Monday for Wisconsin's annual celebration of Dr. Martin Luther King Jr. fell silent as Bernice Parks accepted the annual MLK Heritage Award on behalf of her daughter.
Sandra Parks was killed this March at the age of 13 by a stray bullet fired into her home in Milwaukee. She had previously won an MLK essay contest, which she used to write about gun violence.
"Please, please, I'm begging you, don't forget my baby," Bernice Parks said through tears. "I still look at her picture and say, how could this have happened? I still want answers, Milwaukee, I still want answers. But at the end of the day, Sandra's a blessing ... she's going to continue to be a blessing on all of us."
In her keynote address, Rita Coburn, an award-winning film director, writer and producer, honored the stories of women like Parks who had turned "moments" into "movements."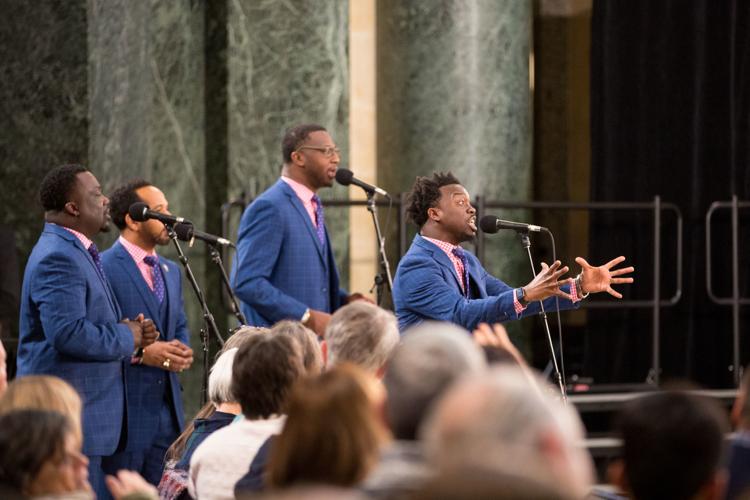 Coburn drew attention to the brutal 1955 murder of 14-year-old Emmett Till, a black boy who was accused of whistling at a white woman. But it was Till's mother who opened the casket at his funeral, "calling worldwide attention to her son's bloated, beaten face and an appealing vision of racial injustice" and creating an "international stage," Coburn said.
"A mother's grief primed a movement," she said. "Like Mamie Till's wails for her son, we as the women, the mothers, the sisters of this time must excavate our voices, sound a powerful battle cry and march for truth."
Monday marked the 39th annual state tribute to King, which makes it America's oldest official state MLK ceremony, Gov. Tony Evers said. Evers was given a standing ovation before his brief remarks kicking off the event.
This year recognized women's historical roles as change makers, innovators, activists, leaders and champions, said Dr. Jonathan Overby, the producer, director and emcee of the program.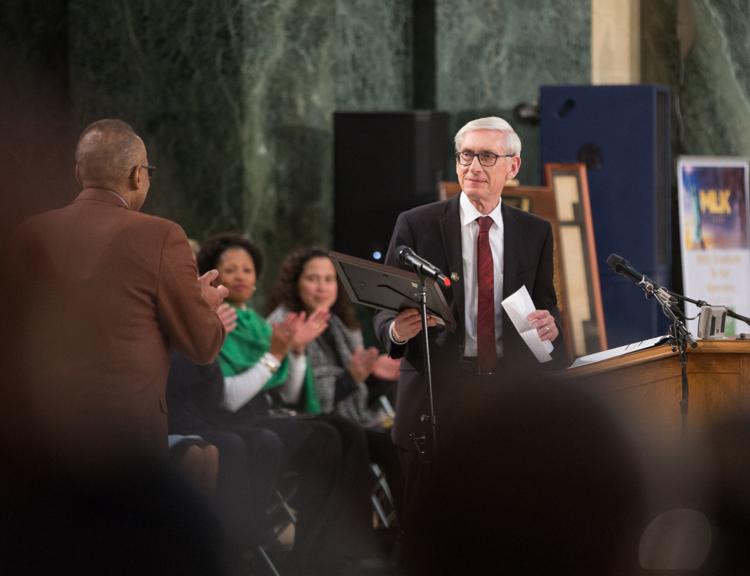 The celebration featured performances by acts like the Victory Travelers Gospel Quartet, the MLK Women's Mass Choir and James C. Wright Middle School students.
The Evjue Foundation, the charitable arm of the Cap Times, was a sponsor of the event.
Along with Parks, Patty Loew, a member of the Bad River Band of Lake Superior Ojibwe, received an MLK Heritage award. Loew, a former Madison television anchor, is a professor at Northwestern University's Medill School of Journalism and director of the university's Center for Native American and Indigenous Research. Her book, "Native People of Wisconsin," is widely used as a Wisconsin social studies textbook.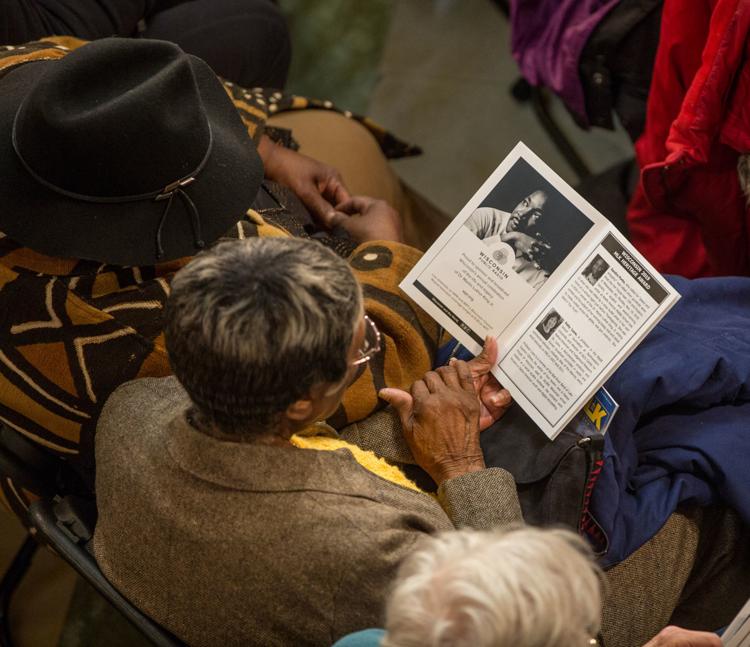 "I'd like to think if Dr. King were alive, he'd be warning us against environmental injustice too. He would be concerned about the assaults on our earth, on our air, on our water. These resources are precious to my people," Loew said.
In her invocation, Rabbi Andrea Steinberger, a rabbi at the Hillel Foundation on the University of Wisconsin-Madison campus, pointed to powerful examples of women, ranging from the Biblical Hannah to civil rights activist Rosa Parks to "women who by their efforts of resistance led us on a path towards the women's marches of today."
Coburn followed suit in her keynote address, telling the stories of women change makers. Coburn has garnered three Emmys, with a work history that includes the Peabody Award-winning documentary "Maya Angelou: And Still I Rise," and producing credits for "The Oprah Winfrey Show."
Coburn honored the two white women who taught her grandfather, born into slavery, to read. She noted that Ava Duvernay's documentary "13th" exploring voter suppression was followed a few years later by a law change giving former convicts the right to vote in Florida. She pointed to Tarana Burke, the originator of the #MeToo movement.
"We are standing up against sexual predators in the workplace," Coburn said. "I am three generations removed from slavery, and I can assure you my light skin did not come from consensual sex in the workplace of slavery."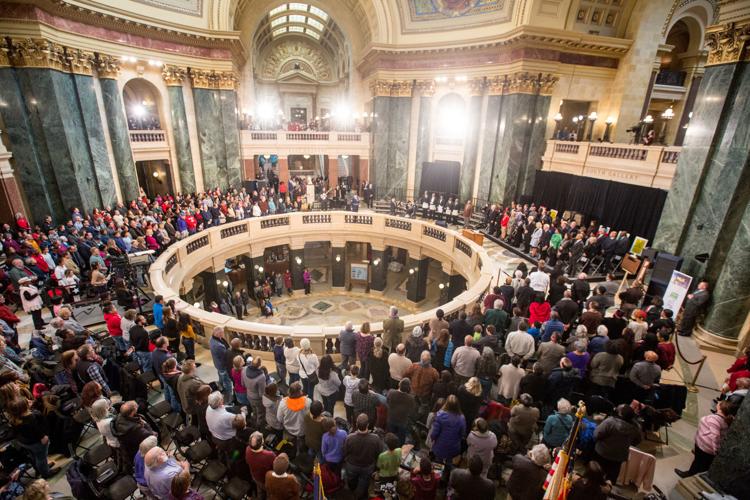 Coburn encouraged the crowd to join these women in action.
"What have you done to bring about justice? What have you done to eradicate racism? … Have you hired us in your firms, your stores, made space in the school and administration?" Coburn said. "Each of us can and must do something."
That included a call to youth, whom she called "a regiment in this army for truth."
"We hear your voices when Black Lives Matter … We hear you when you take to the podium and challenge our nation's gun laws," she said. "We see you when you vote."
But along with individual responsibility, she said there is a need for solidarity and whites need to "recognize and denote privilege in order to create change."
She quoted King, who once said he came "perilously close to resenting all white people," but Coburn continued "you can march with passion, but you cannot march effectively with resentment."
"Your acknowledgement of the birth, the life and the death of Martin Luther King Jr. means that we are all from the same tribe," Coburn said, later adding: "One of our challenges (as women) is to fully respect one another. We will have differences, our goal is to increase the tribe, not to alienate others."
Share your opinion on this topic by sending a letter to the editor to tctvoice@madison.com. Include your full name, hometown and phone number. Your name and town will be published. The phone number is for verification purposes only. Please keep your letter to 250 words or less.
Be the first to know
Get local news delivered to your inbox!