When it comes to public art, Madison has moved way beyond statues of prominent figures and decorative fountains.
And lately, new projects, of which there are plenty this late summer and early fall, are drawing directly from the community around them. Art pieces have become overwhelmingly neighborhood-led, with a level of public input that feels unprecedented.
For these new works, artists are incorporating everything from old soup boxes (Victor Castro's "USGathering" sculpture at Meadowridge Library) to silhouettes of nearby art lovers (Elizabeth Doyle's Verona Road project).
Artists may ask for volunteers to paint pavement in a colorful design or contribute objects to a time capsule inside Willy Street's 32-foot-tall "CommuniTree."
The result is a series of art projects that reflect the spirit of Madison on a very personal level.
"Public art is a reflection of the community's concern," said Barbara Schrank, who chairs the Madison Arts Commission and heads up its public art committee. "We like to make it a creative, collaborative process."
Over the past decade, the profile of public art in Madison has been steadily rising. This year, the Madison Arts Commission awarded $74,398 in grants for live concerts, arts education and public art. The city also funds a variety of temporary art through BLINK! grants, which have awarded up to $1,500 per project for installations along the Yahara River and a sculpture at the entrance to the Monona Terrace, among others. Each floor of the high profile, newly renovated Central Library is infused with art.
"I'm continually impressed with what we're able to support with the budget we have," Schrank said. "It's amazing quantity and quality."
Not everyone will love every piece, of course. Schrank embraces the role of public art "to challenge and question."
"We are interested in developing artists, and enhancing and expanding the culture in the city of Madison," she said.
Local arts commissioners hope that the more they let people into the process of shaping public art, the more they will accept a new abstract sculpture at their local library or a colorful painting on a nearby intersection.
"It's not like the old statues that those of us who are older might have grown up seeing," Schrank added. "It is really a sense of place and community" that makes Madison's public art stand out.
"It enriches all of us, in any number of ways, and challenges us."
---
Pavement painting
Various locations including Percy Julian Ridge, Dunns Marsh Terrace and Revival Ridge (Allied) and Knutson Drive cul-de-sac (north side); additional locations in the Leopold and Meadowood neighborhoods
More than a year after the city made street painting legal (within fairly strict parameters), the first of four pilot pavement painting projects started on Aug. 23 in the Allied neighborhood with a design by Marcus Nickel.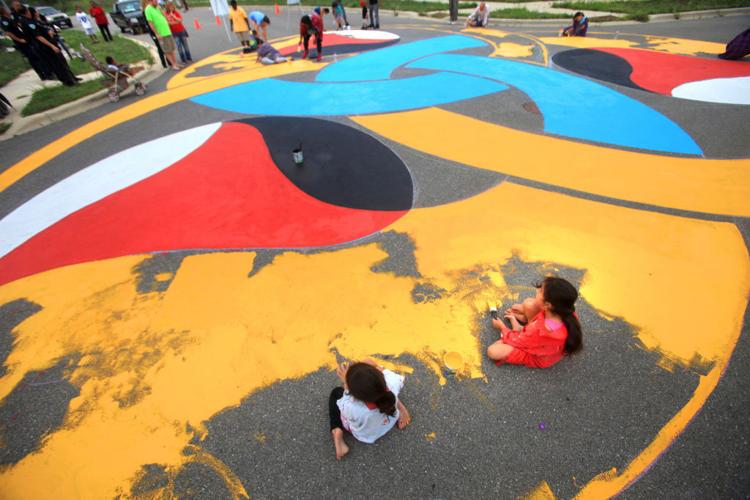 Prolific muralist and arts educator Sharon Kilfoy of the Williamson Street Art Center heads all four of the projects, coordinating with the city, neighborhoods, funders like US Cellular (which donated $6,000 toward painting), artists creating the designs and volunteers to paint them.
On Saturday, north siders and other volunteers will paint Kilfoy's own sunflower design on a cul-de-sac on Knutson Drive.
"In the middle of the sunflower are two cranes, facing in opposite directions like an Escher thing," Kilfoy said. "They have cranes that land in their backyards there."
There are targeted sites for Leopold (painting date: Sept. 20) and Meadowood (Sept. 27), but volunteers there are still collecting signatures from neighbors.
Painting sites may move around based on residents' input. Several hours of painting can create access problems for those who live close by. The designs can last for a few years.
"The real intent of this project," she said, is "to say to a neighborhood like Meadowood that has so few art resources, 'You matter.'"
Brittany LaBorde is the artist for that site.
"Her design – it's a compass," Kilfoy said. "She's got the Capitol in it, UW with Bascom Hill, football, a badger, a garden with the MSCR logo sun, the lakes and the arboretum with a bike.
"Part of her message in having all of these different Madison landmarks is for the neighborhood to have this resounding message that 'You're part of the city, you're a part of all of this."
---
'Pure Life' mural
912 Williamson St. Visible from Paterson Street at Williamson Street.
Earlier this summer, Baltimore artist Michael Owen painted a version of his popular "LOVE" mural on the side of Plan B. Now, local muralist, graphic designer and screen printer Craig Grabhorn is making another wall of that building more colorful with his "Pure Life" mural.
"The idea of the piece is about human potential," said Grabhorn, who moved from Madison to a rural studio near Avoca. "The landscape … represents the opportunities and abilities that we all are given."
Two skulls, one with a sun on its forehead and the other with a moon, show the balance of masculine and feminine as well as the "fragility of life," Grabhorn said.
They float in a bed of flames that emerge in a lotus flower, next to the text: "The core of your true self is never lost." Grabhorn hopes the overall message will be, "Be gentle, be passionate, do the best you can, be supportive of others," he said.
While he painted the mural solo, in December, Grabhorn will start a three-month residency at the Madison Public Library's Bubbler program.
While there, he plans to teach screen printing — something he also did at the library this summer — and test some ideas for a series of houseware designs, along the lines of Marimekko.
"The mural is more of an honorary piece," Grabhorn said. "But I really get excited about opportunities to go out in public and share art."
---
'CommuniTree,' the Williamson Street gateway sculpture
600 block of Williamson St.
The 32-foot tall "CommuniTree" was installed in early August after nearly two years of welding work by artist Erika Koivunen, her husband, Aaron Howard, and a team of dedicated volunteers. With its branches bedecked in metal flowers, the towering tree introduces visitors to Willy Street.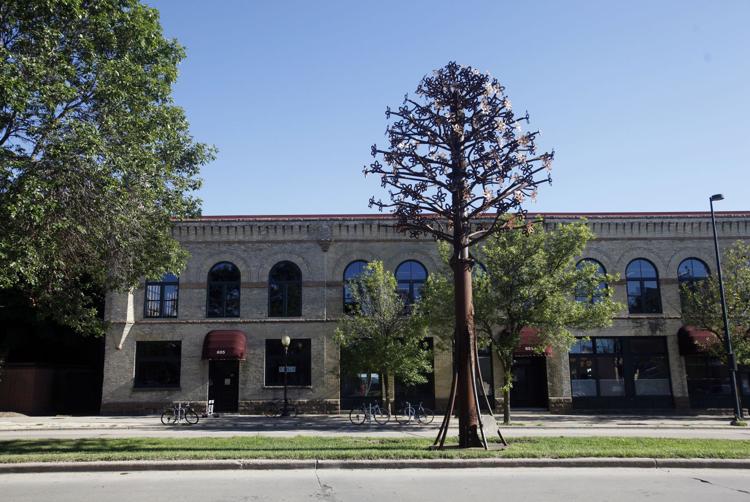 Suspended in the base of the tree is a time capsule that contains, among others things, a ring Howard made with his father, a wheat penny from 1936 and a drink chip for the Caribou Tavern.
Scott Thornton, co-chair of the Marquette Neighborhood Association Art and Culture Committee (which funded the sculpture), put in a set of tiny tools he discovered while remodeling his home on Jenifer Street.
"It's a piece of art in itself," Thornton said of the time capsule. "If the tree is ever removed, that'll be there."
The tree sculpture is one part of a $100,000 fundraising campaign MNA has been running for public art (which includes Grabhorn's "Pure Life" mural) on the near east side.
Thornton said the campaign is about 80 percent complete. Additional funds could be raised via Kickstarter for a series of street markers detailing local history.
"They're social history markers," Thornton said. "The neighborhood association membership identified 10 or 12 places that represent our unique neighborhood … Willy Street Park, Dolly's (Café) where St. Vincent DePaul's is," and outsider artist Mona Boulware Webb's Wayhouse Gallery of Light.
The markers, made of metal by Koivunen, could be "a way to preserve the history and stories" of Willy Street, Thornton said. "That'll be the next big thing coming to the neighborhood."
---
'Healing Race Relations'
Currently at Goodman South Madison Library, 2222 South Park St.; Sept. 27 moves to Hawthorne Library, 2707 E. Washington Ave.; Oct. 4, Pinney Library, 204 Cottage Grove Road; Jan. 17, Sequoya Library, 4340 Tokay Blvd.
The idea for Jovita Hogan's biggest painting came to her in a dream.
"We were reading a book at church," said Hogan, an artist who attends Fountain of Life Covenant Church. "The author was talking about life symbols — something you saw at a certain period in time that helped you get through a situation.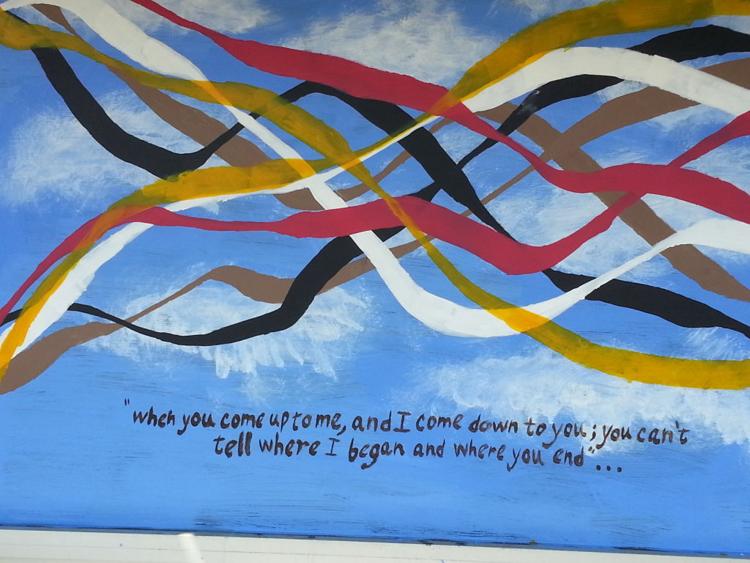 "I was going through a rough period, and I had a dream about the ribbons flowing in the sky and the message," Hogan said, referring to a line at the bottom of her painting: "When you come up to me and I come down to you, you can't tell where I began and where you end."
"It was so real. Spiritually, I had to get it on canvas."
Hogan saw the different colors of the ribbons as representing different races, and their intertwining as hope for a better future.
That first painting Hogan made about two years ago. It hangs in her living room.
Now, with funds from a BLINK! grant from the city, Hogan will paint versions of the painting (they will not be identical, but similar) on the windows of four local library branches: Goodman South Madison, Pinney, Hawthorne and Sequoya.
The project is called "Healing Race Relations," and as part of it, Fountain of Life's Rev. Alex Gee is scheduled to speak at Hawthorne Library on Oct. 3 from 5-6:30 p.m.
Hogan made her first painting on Aug. 9 at the Goodman South Madison Library.
"One man was walking down Park Street and he said, 'Oh, that's lovely," Hogan said. "He said, 'Thank you.' I said, 'Well, you're welcome.'
"It is for the community, for the people to see it, to lighten their day. Hopefully if they read what the message says, it'll give somebody something to think about, how we treat one another.
"We can treat each other better … we can be better neighbors, better friends to each other."
---
Verona Road Mosaic Project
East Verona Frontage Road between Red Arrow Trail and Atticus Way, on a retaining wall
Elizabeth Doyle's mosaics, set to be installed this October on a retaining wall as part of the Verona Road construction at the Beltline, were inspired by the kids who live nearby.
"Be part of the art!" Doyle wrote on the mosaic project's Facebook page.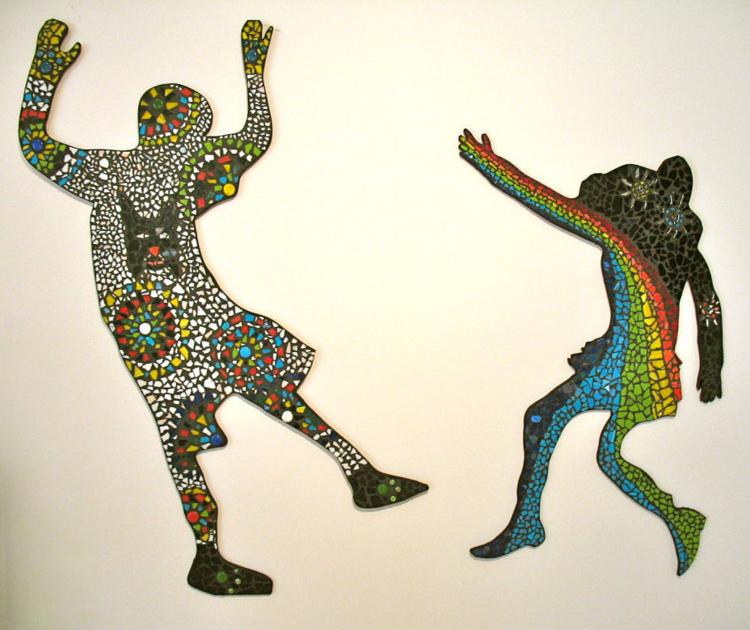 Starting in February, children and their parents attended "tracing parties" at the Boys and Girls Club, Prairie Unitarian Universalist Society and Second Baptist Church.
Attendees of all ages lay down on paper on the floor, making shapes to suggest jumping or running or grasping each other's hands. Then Doyle or another volunteer would trace them.
After that, participants could fill in the tracings with whatever colorful designs they liked. Doyle's only rule was that it "couldn't be literal," and should instead represent "the world of the people, their dreams, their energy."
In this way, residents contributed some 77 designs for Doyle to work with.
"All of them come alive to me in a different way," she said.
Doyle is an art teacher at Elvehjem Elementary, where she first had the idea for silhouettes. She said "it was so hard" to narrow all of the designs down to 20, and then to just 11 that will go on the wall.
"It was not only individual figures, but how they related to one another," she said. "I started pulling them together as a series, related to each other in pairs. One that is four girls — that is the largest piece."
When it is installed, the mosaics will be visible from the sidewalk as well as the frontage road on the east side of Verona Road.
Doyle said she had to navigate "the line between community collaboration and choice as an artist, for making decisions about the overall direction."
For her final designs, "I was picking up on the energy of what the body was showing me, but also what I got from the people — connecting with the people in the neighborhood."
---
USGathering
The new Meadowridge Library's public art piece, designed by Victor Castro, is nearing its October installation date.
Castro estimates that some 500 to 700 people donated materials for the abstract sculpture, which he is constructing in a library warehouse on Pennsylvania Avenue.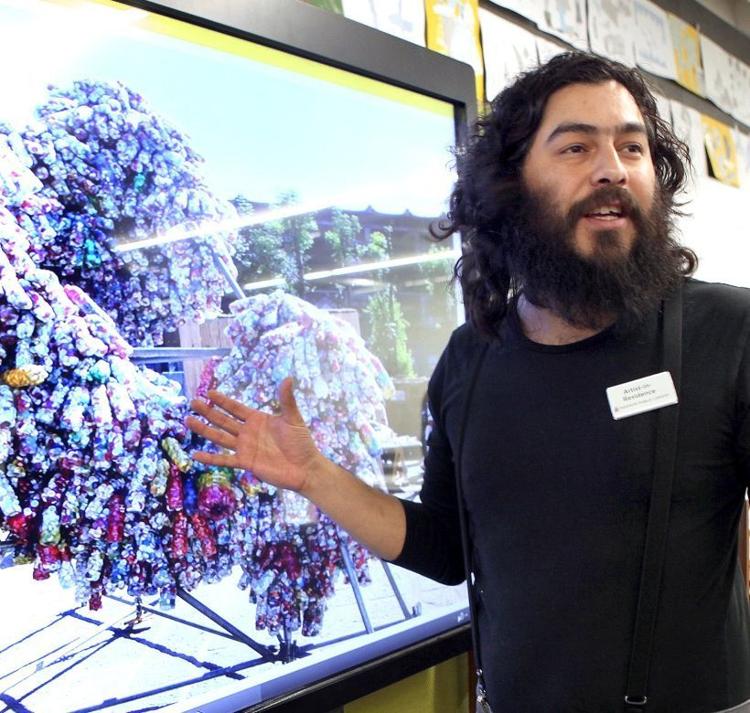 Those materials were, essentially, trash: Cartons of soy milk and soup (one brand name is Tetra Pak) with matte silver aluminum inside.
"Nobody else is working with these in this way, on this scale," Castro said. "That's kind of interesting."
The piece was funded by a city public art grant for $10,000. As the sculpture comes together, Castro said he hopes it will "transmit something positive to the people."
In a February story in The Capital Times, Castro said that "when they see the sculpture, people will see it and say, 'Look, that's my boxes!' 'Look, there's my idea!'"
"I enjoy my work and I love what I do," Castro said recently. "It's a great opportunity to me … I'm having so much fun."
---
Brittingham Park gateway arch
Brittingham Park, South Brittingham Street at West Main Street
Earlier this spring, on a big day for planting in the Brittingham Community Garden, local sculptor Michael Burns went with Mary Berryman Agard to the park to chat with folks about a new piece, or series, of artworks.
"We talked to people passing by, neighbors, gardeners," Agard said. "People had lots and lots of ideas. One idea that kept coming up was the idea of movement — wind and waves and the movement of the leaves, and how that related to bicycles moving up and down the path."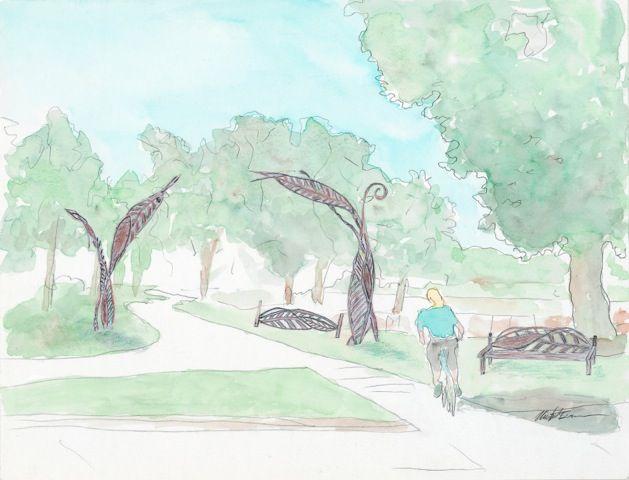 So Burns came up with a disconnected arch, inlaid with the images of leaves. The pattern, he and Agard hope, could be repeated on benches in the park and on a functional but more decorative fence around 20 garden plots.
"It's sort of pulling the motion down the bicycle path and continuing it, instead of having a gateway that's more like a break," Agard said.
Agard, a cultural planner and neighborhood volunteer, said Burns was wonderful with the neighbors. But this is one public art project that may be further in the future.
Organizers must raise about $60,000 for the project, including funds for ongoing maintenance. Burns hopes construction can take place in the winter, with installation in spring or summer of 2015.
Burns, whose east side studio is MB Metalworks, made the Marquette stone bench at Division Street and Atwood Avenue, gateway arches in the Arboretum and various pieces for Olbrich Botanical Gardens and Troy Community Gardens.
---
Walnut and Highland underpass art
Campus Drive underpasses at Walnut Street and Highland Avenue
For four years, the folks who live near the UW Hospital and Clinics have been looking at some ugly underpasses.
Walnut Street and Highland Avenue both pass under Campus Drive near the hospital, in dark, nondescript tunnels that funnel people to and fro. The Regent Neighborhood Association has been itching to do something with them, according to city arts coordinator Karin Wolf.
Collaboration with a university professor of landscape architecture, Sam Dennis, and one of his classes led to the selection of a single design by student Julia Schilling.
The project design, called "Constellation/Shift," is a series of geometric circles that will need to be vetted by the City Council and nearby businesses, but the neighborhood association, Ald. Shiva Bidar-Sielaff and 1000 Friends of Wisconsin (a nonprofit that promotes healthy communities) are already on board with support and funding.
Wolf said she doesn't anticipate installation of the artwork until late 2014 or spring 2015.
---
Keeping up appearances
The work of public art doesn't end when a piece is installed. One of city arts coordinator Karin Wolf's many jobs is maintenance on city-owned pieces.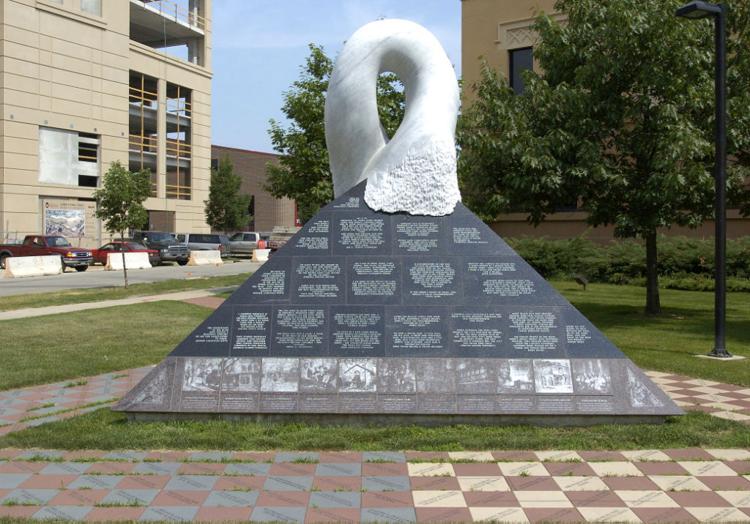 Among those currently due for sprucing up are Antonio Testolin's "The Spirit of Greenbush," a piece at the intersection of East Campus Mall and Regent Street. The problem is that its photo-etched images and text are becoming hard to understand and read. Wolf now has Testolin's original designs, and can move forward with restoration.
Harry Whitehorse's Effigy Tree, located at Lakeland and Maple avenues on the near east side, is due for a bronze polish and wax treatment.
Also on the east side, the city owns 13 quirky Sid Boyum sculptures, like the "bear chair" in Circle Park, a hippo in Wirth Court Park and "Faces," between Eastwood Drive and Atwood Avenue.
Recently, Lisa Stone and Don Howlett from Preservation Services in Neshkoro took a tour of the sculptures.
"They will provide a condition report," Wolf said. "The bear chair is in really good shape … even some that may need painting may be in good shape. It's structural damage that we're concerned about and that may not be visible."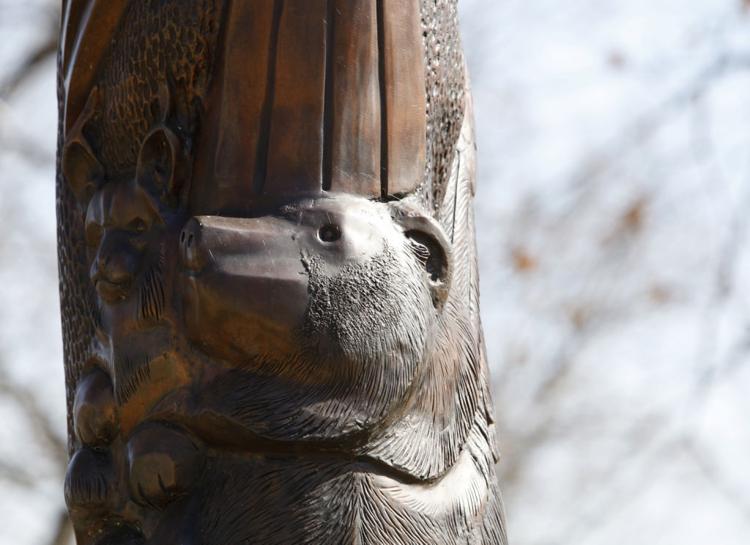 This fall, Howlett may return to talk to city staff charged with maintenance of the Capitol Square and State Street Mall about addressing calcium deposits on the fountains on either side of East Washington Avenue at the Square.
The maintenance crews are often hesitant to really clean the fountains, Wolf said, because "they don't want to damage the artwork, which I appreciate very much."
"They defer to professionals when it comes to art and conservation," she said. "Many times, well-meaning staff will do something like patch concrete with a little concrete. But then in freeze/thaw it makes the condition worse, which is what we have with the Annie Stewart Fountain."