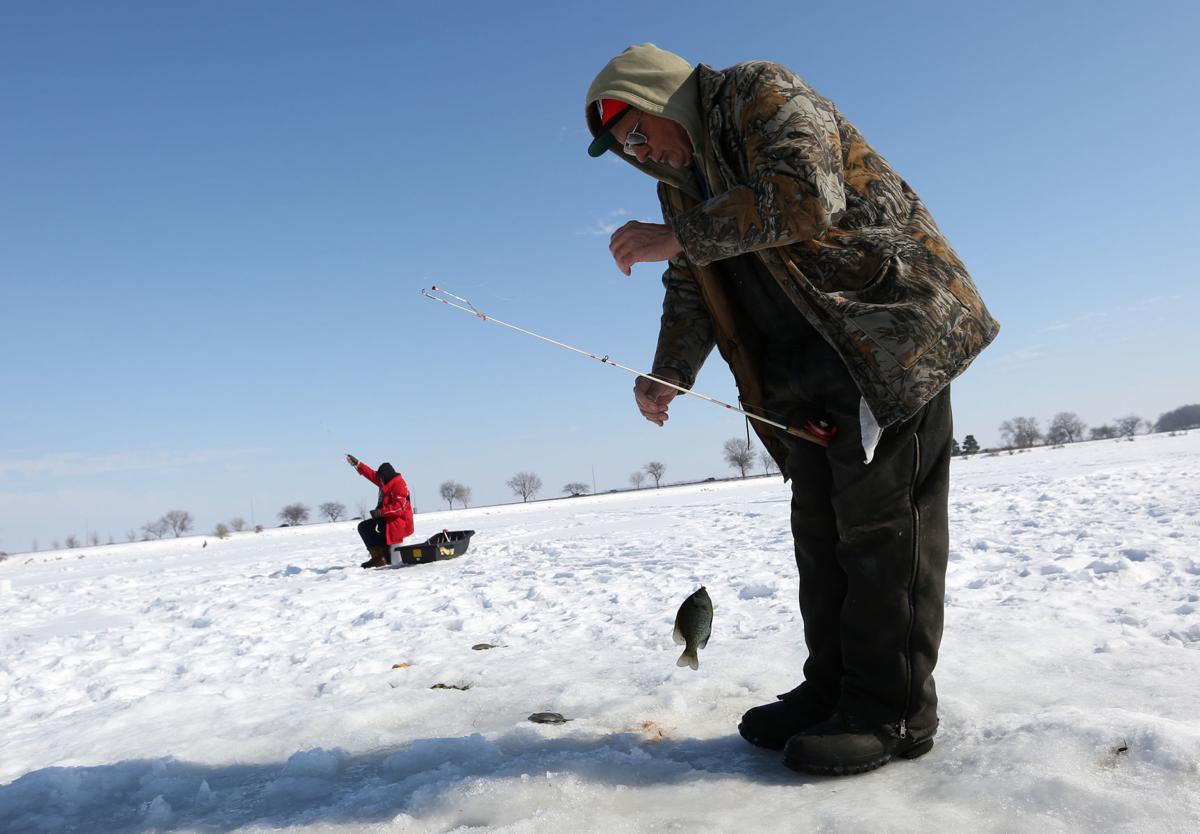 The state on Wednesday issued advisories to limit consumption of fish caught in Madison's Starkweather Creek and Lake Monona after tissue samples showed high levels of PFAS, a group of chemicals linked to cancer, reproductive problems and a host of other health issues.
The advisory from the Wisconsin Departments of Health Services and Natural Resources warns anglers to limit consumption of largemouth bass, northern pike, walleye and yellow perch caught in Lake Monona and Starkweather Creek to one meal a month. The same advice goes for common carp caught in Lake Monona. Bluegill caught from either body of water should be limited to once a week.
Officials said the "driving factor" behind the advisory is high levels of PFOS, considered one of the more hazardous chemicals under the classification known as PFAS, or per- and polyfluoroalkyl substances.
"We believe that this advisory provides protection against potential health effects related to PFOS and maintains the health benefits of including fish as part of one's diet," said Mark Werner, director of the health department's Bureau of Environmental and Occupational Health.
Madison Mayor Satya Rhodes-Conway released a statement saying that Public Health Madison & Dane County will be putting up signage at access points along the lake and creek. The city will hold two public meetings on the advisory and send notices to homes in the vicinity.
"I urge people to take this advisory seriously and recognize that small fish are of concern as well," she said in the statement.
Testing from samples taken last summer show levels of PFOS as high as 180 parts per billion (ppb) in bass taken from Starkweather Creek, as high as 120 ppb in yellow perch and 72 ppb in pike.
Lake Monona results include levels as high as 48 ppb in bluegill and 110 ppb in bass.
Results for fish samples taken from Lakes Kegonsa, Waubesa and Wingra are expected in the spring.
The Great Lakes Consortium for Fish Consumption Advisories, a group of seven Great Lakes states and the province of Ontario, advises not eating fish above 200 ppb, and limiting fish with concentrations of 50 to 200 ppb to once a month. Wisconsin has based its advisories on the consortium's recommendations.
But some states have gone further. New Jersey set the limit at 17 ppb for higher risk populations, which include infants, children, pregnant women, nursing mothers and all women of childbearing age.
"They have no advisories for sensitive groups," said Maria Powell, director of the Midwest Environmental Justice Organization, of the state advisory issued Wednesday. "It's just appalling."
Powell worries that while the local and state governments waited months for testing results, anglers, many from low-income neighborhoods, have been taking home tainted fish and feeding it to their families. The state found high levels of PFAS in Starkweather Creek last fall, and fish are known to have concentrations far higher than the water in which they swim.
"They should have posted warnings right away as a precaution even while they were still waiting for the fish data to come out," Powell said. "People could be eating that fish, feeding it to their pregnant wives and babies during those months."
The findings follow warnings from Public Health Dane County-Madison posted along the creek early last month after PFAS levels up to 400 parts per trillion (ppt) were detected in the creek near the Olbrich Park boat launch, a popular fishing spot. The state has proposed groundwater limits of 20 ppt, and has also proposed setting the same limit for drinking water and surface water.
The warning signs, however, told people that testing on fish was in progress, but didn't warn against eating them.
The highest level of PFOS in surface water, 3,700 ppt, was detected just south of the Dane County Airport and Truax Field and nearby burn pits where training with firefighting foam had been conducted for decades. Firefighting foam is a common source of PFAS, and they are also found in many household products like Teflon, non-stain carpets and upholstery, cosmetics and even dental floss.
The most studied forms of PFAS are PFOS and PFOA, which are also considered to be among the most dangerous. But as many as 6,000 PFAS variants are on the market, many of which are considered to be health hazards and which haven't undergone scientific scrutiny.
The PFAS advisory Wednesday is the second related to the chemical group in the state. An advisory is also in effect in areas in the Upper Mississippi, which were contaminated by chemicals released by the 3M plant in Minnesota. 3M is the producer of ScotchGard, a product whose water- and stain-resistant qualities are made possible by PFAS.