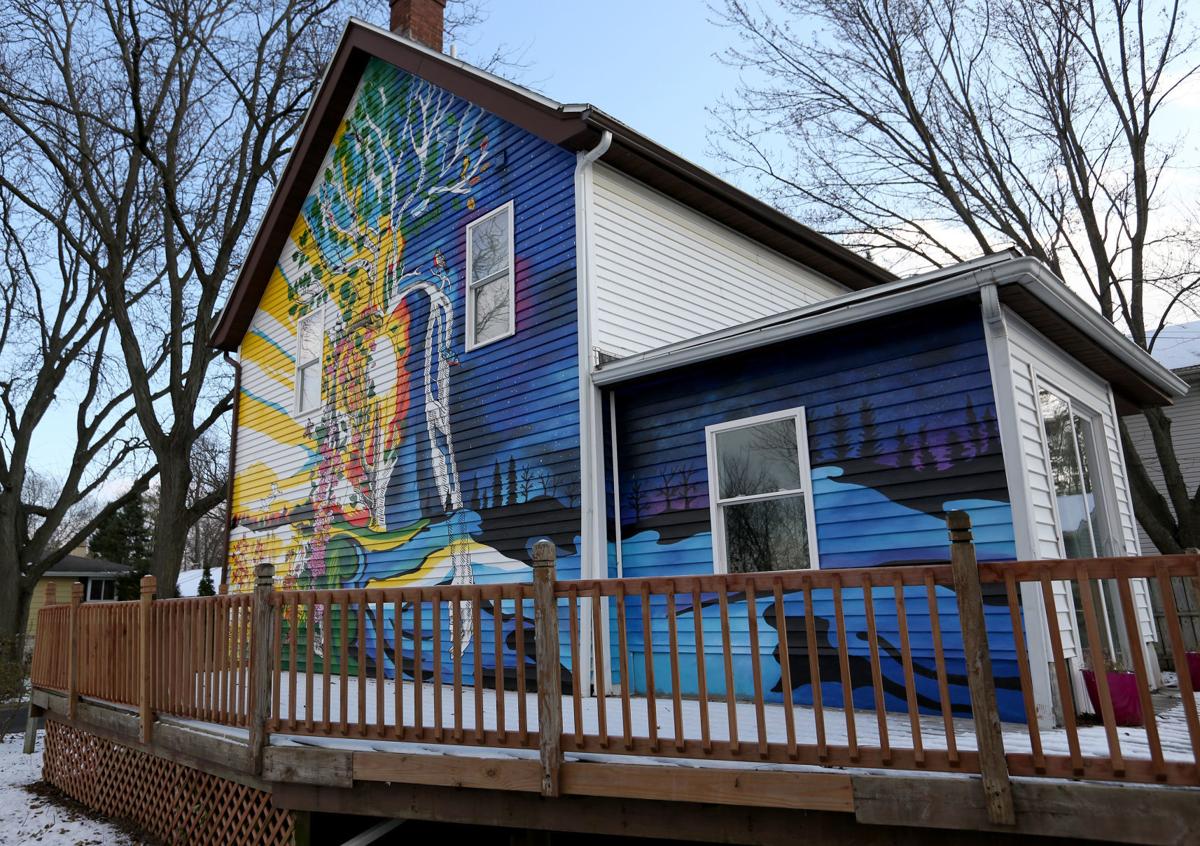 When Mary Burke bought her house on Madison's south side last year, she saw its white, aluminum-sided walls and thought it needed something more. 
"It was almost as if it was a blank canvas," she said. 
Burke, the founder of Building Brave, who also sits on the Madison School Board, had recently seen a mural painted by Jenie Gao at Working Draft Brewery on East Wilson Street.  The mural resonated with her so much, she asked Gao if she could paint one on the side of her house, built in the 1920s. 
"I was so taken by her mural, I really loved it," Burke said. "And I asked her, do you do murals on houses and she said, 'Well, you can.'" 
So the two began talking about the inspiration and topic for, "Rest and Rejuvenation," the piece of art that would eventually span one side of Burke's house. 
"I am very interested in the topic of how we accept our setbacks, our challenges, our disappointments in life as an integral part of our growth and renewal," Burke said. "We see it in nature. We accept it in nature, you can't have the spring and summer without having the fall and winter, but yet as human nature, we are much less accepting in seeing the role that disappointments and setbacks can play and that's what we talked about." 
Those themes are enshrined in the mural, which is painted directly on the siding of the house. The scene is visible from the bike path behind the house, with the left side full of bright yellows with rays of sunshine and deep blues in a winter scene on the right. The mural is anchored by a tree with limbs that appear as a hand reaching downward on one side and a stream of flowers on the other side.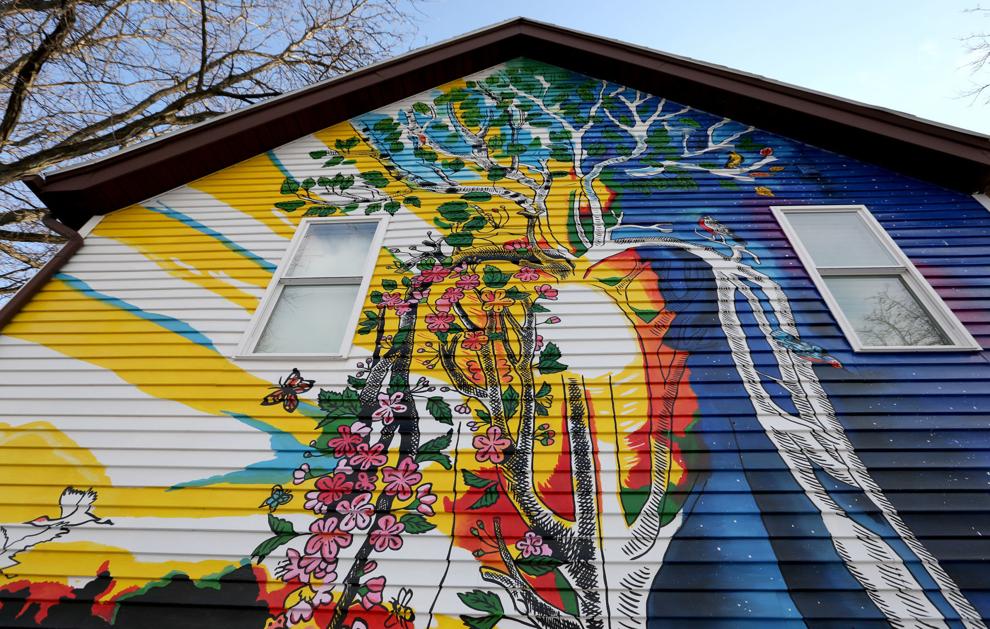 Gao took that concept back to her studio and developed preliminary designs that she worked with Burke to boil down to a final piece. 
"The design is finished before we even touch paint to the surface," Gao said. 
Though Gao has done several murals and large installations, this is the first mural she has painted on a private residence.  She used exterior-grade paint and hired a team of contractors and an intern to help her paint, following smaller templates of her design. The painting took about four weeks and was completed on Oct. 18. 
For Gao, the piece highlights the value of public art.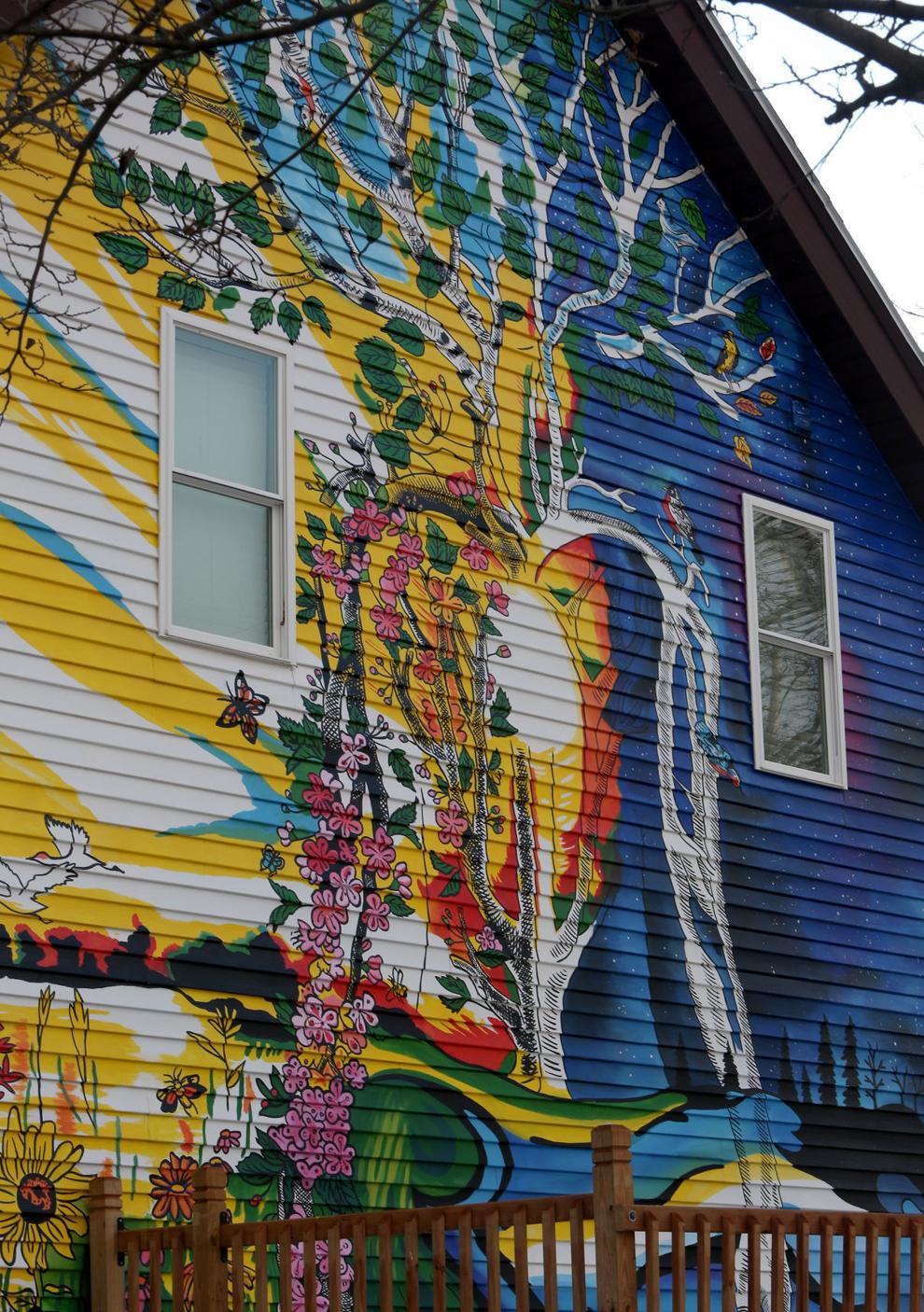 "It's a really good opportunity for us to talk about the creative economy and the role of public works," she said. "This work is just a landmark now on the south side. It's something that doesn't just belong to one house, it's now a part of everybody's commute who goes by that neighborhood. I think that it's really important when people in our community choose to invest in the arts and integrate it with their surroundings." 
Burke said she loves her south side neighborhood and hopes that the mural serves it. The theme of "rejuvenation" personally resonated with her, but was not intending to send a broader message about the neighborhood, she said. 
"I'm certainly not coming in and saying the neighborhood needs rejuvenating. I think there is a really important culture of the neighborhood and I want to be a part of serving that," she said. 
Burke said the motivation for the design was personal, but she wanted to make sure it complemented the neighborhood, too. 
"It was important for me that the identity of the mural and the feeling behind it certainly complemented the neighborhood but ... I wasn't doing it as something (where) I was stepping in and saying 'I'm going to do this for the community.'" 
So far the mural has gotten positive reviews from her neighbors. 
She said kids ask, "are you the lady with the mural and the paint on your house?" 
"I've had neighbors stop me on the street and I'd be out walking my dog and say 'We love it,'" she said.  "During trick-or-treat for Halloween, parents were walking their kids around and said, 'We love what you did with the house.'"