Squelching mud underfoot, Cassie Noltnerwyss points out a strip of brown in a sea of bright green crops planted on her Cross Plains farm.
"We're done planting that because we keep losing everything," Noltnerwyss said. "It gets too wet."
The organic farm, Crossroads Community Farm, is located on low, flat, fertile land about 30 minutes west of Madison, in the beginning of Wisconsin's Driftless Area.
The particular strip of land, in use three seasons ago, is unsuitable for growing today because it hasn't dried out from last summer's rain. And Noltnerwyss is starting to wonder if it ever will.
Dane County finished 2018 with about 50.17 inches of rain, 15.73  inches more rainfall than the average measured between 1981 and 2010, according to the National Weather Service. Through Oct. 6, Madison has received 40.3 inches of rain this year, 11.87 inches above average.
Last year, Noltnerwyss said the unplantable area smelled "anaerobic."
"You would drive a tractor through it and could smell the lack of oxygen, like a swampy smell," Noltnerwyss said. "That's never happened before in cultivated areas."
Coinciding with a desire to grow the size of their farm and let land rest, the Noltnerwysses purchased an additional 35 acres of land nearby that doubled the size of Crossroads.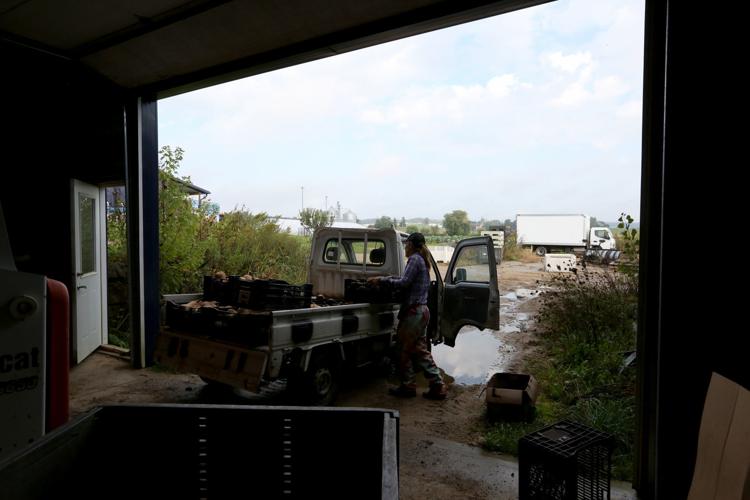 "We had to buy more land. We can't continue to keep up our current production when we have to take land out of production because it's too wet," Noltnerwyss said. "We were losing so many crops."
Historic precipitation levels in Dane County have resulted in higher groundwater tables, where water cannot drain quickly. When this happens, fields can become saturated or flooded, especially those in low-lying areas. These weather patterns — more spring precipitation, more intense and frequent rain events, more floods and droughts — have confirmed scientists' projections about Wisconsin's changing climate.
Local farmers are responding by switching up what they plant, utilizing weather-safe hoop houses and transitioning to cover crops to prevent erosion. Some feel an urgency to learn how to grow their crops better in a changing climate and are implementing strategies to mitigate rainy growing seasons.
"The foundation of our farm right now is really thinking about these water questions and how we can long term mitigate some of the risk that comes from it," said David Bachhuber, a Stoughton farmer.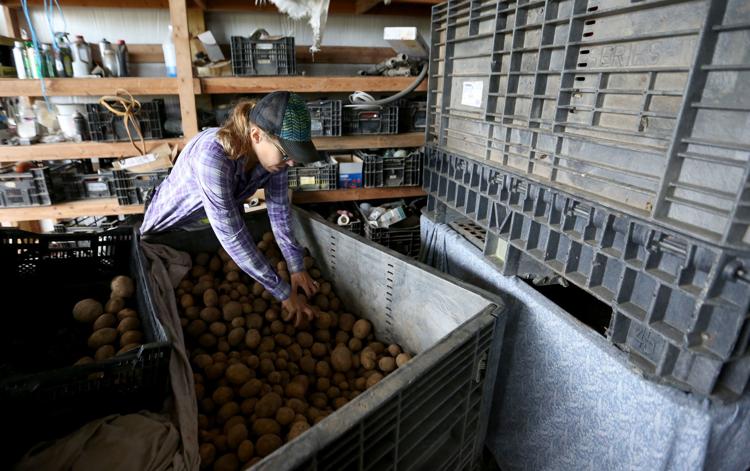 Rising groundwater
In Dane County, all groundwater originates as precipitation — rainfall and snowmelt. The upper surface of groundwater, referred to as the water table, rises during periods of heavy rainfall and drops during droughts.
These changes occur slowly and it can take months, years or even decades of above average precipitation for groundwater to rise to its highest levels, according to the Wisconsin Department of Natural Resources.
Groundwater levels in Dane County remained consistent from the early 1980s through 2015, according to the DNR. But at the end of 2015, groundwater levels started rising over the next three years to peak measurements.
In a monitoring well on Madison's west side, groundwater levels fluctuated between 45 to 60 feet below the land surface from 1982 to 2015, according to data collected by the United States Geological Survey. Since 2015, it has risen to 35 feet below the land surface.
Once groundwater levels reach those peaks, there needs to be a period of below average precipitation for the groundwater to recede back to average levels. But in the last few summers, Dane County farmers have seen more rain and less time for saturated fields to dry.
"It was almost as if the rain from last season just never got a chance to dry out all winter long," Noltnerwyss said. "Then it started raining again this spring."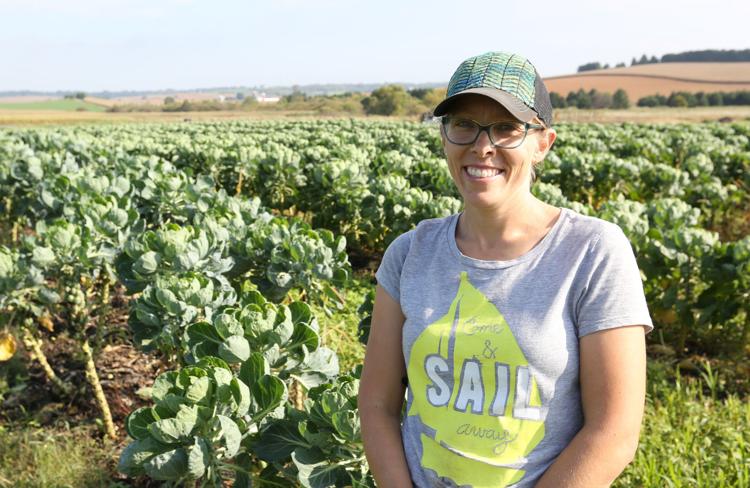 'Some extreme situations'
Farmland in low-lying areas, like in the valleys near Cross Plains, has a shallow water table and can flood if the water table rises above the land surface. Even if there is no standing water, a shallow water table can keep conditions too wet to plant or operate heavy machinery, like tractors.
"There's no question that this year has been a challenge for farmers, and I would say the last few years have presented some extreme situations," said Sandy Chalmers, Wisconsin Farm Service Agency executive director.
While vegetable farmers are able to deviate and plant something new when the weather does not cooperate, commodity producers that grow long-season crops like corn and soybeans are hit harder by too much rain. Corn, for example, needs 60 to 100 frost-free days to reach harvest.
If a farmer can't get these types of crops planted by early June, it's not worth planting them, according to Heidi Johnson, a former crops and soils educator with the UW Division of Extension.
Fourth-generation farmer Ryan Ripp said his family finished planting corn in the "nick of time" at the end of May. He said the wet conditions and cooler temperatures have delayed corn silage harvesting on the family farm in Lodi.
"We've seen flooding in fields, erosion in some cases, more wet rain. It's been basically too much rain," Ripp said.   
Ripp, who consults forecasts on three weather apps, said he is figuring out how to work around consistent rain and determine some kind of trend to inform his work in future years.
USDA Farm Service Agency policy requires that producers participating in programs like Agriculture Risk Coverage, Price Loss Coverage, marking assistance loans or loan deficiency payments submit annual reports how all cropland on their farms is used.
This year, 9% of crop acres — 31,948 out of 347,544 — in Dane County went unplanted, according to the FSA. These acres were meant for crops like barley, corn, soybeans, oats and wheat. In 2018, 3% of crop acres — 10,517 out of 373,034 — went unplanted, up from 2% in 2017 and 1% in 2015 and 2016. 
Matt Diebel, Dane County's watershed management coordinator, pointed out that the number of total crop acres has declined, from 378,926 total acres in 2015. 
"Farmers are not only losing crop acres, but the acres left are not as productive," Diebel said.
Resources like the Conservation Reserve Enhancement Program through the state Department of Agriculture, Trade and Consumer Protection allow farmers to get paid to convert flooded fields to wetlands.
The focus is not to take entire fields out of production, but to "help increase the sustainability of production on that field," program coordinator Brian Loeffelholz said.
Across the state, 38,000 acres have been converted under 3,500 agreements. Over the 15-year contract, participants on average receive total combined state and federal payments of $2,900 per acre for 15-year contracts and $4,200 per acre for perpetual conservation easements on tilled land.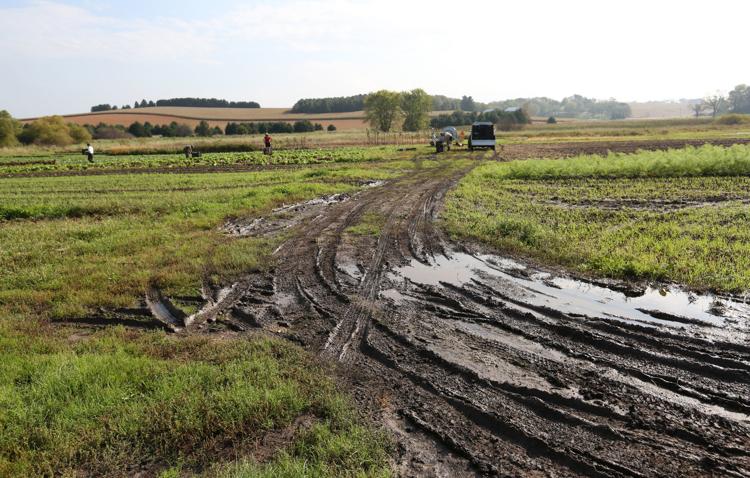 Loeffelholz said years when there is flooding yield greater interest in the CREP program.
"The one thing I do think all producers should do, large or small, in particular, they should look at their land and see what is the best land for production," Loeffelholz said. "If there is any land they can put in our conservation practices, they may financially benefit from that as opposed to putting land continually back into production and taking losses on it." 
The yearly enrollment rate in Dane County has increased from 74 acres on six agreements in 2015 to 670 acres on 50 agreements in 2018. Of the 2018 agreements, 17 new participants enrolled and 33 re-enrolled. In total, Dane County has enrolled 3,186 acres under 264 active CREP agreements.
Dane County launched its own cover crop program this spring to reduce run-off, increase water filtration and reduce soil erosion. The program launched with $750,000 and some funding from Dane County's Yahara CLEAN budget to convert nearly 550 acres that had been in annual row crops into continuous, perennial cover.
Because of the interest in the program, County Executive Joe Parisi is doubling the funding available for this program in 2020 to $1.5 million.
"It's good for our lakes clean-up effort, it's good flood mitigation and it's partnering with our farmers at a time when many of them are facing challenges," Parisi said.
Increased funding for the cover crop program was one of several initiatives proposed by Parisi in his 2020 budget meant to mitigate the effects of climate change.
"Bottom line: We're living in a new reality and for the foreseeable future, we have to assume that we will be," Parisi said.
'A bad habit' 
The weather affects farmers in a variety of ways depending on location, crop type and growing methods, but there is no doubt the extra moisture is challenging across the board.
For hay farmer Fred McGibbon, flooded fields are not a problem since his Fitchburg farm is located on a ridge, which allows water to drain. It's harvesting that is challenging.
"We just have such frequent rains we can't get into the fields when we need to," McGibbon said.
McGibbon started the first cutting in mid-September on his small farm of a few hundred acres. He said he typically likes to be done with a third cutting in the first part of September. McGibbon is using more cover crops to battle erosion, what he calls his "biggest enemy."
He said there is no such thing as a normal year for precipitation anymore. Heading into October with shorter days and cooler temperatures, McGibbon said he is concerned about getting his hay to dry.
"It seems like it's the last few years we've had this rain in June that has set us back so much," McGibbon said. "It's getting to be a bad habit."
McGibbon also plants beans and corn, which are suffering from the additional moisture.
According to the USDA crop progress and condition report report for the week ending Sept. 29, the third cutting of alfalfa hay was 95 percent complete, over two weeks behind the average. Sixteen percent of corn was reported mature, which is 23 days behind last year and 18 days behind the average.
Likewise, soybeans, winter wheat, oats and potatoes are behind the average harvesting rates.
Early on a Monday after a rainy weekend, organic apple farmer Rami Aburomia checked a rain gauge tied to one of the trees at his Mt. Horeb orchard, Atoms to Apples. The previous day saw nearly two inches of rain.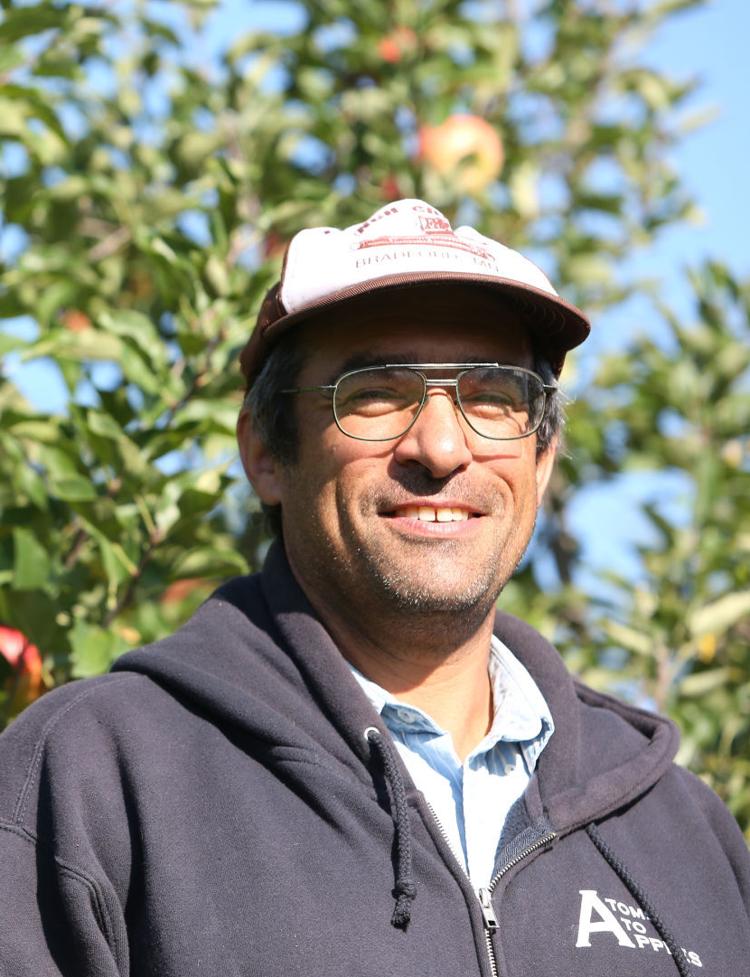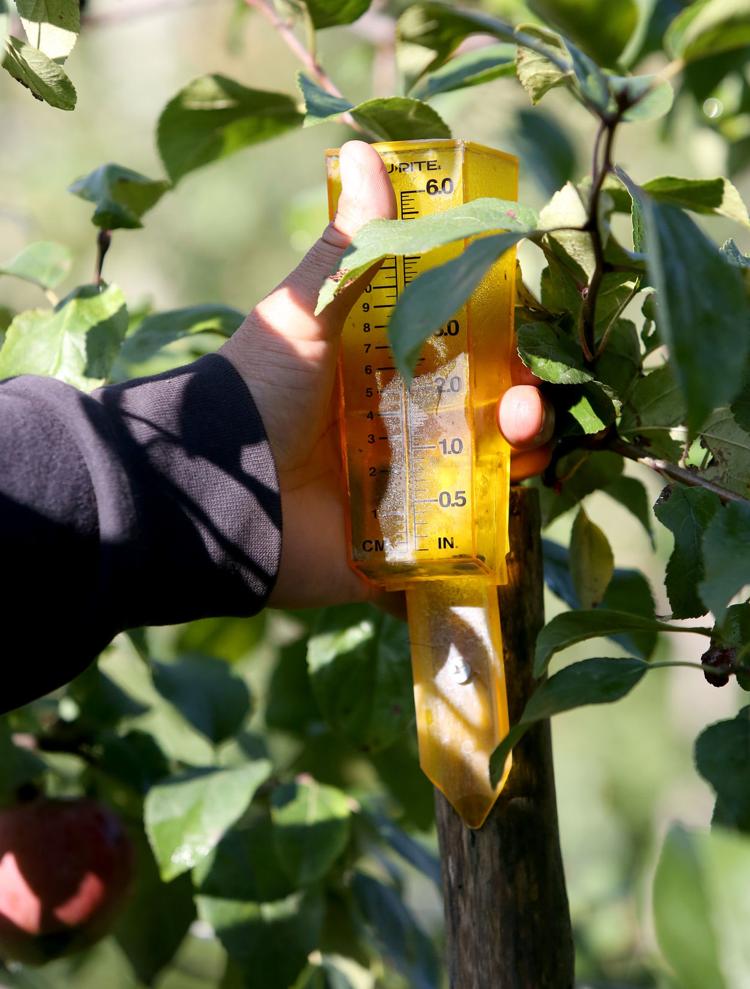 "Fortunately, now the weather forecasting is awesome," Aburomia said. "Here, you look at it for your livelihood."
Aburomia said his orchard, which is five years old, should produce more from year-to-year. This season, he said the apples are a nice size because of the excess moisture.
Aburomia said his greatest worry is how humid, rainy summers exacerbate fungal diseases. Additionally, he is experimenting with using wood chips in his orchard to help manage excess weeds.
"Farmers need to evaluate what's working for them and what's not and be smart about it and not keep trying to grow things that are difficult to grow and not making you any money," Aburomia said. "At least with small farmers, it's easier to change."
Back in Cross Plains, a weed called galinsoga has become a formidable and pervasive presence at Crossroads Community Farm. The weed flowers quickly, making it hard to keep on top of removal. It has spread to create carpets of green throughout Noltnerwyss' farm.
Though this year has been better than 2018 in terms of rainfall levels, Noltnerwyss said not planting full fields and expecting several inches of precipitation during rainstorms are new phenomena.
"It almost has turned to the point where we just expect to get a ridiculous amount now," Noltnerwyss said. "Having that expectation is new and undesirable. We're not happy about it."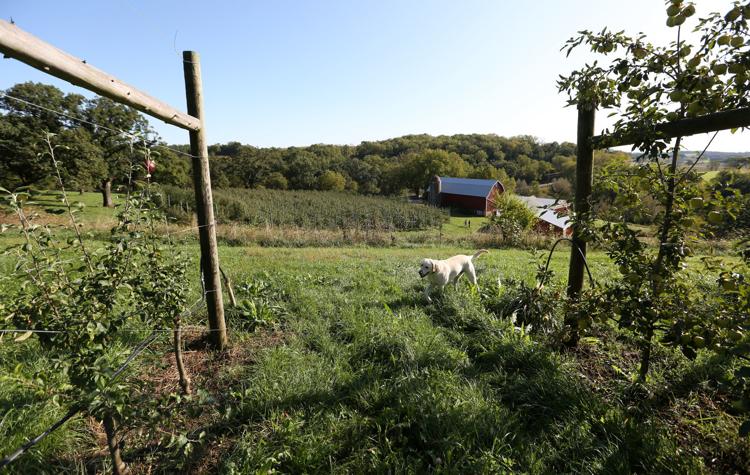 'Kind of wild' 
According to the Wisconsin Initiative on Climate Change Impacts, climate change could have a slew of positive and negative effects on agriculture in the state. Longer frost-free periods, warmer spring soil temperatures and lower daily maximum temperatures in the summer could reduce plant stress and benefit farmers.
Negative effects of climate change include what farmers are dealing with now: more spring precipitation that waterlogs soil, higher humidity that causes disease and fungus, more vigorous weed growth, more floods, more droughts and more intense rain events at the beginning of the crop cycle.
"This is for real. We're not talking about preventing it anymore," Noltnerwyss said. "We're talking about managing it. We're talking about not making it worse."
David Bachhuber and his family have been operating Lovefood, an organic farm in Stoughton, for about five years. As a new farmer, Bachhuber has not yet seen the kind of "normal" conditions longtime growers reference.
"Every year that we have been farming has been kind of wild in terms of water in one way or another," Bachhuber said. "The only thing we know is for things to be extremely wet or extremely dry."
Bachhuber said when he and his family decided to buy land after renting for three years, mitigating the effects of climate change and weather variations weighed into the decision.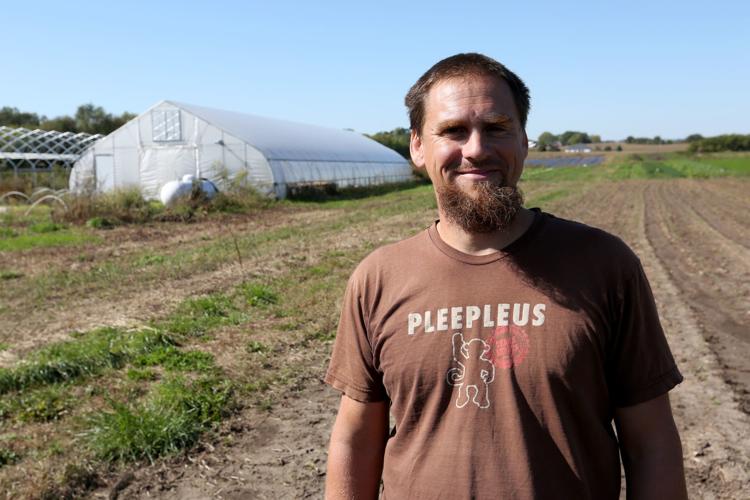 Lovefood is located on 30 acres, with five currently used for vegetables and the rest for perennial pasture. He chose a site located on a hill, so natural drainage could occur. The property also has a well, in case of drought.
Bachhuber utilizes a hoop house and is in the process of building a second to extend the growing season and keep plants protected. Hoop houses and greenhouses can balance the risk of planting in wet conditions.
As farmers throughout the country grapple more starkly with the effects of a changing climate, Bachhuber said the future of food production could rely more heavily on the Midwest.
"The Midwest has a unique responsibility going forward because we are supposed to be protected from some of the worst of the climate change that other areas are going to be facing," Bachhuber said. "It could be that we have a greater responsibility in the future to grow food for the country."