Tom Ray isn't afraid of trying something new. Bands, animated shorts, podcasts, websites – his philosophy is to just dive right in and figure it out as he's doing it.
At first, his latest project seemed like no exception. In an effort to jumpstart his artwork, he made a plan to sit down every day and draw a four-panel cartoon about what happened that day.
And then, on Day One, his wife Merijoy Endrizzi-Ray was diagnosed with cancer.
Devastated and needing to occupy his mind, Ray went ahead with the first comic. And the next one. And the next one. The daily strip, "Then This Happened ... : A Diary About Breast Cancer" (now self-published as a series of books) chronicles the big days and the ordinary days, the high points and low points, of a year grappling with illness.
Merijoy is in the clear now, and Ray has continued on with recording his life in "Then This Happened . . ." He is also the creator of "American Bandito," in which Ray enthusiastically talks to local artists about his work. And he's one of the founders of Madison's long-time rock band Lorenzo's Music, which just released a new project, "The Rom-Comm Mixtape," over the weekend. 
Ray talked to The Cap Times about all his various irons in the fire.
So which came first for you, art or music?
Technically I was in my first band when I was in fourth grade, but I was drawing before that. My mom taught me how to draw Snoopy in first grade because I wanted to impress a girl.
That's usually why you start a band.
Then my friends I grew up with started taking guitar lessons. And then instantly of course, we thought, "Let's make a band." I chose to be a singer because I had a Mr. Microphone so I wouldn't have to buy any equipment. And then later on, you learn art and music go hand in hand. You can draw for whatever album cover you're doing or flyers.
I dropped out of high school senior year and lived on my own, and then went and pursued music because I thought that was the way to go.
Why was music the way to go?
At that point it was my passion. I think I was bitter on art because by dropping out of school I lost a possible scholarship to go to the Art Institute of Chicago. I was a dumb kid, I know. But I was like "No, I'm going to be a musician and rule the world." So I started a metal band.
During that time period I began discovering all kinds of different music through Nick at Nite, which began directing my musical tastes. I was watching "Fernwood Tonight" with Martin Mull, and they had a guy on whose van had broken down and needed repairs. And it was a guy named Tom Waits. He came on the show to sing a song and did "The Piano Has Been Drinking (Not Me)." I was like if this is an actual musician, I'm going to buy every one of his albums tomorrow.
I got a crash course in Tom Waits' music career, and this was at the time when he made "Bone Machine". I was like this is how you make music. Who cares what style it is? It's about writing music and writing what you want. And that's how I came up with the concept, me and my drummer Rob Google, came up with the concept of Lorenzo's Music.
When did you get over your "bitterness" and get back into art?
I think I started getting the bug again a little before 2005. I started getting into comic books and accepted the fact that I'm a comics drawer. I was going to do realistic stuff that was going to change the world, but the problem is that every time I drew something, it looked like a comic. The lines were too big and thick.
I started with my kids. They would write a comic and I would draw it, so we would make these mini-comics. What I had originally wanted to go to school for was animation, so I got Flash on my computer for Christmas. So I started making animated shorts, and that's what got me back into doing animated shorts.
I took a brief hiatus from art when I got a job, and then picked it back up about a year ago.
Was that with "Then This Happened . . ."?
I finally figured out what I liked doing when I started that comic. I started reading a book called "Cartooning: Philosophy and Practice" by Ivan Brunetti. My whole thing was that I would get ready to draw, and then I would overthink it and then it would take me forever.
In the book, he says to create a four-panel journal about your day every day for a week. And then the day I decided to do that was the day Merijoy found out she had cancer.
How was writing that first comic?
It was probably the best thing I could have done. It was literally what I was feeling at that point. Everything else was just so stupid. Here I was all excited about some dumb idea about drawing a comic every day. I didn't even tell her I was doing it.
I spent the whole day drawing it and figuring out how best to do it, and it really helped me. But then I was like well, I can't do that every day. I still do have responsibilities, and we're going through this thing. So from that point on, I was going to pick just one thing and I was only going to spend 15 minutes drawing it as fast as I can, and see what I can do. That's kind of how I've approached every project now. I have an idea, let's start it and see where it goes.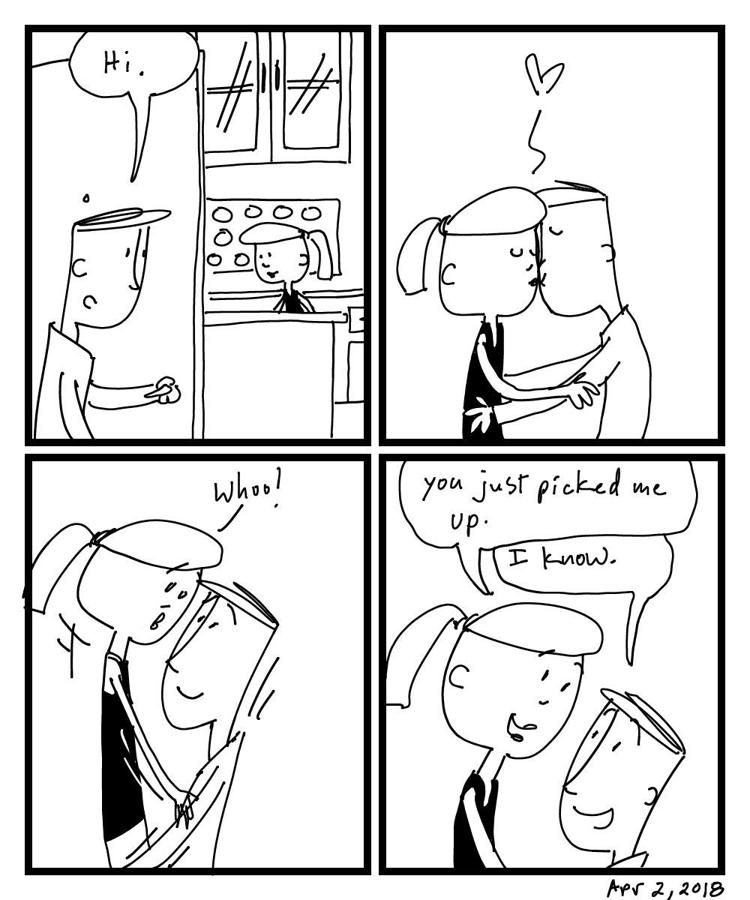 What was the reaction when you started putting the comic out there?
Merijoy really appreciated it. It meant a lot to her. It actually opened up a dialogue between us that we actually would have had a much more difficult time if we hadn't done that. She would read it every day, and then after she would read it, we would talk about it.
We've been selling the book online and it's actually we've sold a lot of them. That surprised me. It's a book where it's us to talking about what we're going through, a relateable thing. I didn't think anybody would understand what it is.
How did you decide to start the American Bandito podcast?
I was like "How do I network with other artists?" I just put up an ad to artists in Madison. I said "Do you want to be on your podcast and talk about your art? Sign up." And I talked to the first 12 people who signed up. I just wanted to know what they did. And it went from there.
The thing I loved about it is the spirit of collaboration. I can completely imagine that after you stop taping you and your guest go off and work on something together.
And that does happen. People are like "How much money do you make doing this?" I'm like "I'm going to do this anyway." The whole concept is that I don't think these people would have a reason to talk to me if I didn't have this show for them to come on. I've made genuine connections with this people. I have no idea how well this season is doing. I've met a bunch of cool people and I'm excited for these episodes to come out.
I'm going to do a music podcast again. Along the lines of what I'm doing for "American Bandito," I want to start finding other musicians. I know the musicians I know. I want to find other ones.