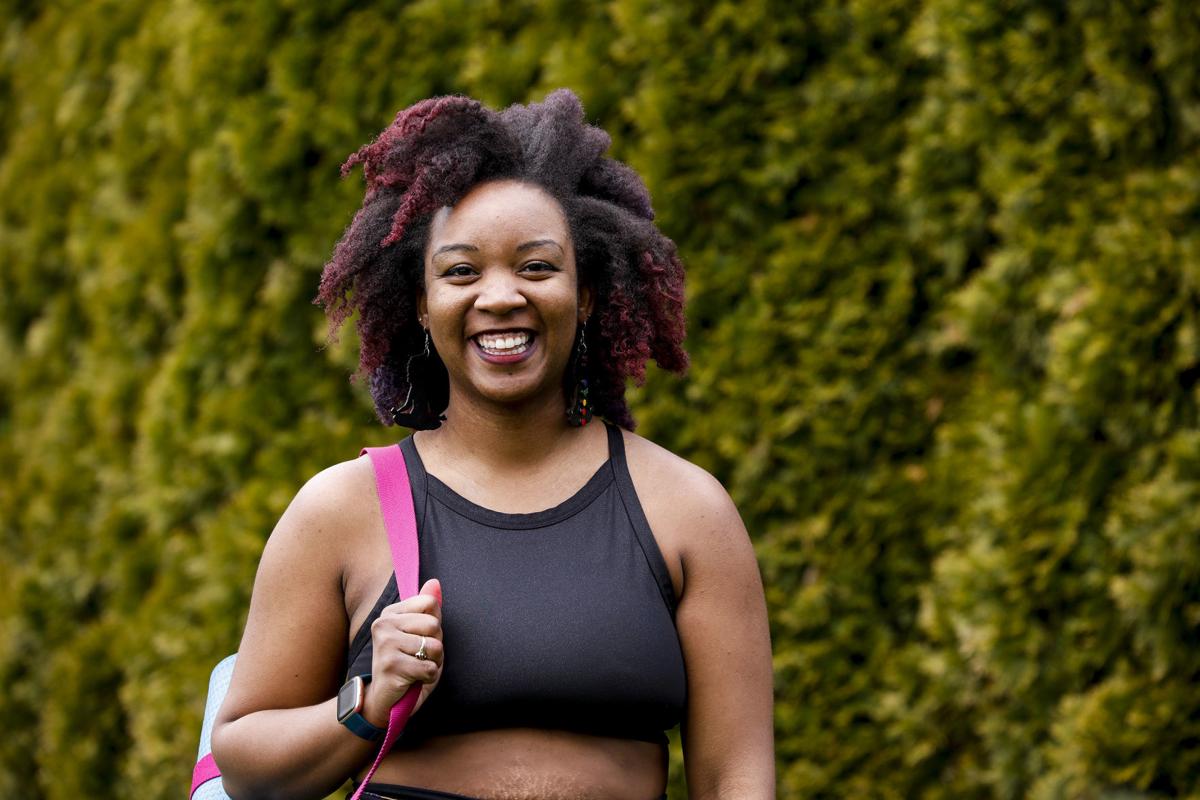 When Madison fitness instructor Keena Atkinson first started visiting local yoga spaces, she found an unwelcoming environment — the opposite of the inclusive nature many teachers say the collection of physical, mental and spiritual practices promotes.
For Atkinson, the discomfort came from being in a predominantly white space as a person of color.
"There was no place that was representative where there were other people that looked like me. There wasn't any music that spoke to me," Atkinson, 32 and mother of two, said. "It just didn't feel like there were any classes that were made with thoughts of me or people like me in mind."
Atkinson set out to become the teacher who could create a more representative space in the fitness world. With financial assistance from Sabrina Madison, founder of the Progress Center for Black Women, Atkinson completed yoga training and began teaching.
Due to the coronavirus pandemic, Atkinson has transitioned her classes online. She also owns her own health-centered business, R'oujie Wellness, and operated a hair salon out of her home before the health crisis forced some businesses to close.
What did you experience when you went to a local yoga class?
I got kind of hit with the reality of the yoga climate here in Madison, where I walked into a studio for a class that was actually called hip hop yoga. I was like, 'Oh my gosh, this is right up my alley, like this is probably everything I've ever wanted: this combination of yoga and hip hop music. I walked into this very all white studio. I drove half an hour to get there, and when I walked in the person greeted didn't actually greet me right away. They kind of looked at me like, what is she doing here?
They put me into a spot in the corner, and I tried to focus on the practice, but I couldn't focus because I was so disturbed, so bothered by how unwelcome I felt.
Did that stop you from returning to yoga?
I didn't give up on yoga, but then I did try going to other places. But it wasn't representative at all. There was no place that was representative where there were other people that looked like me. There wasn't any music that spoke to me. It just didn't feel like there were any classes that were made with thoughts of me or people like me in mind.
Then I was just like, 'I don't think I'm alone in this.' It was 2017 when that thought came to me, and then I was like 'well, maybe I can be the yoga instructor.' I can create the spaces that do not exist for me or people like me here in Madison. I just want people to feel welcome. I want people to feel like they were thought of and considered when they're going to try to practice what their self care looks like for them.
Why is it important to raise attention to the lack of fitness instructors who are people of color?
Why do they think that yoga is designed for people who have a certain type of body? Why do people feel like you have to dress a certain way to practice yoga or have a certain lifestyle? I feel like the people who feel like they can't or don't have time or the ones who think they cannot — I always say if you think that yoga isn't for you, you can do yoga.
Yoga's roots are in Africa, and it's upsetting to me that it has been appropriated and that our history has been erased over time. Even when you look at the yoga poses, they come from Africa, from Egypt — such as pyramid pose, triangle pose, sphinx pose — those poses have roots in Africa. Those words didn't exist if it wasn't for its African beginning.
I just wish to celebrate and practice, and I just want people to know yoga is for you. There's so many ways to practice yoga, and the nourishment that it brings to your body is so important. I wish that it wasn't something that was withheld from our community, especially communities of color.
What do you think should be done here locally to foster more yoga teachers and fitness instructors of color?
I think that normalizing it will help create accessibility.
As far as the financial part of it, so many different classes I teach that are free. There's classes I teach at membership places and then there's classes I teach that are for events where one person or one company sponsors it, but then it's free to the people or at a low cost. I find that those methods help with being able to create access.
How have you adapted your business and your fitness courses during this pandemic?
I started teaching the live class. I set up in the lower level where the salon was since I had to shut my salon down. I turned it into an online yoga studio for this time period. I'm texting, in the same day, I'm letting my clients know, 'I'm so sorry. I have to cancel your hair appointments. It's just too risky. I can't do your hair anymore.' And then I'm inviting people to join my online classes. Here I am teaching yoga.
I was just trying to keep people engaged. And then also trying to keep myself hopeful and encouraged. And then also using this time to elevate my skills.
As a small business owner and a mom, how are you personally navigating this unprecedented health crisis?
At first I was like, we're going to have this very strict schedule. And then I was like, we're not going to. We're going to eat, we're going to lay in bed for however long we want to, we're going to do all of this stuff. We're going to get outside.
Whatever is good for me, ultimately ends up being good for the kids. Because if I'm taking care of myself, then I'm in a better position to take care of them be loving and kind of patient and warm with them. And so that's that's kind of how it's been. It's like, I'm taking care of myself, so that I can take care of the boys. And that has been working.
We've been vibing, literally, going with the flow, kind of having a loose structure, a loose life type of flow to the day.
What advice do you have for people to stay healthy and well during this time?
What I would recommend for other people is to lovingly listen to your body and what it needs. I'm only speaking from the perspective of someone who is in the house every day these days. When the sun is out, try to get outside. Get your hands in the dirt, connect to the earth.
Listen to your body. If your body is saying I need some extra rest. Get that extra rest. Guilt leads to stress and stress leads to other health conditions so if you are eating the good old comfort foods, just eat it and don't feel bad about it. It's meant to be enjoyed if you're going to eat something that you like.
Stay active if you can. It's good for the body for the mind. It will boost your energy. Get some movement because it will literally get you turned up.
Practice loving yourself and being kind and patient. You don't have to be accomplishing a million things. You just have to take care of yourself. When you take good care of yourself you'll be in a position to take care of other people and be in a position to extend the love and compassion we're all needing right now.
Share your opinion on this topic by sending a letter to the editor to tctvoice@madison.com. Include your full name, hometown and phone number. Your name and town will be published. The phone number is for verification purposes only. Please keep your letter to 250 words or less.