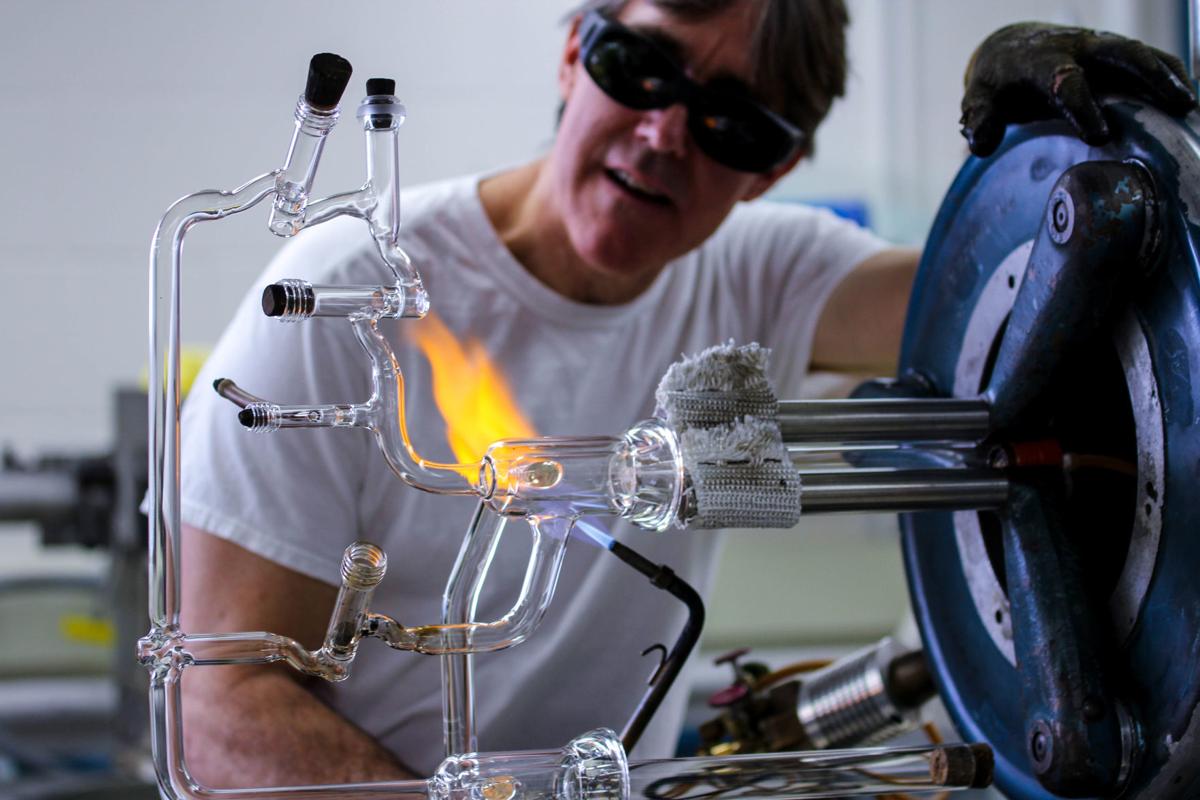 The term "scientific glassblowing" sounds almost aggressively unartistic; step aside marble-makers, this is glassware for science.
But Tracy Drier, the scientific glassblower at the University of Wisconsin-Madison, considers it "industrial art."
"I think it's the most beautiful lines, the symmetry," he said. "You would like it to be seamless … (It's) making it look as beautiful as you can, you get things lined up, square."
His glass tubes and beakers and baubles usually sit in a scientist's lab, but are now on display at the Madison Children's Museum through the summer. The exhibit, "The Crossroads of Art and Science," is about more than showing off intricate glass work; Drier wants to get kids interested in scientific glassblowing as a career — or at least let them know it exists.
"I tell people this is a great profession," he said. "It's creative, it's precise, you are interacting with incredibly brilliant scientists. You have stuff going into surgery, you have stuff in orbit. And you're part of it."
The exhibit has lived in the museum's "Sidewalk Surprise" space since October, and can be seen from inside and outside the museum, Exhibit Designer Nadia Niggli said in an email. It's been an "especially successful" exhibit in that space and one of Niggli's personal favorites.
"It's a playful installation that makes you think of childhood chemistry sets, old monster movies, and what you could make with such a contraption," she said.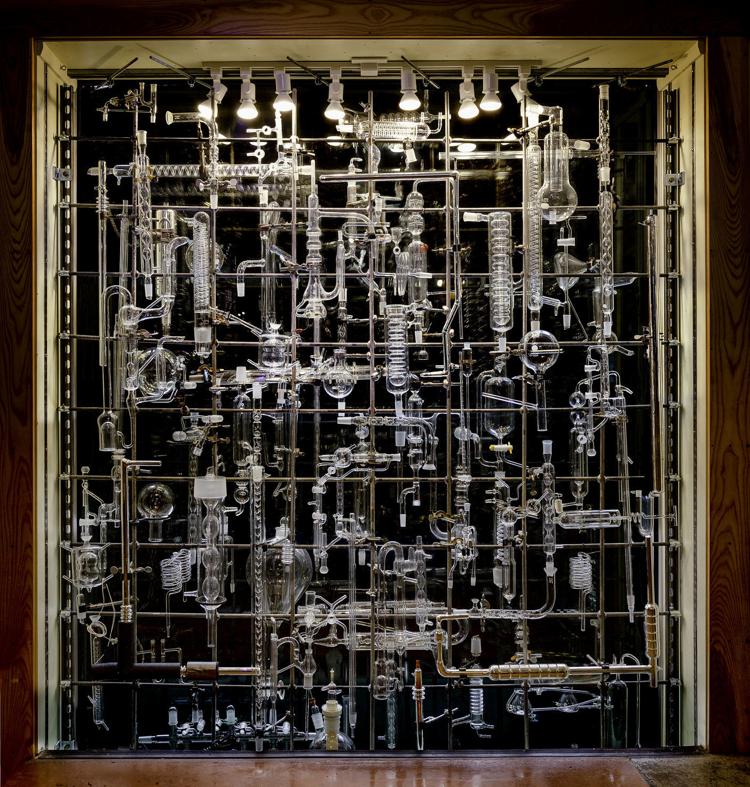 Scientific glassblowing is just what it sounds like: making glassware for scientists. Drier's glass shop, which lives in the university's chemistry department, has a similar function as the university's machine and electronic shops.
"Our job is to support what research goes on here," he said.
Drier loves working with researchers, helping them understand what is and is not possible with glass, and trying to make a product that will work for their experiments.
"They know chemistry, and I know glass, and so together, we can rule the world!" he joked.
On a daily basis, Drier's tasks range from taking 30 seconds to mend a chip in a tiny 25 mL beaker to spending hours creating a glass contraption to a researcher's specifications, with various vials and valves splitting off if different directions.
When researchers' requests are complex, there's a back-and-forth with Drier to refine the design. But that's "a lot easier than trying to do that via email with some companies on the east coast or west coast," Drier said.
Drier's creations start with glass tubes of various diameters, lined up neatly in a cupboard. He can score and cut the glass, then will manipulate it in the fire to "build whatever needs to be built," sometimes with the help of pre-made connectors and joints. Whatever he creates goes in the oven for annealing, which takes the stress out of the manipulated glass to prevent breakage.
Generally speaking, the more scientists want to add to the glass creation, the more stress is introduced, making it more likely to break. That can be nerve racking, but complications are what make it fun, Drier said.
"You have stress, you have gravity, you better have it under control or you're going to have trouble," he said. "It's like public speaking. Some people call it terrifying, other people call it exciting. It's exciting. Because this is why I do what I do, this is the kind of thing I live for, really."
A brochure by exhibit in the museum asks: "Do you want to be a glassblower?" followed up with questions like,"Do you have good hand-eye coordination? Do you enjoy three-dimensional problem solving?"
Drier adds that it helps to have "the patience of a saint," for the time-consuming, finicky, and highly breakable craft. He has dropped and shattered creations immediately after spending hours to make them.
But he believes anyone can be good at glassblowing, comparing it to learning to play an instrument.
"You will get good if you practice. Some people will get better than others. And some people are natural," he said. "But me, no. I practice. I practice, I practice. There's no magic involved, it's just practice."
Drier has had a lot of opportunity to practice; he's been doing this since he was 8 or 9 years old. His dad was looking into stained glass as a hobby, but found a book on glassblowing instead. Drier, his brother and dad were quickly entranced with the craft, Drier and his brother would make glass swizzle sticks while his dad crafted small glass animals and cake toppers, a la "classic 1970s carnival glass."
In his workshop, Drier pulls out that same book, "Glass: Philosophy and Method" by John Burton.
"My brother and I used to just, we would lay head to head," he said. "We would just pour over this book, this was like magic."
He points to a picture of a vase stretching high into the air, intricately decorated.
"This was just like dreams. This was just dreams. That is -- you have no idea how this still makes me excited, even though by today's standards this is like … dark ages, compared to the level glass is at today," Drier said. "At the time, this was it."
His dad went to take night glasses from a scientific glassblower, and his brother went straight to Salem Community College's scientific glassblowing program in New Jersey after high school and now works for Dow Chemical.
Drier himself veered into an engineering career, but at age 30, quit and signed up for the Salem school as well. Drier noted that every glassblower he knows is as "busy and can be and could use help," he said.
"You know, engineering is sweet, but blowing glass is sweeter. It's like, at the end of the day you've got an oven full of things that you've built and there's a satisfaction in that," Drier said. "Our family, we've always made things."
Share your opinion on this topic by sending a letter to the editor to tctvoice@madison.com. Include your full name, hometown and phone number. Your name and town will be published. The phone number is for verification purposes only. Please keep your letter to 250 words or less.
Be the first to know
Get local news delivered to your inbox!