Phil Crawford likes when smart people talk to each other.
Crawford, a local software entrepreneur and a board member of Slow Food Madison, brings together the idea folks and the dreamers, the people with passions so huge they can't talk about anything else.
He wants them to inspire each other and the rest of us, to spread the gospel of whatever drives them — whether that's heirloom yogurt or deer hunting.
That's what led Crawford to found FoodCamp, a DIY-themed event held at the Goodman Community Center now in its third year. There, would-be artisans and curious home cooks learn to ferment kimchi, build a raised bed vegetable garden and cure their own bacon.
That same drive to motivate his neighbors is also what led Crawford to start, with Jocelyn Vande Velde, Ignite Madison last September. "Ignite" events aim to "enlighten and inspire" an audience, and are held in more than 100 cities around the country.
The third Ignite Madison, held on Wednesday at the High Noon Saloon, took the standard TED-style format — a five minute talk, with slides that advance automatically every 15 seconds — with a few twists.
Unlike most Ignites, Crawford prefers to give each Madison event a theme, because it's easier to market. The first Ignite featured "Wisconsinites at Play," with stories about adaptive sports, bike polo and hula hooping.
The second focused on woodworkers, jewelry artists and cigar box guitar makers, among others, and was called "Crafted by Hand."
This third iteration of Ignite Madison, which raised $1,500 for charity and attracted more than 200 people, focused on "all things food." Speakers told stories about grandma's chicken paprikash, the love of hunting (even before one shoots anything) and learning to find local food sources for a growing college campus.
Crawford said he had about 25 applicants for 10 spots at Ignite Madison Food. Though many of the presenters were small business owners or fellow entrepreneurs, Crawford eschewed stories that sounded too much like marketing.
"We're looking for stories that are personal and passionate," Crawford said. "We don't push back against people having businesses or talking about them. That's OK, but what we want is a story that is about them and includes their business, rather than 'Here's a story about my business.'
"Authenticity is really one of the things that we are looking for."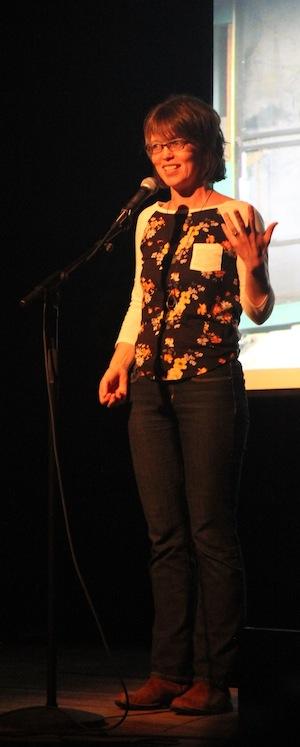 Many stories on Wednesday focused on family. Megan Cain (at right) rejected her concrete-filled upbringing to become a "creative vegetable gardener" after years of city life in Philadelphia and San Francisco. Jim Jelak's grandparents inspired him to cook for his young son.
Dan Bonanno, chef and owner of A Pig in a Fur Coat, shared the dual inspiration from his upbringing as a first generation Italian in Kenosha and his later culinary study in Italy. Andrew Gierczak, a young co-founder of MobCraft Beer, found his great-grandfather's moonshine still.
Through every story, slides showing dirty kitchens, verdant fields and old family photos moved relentlessly forward every 15 seconds.
"It was so difficult to put this together," said Bowen Close, who blogs at Bowen Appetit and works at REAP Food Group, a Madison-based sustainable food nonprofit. "You're telling a story, not giving a talk.
"It was so much harder than I expected."
Close, a curious and fearless eater, has traveled internationally and teaches classes inspired by some of these travels at Orange Tree Imports.
"People talk to me about fear all the time," Close said in her short talk, titled "Overcoming Fears for Joyful Eating." "They're afraid to cook for their friends and family. They think they're doing something wrong.
"They're afraid of butter or they're afraid of sugar or they're afraid of bread. ... They feel like if they don't know the trendy thing to do, they're not good enough, and they're afraid."
"Ignite Madison: All Things Food" seemed to reflect this philosophy of overcoming fear on a larger level. Professional "life hacker" Gray Miller talked about how, as a single parent, he had learned to improvise (told via a great prank on his daughters that involved making pancakes with beer).
Peter Allen told the story about how he and his wife went from comfortable apartment-dwelling vegetarians to environmental crusaders, raising cows, pigs and goats in an effort to recreate a long-lost savanna ecosystem. Branden Byers, creator of fermup.com, proudly proclaimed that he "loves rotten food."
Every speaker and person involved in Ignite Madison, from DJ Mike Carlson to the High Noon Saloon, donates their time. Crawford's other variation from the standard theme is that every Ignite Madison benefits a charity, in this case, the Community Action Coalition, a nonprofit that fights poverty and hunger in Dane County.
Other beneficiaries have included Big Brothers/Big Sisters of Dane County and the UW Organ & Tissue Donation Education Fund.
Videos from Wednesday's event should be up soon at the Ignite Madison website. The next Ignite doesn't have a theme yet, but it will be in September, Crawford said.
His goal is to have them three times a year, in winter, spring and fall. And while the format is quite similar to both PechaKucha presentations at the Monona Terrace and the popular TED Talks born in Monterey, California, Ignite Madison's aim is a little simpler.
"TED talks are longer format, and you can get deeper," Crawford said. "These are more inspirational. When we talk with the presenters, we say, 'What's the one thing you want to inspire and enlighten someone so they'll take an action after this event?'
"You don't get five. You get one."