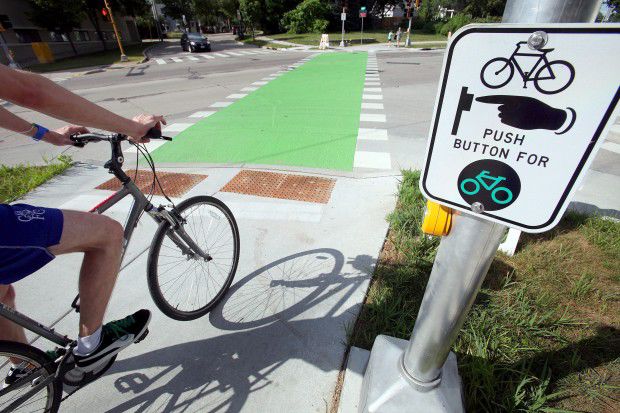 There's a new gang in town, and they want to get you on a bike.
Madison Bikes, a group of cycling heavyweights, officially launched on Wednesday with the aim of making Madison the bike city it aspires to be.
"Madison is a great city for getting around by bike," said Grant Foster, the group's president. "It's great for confident riders in particular, but many people who are interested in riding their bikes don't feel comfortable on busy streets with nothing separating themselves from fast-moving cars except a stripe of paint."
Foster said his group will be advocating for changes in the local bike network that he believes could double the number of people who use bikes for transportation.
Think of it as a local version of the Wisconsin Bike Federation, which works with community groups and government officials to make biking easier and safer in Wisconsin. Madison Bikes might work in partnership with the statewide organization, but will be independent. 
The group, which recently applied for nonprofit status, is in the process of generating interest. At the end of the summer members plan to hold a membership drive.
Foster isn't coming into this cold. He, his wife and two sons get just about everywhere they need to go on bikes. But he's also plugged into the city bureaucracy. The director of health information at Dean Clinic for his day job, he's also a member of the city's Pedestrian, Bicycle, Motor Vehicle Commission and serves on the city Long Range Transportation Planning Committee.
In fact, each of the nine members on the board are well-known to at least some segment of the biking community, and several of their backgrounds include science and health.
Harald Kliems, the group's vice president, is a pediatrics researcher at the UW School of Medicine and Public Health.
Chuck Strawser is the pedestrian and bicycle planner for the UW-Madison.
Mark Shahan, who has served on several city panels, including 12 years on the Pedestrian, Bicycle and Motor Vehicle Commission. He was a Bike Fed fundraiser as the group grew into a statewide advocacy organization. He also served on the design committee for the Southwest Commuter Bike Path.
India Viola, a scientist, is also a co-founder of We Are All Mechanics, which teaches bicycle maintenance to local women.
Michael Lemberger is a year-round bike commuter and blogger.
Hank Weiss is an injury prevention epidemiologist who advocated for bike infrastructure on local and national scales in New Zealand.
Kevin Mulcahy is a year-round cyclist who works for the UW Foundation.
And Robbie Webber, a former Madison alder, founding Bike Fed program manager, bicycle instructor and current senior associate with the UW-Based State Smart Transportation Initiative, is a fixture in the local and state bicycling community.
"Everybody brings different skills and knowledge," she said. "From their day jobs, from their experience, from their bicycling experience."
One of the objectives of the group is to build on Madison's successes. Last year, the city gained the long-sought platinum biking status from the League of American Bicyclists, one of only five cities to achieve the distinction. But the big challenges lie ahead.
Foster said Madison has for two or three decades done a great job of building bike paths, capitalizing on lake frontage and rail beds to build miles of dedicated bike trails and paths. But in a typical commute, bike paths are only part of the puzzle.
How to make the city's main traffic corridors — like Midvale Avenue and Mineral Point, Odana and Gammon roads — amenable to bike traffic is the "next chapter" in Madison's bike evolution, he said.
"This is where we're moving people, and we're going to have to figure out a way to comfortably fit bike travel in there," he said. "That's going to be a much bigger challenge I think than building trails where there's been empty land."
And the way to accomplish that is with protected bike lanes.
Currently, Madison has one protected bike lane: the contraflow lane near UW's campus on University Avenue.
"Any city that's really made significant progress, any city that's moved past the 5 to 7 percent mode share has figured out that that's what they need to do," he said. "So to me, that's where we need to focus. I think it's going to take a little time for our city staff to really start to embrace the concept of protected bike lanes."
Webber said the group is also geared toward keeping an ear to the ground when it comes to problem spots, such as dangerous intersections.
"Part of our job is to make sure the voices of the people are heard who really want safe bike accommodations, and to say, 'This is something that's really important to a lot of people,'" she said. "A lot of the people who live in the neighborhood may not be biking now because they are afraid."
Share your opinion on this topic by sending a letter to the editor to tctvoice@madison.com. Include your full name, hometown and phone number. Your name and town will be published. The phone number is for verification purposes only. Please keep your letter to 250 words or less.
Be the first to know
Get local news delivered to your inbox!