Among former University of Wisconsin athletes, Elroy "Crazylegs" Hirsch stands out for his record-setting football career and his time as the university's athletic director.
"He was the face of Wisconsin sports," said Peter Boam, a former Madison radio host. "When you thought of Wisconsin sports, specifically football, you thought Elroy Hirsch. He was the image."
Hirsch passed away in 2004, and his memory is honored every year at the Crazylegs Classic charity walk and run. That race's route travels near another, much smaller tribute to Hirsch: 150 feet of road near Camp Randall Stadium named "Crazylegs Lane."
Now, the city plans to remove the road, leaving a grassy triangle of land to become a community space, known as "Crazylegs Plaza." Boam, the man behind renaming the road 30 years ago, is on board with the idea and contacted the Cap Times this week to share the story of how the street became a tribute to Hirsch.
A Wisconsin native, Hirsch played football for UW for one year in 1942. He picked up the "Crazylegs" nickname because of his unique running style. A Chicago sportswriter once wrote that "his crazy legs were gyrating in six different directions, all at the same time; he looked like a demented duck."
Hirsch later played in the NFL for the Los Angeles Rams, setting records and earning a place in the Pro Football Hall of Fame. Hirsch served as UW athletic director from 1969 to 1987, and the annual Crazylegs Classic road race named in his honor raises money for the athletic department.
When Hirsch announced his retirement as director, Boam, host of the WIBA-AM morning show "Peter B and the Breakfast Bunch," talked about the news with the station's sports reporter, Steve True.
"We were just bantering about, wouldn't it be nice to do something to honor Elroy?" Boam said. "Let's get a street named after him!"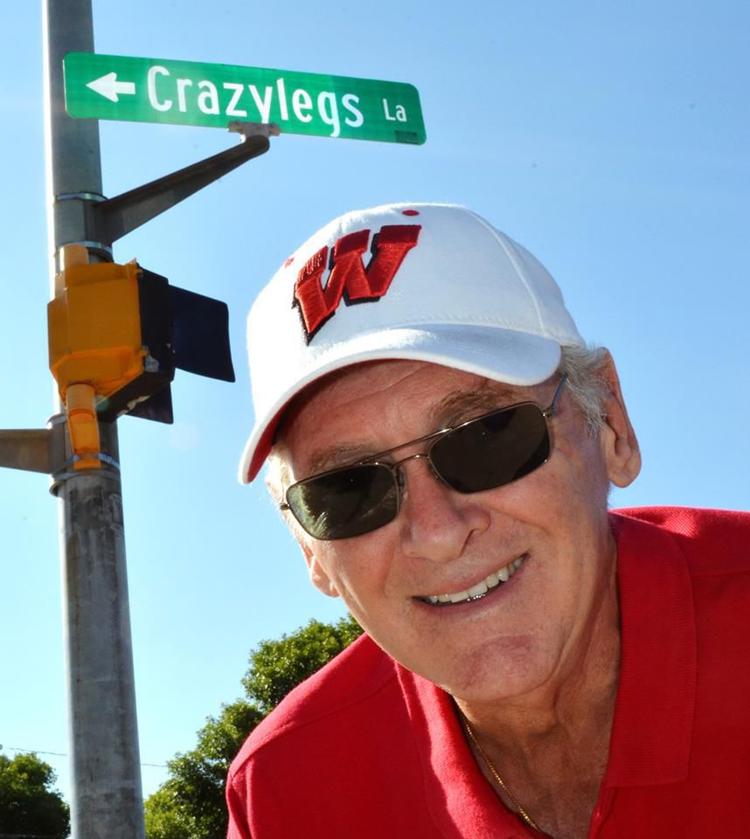 Boam knew Hirsch, both socially and as a guest on the radio show. One year, Boam said, during a snowy Crazylegs Classic, WIBA set up its mobile van nearby to cover the event. When Hirsch, who was running in the race, spotted it, he ran over, knocked on the door and joined Boam for a quick cup of coffee to warm himself up before finishing the route.
When Boam and True decided to try and make a road for Hirsch a reality, they ran it past him and he was "delighted," Boam said. He sent Boam a handwritten note that read:
If I were in a position to make the choice, I would call the "street" Crazylegs Lane. I've been "dodging" Elroy a lot of years.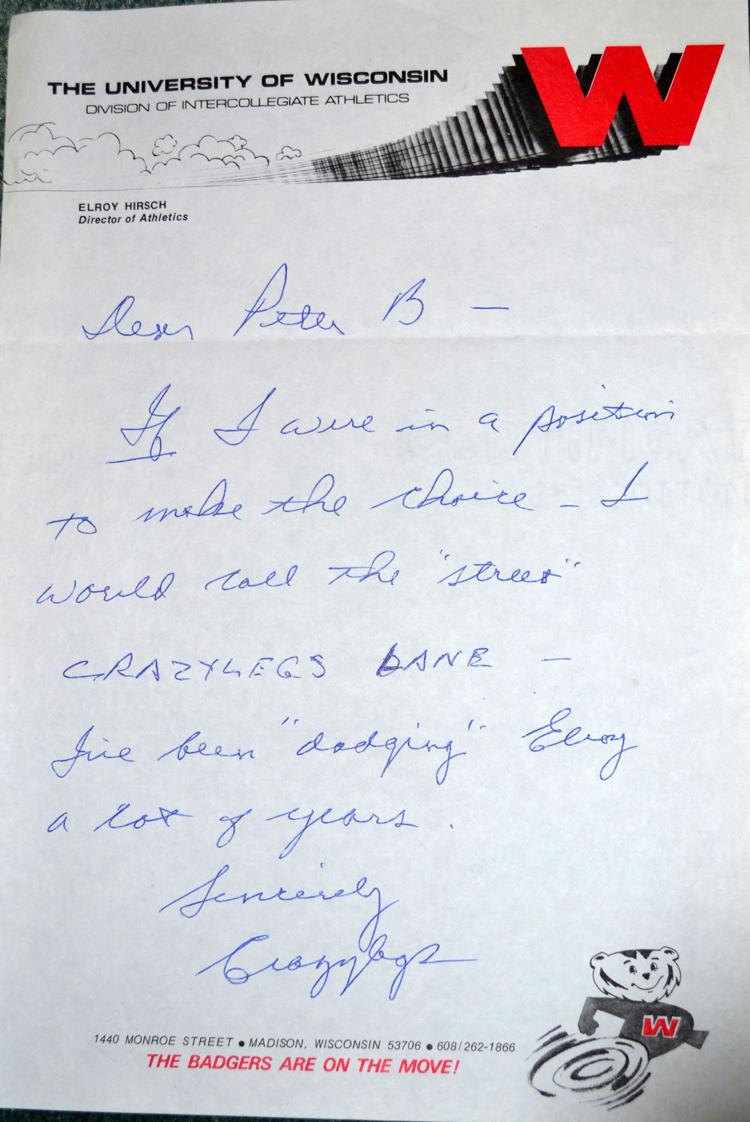 Boam and True, who goes by the nickname "Homer" and hosts a sports talk radio show that can be heard daily on 100.5 FM in Madison, began the effort in earnest in the spring of 1987. The whole process took about eight months.
"I thought this would be easy. It certainly was not. We learned how cities work," Boam said, laughing.
Their first idea was to rename Campus Drive, but the pair quickly discovered how unrealistic that was, Boam said.
"But you start off big!" Boam said. "What is the biggest, most noticeable street of the campus?"
They got pushback from the city because of the cost of changing all the signage along the street, as well as the inconvenience for businesses and residents to change their addresses.
They continued looking for a street on campus, preferably near Camp Randall, that wouldn't be too much trouble to rename. But even short streets had too many residences and businesses, he said.
"We were about set to admit defeat," he said.
Then someone in the city planning department (Boam can't remember his name) pointed them to the last section of Oakland Avenue. It was an unused block, with no buildings on it.
"We looked at it and we said this is exactly what we were looking for," Boam said. "It was right in front of us all this time, it just took somebody pointing it out to us."
The general manager of WIBA said the station would spring for the signs and the proposal "sailed through" the city approval process, Boam said. He gave credit to former Ald. Eve Gallanter for helping the measure along.
When the signs were installed in the fall of 1987, Boam and True broadcasted the WIBA show from the site, with then Mayor Joe Sensenbrenner and Hirsch in attendance.
"You could see tears in (Hirsch's) eyes, 'I've got a street!'" Boam recalled.
But he also noted the humor that went along with having his name on one of the city's shortest streets, commenting that "most of my touchdown runs were longer than my street," Boam said.
It may be short, but to Boam, it's perfect.
"'It's right where it was meant to be. Thousands of people pass by it on every football game day," he said.
Back when they first found the street, a city staffer said the road would likely be removed in the future.
"He said offhand, 'Well, this will become Crazylegs Park,'" Boam said.
But "Crazylegs Plaza" is good, too, he said. He'd like to see Hirsch remembered in the new space, possibly with a plaque with Hirsch's face and a brief biography. Boam talked about possibly starting kickstarter campaign for the effort after the plaza is complete.
"If I have to, I'll pay for it myself," Boam said.
Even though getting the road renamed was harder than he thought it would be, Boam said he'd do it again.
"Of all the things I've accomplished in my broadcast career, that comes to mind as the best thing I've ever done," he said.