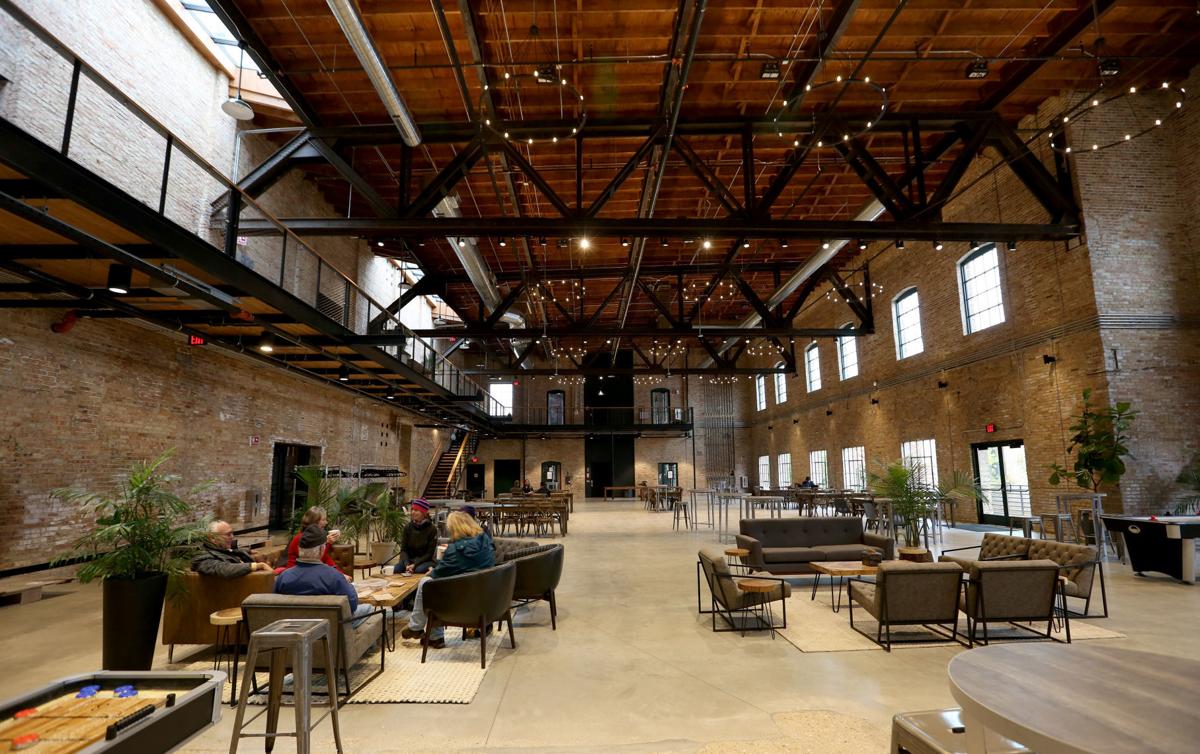 Where there was once a dilapidated, crumbling landmark of a building on Madison's east side, now stands the renovated Garver Feed Mill that houses a group of local business owners who feel united in a spirit of entrepreneurship. 
The 113-year-old mill was once a sugar beet processing facility that was critical to Madison as a major industrial center. For years, the iconic structure stood in disrepair. Four years after the city first reached out to developer Baum Revision in 2015, Garver Feed Mill's doors are open to the public. 
"It feels like something has re-emerged out of the rubble, literally," said Megan Grace, creator of Perennial Yoga and the plant-based Surya Cafe. "There's so much curiosity and fascination with the building." 
The Madison community will have the opportunity to visit the newly renovated space and Garver's 11 contracted tenants at a ribbon-cutting celebration Friday, beginning at 3 p.m. On Saturday, visitors can take tours, listen to storytelling about the landmark building from those who have been connected to it in the past and attend a Garver History Panel.  
Walking into Garver Feed Mill at 3241 Garver Green, eyes are drawn almost immediately up the exposed brick wall to take in the 30-foot-tall ceilings, original 60-foot steel trusses and 280-foot-long mezzanine. Stairwells on either end of the first floor lead up to the second floor, which has sweeping views of the entire space. 
The five new skylights brings plenty of light to the spacious first floor, offering an escape from the season's chill. 
"You come into this space, and it's open and airy," said Staci Fritz, owner of Calliope Ice Cream. "You don't feel like you're inside."  
While the historic mill, designated as a landmark by the city in 1994, has changed drastically, Sitka Salmon Shares founder Nicolaas Mink said the rebirth of Garver will be "transformative" for the businesses located there. 
"It's become more than we had hoped," Mink said. "It's a magical place." 
Madison selected Baum Revision four years ago over three other candidates. Baum's $19.8 million project, including more than $10 million in public funding, also involved plans to construct 50 short-term, micro-lodge rental units on five acres to the northeast of the feed mill structure.
Baum has until March 5, 2020, to close on the micro-lodge phase, but is required to submit financial documents to the city in December. Economic Development Director Matt Mikolajewski said Baum Revision has been meeting with the city about possibly making changes to its plan, such as adjusting the number of units and their configuration.
Garver also has one tenant space that is not yet rented.  
Located off of South Fair Oaks Avenue and behind Olbrich Gardens, Garver Feed Mill is very much nestled into the east side neighborhood. It is accessible by the Capital City Trail and on foot. But it also aims to be more than just a neighborhood amenity. 
"It's trying to be a destination that brings people in from far away, whether that's the other side of Madison or out of state, but it also wants to be a community gathering space," Grace said. 
Several of the makers talked about feeling a kinship with the collective of entrepreneurs and a shared passion for local production.  
"All the tenants here really share that ethos of supporting local businesses," Shilpa Sankaran, owner of Kosa Spa, said. 
Richard Wirsta of Ledger Coffee Roasters, a micro-roastery and full-service cafe, described feeling like a team almost instantaneously.  
"I think it happened because it's a group of entrepreneurs that are, of course, interested in success but understand that there's an opportunity to work with and off of each other to be even better," Wirsta said. 
When envisioning a space for his start-up business, Wirsta said the aesthetic melded perfectly with his idea. Business has been decent, Wirsta said, and he is confident that a steady stream of customers will build.   
"Once they're here, once they see it, they're coming back," Wirsta said. 
With businesses like Surya Cafe, Perennial Yoga and Kosa Spa, Garver has become a wellness hub. Sankaran said she was inspired by the spirit of Garver.
Kosa offers services in the tradition of Ayurveda, which is an ancient Indian tradition of natural healing. For a space that promises to be a retreat with spa services that are in balance with nature, Sankaran said a spiritual connection is important. 
"There's a general feeling that this is a living building," Sankaran said, noting that the space her spa is located used to be exposed to the elements with wildlife taking root. "There are decades and decades of people who have had lives and created things in this space, and you can still feel that." 
Share your opinion on this topic by sending a letter to the editor to tctvoice@madison.com. Include your full name, hometown and phone number. Your name and town will be published. The phone number is for verification purposes only. Please keep your letter to 250 words or less.
Be the first to know
Get local news delivered to your inbox!