President-elect Donald Trump has made no secret of his strong beliefs about immigration.
"When Mexico sends its people, they're not sending their best," Trump said while announcing his bid for president last June. "They're sending people that have lots of problems, and they're bringing those problems with them. They're bringing drugs. They're bringing crime."
Mayra Medrano believes immigrants are bringing entrepreneurship instincts. The president of the Latino Chamber of Commerce of Dane County said immigrants overcome a multitude of language and cultural knowledge gaps along the way, often motivated to create companies out of necessity to support their families.
"There's a lot of challenges, a lot of barriers. But even with that, their goal is to start a business and grow a business," she said. "Their mindset is all about growth."
After a presidential campaign full of vitriol aimed at Muslims and Mexicans alike, many undocumented immigrants fear deportation and documented immigrants have fallen victim to racist violence and vandalism. Businesses are worried as well. Silicon Valley, in particular, relies on a constant stream of foreign-born technology trailblazers who are responsible for more than 50 percent of all technology startups in the country.
Technology is not the only industry that relies on immigrant innovation. In 2010, over 10,000 immigrant-owned businesses in Wisconsin generated $589 million of business income. Over 13,000 immigrants in Wisconsin are self-employed, creating almost 58,000 jobs.
A child of immigrants herself, Medrano does not underestimate the sizeable economic muscle and voting power of foreign-born Wisconsinites and their children.
"We all understand the purchasing power that Latinos have. But there's also Latinos who are business owners," Medrano said. "I think it's time for people to look at immigrants as producers and makers versus just consumers."
Below are the stories of five immigrants who came to Madison and started their own businesses.
Life in color
Krystyna Kostecka, Cracovia Olympic Foil Fencing School
Life in Poland under communism, Krystyna Kostecka said, was "pretty gray."
"It's good we still have people who remember this and who witnessed this," she said.
Store shelves were often empty. Sometimes, the only items available were jam and vinegar. Clothing options and consumer choices of any kind were few.
Kostecka was born in 1957 in Przemysl, Poland. At 13, she discovered a talent and passion for fencing, and was trained under Olympic fencing coach Leszek Stawick.
"It's 120 mph chess," Kostecka said. "It's everything, the reflex, sense of surprise, sense of distance, intellectual, tactical, strategical ... And you need to combine this in one second all together. And this is the magic."
"I found that this is my life," Kostecka said. "I fence. Therefore, I am."
At 19, one of Kostecka's best friends brought her to West Berlin.
"Am I in Disneyland or what?" she thought. "Is it real, or is this a movie?"
Kostecka went on to law school Maria Curie-Sklodowska University in Lublin, Poland, hoping to become a judge.
In law school, she met people who showed her that not everything she had been taught about communism was true. She witnessed the bounty of goods sent to her West Berlin friend by her mother.
"It was just unbelievable: the little things, the candies, how they were packed, cosmetics, shampoos or the soup or jam," she said.
She grew dissatisfied with her life in Poland and despite economic reforms and the election of the first non-Communist prime minister since 1946, she was unsure if true change would ever come. Like many of her friends, she decided to move to America in the late 1980s and was granted a visa in 1990.
"I think it was a bold decision to come over here, if I will know what kind of problems I will have," she said.
One of those challenges was the premature birth of her son. He was born in Chicago, but she moved him to Madison to be closer to resources like UW Hospital and the Waisman Center, which specializes in human development.
As a single mother, Kostecka worked various jobs. She considered returning to law, but coming up with the money required to take classes for U.S. certification was out of the question. In 1997, she returned to her first passion.
She started a fencing studio with one student and two fencing swords in a daycare center. She couldn't afford to rent the space, so she cleaned the room as payment. Her lone student soon brought a friend, who brought another friend. Twenty years later, she has about 30 students. Earlier this year, she moved the school into her own space.
Along with teaching her students, she routinely travels to Mount Horeb and Sun Prairie to give fencing demonstrations to spread awareness of the sport. She's not the only Polish immigrant who has contributed to America's fencing success — some victories in recent Olympics have been credited to an influx of Polish fencing coaches.
These are not insignificant accomplishments, which is why anti-immigrant rhetoric is hurtful to Kostecka.
"I'm hurt when somebody will talk and blame me for something that is wrong in America. For 26 years I work so hard. I work so hard, with all my determination, you know?" she said. "I'm trying to be a good person."
What the increasingly polarized immigration debate needs is a healthy dose of common sense, she said.
"If we talk about immigrants, we talk about all the time two extreme angles. That it is most beautiful or this is the criminals, you know what I mean?" she said. "This is all because of the political fight for political gains."
Immigration is one of the inevitable changes in life, she said.
"It's just regular part of our living. And we cannot avoid this, because this is part of us, it is a part of progress," she said. "Time cannot go back."
Kostecka doesn't believe in looking back: "I like the colors of the other side."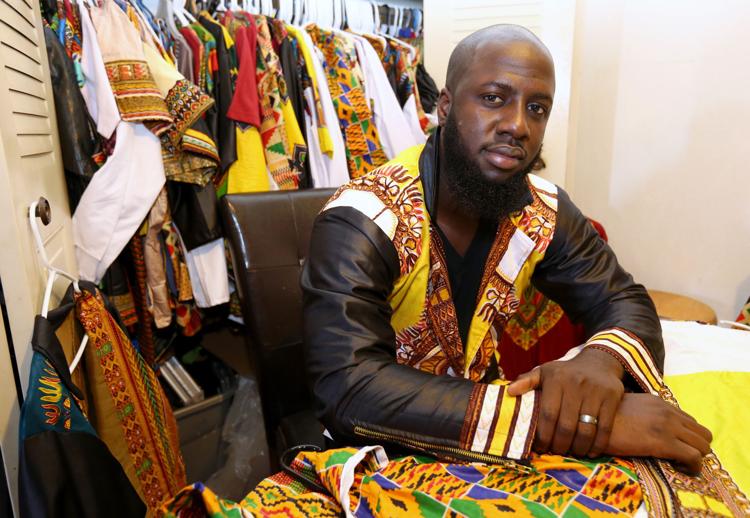 Bold impressions
Yankuba Janneh, African N American Fits
When Yankuba Janneh left Gambia to study business in the United States at 25 in 2011, he quickly discovered that many Americans had a pretty depressing impression of his homeland.
"People actually see only the negative side of Africa, because that's what the TV ads are all about. 'Oh look how poor these people are! A dollar a week or a dollar a day could help a kid,'" he said.
Certain since high school that he would one day start a business, he has become an ambassador for the beauty of Africa through his work designing and selling clothing.
"I remember when I first came here, people come up to me and say, 'Oh, you guys wear suits in Africa?' What are you talking about? I wear Jordans, I wear whatever you wear. So that kind of motivated me to bring something to them that was like, 'Ok, this was made in Africa. Look at it.'"
In 2011, he started African N American Fits, an online clothing business based in Fitchburg. When he posted his first picture of a shirt, people from all over the U.S. started contacting him.
"I had a huge burst, people were coming from everywhere," he said. "People from Europe were texting me, and I was like, 'I haven't started international shipping yet.'"
The clothing is bold, using African prints and American styles. Janneh said his products benefit Africans, who make the clothing, and Americans, who get to wear it.
"That's why it's called African and American fits. Because it doesn't leave anybody out," he said. "The African clothes are really flamboyant because they're colorful, and everyone likes them regardless of where you're from."
The clothes are made in his native Gambia by four or five full-time employees. Janneh, always interested in fashion and raised by a father who worked as tailor, designs the clothes, then uses an application called Viber to send pictures and explain his designs to his staff.
Making the clothes in Africa is a deliberate decision. He wants to provide jobs for young people in his country. Gambia's economy has suffered setbacks from the Ebola outbreak and rapid urbanization. It's difficult for young people to find jobs after college, Janneh said.
"I want this business to be able to employ as many people not only in Africa, but in the U.S., too," he said.
This is just part of his propensity to give back.
"I'm always trying to make sure, anything I got, I share with people regardless of how much it is. It could be a penny, and I would still share it," he said. "I look at myself as a global citizen."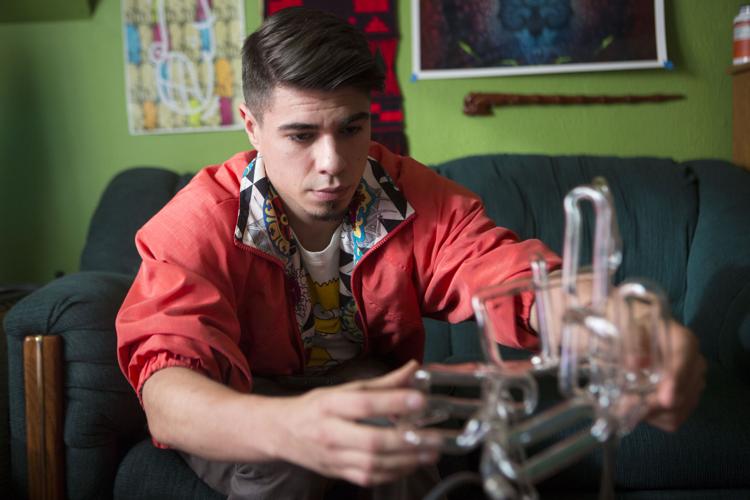 Turning questions of identity into art
Carlos Eduardo Gacharná, 100state
"When I was a kid, my parents told me that my last name translated to 'a wound that never heals,'" said Carlos Eduardo Gacharná. "That was always very symbolic for me, because that's kind of what it felt like — here's this giant gaping hole."
That hole has featured significantly in Gacharná's art and his role as arts manager for 100state, a Madison coworking community.
Thanksgiving will mark the 18th anniversary of Gacharná's journey to the U.S. He was 7 when he moved to this country from Colombia because of the growing instability and danger of guerilla warfare there.
As a low-income family living in Madison, the Gacharnás moved frequently, seeking affordable housing. Gacharná attended six schools throughout his time here, finally arriving at Madison Memorial High School for all four years.
At Memorial, he discovered ceramics, and within two weeks he was spending all of his free time in the studio. In some ways, it was a rediscovery of an earlier passion.
"As a little kid, I was always playing with the colored Sculpey clay and stuff, but when I moved to the U.S., it kind of got put on the back burner just as I was kind of grappling with culture shock," Gacharná said.
He became a PEOPLE scholar and entered the University of Wisconsin-Madison as an art major. Still, he never felt that Madison was fully his home, but also felt detached from his Colombian roots. This identity confusion found its way into his art.
"I was so removed, like thousands of miles away from my home and people that understand the culture that I come from," Gacharná said. "I grew up here, but I've never really identified. I don't feel like I'm necessarily a product of Madison."
"All of (my art) kind of stems from this desire from a stronger connection to the world around me than what I feel when I'm in Madison."
The exhibits he organizes for 100state also grew out of this tension. Gacharná started managing his own events because the 100state events didn't reflect his Colombian cultural style.
"A typical art environment, you walk in, you've got your glass of wine, your cheese, there's a couple people mumbling, but it's not really that fun," Gacharná said. "The defining factor for my art events is make sure people are having a good time, and I think that's an incredibly Colombiano thing."
Today, Gacharná organizes events as part of his job at 100state. He's also an assistant teacher for a class at UW-Madison and a workshop facilitator for Making Justice, a restorative justice program for court-involved youth at Madison's Central Library. He's starting to make product art and market it professionally. But even so, he never wants to give up community work.
"I can do a lot more good in the community than cooped up in my studio," he said.
As an immigrant himself and a former bilingual GED instructor, Gacharná has seen firsthand the struggles of other immigrants in Madison. Just as Gacharná struggled to know himself, he thinks immigrants — especially undocumented immigrants — are ignored and unknown.
He experienced this when he briefly worked at hospital cleaning after hours with many other immigrants.
"At 5:30, we show up when everybody's gone … And I see a lot of that, it's like all this invisible help. People in the kitchens or people cleaning, you know, like these invisible hands. And I think that that is a huge defining factor of the immigrant experience here in Madison," Gacharná said. "There's that tendency to pretend that they just don't exist."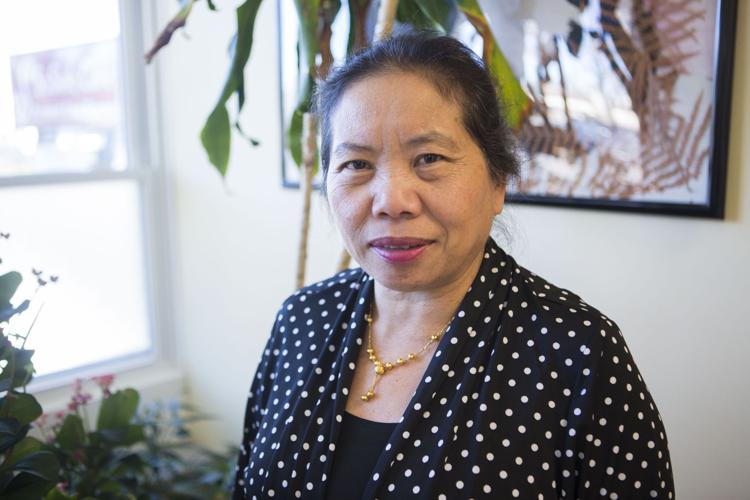 Cultural caretaker
When Shoua Vue, owner of the personal care agency SoSiab Care, began her sophomore year at Madison East High School in 1981, she had to learn English.
A Hmong refugee from Laos, she spoke fluent Lao, Hmong and French. Science and math were simple. English was a struggle.
She moved on to Madison Area Technical College after high school, but her English was still poor. A tutor at the school pointed a finger in her face and said, "You will never speak English in your life; you will never learn. Why did you come to this country?"
She switched tutors, persevered and completed her associate degree from MATC. But later, when she worked for United Refugee Service as an outreach worker and interpreter, she encountered more people like her tutor. She would bring Hmong widows to the doctor to translate for their appointments. Sometimes, the widows, suffering from depression, would begin to cry.
"There's a couple doctors that pointed to them, the same as when the tutor pointed to me — 'You don't speak English, that's why you're so depressed. Why did you come to United States?'" she said.
In Vue's case — and those of many Southeast Asian refugees — the answer to that question can be long and painful.
The CIA recruited Hmong men to fight in the Vietnam War, which meant that when the communists took over Laos in 1975, thousands of Hmong fled their war-torn land.
Vue's family fled to the refugee camps of Thailand, leaving behind their farm, animals, livelihood and life savings. Her family had to walk through the jungle, with her mother shielding her children's eyes from dead bodies on the side of the road.
Their first attempt to escape was cut short when they were caught by Vietnam soldiers. Vue and her sister ran and hid, but the soldiers killed her brother-in-law and threatened her father. Heartbroken and defeated, the family returned to the village and escaped again later.
Vue's family was part of a wave of 50,000 Hmong who settled in Wisconsin, 4,000 in Madison.
As an adult in America, she enjoyed a successful career but continued to face cultural misunderstanding. After her mother had a stroke, Vue took care of her, in addition to working two jobs. Doctors repeatedly insisted that she put her mother in a nursing home, which was not a culturally acceptable option.
"I told the nurse and doctors, you can show me nursing home, but no matter what, I'm not going to put my mom in nursing home," she said. "I took care of my mom until the day she passed away."
Her mother died in 1992 and Vue decided she needed to help others in the community like her. She wrote a proposal to receive state funding and opened her own personal care service, serving 90 clients from places like Laos, Nepal, Somalia, Cambodia, Vietnam and Africa. She hires multicultural staff and interpreters to serve a wide range of languages.
Vue wants to grow her business so she can continue to contribute to the community. And she wishes her MATC tutor could see what she's accomplished.
"Now I survive, I complete my school. I have my own business, I have a good job," she said. "My parents always say, 'if you have a good heart, if you have the patience, you will be the good, whatever you do.'"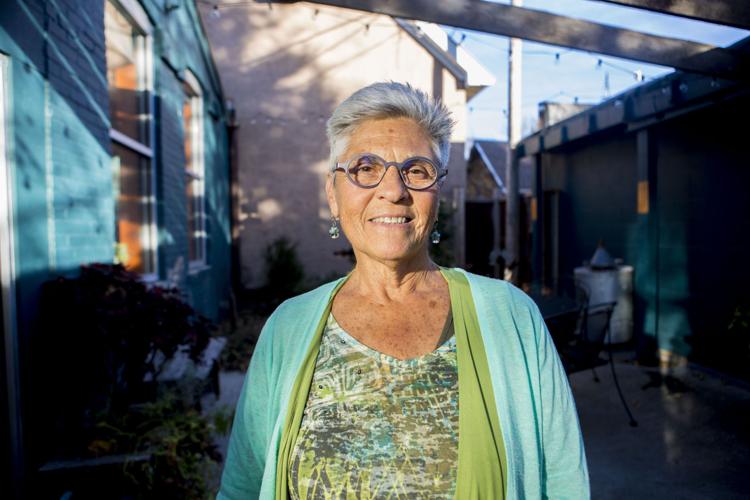 Unexpected tenure
Efrat Livny, Open Doors for Refugees
Efrat Livny did not intend to stay in America. She came from Israel with her husband in 1983 so he could complete his post-doctorate at UW-Madison.
"My plan was to be here for two, three years, and go right back to Israel. And it just didn't work out that way," Livny said.
After more than 30 years in Madison, she has not only settled in, but now welcomes other newcomers whose lives haven't gone as planned. As creator of the nonprofit Open Doors for Refugees, she helps refugees transition to life in Madison by providing material and logistical support and helping the community understand what refugees need.
Livny's road to Open Doors was not a straight one. She earned a master's degree in library and information studies, created and ran the Biotechnology Information Center at UW-Madison, decided academia wasn't what she wanted, went to massage school and opened her own bodywork business and art studio.
When her studio space was claimed by development, she found herself unexpectedly leasing the former Goodman Community Center, a 4,500 square-foot building on Atwood Avenue. The space, which she named Threshold, has provided her with unique opportunities to host events, and she has never looked back.
"I went from one-on-one to thinking about community, and how to really think about what the community needs," she said.
Threshold is a multi-unit work space housing several health-related businesses. It also hosts events as diverse as birthday parties for to Buddhist gatherings to video workshops to informational events about home burials.
"We really like to experiment. We love living on the edge," she said.
Livny also hosts regular lunch discussions for about 20 people. The Syrian refugee crisis had become a recurring theme of these lunches. She saw it as important but ignored.
"My father was a Holocaust survivor. So I am the result of the fact that the refugees from Europe, somebody took them in," she said. "You know, so my dad made it. His family didn't, but he made it out, and he made it to Palestine at the time and settled in Israel, and that's how I am alive. So to me, I cannot sit back and ignore the refugees of basically a genocide."
"One day I just said, 'Nope, I have to do more. So I said, 'I'm making soup for 60 people.'"
Sixty people came to Threshold and discussion started with basic questions. How do you feel about this? What do we need to see happen? What leadership are you willing to offer to this effort?
The group divided into teams, and started asking more questions: Do we have refugees in Madison? What organizations do resettlement? What are the hurdles to resettlement?
From that meeting, Open Doors was born. It now has 60 people working on 10 teams, preparing to provide services for refugees ranging from transportation, translation, ESL, donations, moving in, employment and housing. Thanks in part to the organization's efforts, beginning in December, Jewish Social Services will start welcoming refugees, focusing on Arabic-speaking refugees. Open Doors will be right there to help.
Livny uses Threshold to continue to host events promoting awareness and building support for refugee resettlement. She's working with a wide variety of groups — churches, synagogues, Buddhist groups, the Muslim community and UW student organizations — to build widespread support.
"We're just trying to get a good foundation so it's clear that the citizens of Madison, Wisconsin are behind this," she said. "There's no way there's not going to be a pushback, and not even a small pushback. There will be people who want no Mexicans, no Syrians, no Bhutanese. I mean, none of the above.They want the 'pure Americans,' whatever that is. And that's starting to sound really scary."
There's a worldwide crisis of displaced people, Livny said, and those of us who are placed are charged with a response.
"Are we here to just kind of take care of ourselves and make money? Because that's what's left, when you say, 'Well I'm not going to involve myself,'" she said. "'It's their problem, it's their business. Let them take care of it, let Germany take care of it. Let somebody else take care of it.'"