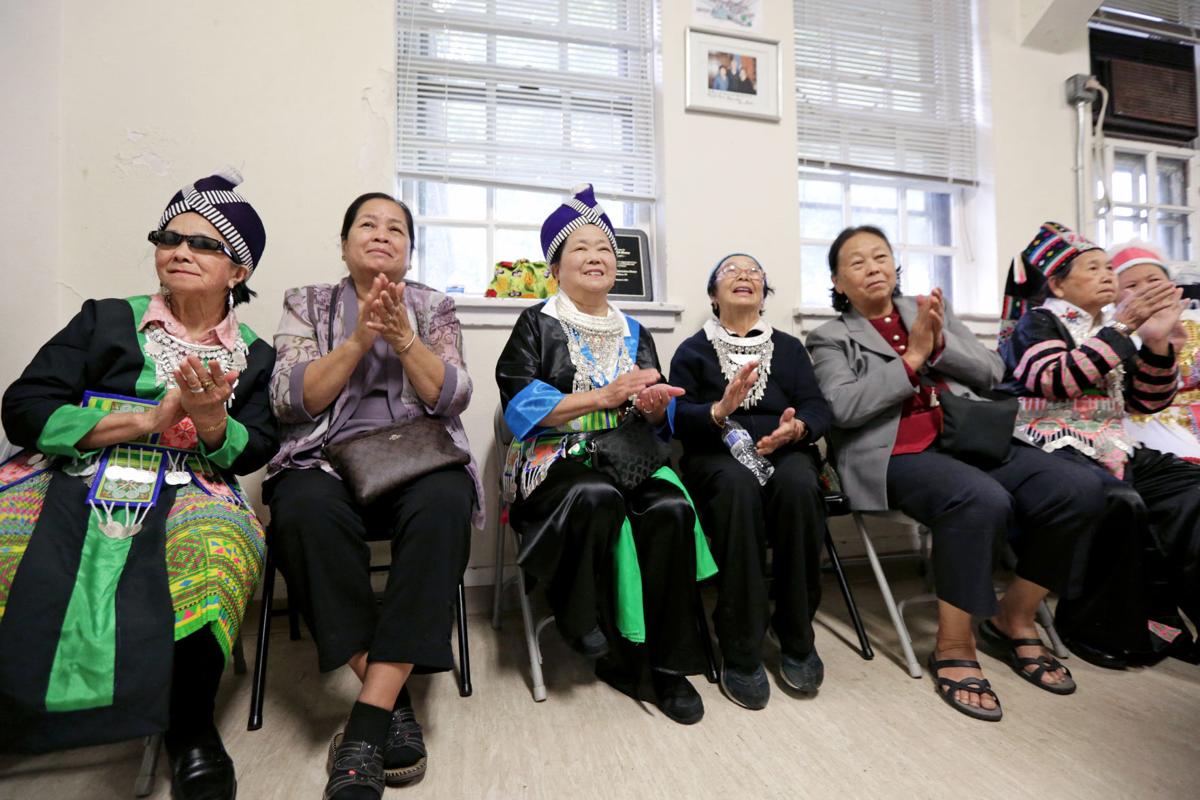 Hmong residents are more than refugees. They are Wisconsinites. They are teachers, police officers, nurses, farmers, university faculty.
That was the message delivered at the Hmong Institute earlier this week in a news conference to announce a slate of events to commemorate the 45th anniversary of the Hmong Diaspora. The diaspora — dispersion of people outside their native country — is the result of thousands of Hmong people fleeing genocide following the Vietnam War, which is still fresh in the minds of elders who lived through it.
Mai Zong Vue of the Hmong Institute said the organization wants to bring the Hmong culture to life and show how deep a connection Wisconsin's Hmong people feel with the state.
"We are a very young community," Vue said. "We are business owners, we are taxpayers. We have culture and traditions that we celebrate. We are a really proud community where home ownership is high. We are beyond being refugees." 
From March until May, a speaker series will tour the state, dedicated to discussing the Hmong journey to the United States and the impact it has had both on the Hmong community as well as Wisconsin as a whole.
Menasha Public Library, March 21, 9 a.m. - 3 p.m.: Keynote speech from former Minnesota state Sen. Mee Moua on what it was like to be a Hmong refugee.
La Crosse Hmong Community Center, April 4, 9 a.m. - 3 p.m.: Keynote speech from WHEDA Deputy Director May yer Thao.
Marathon County Historical Society in Wausau, April 18, 9 a.m. - 3 p.m.: Keynote speech by MaiGer Moua, adjunct professor at UW-Stevens Point, about celebrating race relations.
UW-Milwaukee Student Union, April 25, 2 p.m. - 3 p.m.: A military veteran panel discussion moderated by Chia Youyee Vang about Hmong soldiers allying with the U.S.
Madison College, Goodman South Campus, May 2, 9 a.m. - 3 p.m.: Keynote speech by Yang Sao Xiong, assistant professor at UW-Madison, about education.
Hmong Institute CEO Peng Her will also deliver a keynote address at an event at a time yet to be determined about the rise of Hmong political involvement in Wisconsin. 
On May 15 there will be a final celebration banquet at Madison's Monona Terrace from 6 p.m. - 9 p.m. featuring Judge Kristy Yang and including reflections on all of the diaspora stories that have been told.
Additionally, the Wisconsin State Historical Society is opening an exhibit about Hmong in Wisconsin on March 24. The exhibit will be on the fourth floor of the Wisconsin Historical Museum, 33 N. Carroll St., and will highlight the history of Hmong journeys to Wisconsin. The exhibit will feature a story cloth, which is a traditional artistic cloth on which images of Hmong history will be sewn.
Mai Zong Vue, who was born in Laos, has partnered with the State Historical Society on a book called "Hmong in Wisconsin" that is part of the Historical Society's "Peoples of Wisconsin" series.
The book describes the war in Laos and the fall of Saigon, which led to the U.S. withdrawing troops from the region. Vue details firsthand accounts of what happened when a Communist regime took over in Laos and genocide followed. Many refugees fled to camps in Thailand before being offered sanctuary in the U.S. and other nations.
Many church organizations helped sponsor Hmong families when they arrived in the U.S., including in Wisconsin where Vue's father, NhaiPao Vue became a community leader.
Vue's purpose in writing the book, as well as organizing the speaker series, is to let people have the opportunity to meet their Hmong neighbors and understand how they contribute to the community.
Wisconsin is home to approximately 49,000 Hmong, according to the U.S. Census Bureau.