One of the first things you notice when watching Forward Madison soccer players practice is the shouting. They shout at each other. A lot. The goalkeepers shout to direct the defenders and midfielders, the players in the middle of the field shout to direct their teammates on the outside and the players on the outside often shout back while sprinting full speed up the line to indicate they're open and want the ball.
Echoing within the walled confines of an indoor soccer field at Middleton's Keva Sports Center on an early March afternoon, all this shouting builds to a cacophony. With all the noise, it's hard to understand the point of the drill until you focus on how the players are positioning themselves, how they're moving the ball across the field and looking for opportunities to move the play upfield and penetrate the defense. Passes accomplishing that are met with enthusiastic shouting, some of it in Spanish.
Coach Daryl Shore stands to the side, arms crossed with a whistle in his mouth, which he blows to stop the drill.
"Have the idea that you can turn a play forward," he says to the players. "Too often we're playing backwards."
He blows the whistle to resume the drill, soon after offering his own shouts of encouragement: "Good pass forward!"
Forward is the name of Madison's nascent professional soccer team. When accompanied by an exclamation point, it's also the simple and direct motto of the state of Wisconsin, which informed the team's name.
But on a soccer field, "forward" describes a particular aggressive strategy, and the word holds special meaning for coaches, players and close observers of the game.
"What we've talked about is, as much as possible, we want to play in our opponent's half of the field, so we have to be forward thinking," Shore says. "I don't want people to think we're going to be a direct team that kicks the ball forward and runs after it. But we're trying to get the point across to our players: every opportunity we have to go forward, that's where the goal is. The idea is we want to score goals. To do that, we have to go forward.
"It's the way we want to play."
Thanks to an active, sophisticated and often whimsical marketing operation, fans know plenty about Forward Madison Football Club's identity. But soon, a pink plastic flamingo named Mingo will be replaced by a group of about 20 players as the face of FMFC. They have moved to Madison from all over the country and the world to compete — and win — as professional athletes. They will form the type of team that Madison, with its deep love for big-time college athletics, doesn't have much experience with.
"How we do on the field is going to be important to the fans," says Peter Wilt, the team's managing director. "They're gonna care. That first game is going to be opening up the Christmas present and showing them what they have."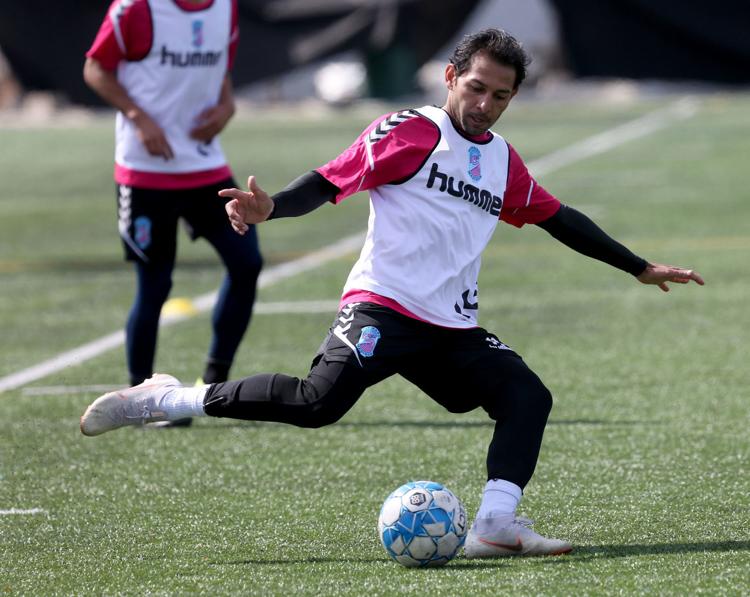 The competition
Forward Madison opens its season on April 6, in Chattanooga, Tennessee. The Flamingos will play 28 league games before the first week of October, with several exhibitions — or "friendlies" — mixed in. They will also compete in the U.S. Open Cup, a tournament made up of teams from every level of the sport in the country, including amateur squads.
The first opportunity for fans to see FMFC in action at Breese Stevens Field is April 16, when it faces the University of Wisconsin men's soccer team. Other non-league highlights include visits from German Bundesliga team Hertha Berlin on May 24, Minnesota United FC on June 25 and Queretaro of Liga MX (Mexico's top pro league) on July 16.
Forward Madison is one of 10 founding members of League One of the United Soccer League, a mix of independently owned startups like Madison, teams moving in from other leagues and a couple of B-squads — Orlando and Toronto — of Major League Soccer teams. Entering its first year of play, the league's mission is to fill a previously empty rung on the ladder of American professional leagues.
With single game tickets on sale as of Wednesday, March 27, here are five you'll want to see.
"You've got the MLS, which is the top, and then the USL is the secondary tier. Within the USL you've got the Championship and now League One. So USL League One is effectively the third tier," says Ryan Coulter, an FMFC goalkeeper from Ireland. "However, it would appear that basically all the new franchises are in League One. So it's hard to look at it and say it's third tier based on ability or quality because a lot of the players playing in this league have experience in the USL Championship."
When Coulter says hello and extends a hand that seems to be the size of a tennis racket, it's immediately clear why the FMFC media department likes to connect him with reporters. He doesn't just deliver a good quote, he does it with an accent as smooth as 18-year-old Jameson whiskey.
"I didn't know much about Madison before I signed here," Coulter says. "I asked my agent where it was and he said, 'North of Chicago.' I said, 'North of the same Chicago where it was just minus 41 degrees the other night?'"
At 30, Coulter is a veteran of the lower divisions of Ireland's professional soccer league. But he also has experience in the U.S. minor leagues and has a good grasp of where Forward Madison will fit in. He's excited.
"I think the level is going to be quite good. It will be competitive. One of my best friends plays for Chattanooga and they've got quite an experienced group," Coulter says. "We've got quite an experienced group here, along with some young, hungry players. It's a good blend."
The two teams in the league that come up the most when talking to players and team officials about games to circle on the schedule are the Lansing Ignite and Chattanooga Red Wolves SC.
"Partly because I know three guys there," managing director Wilt says of Chattanooga. "I love them all, so it's not like I have a grudge against them, but there's a rivalry. And Lansing has become a rival with our fans, partly because of proximity — it's the only team we don't have to fly to — and their social media has been aggressive with our fans and we've reciprocated. So we're developing that rivalry. They're a good organization and I think they've put together a pretty good team, as has Chattanooga."
Jeremy Sampson, general manager and vice president of the Ignite, echoes Wilt's predictions about the rivalry, adding that it will really be determined by the players on the field. He says there has been some camaraderie among the teams in the new league, even if they're pursuing different strategies in terms of building their rosters.
"It's interesting to look at the different styles that the clubs have used. I keep joking that in late September and October we'll figure out who got it right, whether you want to build it a little older with veterans or go the younger route or you're one of the MLS clubs, where you're really homing in on that development piece," Sampson says. "I just think it's interesting that of the 10 of us, we're all building it a little bit differently, which is really cool."
Forward coach Shore doesn't shy away from his desire to be in the mix for that league title come October. Despite starting the USL1 season with road games in Chattanooga, North Texas and Orlando, he wants the team to get off to a quick start.
"We can't come home 0-3 to open our season," he says. "We've got a number of points we feel we need to have when we come home on April 27, so now our fans not only are going to be excited about opening day here, but they're coming to see us because we have a team that's going to be competitive and fun to watch."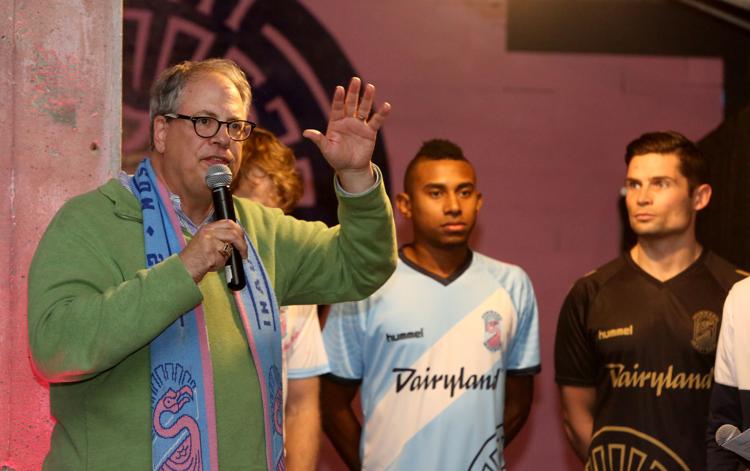 How good will they be?
There aren't likely to be any future Lionel Messis or Cristiano Ronaldos lacing up their cleats in USL1 this year, but the players taking the field in Madison are skilled and it's clear watching them train that they are committed. Passes are crisp and accurate, goalkeepers are big and athletic and shots on net are bullets.
Fans of the new team will have to work to discover their favorite players, but here are five places to start.
"The first thing I tell everyone is, this isn't a Sunday pub league," says Shore. "This is real soccer. These guys are getting paid to play. Are they getting paid exorbitant amounts? No. But this is their passion."
An example of that approach comes from Paulo Junior. The Brazilian forward has played on several different teams —  including Real Salt Lake and the Vancouver Whitecaps of the MLS — since moving to the U.S. in 2009. English is Paulo's third language, behind Portuguese and Spanish, but he is clear when asked for a word to describe his new team.
"It's very serious," he says. "This is professional, you have to be very serious. I think everybody is here to win the games."
And they have dared in this inaugural season of the team and the league to set their sights on a trophy.
"What we try to tell everyone is that we tried to put together a team that we felt would compete and win a championship in USL League One, but also a group that would be competitive and comparable to USL Championship teams," Shore says. "Our guys have ambitions of trying to win our league and also we want to be the best team in our league -- in USL League One -- we want to go the furthest in the U.S. Open Cup. To be the last USL League One team standing."
The structure of the professional leagues in the U.S. is dictated by U.S. Soccer, the organization that develops the men's and women's national teams. Regulations for sanctioned leagues, like USL1, include things like roster structure and stadium conditions, all meant to raise the profile of the sport in America and among its international peers.
What sets the U.S. leagues apart from their European counterparts is the lack of relegation and promotion. In England, for example, the bottom three teams in the Premier League standings at the end of each season move down to the Championship division, which in turn promotes three top teams to the Premiership. Those opportunities don't currently exist here, which means players looking to move up must do so individually.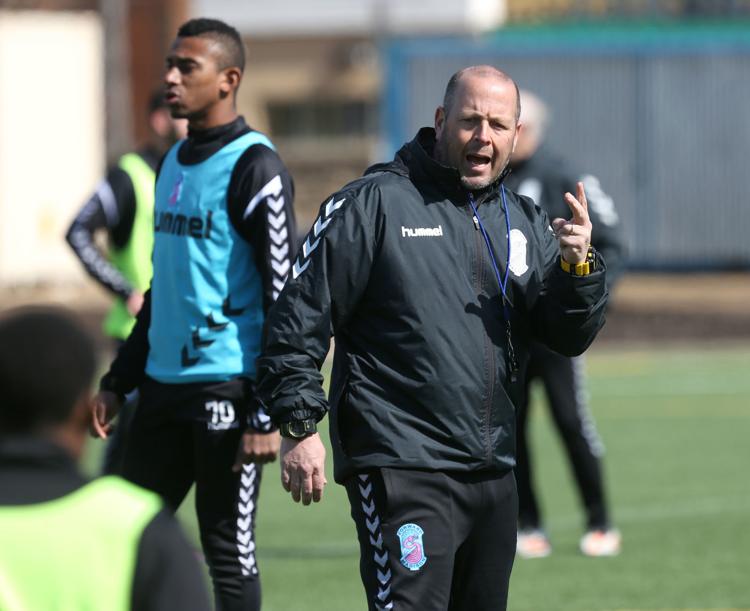 "The fact that it's third-division American soccer means they have room to grow," Wilt says of the players. "They're playing at this level, but they will improve and have the opportunity to move to higher levels."
An affiliate agreement signed between FMFC and Minnesota United allows Minnesota to send players to Madison to pick up playing time if they otherwise might be sitting on the bench. Wilt anticipates four to six players will be "loaned" to Madison for the season. Several spent time in Madison training with the Flamingos this winter.
But Shore expects the loaned players to work for their spots on the field and prioritize winning.
"They have to come here and earn a chance to play," he says. "They went on a trip with us to St. Louis and saw how we do things and what we're about, because we didn't want them to think they could just show up and play."
While managing playing time and roster spots for loaned players may be a puzzle for Shore to solve, the players seem unconcerned. Brian Bement, a forward who played college soccer for Chicago Loyola and professionally in Puerto Rico and Jacksonville, Florida, thought the Flamingos stacked up pretty well against Minnesota during a closed-door scrimmage in the Twin Cities last week.
"To be completely honest and blunt, I really don't care about that relationship," he says. "In my mind, we have our squad and as of right now, partners or not, they're a competitive squad and we play against them this year, so we've gotta beat them."
Roles on the field
Over a downtown lunch last Saturday, Bement and midfielder Brandon Eaton, who played two seasons for the USL1 team Richmond Kickers, break down the team's offensive strategy. They will play out of a 4-1-4-1 formation: four defenders in the back, a holding midfielder, four attacking midfielders and a striker.
But those position descriptions can be misleading, as attacking players with a nose for the goal may line up in the back four. For example, Christian "Pato" Diaz, a veteran of Liga MX's Club Atlas out of Guadalajara, was spotted sprinting up the line at a recent practice and getting the ball just outside the penalty area.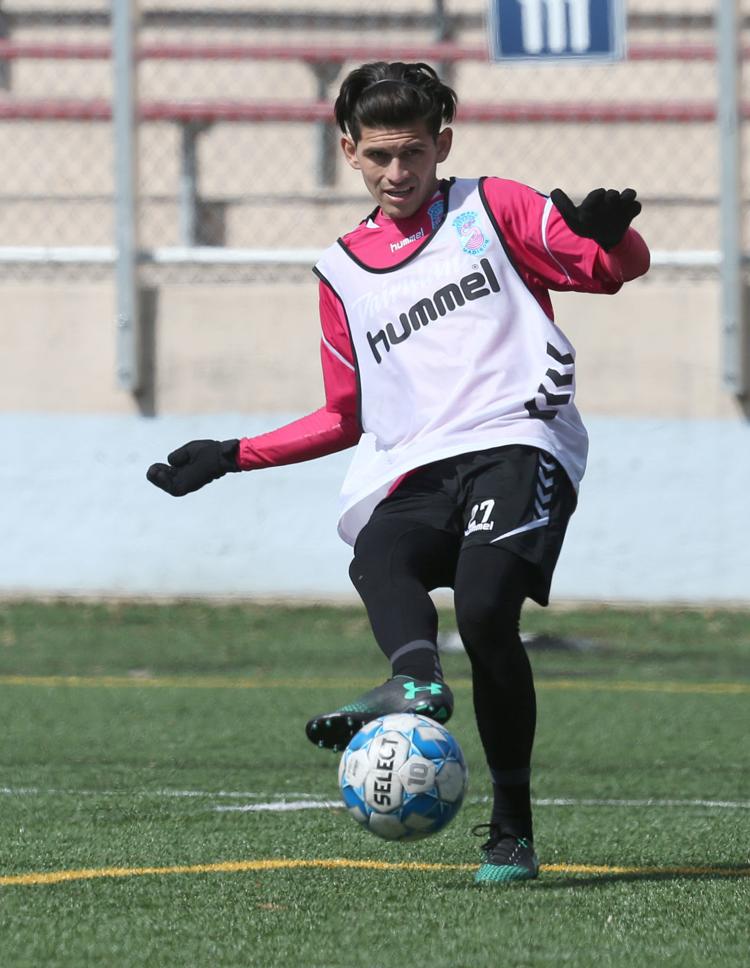 "Coach was straightforward with me, the way that he wants the team to play, and me being a left back, is to come forward more," Diaz says. "My way of playing is more as an offensive player. I like to have the ball, do step-overs, be a little fancy. But being in the back, it's important to be smart and that's where my experience comes in."
Joining Diaz on the back line will be Connor Tobin, whose role as one of the center backs is to keep the defense organized and also start the counterattack. At 32, Tobin is the team's grizzled veteran and a vocal presence on the field. He explains his role while engaging in a lengthy and complicated stretching regimen on the Breese Stevens turf after practice.
"As a defender, maybe I always think negatively about what happens if I'm on the wrong side. So as we're going forward to attack, are we organized behind, so if we do lose possession we're in a place where we can snuff out danger before it happens?" Tobin says. "For me, when things do go wrong, the buck sort of stops with me as center back. At that point it's about winning balls, blocking shots and doing the dirty things in the game. Maybe some of that, but hopefully not a ton if I'm doing it well."
Eaton relishes his role in the formation as either that holding midfielder or an attacker. By putting so many midfielders forward, the formation relies on the holding midfielder to be proficient at playing defense and directing the offense.
"I think the formation really fits our play because we have a lot of dynamic players in the final third that can do a lot of stuff in terms of attacking," Eaton says. "I've always played as a supporting midfielder, but I like this role. It's a little more fun because I have more freedom to go forward, get on the ball, try to find pockets of space, not only move the ball side-to-side but find ways to penetrate and create chances to get to the goal."
"And score!" Bement adds.
Adjectives like beautiful, attractive and elegant are often used to describe soccer strategy, by players and commentators alike. Wilt says FMFC wants to demonstrate what that means at Breese Stevens this year.
"We want to play attacking soccer, for the fans to enjoy what they see," he says. "For too many teams, those are just words. It's lip service. When it comes down to it, sometimes they resort to unattractive play that's an attempt not to lose. But what we've put together as a team, from what I've seen from the coaches on the field, this is putting the attack behind the words."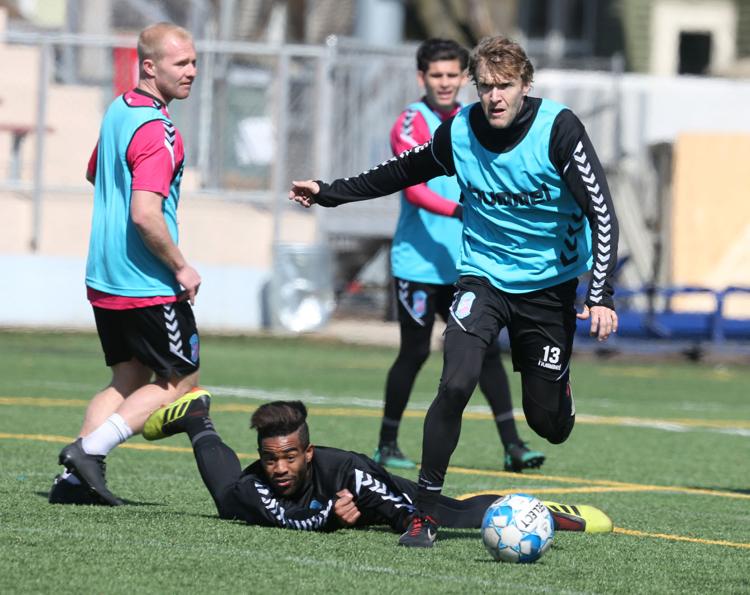 Moving forward
As fun as the events surrounding the introduction of the team's colors and uniforms have been, they also serve the purpose of setting a tone that the club is playing to win throughout the organization. The uniforms were featured on Soccer Bible, an international soccer culture website. Instagram posts featuring a pink plastic flamingo buried in snow at Breese Stevens Field, accompanied by the hashtag #FullMingo, went viral and inspired fan apparel designs.
Team owners understand that Madison is an increasingly busy city and they are competing for attention as much as for victories in USL1.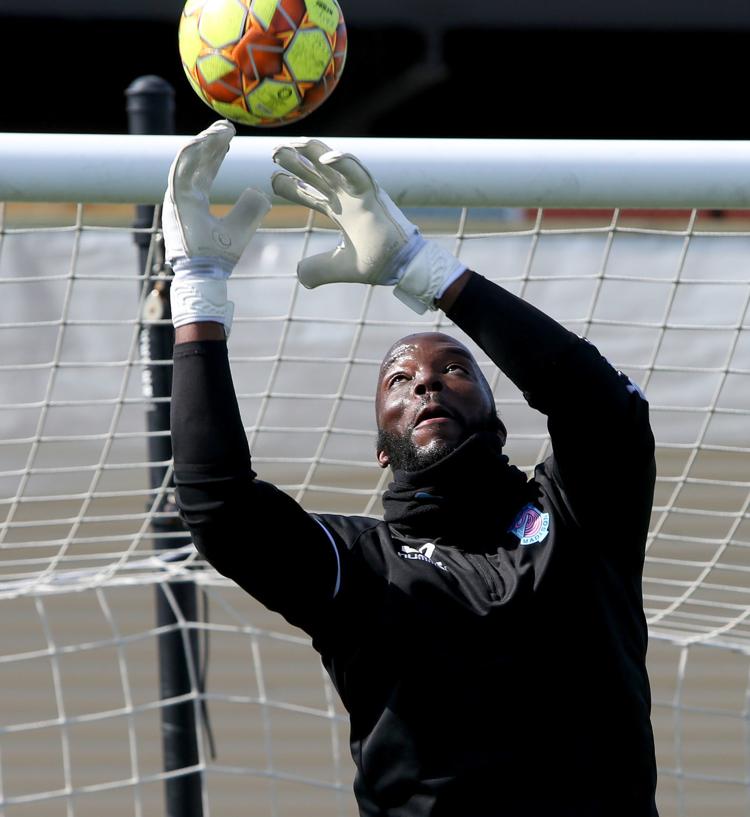 "Is there any pressure on the team to perform up to the level of the business of the team?" Wilt says. "I said the players have quickly recognized that this is a good city for them, it's a good organization and expectations are going to be high. I think it serves to motivate them."
Diaz, who has played in front of 50,000 fans in Mexico, says the ideal relationship will have the fans getting excited by the players who will, in turn, feed off the energy in the stands.
"The main thing is soccer is a beautiful sport and I think once they come to see a game, the fans will play a big part, not just us," Diaz says. "We're a family. Once the fans start seeing the games, hopefully we'll start winning and bringing more fans in. They're going to get used to that and want to be here."
Several players cite the club's community-minded marketing approach as a reason for coming to Madison and for getting enthusiastic about the season ahead. Wilt and Shore vetted the players they recruited and have already used several greet-the-team events, including the downtown St. Patrick's Day parade, to get players out in public.
"We felt like it was important when we were looking for players that sometimes the best soccer players aren't the best guys to have on your team," Shore says. "So you try and blend a mix of players who are good on the field, but also are good in the community, are good people and in it for the better good."
Tobin, who played in college at Vermont and professionally in New York, Minnesota and North Carolina, thinks the team can be successful if it realizes its appeal can reach beyond goals and game days.
"What made me want to come here, I think the organization as a whole is really focused on the community aspect. I always felt that not a lot of teams have gotten that right," he says. "To get any sort of sustainability as a football club it really comes from embedding yourself in that community and articulating a sense of identification that means something in that community.
"This goes beyond the game itself. We're starting to build something that even if you don't have a background in soccer or sports, this is going to be a place where you can come and feel welcome. It's special to be part of something new and hopefully we create something that doesn't exist in a lot of places in the United States.