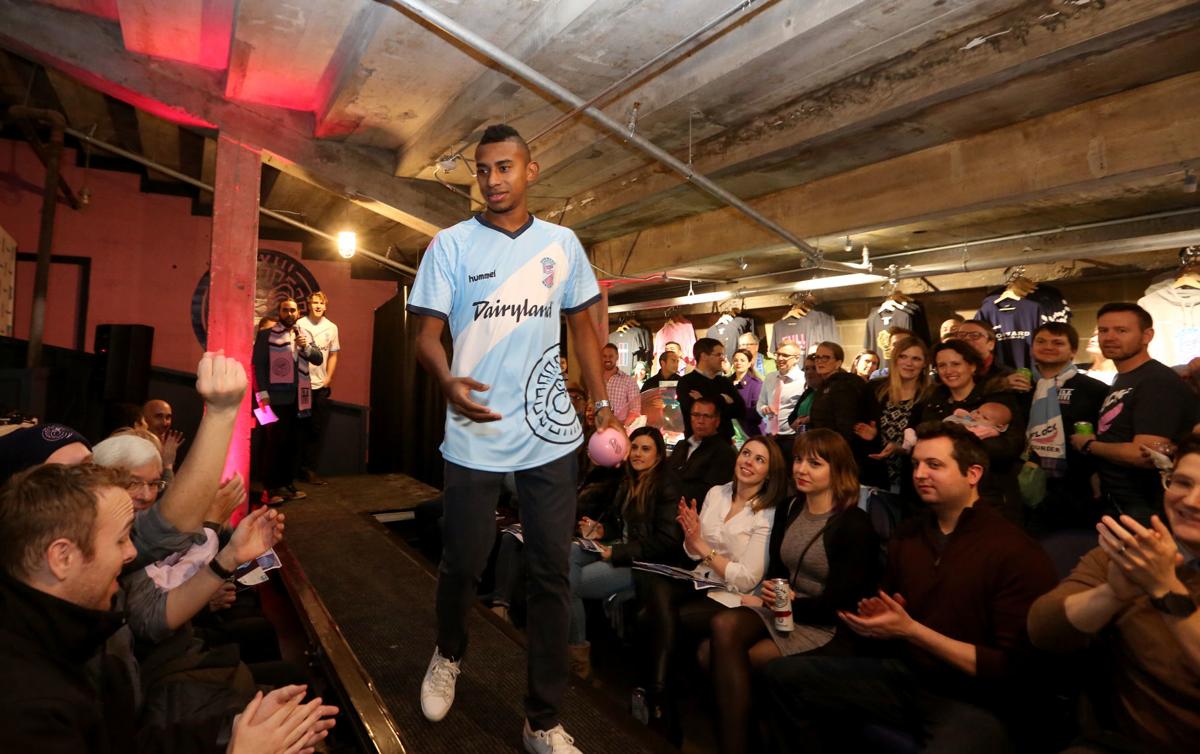 Vern Stenman, president of Forward Madison F.C., the minor league soccer team that makes its debut next month, has developed a philosophy about working with creative professionals.
"You either box designers in and force them to be creative within that small box," Stenman said. "Or you say 'I don't care what you do, just piss somebody off. Come up with something crazy and unexpected.'"
Stenman took the second route when he charged Cassidy Sepnieski with one of the team's most public and important tasks: designing its uniforms. The designs made their debut on Saturday at the team's new apparel store at Breese Stevens Field. 
After announcing the team name in November along with a logo featuring a "fierce flamingo" — a nod to Madison's official city bird, the pink plastic lawn ornament — the next step in establishing the nascent team's identity was coming up with what the players will wear on the field. 
The new home jerseys are sky blue with a white sash, denoting the city's isthmus geography and giving a nod to the city flag. These specifications were strongly suggested by members of The Flock, the team's enthusiastic supporter club. 
"It's got the scalloping from the logo on the sleeves, which is very subtle but cool, I think," Sepnieski said. "It's still got the classic soccer look, but with a little Easter egg in there." 
The road uniforms are white with pink accents and feature a pattern of pink flamingos. 
"Honestly, I don't quite get that one," Stenman, 41, said. "But everyone younger than me totally gets it." 
Sepnieski, 23, is the creative services manager for Big Top Sports and Entertainment, the parent company of Forward Madison and the Madison Mallards. She was already involved in managing the team brands, designing promotional materials, tickets and other marketing collateral.
She was surprised to design the uniforms, something she had never done before.  
"Once I got the logo and the brand standards, I took it and created the feel of our branding for the season," Sepnieski said. "The jerseys were never in that conversation." 
In January, the team signed a contract with Hummel, a Danish sportswear company, to provide uniforms, warmups and other gear. But the team's leadership wasn't thrilled with Hummel's original designs for the jerseys. Peter Wilt, the team's managing director, hired a European firm with experience designing soccer uniforms and Stenman turned to Sepnieski.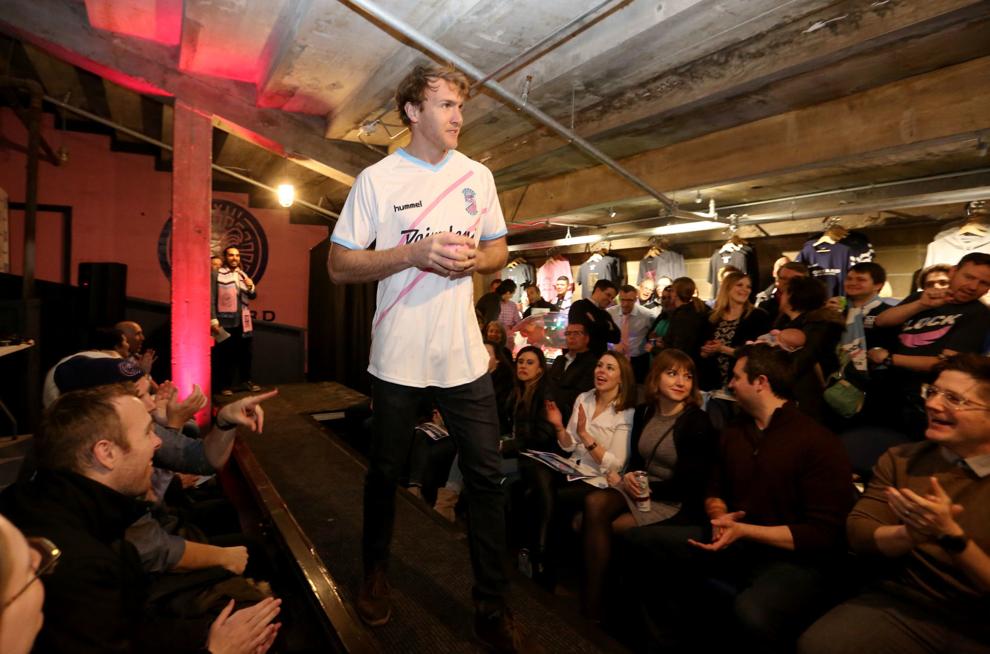 "Vern tells me on a Thursday night, 'Hummel sent us these kits, we want you to reimagine some of these, get on the drawing board, I need them by Monday,'" Sepnieski said. "I work out of the Mallards office, so I went in on a Saturday and spent about five hours researching, placing different ideas so we could have a starting place." 
While she admits to not being a big soccer fan, Sepnieski embraced the goal among the team leadership to "surprise and delight" fans with its identity. 
"We just knew that this was an opportunity to do something out there in terms of soccer," she said. "They came to me and said, 'we want you to spice these up a little bit, do something fun.'"  
Soccer purists refer to uniforms as "kits," and so do members of the Forward Madison front office. They selected home, road and alternate kits along with three goalkeeper kits. The alternate uniforms will debut in June. 
Tradition is baked into soccer culture, which brings with it iconic, simple uniform designs. Real Madrid wears white, Manchester United wears red, Juventus wears black-and-white stripes. Fans have attached themselves to those images for generations.
Forward Madison is a new team in a new league — USL League 1. Leadership believes the team has room to be bold and innovative. 
"As we look at branding and how we position ourselves to get attention, which is ultimately the goal, we felt like we have to take risks," Stenman said. "Putting a flamingo in a logo is a risk. And so far, everything has been received pretty well by the community." 
A printing technology in sports apparel known as sublimation allowed Sepnieski to stretch her thinking beyond placing a logo on a simple one-color jersey. The sublimation process imprints intricate designs and patterns into a jersey's material so it doesn't peel off or wear out. 
"We wanted to execute the full power of sublimation," Sepnieski said. "There's no limit to what you can put on a jersey, really, so why not use it to our advantage instead of sticking to a traditional, straightforward look?"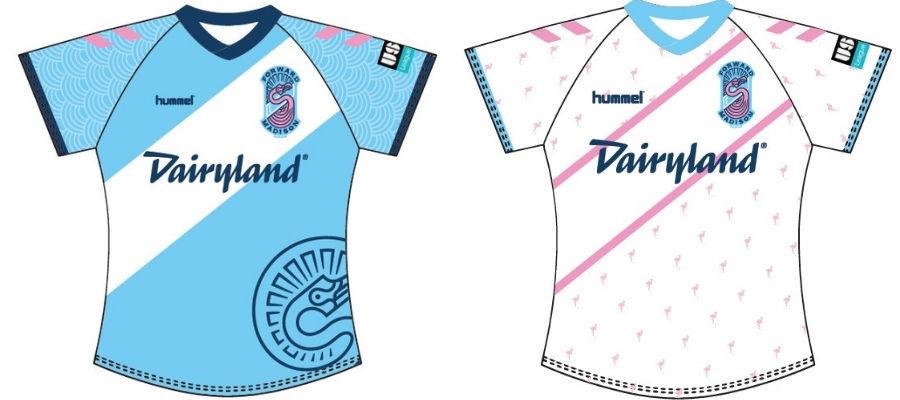 Sepnieski turned in about 30 designs to show Stenman, Wilt and others, alongside work from the European designer. 
"I think immediately we were like, Cassidy's stuff is way better," Stenman said. "More interesting." 
"The biggest thing was how are these things going to look on camera," Sepnieski said. "The pink flamingo detail might not be there, but the fans wearing them will know. The home kits will look classic, but still cool. There's a Roman numeral 608 (DCVIII) on the collar. The inside tape says Full Mingo, which is our viral slogan.
"We'll have one dedicated to our supporters section, details that show we care about these kits while trying to make them fun for everyone." 
Dairyland Insurance is the uniform sponsor, which team leaders view as another advantage. It's an auto and motorcycle insurer, affiliated with Sentry Insurance in Stevens Point.
"Most teams in our league end up with the big hospital in their town, or some bank," said Kuba Krzyzostaniak, the team's director of fan engagement. "Dairyland is a unique, Wisconsin brand." 
With the release of the jerseys at the team store on Saturday, the idea that they'll start showing up around town is thrilling for Sepnieski. 
"This was a huge collaborative effort and it will be really neat to see these take over the city," she said.
Share your opinion on this topic by sending a letter to the editor to tctvoice@madison.com. Include your full name, hometown and phone number. Your name and town will be published. The phone number is for verification purposes only. Please keep your letter to 250 words or less.