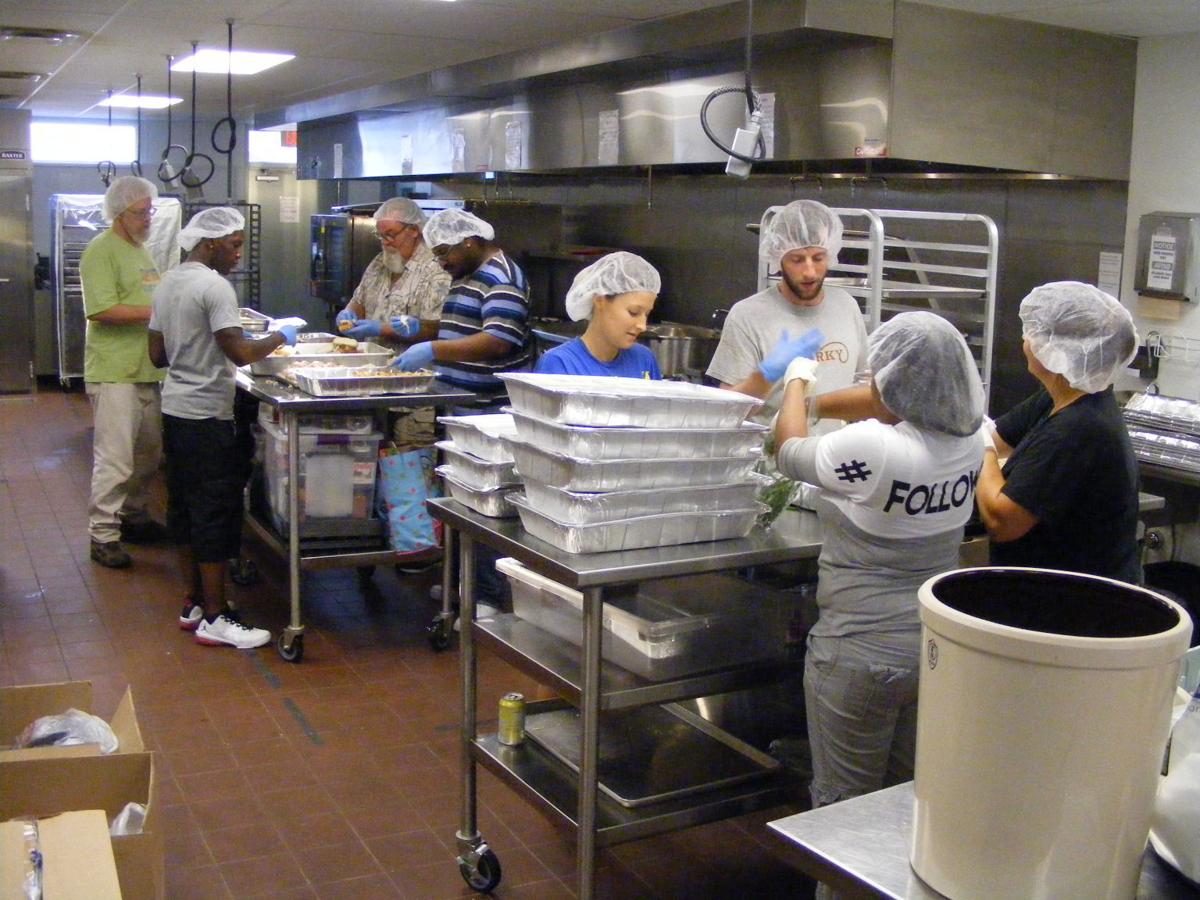 Editor's note: The Cap Times staff is working to provide answers to readers' questions about coronavirus so they can make sound decisions about their health and daily lives. Staff will update this document as new information becomes available and as we're able to answer more of your questions. Find a form at the bottom of this article to submit questions of your own.
Due to concerns over the spread of COVID-19 in Dane County, excess food from Monona Terrace may no longer be diverted to locations like the Beacon homeless resource center or public housing buildings like Braxton Place.
Healthy Food For All founder Joe Mingle said that in the short term, his organization has been able to give more food than usual to the clients it serves due to no-shows for a conference at Monona Terrace. The organization partners with the convention center to distribute food to those who utilize food pantries and free meals around Madison. Large numbers of boxed lunches, hors d'oeuvres, main dishes and snacks have been available.
But with widespread closings and cancellations of large gatherings due to the coronavirus, Mingle says that excess food may not be available for much longer.
"Unfortunately, the good times are almost over," Mingle said. "According to Monona Terrace staff today, all events next week have been canceled. It seems likely that more cancellations will continue into the next few weeks or months at least. Obviously, this means that food which had previously been distributed to needy households in Madison from these events will no longer be available."
Monona Terrace staff is trying to determine which public events the center can accommodate moving forward.
"The situation in the events industry is very fluid right now," Monona Terrace spokeswoman Kristen Durst said. "There are clients who are choosing to continue to hold their events, while we are working with others to reschedule. Our facility is open, as are other city government agencies."
Mingle and others who work to acquire food for pantries and community meals are concerned about their sources and operations as they adapt to the reality of COVID-19.
Verona-based Badger Prairie Needs Network has canceled its free community meal on Saturdays through at least April, according to a statement from executive director Marcia Kasieta. The organization will continue to provide emergency food distribution through its food pantry during this period. 
"After talking with meal staff, program leaders and board members, we made the determination that the most responsible thing we can do to protect our community is to close down the meal for a few weeks and then reassess," Kasieta said. "There are a lot of concerns with bringing the populations we serve into crowded spaces."
BPNN serves many elderly people, a population most at risk to be affected by COVID-19, according to the World Health Organization. Kasieta estimated approximately 150 people attend the community meals.
BPNN is one of Dane County's largest food pantries, serving about 1,200 people per month in need of emergency food assistance. The organization also provides advocacy services for homeless people around the county. 
The River Food Pantry is also ceasing hot meals and clothing distribution at this time. The organization will halt its senior distribution session on Wednesdays from 11am-1:45pm. All of its volunteer groups have been canceled and an April 4th "Breakfast with the Bunny" event has been canceled.
River Food Pantry's Feed the Need event for March 29 is postponed. 
Madison-Area Urban Ministry CEO and homelessness advocate Linda Ketchum announced on Thursday that MUM will be cancelling its annual Partners for Change luncheon, scheduled for April 30. The luncheon is MUM's largest fundraising event of the entire year, but people who would normally attend the event are encouraged to continue with their donations so that MUM does not suffer a big financial loss and have its ability to deliver needed services diminished, particularly during this time period.
The Department of Public Health is also planning events to talk to homeless shelter administrators about how to strategize for COVID-19 responses. 
According to the Center for Disease Control and Prevention, people experiencing homelessness may be at risk for infection. The CDC is encouraging homeless service provider staff and volunteers to have an emergency plan about how to collaborate, share information and review plans with community leaders and local health officials.
The CDC recommends staff who have face-to-face interactions with anyone showing respiratory illness to install a sneeze guard at the check-in desk as well as other physical barriers. Disposable face masks should be given to clients who exhibit respiratory symptoms.
Shelters are also encouraged to limit visitation to the facility and provide bathrooms that are consistently stocked with soap and drying materials for hand washing.
The Wisconsin Department of Corrections announced Friday it is suspending all visits to DOC institutions with the exception of professional visits.
The department says it will be looking to expand methods of communication and "will make accommodations for phone calls and video conferences/visits, or non-contact visits whenever possible," according to a press release.
At this time, the DOC says it has no confirmed cases of COVID-19 among staff or inmates. 
"We are closely monitoring the situation and establishing certain protocols to address concerns as they arise," a DOC spokesperson told The Cap Times. "Each division maintains well established pandemic plans, and as a result we are fully prepared to handle an outbreak of COVID-19 in any of our facilities."