Now, those same entrepreneurs are proposing a bold new project for the tiny, triangular parking lot at King and Webster streets.
The King Hotel at 118 King St. would be a seven-story flatiron building, including a restaurant, an underground music venue, a rooftop bar and 33 boutique hotel rooms.
In the parlance of the hospitality industry, it's a "lifestyle boutique hotel," similar to the Ace Hotel based in Portland, Oregon.
With a second-floor balcony inspired by the architecture of New Orleans, windows that open onto the street on the lower level and design that incorporates wood and stone, the King Hotel aims to both fit in its historic surroundings and move the cultural life forward.
"It's not like we're dropping a concept onto the neighborhood — this is rising from the neighborhood," said Josh Berkson, who owns Merchant with Patrick Sweeney.
First Settlement "is booming," Berkson added. "There's a huge demand for better eating, better drinking ... especially as the neighborhood continues to rise as a destination. People turn to King Street to enjoy its eclectic, local nature. That's super important."
Berkson and Sweeney are the principal partners in the project, estimated currently at about $12 million. It will be privately funded, they said, with no requests for controversial tax increment financing (TIF) from the city.
Also under the umbrella of King Hotel LLC are several of Merchant's neighbors: Majestic Theatre owners Matt Gerding and Scott Leslie, who will run the music venue, Andy Haker of Madison's, and Ryan Huber at Context Clothing.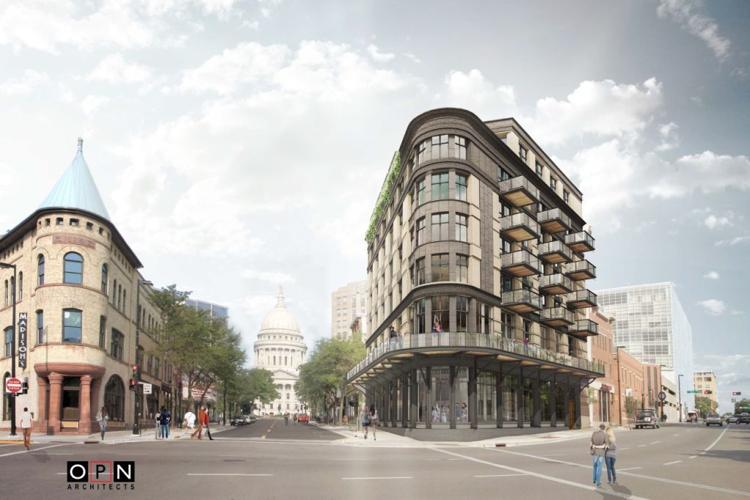 By contrast, the new plan for that increasingly bustling corner of downtown is only partly about sleeping.
The King Hotel will be "just as much an entertainment destination as it is an actual hotel," Sweeney said. "The hotel is one cog in the wheel here. It will be built for people to see it as a destination from out of town, but also for people who live in town."
Berkson and Sweeney have worked for close to two years on their plans, which will go in front of both city commissions and the First Settlement neighborhood in the coming months.
It's one of several projects in the works for downtown, including Judge Doyle Square, aimed at Monona Terrace convention-goers, and a 10-story hotel at the corner of East Washington Avenue and North Webster Street. That was recently put on "indefinite hold" following a rejection by the Plan Commission in late September.
Downtown Ald. Mike Verveer is optimistic about this project.
"The concept is very exciting," said Verveer, who represents the part of First Settlement where the King Hotel would be.
"I've been happy to work with the collection of downtown stakeholders ... on their vision for that under-utilized surface parking lot.
"The fact that so many individuals that are in many respects personally responsible for the success (of) the King Street area as we know and love it today are involved really is super cool."
For the King Hotel project, the developers wanted "a modern building that pays homage to the historic nature of the neighborhood," according to Berkson.
"The challenge of the site was it was a fairly small site and they had big expectations for all the parts of the building," Reynolds said. "Making all that come together at an appropriate scale was important to all of us — keeping the right number of rooms, the size of venues."
Berkson and Sweeney wanted the building to be "authentic," Reynolds said, using brick and stone and other natural materials. The triangular, flatiron style of the building has been designed not to block sight lines, though that's something city planners are still examining.
"We always wanted to be conscious of the sight lines of the Capitol, to make sure this building was not cutting off any views," Reynolds said, "while at the same time looking for those views and making sure there will be opportunities to see them up on the rooftop, from the Capitol to the lake.
"No one wanted to be a part of anything that would prevent the beauty that's already been set up there."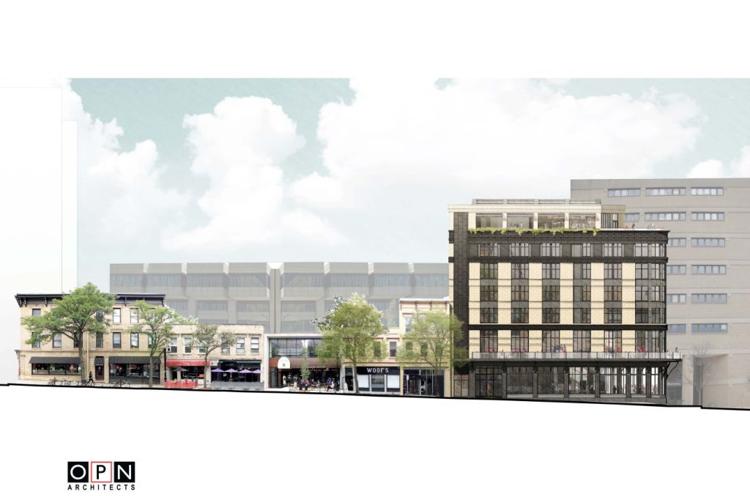 Detailed interior architectural plans aren't yet finished, but the plan is for the first floor to contain a casual bar, something "festive" (read: loud) and urban in feel, with floor-to-ceiling windows that open to the street during warmer months. Sweeney said it would offer a menu of bar snacks.
The second floor would contain the hotel lobby as well as a more high-end restaurant, something a bit more elegant but "not too serious," Berkson said.
Running the bar and the fine dining restaurant would be Merchant's current management team, which includes chef Anna Dickson and bar manager Thor Messer. Sweeney and Berkson estimate the two spots will seat 180-200 people combined.
Each of the hotel's 33 rooms will likely cost around $200 a night — Berkson and Sweeney estimated $140-$300, more for a corner suite. They'll be designed individually with a graphic, retro flair, similar to the rooms at Longman & Eagle in Chicago.
The way Berkson and Sweeney describe them, they could be angling for a spot on Travel and Leisure's "coolest hipster hotels," designed for "a creative-minded and tech-savvy clientele."
"People constantly ask: Who would stay at the King?" Berkson said. "'Who's there right now,' is the answer ... independent minded, young professionals, educated baby boomers, urban empty nesters, industry folks, hipsters and late night partiers. That's the street."
Ryan Huber, one of the partners in the project, opened Context Clothing on King Street in 2005. When people visit from out of town, he said, he'd love to have "a more boutique product" to point them toward.
"In Madison we're so proud of our businesses, buy local, farm to table," he said. "Where's the hospitality version of that?"
There will be a small, "hidden" bar on the sixth floor and then, the piece de resistance, a rooftop bar, which Sweeney and Berkson hope will serve as everything from a coffee bar/ breakfast cafe for hotel occupants with room for sunrise yoga, to a nightspot with views of the Capitol.
The feel here will be "loungey," the owners say. There might be fire pits. The indoor/outdoor ratio is 65 percent covered to 35 percent permanently outside.
In a bit of cool innovation, the glass roof would fold back onto itself to open completely. The King Hotel team knows that Madison doesn't have a real rooftop culture yet, with the exception of places like Fresco on State Street.
"We think that's going to be a really significant portion of the hotel project," said Haker, who owns Madison's across the street. "We're excited about using that in many different facets ... being able to experience that open-air feeling."
Finally, at the underground level, the King Hotel would have a music venue, serving somewhere between 200 and 300 patrons. Its working name is The Club.
Majestic owners Gerding and Leslie are responsible for booking it, much as they do the Barrymore Theatre, the Frequency, the Orpheum Theatre and, occasionally, Segredo, in addition to their own club.
The venue would likely attract local musicians, touring bands with a smaller reach and private events. The entrance would be on Webster Street and there would be a bar down there, too, this one a bit more gritty in feel (but, of course, clean).
Gerding said the venue could function as "a marketing machine" for the whole hotel, as well as allow entry to the Madison market for up-and-coming musicians.
"Every band has to start somewhere," Gerding said. "There are a lot of bands out there that need a place to play, that want to get out there and tour and market themselves. The idea is that their first or second play in town would be at this venue and then hopefully they graduate to the next level, and play the High Noon or the Majestic and grow from there."
Now that the plans are public, the King Hotel team will step forward in several directions at once.
On the city side, the project must be approved by the Urban Design Commission, the Plan Commission and City Council for rezoning.
To exceed the height limit of six stories, according to city zoning administrator Matt Tucker, the property will need to be rezoned as "planned development," which is site-specific. That zoning will encompass every aspect of the project, from materials and design to usage.
"Every little bit is specifically reviewed and approved," Tucker said.
He anticipates the second floor balcony, which juts into protected public space on the street, will be "hotly debated," in part because there's nothing else like that on the street. Berkson and Sweeney have already talked about scaling it back, to only two-top tables.
"It seems like a pretty neat thing — it brings that New Orleans feel to the building," Tucker said. "But we're not New Orleans. We don't really have that here."
The other issue is views, which the city protects in its ordinances with a requirement that a building on the King Street lot should, after four stories, "step back" 15 feet.
"We studied these vista views up to the Capitol as part of the city's rewrite of our Downtown Plan, completed in 2012," Tucker said. "It talks about long views up Hamilton Street, from King Street, Lake Monona and Willy Street.
"You can't just look at the corners and give them a pass just because the lots are small. You have to decide what the real impact is from the long view, not just the practical impact on the lot."
Verveer will likely propose an amendment that allows the building to forgo the step-back requirement.
The other important aspect is neighborhood support. Already, some on the street have heard about the plans and are excited about them.
"Anything that brings energy and diversity onto the block is great," said Dino Maniaci, who own's Woof's, a gay sports bar a few doors down from the parking lot.
"It certainly seems like the block and the area is on the upswing," he added. "Anything that could add to people being able to stay and not have to drive in the area for events is good."
Jim Skrentny, district chair of the First Settlement Neighborhood, has been in communication with Berkson and Sweeney but hasn't shared the news widely yet.
"It is too early in the process to gauge neighborhood reaction," Skrentny said. "Personally, I'm excited by the proposal and believe that, with some modifications, it has the potential to be a great fit for our neighborhood."
Developers, Stitt insists, should come to the neighborhood "at the zero point" before they've made any plans, and hire someone like him to facilitate a discussion.
"Very few people who are in development have the calmness and forthrightness to be able to bring something to a community," Stitt said. "Consequently we have an unending scenario where community people are not consulted.
"Then when they speak up as to the things that do concern them, they are looked on as somehow obstreperous, difficult."
Berkson and Sweeney are sensitive to this, but continually emphasized the "grassroots" nature of the project and collaboration.
"They want the product to be authentic and very local," Context's Huber said. "As opposed to, if you brought in an outside entity that didn't know — that wasn't living and breathing in that neighborhood — you could run into problems.
"That's the benefit of having local business owners meeting with other local business owners to open a hospitality concept," Huber added. "You're bringing a sophisticated clientele base to that neighborhood, which is already happening.
"Now you're giving them a place to sleep."