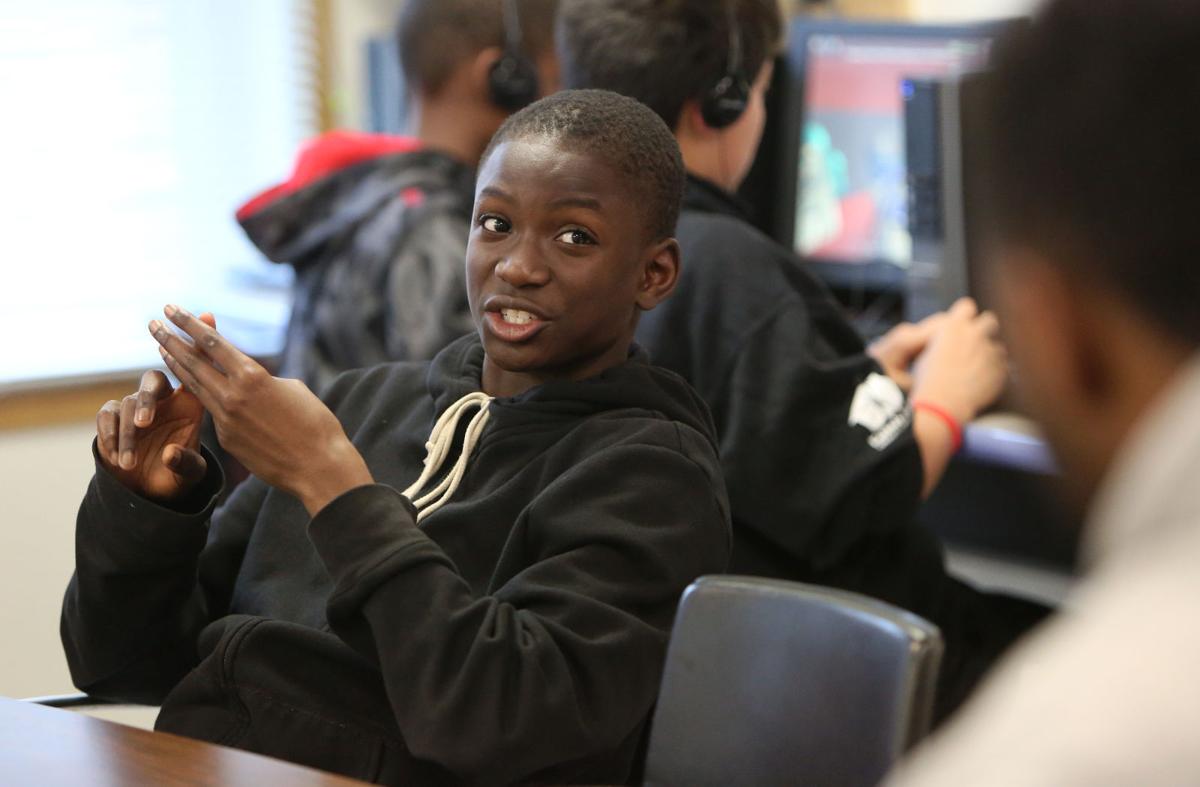 Moses Fadele, 13, would rather ask questions than answer them.
Like his middle school friends seated around a table at the Kennedy Heights Community Center, he tends to use few words in replying to a reporter. But he has no problem coming up with questions of his own. Lots of questions.
"When you were small, were you one of those boys who throws newspapers on people's yards?"
"If you want to be a journalist, is reading or writing more important?"
"Are there certain people who write about sports? 'Cause that's all I read about."
"Are you the person who just writes it, or writes it and prints it on the paper?"
"Who's the one doing all the Sudoku?"
"So this newspaper, is it only gonna be in Madison?"
He finally turns to the rest of the boys.
"Do y'all have questions?" he asks, throwing up his hands. "I'm the only one asking any questions!"
The group of boys is called Young and Gifted and includes 15 members in fifth through eighth grades. An average of seven regularly show up to the group, which meets three times a week at the center on Madison's north side.
The kids keep a busy after-school schedule. They head to the east side to play basketball at the Goodman Community Center on Mondays and participate in homework club on Wednesdays. But on Tuesdays, the Young and Gifted boys gather and talk. Coordinator Marquis Mason and Americorps member Russ Faulkner facilitate, but the time belongs to the boys.
"This is a pretty open place and if there's anything they really want to talk about, Russ and I kind of give them a way to address it appropriately," Mason said. "We usually cook dinner for them and they like to help us out by telling us when it's nasty."
Young and Gifted is one of several initiatives in the Madison area with the mission of mentoring middle school boys, many of them racial and ethnic minorities living in low income neighborhoods. Some of the programs are strongly tied to academic achievement with closely measured goals and oversight from funding organizations. Others, like Young and Gifted, are grassroots and more focused on building relationships and support networks among the boys and with mentors like Mason and Faulkner.
It doesn't require an advanced degree or years of research to know that middle school can be a treacherous time when kids are influenced by hormonal changes as well as an increase in responsibility and desire for independence. Many black boys face these challenges while living in poverty and single-parent households. In 2011, the U.S. Census Bureau reported that 36 percent of black boys ages 9-13 live in two-parent families compared to 76 percent of white boys the same age.
And while many insist that there's no magic bullet to erase Dane County's persistent and troubling racial disparities, many of which hit young black men the hardest, they also believe neighborhood-based mentoring programs are part of the solution. But unlike similar programs set up for girls, there is almost no coordination between the people who work with the boys' groups. Idea sharing and networking fall victim to loaded schedules and weeks full of planning and fundraising.
Claude Gilmore, the executive director at Kennedy Heights, oversees a small staff by community center standards, but he refers to the facility hidden away in a north side apartment complex as "the little engine that could." Services include a food pantry, an early childhood program, 4-year-old kindergarten, job training and several after-school programs for kids.
"We're just trying to help raise these kids in the best way possible by giving them a safe place to come," Gilmore said. "We're not trying to replace their parents."
The impetus for Young and Gifted is similar to that of other boys groups. Most Madison community and neighborhood centers have programs for girls, many of which are tied to national organizations like Girls Inc. But boys started complaining that there was nothing for them.
"A number of our boys would look in through the window, kind of teasing the girls, but also just observing their evening activities," said Vera Court Neighborhood Center director Tom Solyst in a 2013 Cap Times story. "Finally a few of them came to me and said, 'Why do the girls get to have extra programs and we don't?'"
The result was a program called Life as a Boy, geared toward boys in third through fifth grades. Kennedy Heights' Mason grew up in Vera Court and was a member of the boys program there before going on to join the city's first AVID class at Madison East High School, where he was also a football and basketball star.
He attended the University of Wisconsin-Madison on a football scholarship and graduated with a nonprofit leadership degree in 2014. He returned to Vera Court as a volunteer and helped expand Life as a Boy to include middle school boys before moving on to Kennedy Heights last June.
The boys at Kennedy Heights had a similar complaint and they formed a group originally called Brothers Inc., which soon morphed into Young and Gifted to differentiate it from the center's Girls Inc. program.
"If you were to ask the kids why they come here, I bet a lot of the middle schoolers would say 'Well, I want to hang out with Marquis,'" said Jaimie Schlicher, the middle school program coordinator and Girls Inc. facilitator at Kennedy Heights. "We make up monthly program calendars and kids will come here and they don't care what we're doing, they just want to be here. 'Homework club? Okay. I'll come and do my homework with you.'"
While Mason and Faulkner clearly enjoy the gentle teasing and game playing that comes with working with middle school boys, they are serious about being role models, too.
"We're an extra adult in their lives," Mason said. "Like a big brother, but don't treat me like I'm your friend. That's a different relationship."
He programs activities and field trips for the boys, helps them with homework, supervises their play time and prepares snacks and food. In addition, he follows up on their grades by meeting with teachers at Blackhawk Middle School, where all of the Kennedy Heights boys go. But he's not a tutor.
"I don't want that school pressure here," he said. "When you come here, everyone is on an equal plane. It's a nice change of scenery, change of pace from all the other stuff going on in their lives."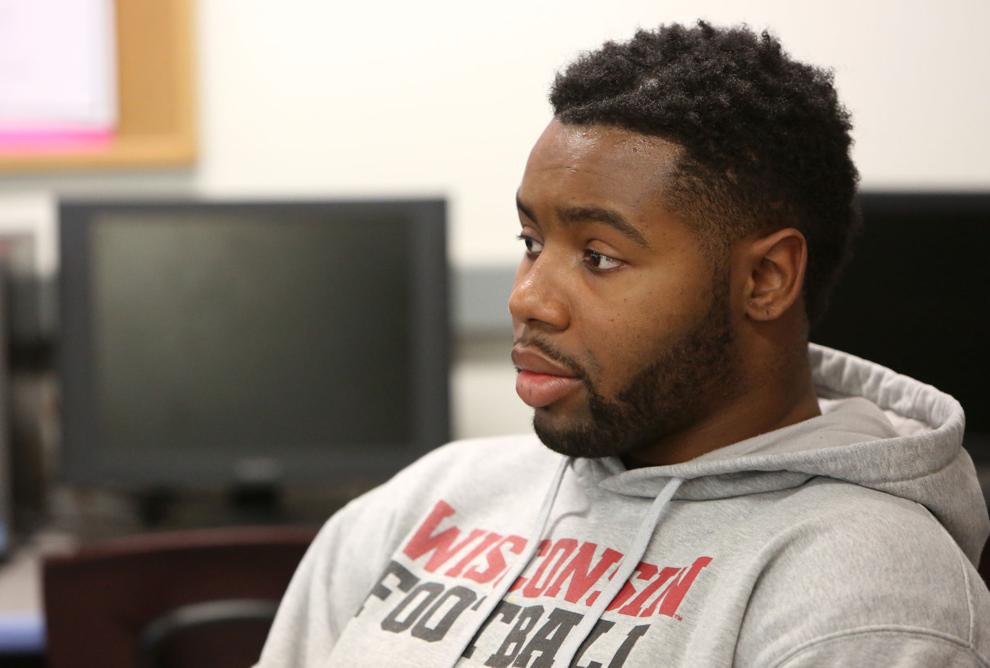 So how does that interaction help with academic achievement?
"If you have someone you look up to, you don't want to let them down. You just want to be the best person," Mason said. "We obviously know that school is important. But if I'm doing well in school and I say to my mentor that I got an A on a test, we say, 'Good job,' and that makes them feel good and want to chase that feeling over and over again."
As a center director Gilmore is aware that organizations funding youth programs are very interested in measurable academic success. But he's also bullish on the kind of mentoring that happens in Young and Gifted.
"Funders want all of these metrics and they forget about the soul of how things really work. Without the relationships, it won't work," he said. "Our argument is that if you put these ingredients in place, kids will perform because they want to. They will try and make an effort because they want to be part of something, connected.
"This view that these scores and grades are what make you successful is a short view. You have to take a longer view that these relationships all matter to make this work."
Percy Brown, Sr. echoes Gilmore's thoughts on mentorship. He visits Kromrey Middle School in Middleton once a week for about an hour to work one-on-one with an African-American seventh grader.
"I can prepare him to be better at school," said Brown, a retired city planner credited with helping turn around Madison's Broadway-Simpson neighborhood. "I've already seen how his grades jumped a whole point. And I didn't do any academic tutoring, but because I dealt with all these other issues: self esteem, setting goals, cheering him on. I helped him believe in himself that I can make it, I can be somebody. I believe he needed somebody like me in his life to cheer him on."
The two-year-old program at Kromrey, which identifies kids with low math and reading scores and links them up with individual mentors, many of them community volunteers, is overseen by guidance counselor Fred Bartman.
"The thinking is if we can get one more positive adult in that student's life encouraging them to come to school with a can-do attitude every day, all of the other interventions we're already doing for math and reading will be that much more successful," Bartman said.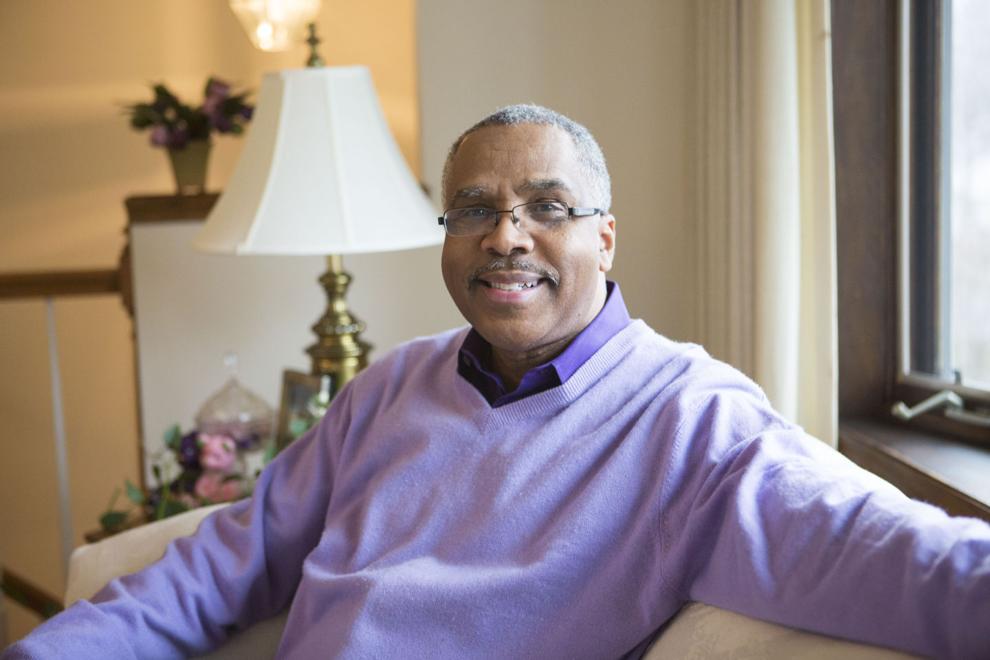 He has devised a curriculum for the mentors to follow with the idea that the match-ups will remain in effect for all three of a student's middle school years.
"Year one is really about developing our relationships, so the topics include motivation, trust, strengths and weaknesses," Bartman said. "Year two gets more into the academics, so there are more lessons around organization, study skills, how you prepare for tests, that kind of thing. Not tutoring, but focusing on the importance of academics. Year three is developed around future goals, careers, college, planning for high school."
Mentors are encouraged to use the lessons to initiate organic conversations about all kinds of issues. Bartman said the lessons take up less than half of a 45-minute mentoring session. The rest is building the personal connections between student and mentor. Brown, who grew up in Rosedale, Mississippi, during the end of segregation, has plenty of material.
"We talk a lot about my experiences coming up in the civil rights movement, growing up in the South with all the racial tension and hatred," Brown said. "But I use those examples to say I endured, I persevered. Even today you have to learn how to persevere, be strong, hang in there and don't get discouraged. Many people told me in the South when I integrated, 'You don't belong here.' In a certain sense, I think I'm in a better position than someone who is 18 or 20. They can't point to some of the life journeys I've had."
Because the Kromrey program is a school-based initiative, Bartman can access academic data directly. He's not afraid to use superlatives in describing the numbers.
"We're seeing pretty amazing results in math and reading scores going up, which is really cool since it's a program that does not directly necessarily target tutoring or reading and math interventions, it's the relationship building," Bartman said. "But seeing how that relationship makes everything else flourish has been really neat. The things you can't measure, it was immediate in terms of seeing the positives. Parent, student and teacher feedback was all very positive."
And Bartman believes the whole school benefits from having the mentors in the building, particularly older African-American men like Brown, who is part of a group of about 10 Omega Psi Phi fraternity alumni who participate in the program.
"We're a pretty white district and the presence of having them come every week, the continuous flow of positive diversity coming through the building, was really noticeable," Bartman said. "The mentors have really loved it and I think that's been really positive."
Teaching supportive social skills
Howard Hayes has watched mentoring programs for middle school boys on the east side evolve over the last 20 years, from a tutoring program that focused on eighth graders helping sixth graders with their homework, to a Domestic Abuse Intervention Services initiative.
"They thought, let's work with middle schoolers to get them thinking about the violence that was a part of their life and use that as a way to hopefully prevent further violence," Hayes said. "They created these groups called MENS: Men Encouraging Nonviolent Strength."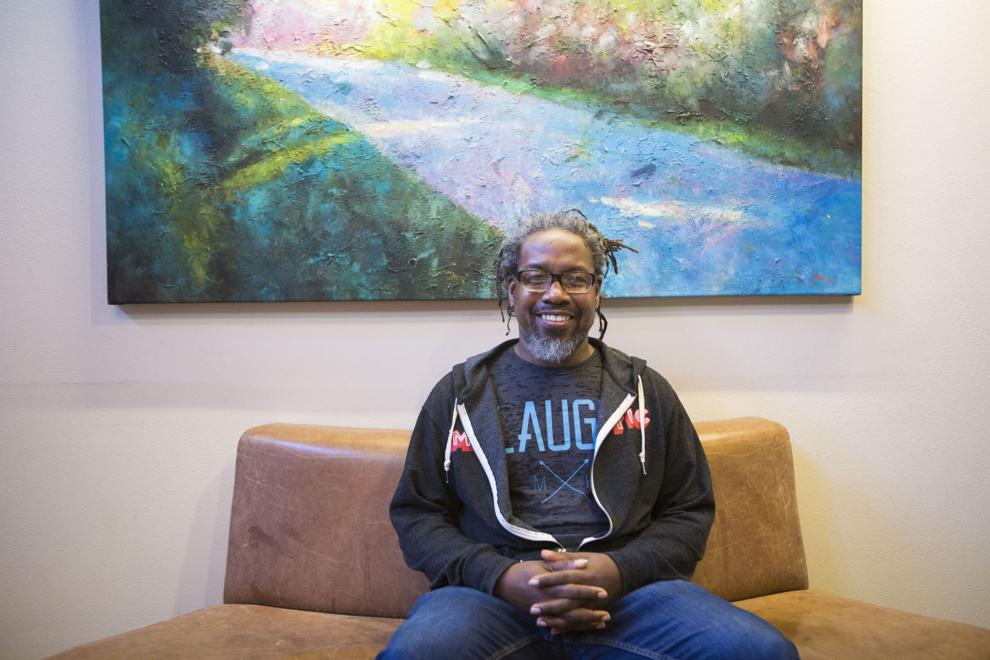 These days, Hayes runs a boys group at the Goodman Community Center which serves 25 boys with an average attendance of between 15 and 20. Goodman has a gym, which means it hosts boys from other east and north side centers for basketball on Mondays. That makes for a fun and necessary recreational activity, but Hayes would like to see boys groups move in a more collaborative direction.
"All of these different groups don't necessarily interact unless we're doing something competitive athletically, like playing basketball or flag football," he said. "To be able to have a space where we actually have conversations and reflect about what life is like in east Madison and what is life like on the north side, what is it like on the west side."
He believes less emphasis on pitting boys against one another in competition and more on getting them to learn about each other could reduce conflict later.
"When they get to high school, you'll see those things play out where they're like 'Oh, you went to Sherman (Middle School)? I remember when we beat you!' instead of 'Oh, Sherman? My cousin went there,'" Hayes said.
Hayes said in the current nonprofit atmosphere, it's often hard to carve out consistent time for modeling positive interactions between boys when funders are paying for academic tutoring or health and nutrition programs. But he said he thinks the social component of Goodman's boys group can pay off by developing supportive young men.
"My ultimate wish is that in the hallway at school, if the boys see something that doesn't quite sit well with them, they'll respectfully question that behavior, especially if it's touching someone inappropriately or calling a woman an inappropriate name," he said. "We really want to start to build allies for women and for each other. We are in this together."
That kind of support can have benefits in the classroom as well, he said.
"When it comes to the social skills, there aren't many teachers who really support that as part of learning," he said. "But if you're not that strong academically, you can see yourself as being good at supporting others."
Hayes recalled the horror of reading paragraphs aloud in class as a middle schooler. He would count ahead and pore over his paragraph to make sure he would get it right.
"Now they're not doing that. They're saying 'I'm going to the bathroom,' and if the teacher says 'No,' it becomes an issue," he said. "But if they can support each other in asking for help… even as adult men, that's something that's a challenge for a lot of us."
Obstacles to collaboration
Mason and Faulkner believe they have a good thing going at Kennedy Heights with Young and Gifted. But they're interested in hearing from their peers running similar programs at other centers. They'd like to figure out a way to share information and collaborate with a network that currently doesn't communicate much.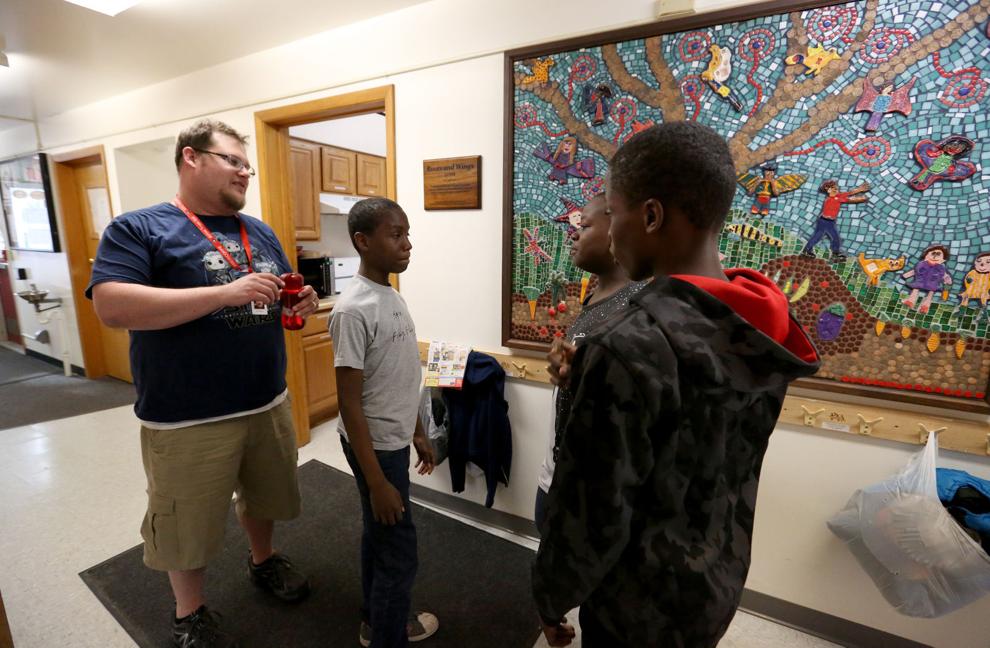 "I heard about how on Allied Drive all these moms created a boys group for their sons," Faulkner said. "And I'm thinking, why do we have all these centers around town reinventing the wheel every time? This isn't a huge town! It's a medium-sized city. It doesn't make sense at this point why there hasn't been a citywide effort."
Schlicher said she and other Girls Inc. directors get together several times a year. She recently drove to St. Louis with colleagues to attend a nationwide retreat.
Much like the Vera Court boys who agitated for a group of their own a decade ago, Mason said he wants to put out the call for mentors to start working together.
"I'm positive we all share the same vision, but let's all put it together," he said.
So why isn't it happening?
"Time!" said Hayes with a laugh. "To be able to take that time after a nine- or 10- hour day… we all know that all this organization and all of this planning is not going to be on work time. We need to be able to plan and implement, go to schools and meet with teachers about academic achievement. So this would have to be on a weekend," when directors are busy with friends and family or simply recharging.
He said there might be some reluctance on the part of directors who feel they're competing with others for a limited pool of money, but "let's just get this work done. I don't care who's getting what funding, let's just get together."
Bartman, who has already shared his curriculum with colleagues at Glacier Creek, Middleton's other middle school, is game.
"When I started this and did some research, I really couldn't find anything that was already developed in terms of actual one-to-one school-based mentoring programs," he said. "I would love to connect with them just to swap ideas and things that they've done. I think in the last two years there's been a boom in mentoring. It's the hot topic right now."
And Bartman thinks there are plenty of willing volunteers.
"I think there are so many people out there qualified to do it and are able to do it," he said. "They just don't know where to start to get connected to schools and kids."
Share your opinion on this topic by sending a letter to the editor to tctvoice@madison.com. Include your full name, hometown and phone number. Your name and town will be published. The phone number is for verification purposes only. Please keep your letter to 250 words or less.