With Madison's newest event space at the historic depot on West Washington Avenue, founder Brian Shubat wants to return the "lost history" of passenger rail to downtown.
Shubat opened Madison Local Motive in April and is in the process of signing a lease with Roger Charly, who purchased the old depot property in 2013. Located at 640 W. Washington Ave., Local Motive is billed as a creative, multi-use, customizable setting for private social events of up to 45 guests.
"The space is kind of the frame to your event, whether that is an artistic event or a birthday party. It's a nice wrapper to that," Shubat said. "It leads to a memorable experience."
Shubat, who works for Human Head Studios in 3D animation, began using the space in 2015 to work on an interactive art piece that involved light projection. When Shubat was unable to devote more time to his artwork, he was reluctant to lose the space and saw its potential use for a unique event venue.
The name Madison Local Motive is a play on the world locomotive and is also meant to convey a place for "local people to conduct their motives," Shubat said.
"Whatever your motive is, we're available for providing you the space," Shubat said.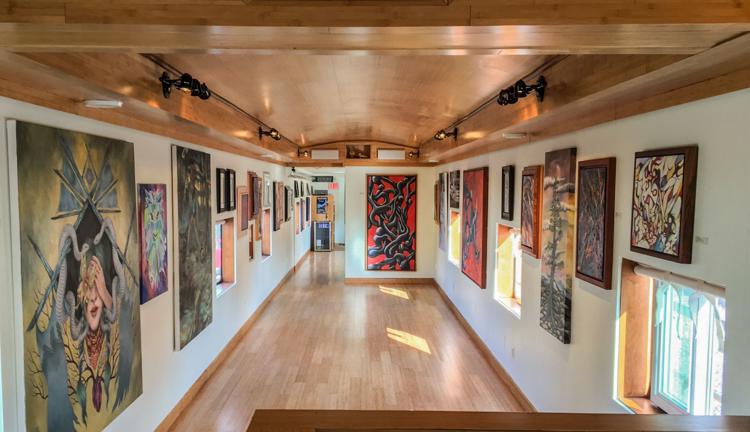 Shubat invested more than $30,000 into renovations for the space in 2016, removing carpeting and a drop tile ceiling. Today, the train car features bamboo floors, square windows that let in natural light, an A/V setup, a bar area and cabinet-like consoles. Shubat offers the use of tables and 20 chairs for events.
"Because the space is in a train, it's rather limited to the capacity of events you can have there," Shubat said. "We advertise it as an intimate setting."
Madison Local Motive does not have kitchen space and cannot offer full cooking capabilities. However, clients are free to work with caterers, and alcohol is permitted on-site. If an event offers alcohol for sale, a licensed bartender must be present, Shubat said.
Outdoor grilling is permitted, and guests can use slow cookers, food warmers and chafing dishes. 
Hourly rental space ranges from $75 during weekday mornings to $150 on weekend days, with a discount for booking several hours at a time. Since opening, Madison Local Motive has hosted an event for Gallery Night, held business meetings and hosted parties for a birthday and a graduation. Shubat would like to see yoga teachers use it.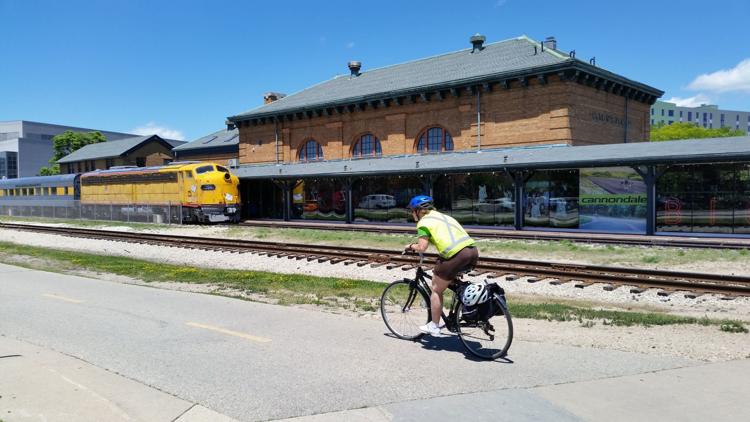 The historic Milwaukee Road Depot was built in 1903. It earned historic designation from the city of Madison in the 1970s and similar recognition from the historic state and national registers in the 1980s. It is currently home to Charly's Motorless Motion Bicycles and the coffee shop Porter.
Prior residents have included Williamson Bicycle Works, Crandall's restaurant, Babes Grill & Bar, the Hiawatha Club and Kafe Kohoutek. 
Charly said the historic space and cobblestones call to mind romantic stories of travelers passing through Madison. He has childhood memories of walking to the train station to see the delivery of a capybara destined for the zoo. 
"I've spent most of my life on Regent Street and ending on the train depot, which is now the property I'm involved with, is kind of a sweet story," Charly said.

Charly is the founder of Budget Bicycle Center, which has three shops on Regent Street. He also owns Machinery Row Bicycles, located at the corner of Blair and Williamson streets.  
Charly said construction is expected to begin in two weeks and will include redoing the interior brick, digging out a basement for the restaurant and glassing in the platform area to make it accessible for dining in spring, summer and fall.
Bandit, Gilbert Altschul's previously announced taco restaurant, is expected to share space with his coffee shop Porter, opening in the evening hours.
Harvey House also plans to use one of the four train cars on site as an extension of the dining room. Another tenant is expected to install a sound studio in a separate car, Charly said. Shubat has expressed interest in opening an herbal juice bar in the final car. 
Charly has learned over the last nearly eight years that "anytime anyone is ever in one or spends some time in one, they always come out feeling a lot better," he said. "If you're talking eating, having a birthday party, whatever it is, they're nice spaces that people really enjoy."