Blue on Red: A Badgers game day through the eyes of UW and Madison police officers
It's just after noon on a football Saturday, less than three hours away from kickoff at Camp Randall Stadium, and Lt. Mark Silbernagel looks pained.
He's sitting at the podium inside the large lecture hall on the first floor of Engineering Hall, one hand holding a cell phone to his ear, the other on his forehead.
Silbernagel, the UW-Madison Police Department's special events lieutenant who's responsible for football game days, has learned in the last 90 minutes of a reported fire not far from the stadium and a power outage on campus.
Now, around 70 officers sit in front of him, waiting for their pregame briefing. He hangs up the phone and gets down to business, telling the room about plans for a smoking enforcement at halftime and on-the-fly adjustments for traffic through the student entrance gates.
He doesn't mention what the officers will see over the next six hours, but anyone who's worked a football game before knows: There will be arrests for underage drinking, calls for fans passed out in the aisles, requests for paramedics.
"Just so everybody's aware, we did pull some of our staff out," Silbernagel says. "There's a couple major incidents going on on campus right now: a full fire at our Computer Sciences building and some downed power lines up on University Avenue and Johnson at Vilas Hall … So we really need you to get out on your posts … Thank you again for being here. Stay safe out there."
It's now 12:31, and things are just getting started for the officers who'll patrol Camp Randall during the Sept. 19 Badgers game against Troy. Things have already been going for a while for other officers in the stadium area.
Three Cap Times reporters and one photographer watched as officers worked their shifts that day, both conducting routine tasks and being called to unusual events. Here are some of the observations.
9:55 a.m.
Madison South District Police Station, 825 Hughes Place
Madison police Sgt. Shawn Engel and officers Molly Thomson and Kimberly Alan prepare for game day by stocking up on citations, pulling together signs warning against carrying open intoxicants on the public right-of-way and going over their priorities.
"We're not focusing on underage drinking, but more what it leads to," says Engel. "Sexual assault, property damage, it can lead to violent crime. We're not trying to give out a quota of tickets or anything, we're looking for voluntary compliance."
The officers' shift is 10 a.m. to 6 p.m., but they explain that not much tends to happen after fans file into Camp Randall Stadium.
"Once the game starts, we eat lunch," says Engel.
Alan leads a reporter to her squad car, "The Jewel," a nickname a lieutenant came up with to convey that officers should "treat it with the respect it deserves." She is a neighborhood officer in the Bayview/Brittingham/Triangle neighborhood on the south side.
She often deals with residents struggling with psychological issues, so she has to remember to change her style on game days when most of the people she'll be dealing with "aren't mentally ill, just inebriated."
10:20 a.m.
Breese Terrace and Summit Avenue
With armfuls of signs and zip-ties, Alan, Thomson and Engel set out on the first lap of their game day beat, which runs along Breese Terrace and Lathrop Street between Summit Avenue to the north and Regent Street to the south.
During the shift, four other officers patrol this area on foot. The MPD assigns an average of 50 officers to game days in addition to those already on duty. They are assigned to areas around Camp Randall, Langdon Street, Regent Street, 400-500 West Mifflin Street, and University Avenue and State Street after games.
Crowds of Badgers fans gather in those areas to "pregame," a noun that has been turned into a verb, as in "Where are you guys pregaming?" That activity can mean anything from grabbing a snack in a parking lot to inhaling beer out of a three-story beer funnel.
"We're trying to let people know that we're here, but we're not heavy handed," Engel says.
10:38 a.m.
State Street Brats, 603 State St.
Though it's four hours before game time, more than half the tables are full and nearly everyone is in Badger red. Manager Seth Blackstone says things will likely pick up around noon.
There haven't been any incidents with patrons yet – "Everyone's just having a good time," he says – but, according to the manager, State Street Brats will have one or two police calls this weekend in response to rowdy customers.
"We ask them to leave, then we tell them to leave, then we call police," he says. "Ninety-five percent of the time, people leave when they hear the cops are getting called."
10:40 a.m.
The guys living in a large house with pillars have strung a reinforced orange fence around their front yard.
"It's not electric, I promise!" a guy wearing a red blazer tells officer Thomson.
"Is that meant to keep you guys in or other people out?" she asks.
As the neighborhood liaison officer with the Regent Neighborhood Association, Thomson is in this part of the city every day. In August, she and other officers knocked on doors and distributed literature explaining what officers would be doing on game days.
"We're not hoping to squash the fun, but more to control the house parties," she says. "They shouldn't be selling cups, they should know all the people at their house and if they don't, they should be carding them."
10:48 a.m.
Outside Colectivo Coffee, 583 State St.
"It's gonna be a long day," says Shawn Kelly, Langdon neighborhood officer for the MPD, one of three officers holding cups of coffee and chatting.
Kelly and his colleagues will soon depart to patrol Langdon Street. They'll check in on house parties there, home to most of UW-Madison's fraternities. They're not expecting too much drama today, he says, because the houses are supposed to be "dry" for their recruitment period.
Besides, he thinks the neighborhood has kicked off the season with a compliant spirit.
"Langdon has been really good," Kelly says. "I think they've gotten the message early this year."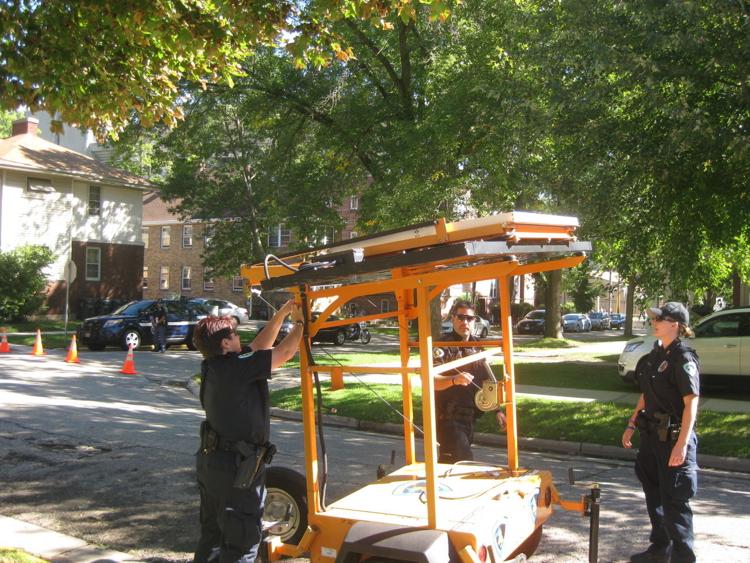 10:55 a.m.
Officers Engel, Alan and Thomson approach an orange trailer that converts into a lighted sign like those seen in highway construction zones. Thomson turns it on and selects a message that reads "No Open Intox, Fine 313."
The street is starting to buzz with activity, but neighbors are still walking their dogs and sitting outside sipping coffee. Lathrop is home to a lot of students, but just a block away is mostly owner-occupied housing. Alan points out which rental houses tend to generate the most complaints.
Students passing on their way to pregame high-five the officers and early tailgaters throw out friendly banter. The officers are offered, but don't accept, hamburgers, brats, snacks, cocktails, beers, brownies, you name it.
Peyton Hofherr, a senior from New London, puts up orange plastic fencing around his yard while his roommates throw a football.
"We just started doing it this year; it's a smart idea," he says. "It keeps people from stumbling into the sidewalk where they can get a ticket."
A couple of officers on bikes ride up and start talking about some residents of 129 Lathrop who aren't as mindful as Hofherr. They were cited for various offenses related to hosting an underage drinking party the week before and are already revving up in a similar manner.
11:20 a.m.
Walking the game day beat with officer Alan is like playing "Name that Tune." She quickly identifies songs blaring from houses up and down Lathrop and Breese, noting which classic rock and old school hip-hop tracks seem out of place with the millennial residents.
It's Band Day at Camp Randall, so the sounds of high school bands rehearsing on the field mingle with blasts from big speakers and small boom boxes alike.
Members of the Triangle Fraternity at Summit and Breese approach the officers and offer brats and burgers.
"When's the pig roast this year?" wonders Thomson. After some chitchat, the guys return to the frat's front yard.
"They're pretty good cooks," Thomson says. "I'd actually eat their food."
11:27 a.m.
UW-Madison Police Department, 1429 Monroe St.
Two horses munch hay behind the building. One of them takes an apple from a police officer passing by. A third horse will join them shortly and, in about an hour, will be saddled up to help police the game day crowd, according to officer Mike Carpenter.
"They'll certainly make a pregame presence," he says.
During the game, the horses take a break for water and rest, then head back out for post-game patrolling.
11:30 a.m.
Music from two houses on Lathrop, just off of Hoyt, is attracting attention. In keeping with their approach to educate and first seek voluntary compliance, the MPD officers ask the residents to turn down their music. Both cooperate and wish the officers a good day.
One of the houses, 129 Lathrop, was mentioned by the bike cops earlier. With a warning already today, the house is very much on the officers' radar.
11:31 a.m.
ROTC building, 1433 Monroe St.
UWPD narcotics-detecting dog Casey roams the training room on the second floor as officers chat and munch on snacks. Lt. Silbernagel waits for a few more people to get to the supervisor's briefing.
Around two dozen people listen to Silbernagel briefly go through the day's plan. It's the second home game, so the department has some results from the previous week to use as a starting point.
Silbernagel asks if anyone knows which state Troy is from. (A correct answer — Alabama — comes immediately.) Officers seem bemused when he says that two Alabama State Patrol troopers have driven to Madison to be with the Trojans on the sideline.
The mood is light despite some serious topics. "We had one or two ejections last week that were underage people that were intoxicated," Silbernagel says. "That really needs to be a citation and arrest, so please reinforce that to your folks as well."
He tells everyone that because of a detective calling in sick and a subsequent shuffling of duties, there will be no ticket scalping enforcement.
He's about to wrap up, but assistant chief Brian Bridges, seated in the front row, says that this game serves as a warmup for the Hawaii game, when kickoff is after 7 p.m. and more drunk fans can be expected.
"One of the things that we might want to work on on the gates is if somebody's obviously intoxicated, let's just keep them out so we're not seeing the .35 (blood alcohol content) in the student section," he says.
"Please stay safe," Silbernagel says.
As officers head outside, a fire truck screams down Monroe Street, in the direction of the Comp Sci building.
11:35 a.m.
As the MPD officers approach a tailgate party on Hoyt near Breese, a man in his 60s greets them.
"You wanna put a 'W' on my hand again this week?" he asks with a grin.
When the officers warn a group about keeping open intoxicants off of the sidewalk or terrace, they mark the hands of the tailgaters to show other officers that they've already been contacted.
In the case of this group, which has assembled in the same spot for every home game over the last 10 years, the beer is stored against a building, across the sidewalk from a growing buffet table. They gently chide the cops for being too strict, but are soon bragging about their kids, all of them UW-Madison graduates who lived in the neighborhood while they were in school.
12:20 p.m.
The MPD officers complete their second lap and note how dead the area is just two hours before kickoff.
"Did we do our job too well?" jokes Thomson.
The game against Troy is not expected to be competitive, which might mean fans will leave the stadium early, reducing the kind of congestion that happens when everyone drives out of the area at the same time after a close game.
Resting against the street barricades, Alan asks a reporter how many open beers he's spotted. As fans approach from the north, a few of them play a game of hide-the-can, which actually attracts more attention.
"I'm not going to chase and tackle somebody because he's got a beer, but a lot of the property owners around here complain about people throwing empties on their lawns," says Alan.
12:24 p.m.
Engineering Hall, 1415 Engineering Drive
Silbernagel begins briefing about 70 officers. He details the procedures for the game, which kicks off at 2:42 p.m. and for which most spectator gates open in a little more than a half-hour.
He addresses a response plans for drones, which were observed at a game last season in violation of laws.
"If you see one, please notify SOC right away and keep eyes on it," Silbernagel says, using the acronym for the Stadium Operations Center. "We're looking for the operator. That's our key for enforcement and prevention."
Besides the UWPD, there are officers from 24 agencies that play a role in policing for this game day, many of them from Dane County departments and UW System schools. They're all sworn to work on the UW campus on football Saturdays.
Silbernagel goes over some of the policies. "Just a reminder: We base our decision to arrest on behavior and make contacts on behavior," he says. "You should have no problem finding the people that need to be contacted. And we appreciate all the work that you did. Our numbers were a little higher last week than they were for most of last year, especially high in the conveyance category: seven people went to detox. That's a trend we'd like to get away from."
After the Sept. 12 home opener against Miami (Ohio), the UWPD also reported 25 arrests, 55 ejections and 10 paramedic calls.
Silbernagel tries to show live views of the stadium from the hundreds of security cameras, but the projector doesn't work with his computer. "All right. Well, I promise we'll have it for you next week," he says.
12:58 p.m.
Jordan's Big 10 Pub, 1330 Regent St.
The UW-Madison drumline circles down Regent and makes its way to Jordan's, where Dane County Sheriff's Deputy Rich Bennett is standing watch. Bennett has worked the tailgate party at Jordan's for six years. Due to regulations, he says, the establishment has to have sworn law enforcement on site to oversee their festivities.
There were five other Dane County officers throughout the area working with Bennett. He says today's game atmosphere is "better than normal so far," but he's "sure that there are going to be people in here we'll have to kick out. It's going to happen." He'll be on site until 8 p.m.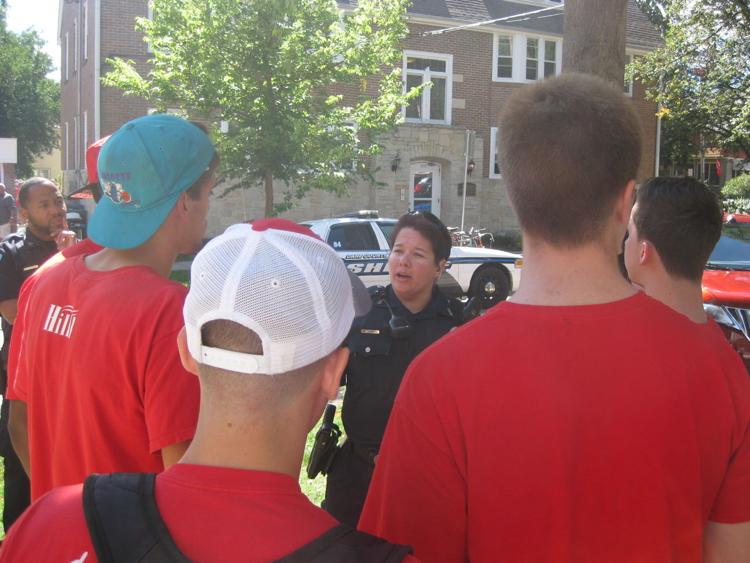 1 p.m.
As the MPD officers start their third lap of the Breese/Lathrop area, officer Alan points out that the music volume at the house parties is louder than it was when they received their warnings. She's now looking for signs indicating a pregame party among friends may have crossed into an uncontrolled public event.
"If guys are peeing between houses, that's a pretty good sign that the party is out of control," she says.
There are a lot of students in the backyards of houses at the corner of Lathrop and Hoyt, including 129 Lathrop. The officers walk around the corner and approach the area from the driveway of a Hoyt Street house.
"Watch what happens when we come around the corner," Alan says.
Sure enough, within seconds of entering the backyard, dozens of people move quickly to get away from the trio of cops. The music volume immediately decreases. Meanwhile, the officers stand and observe what appears to be three parties merged together in a common backyard area.
"We're just being visible right now," Engel says. "You can see the effect that has. People are coming and going freely from this area, so it's an uncontrolled public venue. You'll notice that nobody is walking over to greet us and ask what's going on. There's a lot of liability."
Someone closes and locks the back door of the house on Hoyt Street and people trying to get in are now forced to carry their beers past the officers, who ask to see IDs.
"We're not interested in the underage drinking right now," Alan says to one young man holding two cups. "We just want to know where you got the beer."
In a scene that plays out a few more times, the student stares back at her, the gears of his brain working toward an answer that won't sound ridiculous or implicate his friends.
"Uh, I'm not sure. Some guy handed it to me," he says.
"Some guy you don't know handed you a beer?" she asks incredulously. "Do you know anyone who lives here?"
"I'm not writing you a ticket," Alan explains. "I'm trying to document what's happening in this house."
After a couple more answers, Alan allows the young man to rejoin his friends who greet him with high fives. He's unaware that his answers are doing no favors for the tenants of the Hoyt Street house.The officers head back out to the street to see if anyone can locate the residents.
Once the police exit the backyard, someone turns the music back up.
1:25 p.m.
Standing on the Hoyt Street sidewalk, a decidedly one-sided negotiation is underway. The officers have presented plans A and B to the house residents, none of whom are 21. Under plan A, the residents bring the keg of beer outside to be emptied, allow the officers in to sweep through the house and clear everyone out. The person who bought the keg will get one ticket for each of three underage drinkers interviewed in the backyard.
Plan B happens if the guys in the house refuse to go with plan A. Instead of three tickets, they'll get many more tickets, one for every underage person in the house and others for a variety of violations. It takes quite a while for the seven guys who live in the house to choose one.
They don't feel great about their options.
"You guys gotta understand, we talked to you before the football season started," Engel says. "We wrote tickets to your neighbors last week. At some point, you need to get the message."
One of the tenants wonders what happened at his house to attract attention as he indicates four houses in the immediate area where similar parties are raging. He asks what could have been done differently to avoid getting busted.
"You want to know how to legally do something you're not supposed to do," says Engel. Returning to his role as teacher, he asks the guy what's going to happen next week.
"We can't afford to have another party. Honestly, we'll probably just have a few close friends over," he says, his options becoming clearer as he thinks out loud. "Actually, we're probably just going to go somewhere else."
"There you go!" says Thomson.
1:30 p.m.
Camp Randall Stadium Police Center
The police center is ready to greet the first officers who arrive with spectators in handcuffs.
The room is located at street level, between the student entrances in the stadium's northwest corner and the north gate where the band enters. Around a dozen people mill around, waiting to process arrests and citations.
"This is the calm before the storm," says Sue Langner, a UWPD records program associate.
From the three rows of black plastic seats to the computers and printers at the ready, it's clear they're expecting a significant storm.
1:47 p.m.
Stadium Operations Center
UWPD Det. Marshall Ogren is positioned next to a video camera mounted on the desk in the first row of the Stadium Operations Center at the north end of the press box, ready to document almost anything on three sides of the stadium. But he's just one of 14 people inside the SOC, all of whom have a great view of the game on the field but hardly watch it.
Instead, they monitor the stadium through a variety of sources: Ogren's camera, other security cameras around the facility and reports from officers and security personnel that come over the radio.
At one position on the second of three levels in the room that measures roughly 16 feet wide and 17 feet deep are some eye-opening materials. On the desk, there's a red phone with no buttons that connects directly to the 911 center when picked up. On the floor next to a computer tower, there's a 2-inch-thick white binder that contains the stadium's emergency plans.
Back in the front row, Ogren is ready to document whatever happens, especially in the student sections on the north end of the stadium to his left. Sometimes, the department gets complaints from people who say they were unfairly arrested.
2:15 p.m.
The MPD officers are back in front of 129 Lathrop, where music is blaring and dozens of people are coming and going. The house that was cited last week and visited earlier has not gotten the message.
"They've been warned and warned and warned, including earlier today," Engel says. "So now they're on plan B. They clearly don't want to comply with what we're trying to do down here."
As Alan, Engel and Thomson appear in the backyard, the 80 revelers scatter, the music stops and a game of "who lives here" begins. But the residents have locked the house and fled along with everyone else and only after an older brother is enlisted to help does one return. His name is John.
As with the Hoyt Street house, neither John nor any of his roommates are old enough to legally purchase alcohol, but the backyard of his house is littered with empty beer cups, cans and bottles.
Plan B means "we write every ticket we can." Thomson wants the names of his roommates, the keg and a meeting with everyone, including the landlord, within the next few days. There's also talk of information that will be conveyed to the UW-Madison Dean of Students' office.
John is not happy with his choices and says, "From my perspective, my roommates and I were trying to keep it quiet."
2:26 p.m.
Camp Randall Stadium student entrance, Gate 5
The number of people arriving has ramped up. Between the locations where students get their vouchers scanned and are checked for unpermitted items by security, and the rows of entry points that determine to which section they'll head, around a dozen officers in bright green vests look for trouble spots.
An officer from the DeForest Police Department takes a college-age woman to the side of the chute and starts a conversation. A second officer, this one from the Waunakee Police Department, arrives alongside.
After a minute of conversation, the DeForest officer handcuffs the woman. He takes her phone and puts it in her fanny pack, then checks her ID and returns that to the fanny pack.
The officer takes the woman across the chute and heads for the Police Center. Over the police radio, the officer says it's a UAL — code for underage alcohol consumption.
2:49 p.m.
When an officer brings someone to the Police Center for citation, plastic ties replace the handcuffs so the officer doesn't have to relinquish them. Then the officer takes the offender through a set of red doors, where the offender gets an ID sticker placed on his or her clothing, indicating the sequential number of arrests for the day.
Within seconds of entering, No. 004 is put against a wall and has a sign held in front of him for a booking picture. Then the officer collects his property in a bag and sits him in one of the black chairs to await the proceedings.
The room is abuzz, with UW Police employees at the ready to take down officers' information for citations and representatives from the Dean of Students office and University Housing present to talk to those who are arrested. At a table across the room, a team assembles the citation and other information given to those brought in.
In the back of the room, two holding cells await in case they're needed for unruly spectators.
An officer with a red clipboard takes down information from No. 004 and then administers a breathalyzer test as emergency medical personnel stand by.
3:05 p.m.
Jack is drunk. And something he ate or drank stained his mouth blue. So when he attempts to make a point about justice, it's hard to take him seriously.
The officers are standing in Jack's backyard with his two roommates after about 50 guests fled their party. None of them are of legal drinking age and none of them have an explanation for how a keg of beer wound up at their house.
But that's not stopping any of them from protesting their underage drinking tickets, which Thomson is writing. They don't feel they were adequately warned. They try to convince the officers that they know everyone who was at the party. And finally they resort to larger questions of criminal justice.
"Mr. Engel, did you become a police officer to write underage drinking tickets?" Jack asks.
"I became a police officer to uphold the laws of this state," Engel replies.
"You got me there," says Jack. But he's not easily dissuaded and continues to talk, nonstop, to anyone nearby until Thomson has issued the tickets.
"They feel entitled to do this," says Alan. "Even after we warn them, the university warns them, talks to them about sexual assault and property damage, they think they should be able to do this and they don't like it when they're caught."
3:12 p.m.
Stadium fifth-level concourse atop Section O
Two officers are talking to a man wearing red-and-white striped bib overalls with rolled-up legs and a sombrero hanging on his back. He's gesturing at the officers with his palms up, as if to say, "What did I do?" Before long, the officers are escorting him down the staircase at the back of the section.
Nearly the same situation plays out again two minutes later, only this man in striped overalls isn't wearing a shirt and has a straw hat on his head. Officers put him in cuffs and take him down the same stairs, passing Badgers football legend Ron Dayne along the way.
3:27 p.m.
An officer calls for backup for a situation near the portal. In the concourse outside the section, officers are talking to a woman and a man, moving them out of the flow of traffic.
Silbernagel, who's arrived at the location, says it appears that the woman tripped and fell, and officers think she's intoxicated. One officer starts taking down details from the woman while another officer does the same with the man.
The timeline of the incident becomes clearer: The woman fell, hit her head and briefly lost consciousness. The man, her boyfriend, was carrying her out to the concourse.
3:42 p.m.
Stadium Operations Center
In the second row, coordinator Jay Koritzinsky is on the radio to the stadium's guest services department. "This is Jay in SOC," he says. "Can we get elevator six to level three for paramedics please?"
In the front row, various UWPD personnel are handling radio communications with officers, looking out at the crowd through binoculars, operating the video camera and working on social media.
One row above, there's a doctor, a paramedic, a UW athletics representative, a SOC coordinator and a supervisor for CSC, the security firm that has contracted with UW-Madison to work at sporting events, all in communication with people around the stadium.
In the third row, three people work on computers operating the more than 100 security cameras around the stadium, displaying the best angles on incidents on large flat-screen TVs.
"Everything seems to come at once," says Daron Jones, UW athletics' associate director of events and operations. "It'll get crazy busy where we're all taking calls, and then it'll be calm for 10 minutes. And it's eerie when it's calm."
With a beautiful day outside the press box, all is calm on the weather screen next to where Dr. Ryan Wubben stands on the far left of the second row. The nearest thunderstorm, he says, is in Texas.
But he has the red phone in front of him and the binder with the emergency plan at his feet, so when a major event happens, his position is a focal point.
On one of the TV screens in the front row, a security camera shows a paramedic backing a patient out of elevator six in a wheelchair. The screen then changes to show a man in handcuffs outside the Police Center.
3:50 p.m.
The MPD officers are about to get something to eat when a young man with blood on his face and dirt on his clothes approaches from Breese Terrace.
"Are you okay?" Engel asks as he passes. "We can't help you if you don't talk to us. Did you get in a fight?"
"More like I was attacked!" he says. "I was attacked, okay?"
The man says he was at a beer garden talking to a woman when another man who "can't handle me talking to her" enlisted the help of some friends to "start beating on me."
Engel asks if he wants to file charges, but the man walks up Summit Avenue shouting "No! I'm done! I'm out!" Another man approaches and reveals he's the bleeding guy's older brother.
"The big brothers are really helping us out today," says Thomson.
4:14 p.m.
As halftime festivities take place on the field, No. 016 is sobbing in the front row of the black chairs in the Police Center. She's being comforted by a Dean of Students office representative sitting next to her, who puts her arm around the woman. No. 016, who's here for being caught bringing flasks of alcohol into the stadium, tilts her head and finds a comforting shoulder.
Nearby, No. 017 is getting a breathalyzer. An officer tells the young man that it shows .053, so he'll get a citation for underage consumption, but officers aren't sure alcohol is all he's on.
"Can you keep your eyes awake for me?" an officer tells another college-age man in the black chairs.
4:20 p.m.
A paramedic enters the Police Center and goes to No. 017. "I just want to do what's safe," an officer says. "Releasing him is not safe."
The Police Center personnel decide to call for a DRE, drug recognition expert, from another post in the stadium.
No. 016 is still crying in the front row of black chairs. "I'm so sorry," she sobs.
She's later escorted out the front door, stumbling as she exits the room with her citation.
Fifteen minutes later, officers take No. 017 to one of the two holding cells, where the DRE administers an eye test and asks questions about what he's taken.
After eight minutes, No. 017 admits that he took two extended-relief Xanax — used to treat anxiety and panic disorders — this morning in addition to drinking alcohol and smoking pot.
He'll get a ride home from an officer with a citation in his hand.
4:59 p.m.
Stadium Operations Center
Over the radio, an officer reports that someone has collapsed in Section O, row 65 and may be having a seizure. Ewing, the lieutenant who's coordinating the radio communication from the front row of the SOC, replies that paramedics are en route.
After a few seconds, the officer on the scene reports that it's not a seizure. The person is awake and probably dehydrated.
"Do you still want paramedics?" Ewing asks over the radio.
"Affirm," the officer responds.
"Copy," Ewing says. "They'll still be en route."
The camera operators in the third level are moving the cameras, trying to find the situation. Then they learn it was actually Section P and row 64, which they find as paramedics arrive at the scene.
Just after 5 p.m. the third quarter ends, meaning it's minutes from "Jump Around," the Camp Randall staple that makes the upper deck, in which the SOC is located, sway.
But before that starts, the SOC gets a call for crowd control at the replay booth on the seventh level, one floor down. Minutes earlier, referees ejected a second Badgers player from the game, and both calls had been upheld by the game's replay coordinator.
"When they make questionable calls, people pound on the
windows," someone in the SOC says.
As the first notes of "Jump Around" go over the sound system, Ewing calls an officer to provide patrol near the replay booth.
The press box starts to move. "Allegedly," Koritzinsky says from the second row, "this is safe."
5:12 p.m.
Stadium Operations Center
The SOC phone rings. It's Silbernagel, the special events lieutenant, saying he wants officers deployed around Section Q, where the game officials leave the field after the game.
Badgers fans are no fans of the officials this day, and Silbernagel is looking to head off any problems.
5:18 p.m.
Stadium Operations Center
That's the first reaction of someone in the SOC as the fire alarm starts to blare over the stadium speakers. The automated voice tells spectators to evacuate the stadium.
A number of voices start talking over each other, but no one is panicking, at least on the outside.
Within seconds, they find out the room where the fire alarm was set off: 1210-C. But where is 1210-C? It's a kitchen, they find out a few seconds later, but which one?
"All officers," Ewing sends over the radio, "the specific location we're trying to still find but it's coming up on the panel as the kitchen in 1210-C."
At least two phones ring in the SOC. "We have that PA if we need to," Koritzinsky says, gesturing to a box on the second-row wall behind Wubben.
The pace of information coming to the SOC is fast. The alarm is coming from the main kitchen in Badger Alley, the field-level concourse on the west side of the stadium.
"The main kitchen in Badger Alley is where 1210-C is," Ewing says over the radio. "Any officers close, please step it up to that location and advise."
"10-2, no fire," Ewing says, using the police code indicating she understands the officer on the other end. Others in the SOC repeat the 10-2 call over each other.
The fire alarm, meanwhile, is still going off in the stadium as people in the SOC talk about overriding those tones from being broadcast.
"Jason or chief, could you come up here?" Koritzinsky says to UWPD Capt. Jason Whitney and assistant chief Bridges in the front row. "Can I announce to the crowd no fire?"
Bridges gives him the OK.
Koritzinsky takes the microphone off the wall. "May I have your attention please?" he says before asking the room whether that went out over the speakers. It didn't.
He tries again. "May I have your attention please?" Heads shake. "This isn't working."
Another person enters the SOC saying there's no fire. All at once, seemingly everyone in the room acknowledges that they already know that. "I want to announce that," Koritzinsky says.
The alarm goes off again in the stadium, but Koritzinsky finally has an open mic to the stadium speakers.
"Ladies and gentlemen, there is not a fire," he says. "The area has been checked."
The crowd roars its approval, as do some in the SOC.
"Well, that was fun," Koritzinsky says to the room.
Wubben has the emergency binder out in front of him. "I'm going to put this away now," he says.
The alarms have been cleared and everything is back to normal, but the energy in the SOC stays high for a few minutes as people continue to chatter about what happened.
"It's always busy up here," Jones, from UW athletics events operations, says, "but not usually with fire alarms."
5:46 p.m.
Camp Randall Stadium field
The game is over, and the seven on-field game officials trot toward the bottom of Section Q, where a tunnel leads to their locker room.
A strong police presence — at least 11 officers in bright green vests — is around the area. Most are looking up to the crowd to spot any potential problems.
Boos rain down on the game officials as they go through, but that's all. Nothing is thrown.
6:13 p.m.
Camp Randall Stadium field
After the Fifth Quarter has ended and the spectators have left, the call comes over the radio that officers are released from duty and that the SOC is shutting down.
Officers on the field walk toward the southeast exit by Bucky's Locker Room, then continue toward the UW Police building on Monroe Street to drop off radios. Their work day is done.
Epilogue
It turned out that the incident at Comp Sci wasn't actually a fire, but it was related to the power outage on the other end of campus. An electrical issue caused some equipment to overheat and produce smoke, which triggered the alarm. Because of the electrical issue, part of campus had to be de-energized, including the Comp Sci building, Witte and Sellery halls and Ramp 46 at Lake and West Johnson streets. Power was back on at 12:08 p.m. for everything but Comp Sci, which had power back at 12:30.
As for the fire alarm that sent the SOC into high gear during the game's fourth quarter, a heat sensor next to the pizza oven in the main kitchen was determined to be the cause. The alarm caused a roughly 5-minute delay in the game.
That evening, the Police Center reported 22 citations issued inside the stadium, carrying an automatic ejection, and 31 fans were ejected without receiving a citation. Of the citations, 19 were for underage alcohol, two were for entering the playing field and one was for possession of marijuana.
Nineteen of the 22 citations were issued to UW-Madison students. Thirty-nine of the 53 people ejected were students.
There were 19 paramedic calls, three people taken to a hospital by ambulance and 51 calls for first aid. One person was taken to detox, and the highest blood alcohol content recorded was .273.
The 19 people who got underage alcohol citations have court dates on Oct. 8. Two of them are mandatory appearances, likely because they've had a similar previous encounter. The three others arrested have Oct. 9 court dates that aren't mandatory.
Oh, and the Badgers won, 28-3.
Share your opinion on this topic by sending a letter to the editor to tctvoice@madison.com. Include your full name, hometown and phone number. Your name and town will be published. The phone number is for verification purposes only. Please keep your letter to 250 words or less.