Commercial graphic design is a profession that comes with a fair amount of pressure. Artists are expected to deliver unique, inspired and creative work on tight deadlines for exacting clients. Long hours spent working through creative blocks are common. Failure can mean losing a client and possibly your job.
But designing the logo and brand identity for a new sports team planning to unveil it with significant public fanfare brings with it a much larger audience of critics. Add to that the unique situation of having the design scrutinized by soccer fans who will instantly compare it to the crests worn by European clubs, some of the oldest and most famous sports brands in the world.
A team at Planet Propaganda, a 25-year-old creative firm located in downtown Madison, has been living with that pressure for the last few months as it pulled together the identity of Forward Madison F.C., the minor league soccer team that will open its inaugural season at Breese Stevens Field in the spring.
"It's a gigantic failure if we don't get it," said Kevin Longino, creative director at Planet. "If the people we live next to that would support this team aren't wearing the stuff, then we botched it."
But the enthusiasm Longino and Karmin Arnold, a senior account executive at Planet, brought to the project was apparent as they showed off various iterations of the logo at their office last week.
"Our mouths just watered at this opportunity," Longino said. "For me it's like a dream project. There's a sports team that's three blocks away? Hell yeah, I want in on that."
As team leaders worked to develop a name over the summer, taking submissions from the community and allowing fans to vote on their favorites, president Vern Stenman started talking to Planet CEO Dana Lytle about the process of pulling together a visual identity. Planet has done some work for the Madison Mallards, a college summer baseball team Stenman has run for 17 years, and it was important to the leadership to work with designers who understand the local market.
"The biggest single reason is everything we're trying to do here is hyper local," Stenman said. "Even the branding itself really makes more sense to a Madisonian than it does to anyone else around the country and it was important to have an agency that understands that."
Stenman said Planet also understands the unique attachment soccer fans have to their teams' logos and the landscape of design surrounding the sport right now.
"The best marks in the last five to 10 years were just really strong from an art perspective," he said. "If artwork is on one end of the spectrum and a traditional logo is on the other end, we felt that what was happening in the soccer world was becoming more and more like beautiful art. Like the Los Angeles F.C. mark and Minnesota United mark that have come out recently, I would just put that up on my wall. It's cool! It's art and you can see the story they're trying to tell with what appears to be a minimal amount of effort, and we knew that Planet had that skill set and that artistry."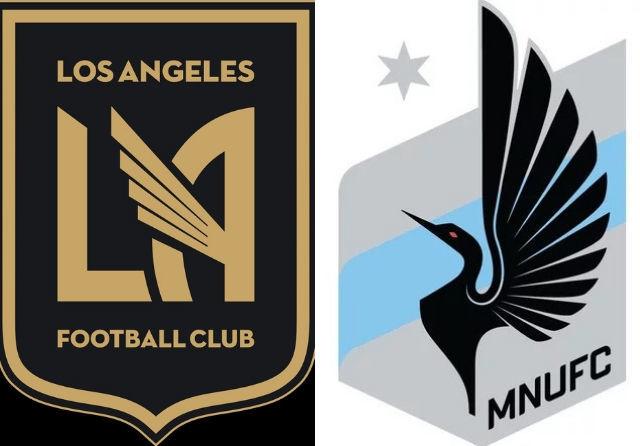 Arnold said because of the trust Stenman had in Planet, the designers were given some freedom to play with several concepts.
"Vern and the team gave us free range," Arnold said. "Their direction to us was that they wanted something kind of unexpected. So we still had some nice freedom to play around and weren't held to this standard crest that looks like a shield that a lot of soccer teams use."
"Our two mandates were, they had crowdsourced the name Forward Madison and the other thing they heard back is that people wanted to see the color blue from the Madison flag," she said.
Of course, the primary element of the logo, revealed last week, is the pink flamingo. That notion came from the official city bird status of the pink plastic lawn flamingo, made famous by a University of Wisconsin-Madison student government prank in 1979. And it survived as other ideas were rejected for being too cliche or predictable.
"We tried to seize on what says Madison and what tells a Madison story," Longino said. "The quirkiness of that stunt and what the pink flamingo means to Madison, even if you don't know that and you're from outside the city, once you hear about that you think, 'Ah, I can kinda see that.' I think we liked the idea of that being really ownable to the city."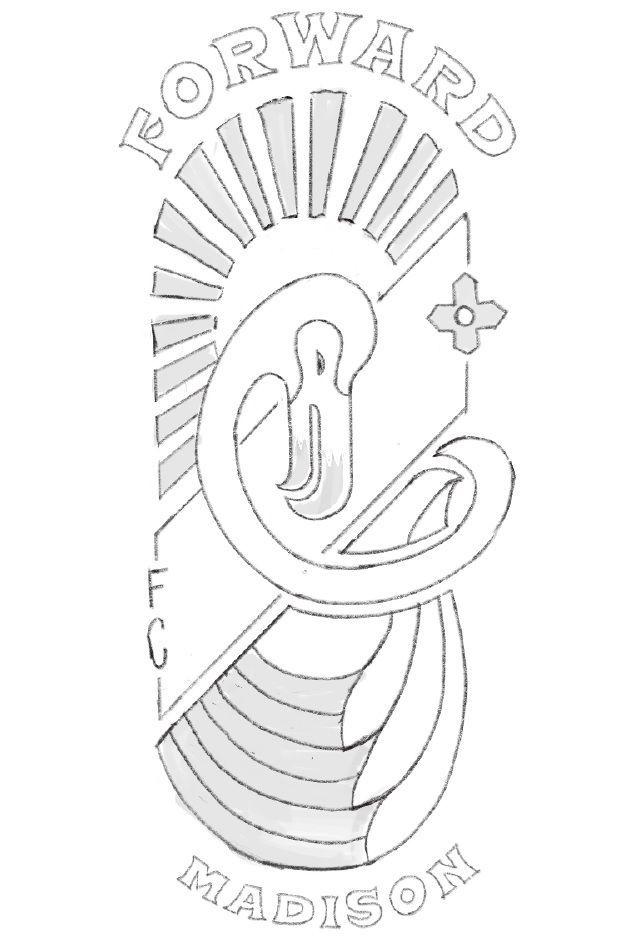 Longino and Planet artists pulled together inspirational images of animal-based logos and Longino has a notebook full of early sketches. A challenge was that unlike an eagle or hawk, a flamingo doesn't evoke the traditional sports notions of strength and ferocity.
"Fierce is a word we used a lot," he said. "The first version was a lot more sedate, I'd say. It was more self-contained."
Feedback on the initial sketches from the Forward Madison group was to make that inward-facing flamingo look more, well, forward.
"I looked at a lot of ram logos, because of that head-butting nature," Longino said. "That led to sketches that looked more like a buzzard or a vulture, or one that looked like a duck or a swan. It was a lot of trial and error.
"The flamingo we ended up with has a neck like a coiled up snake that's about to strike. Some of the versions we did, the neck was hanging out so far that it looked fragile versus tough."
"This one is a very beautiful flamingo," Arnold said. "But I think it reads sports more."
Of course, making that flamingo the prominent symbol means navigating the precarious color of pink, maybe the least used color in the history of sports, particularly men's sports. Longino said the pink they picked is "bold, but not bright."
"When we talk about playing with color, definitely blue makes sense with the isthmus between lakes," Longino said. "And then because flamingos are pink, it's like, let's be loud about it. But if that pink gets too bright, the blue will fade away. We explored that with some dayglow stuff, but I had a seizure just looking at it."
Stenman said the social media reaction to both the logo and the colors was immediate and overwhelmingly positive: "Have you seen Reddit? You know Reddit and how cynical and difficult to please that group can be. Reddit loves this thing! There are 200-plus comments that came from the night we did the unveil."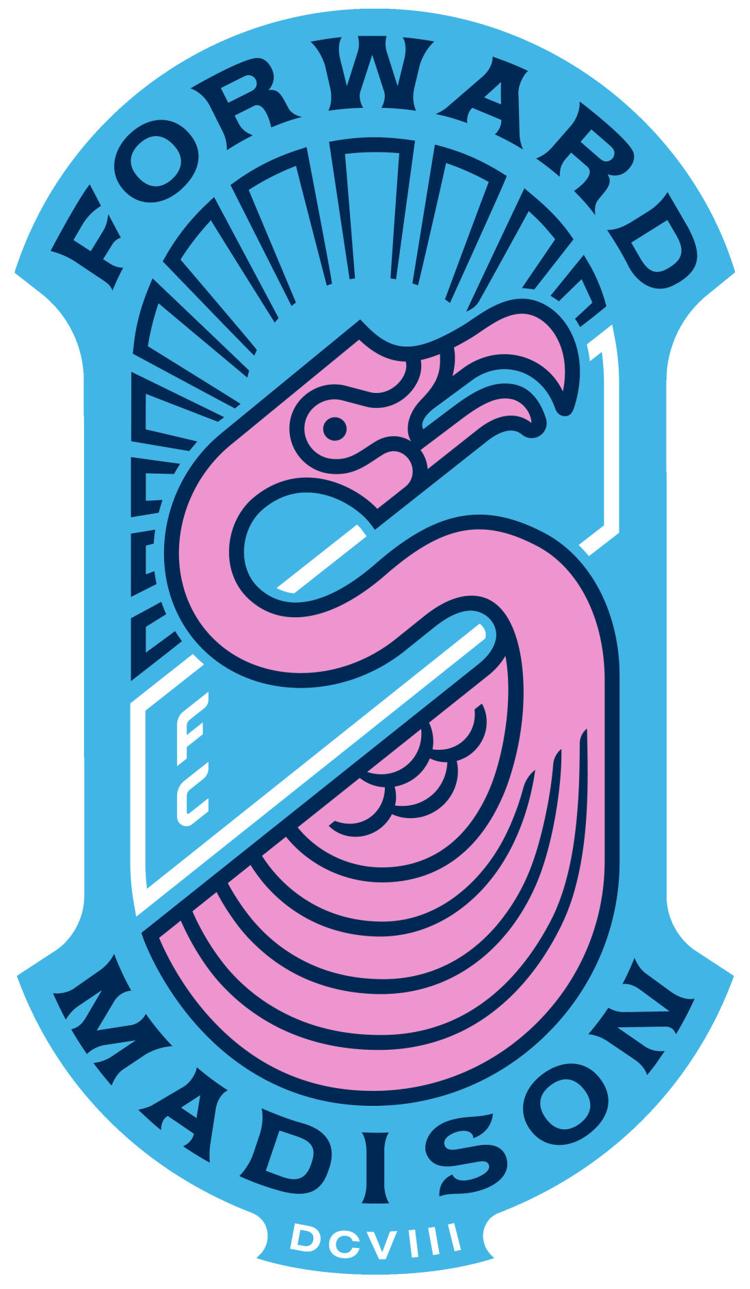 And the team's store on East Washington Avenue next to Breese Stevens Field has been buzzing. The first run of t-shirts and scarves has nearly sold out in less than a week.
"As we were going through the process, Conor (Caloia, the team's COO) and I were talking and saying this might be the last time we get to do something like this in Madison," Stenman said. "We really wanted to take our time and do a really great job."
Longino said the process of unveiling the logo was so fast and furious that he hasn't had much time to consider what's next, but he knows there's an appetite at Planet to continue working on the Forward Madison account.
"We've been batting around uniform concepts, jerseys and stuff that we are pretty excited about and we're trying to keep up with them and meet their needs as they come up," he said. "We have a bunch of ideas that we think are cool, but we haven't even had a chance to share them yet."