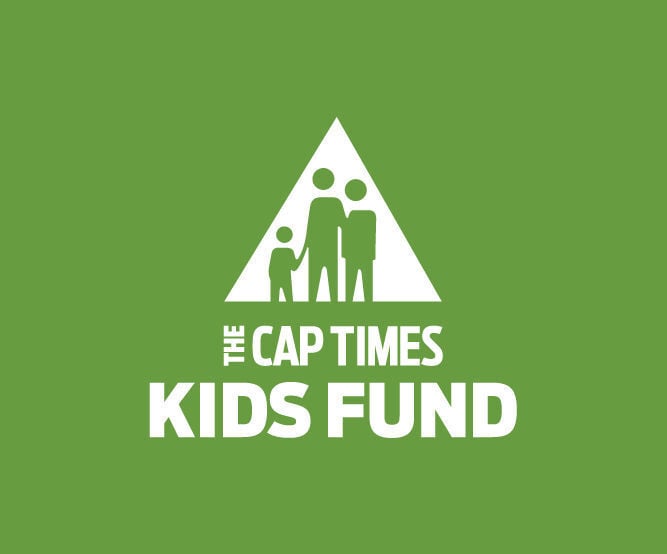 Among the 61 local nonprofits that received grants from the Capital Times Kids Fund during 2020 was Centro Hispano, the nearly 40-year-old organization that serves Dane County's Hispanic community and which has a wide network of programs serving Latino youth.
In addition to a $3,000 grant to promote healthy eating, the Kids Fund board this year granted an additional $7,052 to the Latino Consortium for Action Emergency Relief Fund, which provides emergency financial help during the COVID-19 pandemic to the children of undocumented immigrants in our area. Centro Hispano is part of the consortium.
All told, the Kids Fund awarded $180,000 to programs that address the challenges facing young people who might otherwise fall through the cracks. The donations are all made possible by readers of the Cap Times who make their own contributions of all sizes.
Donations can be mailed to The Kids Fund, c/o The Capital Times, PO Box 8060, Madison WI 53708, or they can be made online at thekidsfund.org. Just click on the "donate" button and make a contribution with your credit card.
Following is a list of recent donations:
Rosalie Breitenbach, Madison: $125
Perry Offerdahl, Madison: $10
Mary V.H. Jones, Madison: $50
Shelley Moffatt, Stoughton: $1,000
Beverly Wiseman, Cottage Grove: $25
Richard and Jane Endres, Waunakee: $35
Kathleen Saunders, Madison: $50
LeAnn Legler, Sun Prairie: $25
Leonard and Meredith Doom, Stoughton: $25
Kristin Frederickson, Cottage Grove: $200
Nathan Brand, Miami, Florida: $1,000
Erick Borchardt, Stoughton: $75
Henri and Kathleen Dutilly, Stoughton: $50
Arlan and Lorna Kay, Oregon: $100
Marcia Dana, Sun Prairie: $50
Evonna Cheetham, Madison: $200
Jeffrey C. Levy, Madison: $750
Marion Brown and Franklin Wilson, Madison: $50
Paul and Rosemarie Wieland, Fitchburg: $50
Steven Bach, Madison: $50
James O'Brien, Madison: $100
Bruce and Marjorie Cuthbert, Fitchburg: $25
Robert and Betty Kraemer, Plain: $25
Jill Jokela and Daniel Lickel, Madison: $50
Jon and Carol Coombe, Stoughton: $100
Bob and Becky Greiber, Stoughton: $20
LaJean Hoffman in honor of Grayle, Gabe and Abigail, Madison: $50
Richard and Mary Ihlenfeld, Madison: $75
Lucille O'Connor in memory of Frank, Belleville: $50
Rose Stuvetraa, Oregon: $15
Susan Policello, Middleton: $100
James Krogstad, Fitchburg: $200
Ginger and Joe Cissell, Fitchburg: $50
Don and Evelyn Breitenbach, McFarland: $100
Peggy Kiss, Stoughton: $5
Leo and Joyce Endres, Madison: $25
Phillip and Lynn Hellmuth, Madison: $35
Beverly Duncan, Madison: $25
Barbara and Franklin Killary, Madison: $15
Erica Napoli and Martin Drapkin, Cross Plains: $50
Edward and Kathleen O'Connor, Belleville: $50
Kathleen Herman, Oregon: $50
Ruth Acker, Middleton: $50
Janice and Bill Gavinski, Madison: $100
Mary Anne and Joseph Lowndes, Madison: $100
Tom and Katherine Bier, Madison: $100
Frances and Paul Ervin, Madison: $10
Richard and Dianne Ottow, Madison: $50
Mary Collet, Madison: $50
Maureen Torphy, Madison: $2,000
Richard Lust, Verona: $125
Lee and Jacqui Swanson, Cross Plains: $50
R.W. and J.P. Lottridge, Madison: $100
Marjorie Davenport, Middleton: $25
Robert and Betsy Lee, Madison: $100
Patricia Offer, Cottage Grove: $25
Rachel Caruso, Madison: $25
Greg and Ann Landry, Middleton: $100
Fred Lee and Marjorie Dimaggio: $250
Charles Taylor, Madison: $100
Jim and Cindy Hoyt, Middleton: $100
Ed and Mary Lou Reisch, Madison: $100
Jane and Douglas Roughen, Madison: $50
Jerome and Marilynn Lawler, Madison: $100
Michael and Joan Hart, Madison: $200
Laura Hemming, Madison: $20
Marilyn Pauls, Mazomanie: $20
Boris Frank, Madison: $100
George and Alice Cunningham, Madison: $50
Steven and Mary Kay Puntillo, Madison: $20
Wade Dallagrana and Christine Antonuzzo, Madison: $50
Barbara Pomarnke, Madison: $25
Paul and Lari Fanlund, Madison: $250
Jim and Sue Morrison, Madison: $25
Peter Fisher and Cyndy Galloway, Madison: $50
Walter and Barbara Karst, Madison: $25
Marvin and Patricia Meissen, Madison: $50
Judith and Mark Meyers, Madison: $50
Iris Brunner, Cross Plains: $25
Mary Frances Rowley, Madison: $40
James Steele, Madison: $25
Martha Hollis, McFarland: $30
Don and Joyce Knudtson, Madison: $50
Diane and Donna Morrissey, Madison: $25
Alan and Debra Gunderson, Waunakee: $30
Anna and John Besmer, Waunakee: $35
Florence Hellenbrand, Waunakee: $50
Jerilyn Dahmen in memory of Garbe Dahmen, Waunakee: $50
Stephen Morton, Madison: $1,000
Beverly Vitale, Madison: $30
Charlotte Woolf, Madison: $50
The family of Steve Jones, Madison: $120
C.W. Schulte, Edgerton: $30
Jennie Cruz, Fitchburg: $25
Kristine Koenen, Madison: $35
Mary Strickland, Madison: $150
Donald and Marguerite Parrell, Black Earth: $20
Carla and Dan Lynch, Verona: $250
Ron and Joyce Fargo, Blue Mounds: $50