Noble Knight Games claims to have the biggest selection of board games in the world. Its new headquarters in Fitchburg fits the part.
The newly built space on Commerce Park Drive looks like an unadorned warehouse on the outside. But the inside features a polished retail storefront heaping with 20,000 copies, from classics like Monopoly to "hobby games," like Catan and Pandemic.
It has sleek hardwood floors and warm lighting, abundant table space for game nights, and demos strewn about the space of everything from Star Wars miniatures to family-friendly hits like the tile-based game Azul.
Then there's the e-commerce side of the building, the crux of the Noble Knight business plan. Through a set of double doors lies a more traditional-looking warehouse, with thousands of shelving units holding a trove of 700,000 new, used and collectible games. Every day the company ships out 350 orders a day that get ordered through the business's website, and receives dozens of boxes from businesses or collectors selling games.
Also a highlight, said the business's general manager Dan Leeder: the clean, spacious bathrooms. Of all the things that make Noble Knight stand apart from its competitors, he said that's the one thing customers gush over.
"You go into a game store, and they're usually dirty or super small," he said.
Leeder operates the business with help from his brother Aaron, who founded the venture in 1997, along with a team of 30 employees. Before he joined the family business, Leeder said he worked in corporate IT. He vastly prefers what he does now, he says.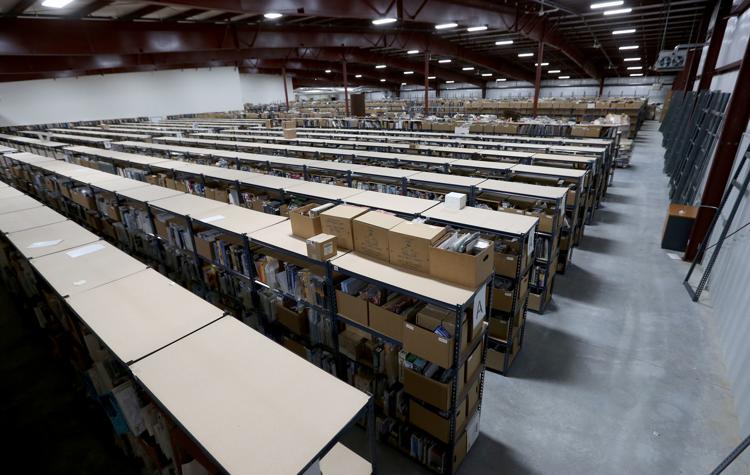 "I like that I'm not working for some billionaire I've never seen. I'm working for someone I know," he said.
Aaron Leeder started the company when he worked on the General Motors assembly line in Janesville and collected Dungeons and Dragons books and equipment in his spare time. He proceeded to launch a website for selling his growing gaming collection, and carved out a reputation as a niche online retailer.
Initially, Aaron's inventory took up his room. Soon, he needed to rent a warehouse. Before the company moved to the current location in Madison, the inventory was spread across five different warehouses and storage units.
Dan Leeder said that the need for a large-enough location was one reason the company built their new facility in Madison. Plus, the team wanted to be plugged into the robust gaming community in the area, where they could find a nerdy customer base and more employees passionate about gaming.
In Janesville, he said that only about 2 percent of the company's sales came from its retail space. In Madison, he hopes to shift that to 20 percent. He said that there's already some indication they've found an audience in Madison: He said their grand opening event in early December attracted about 1,000 people.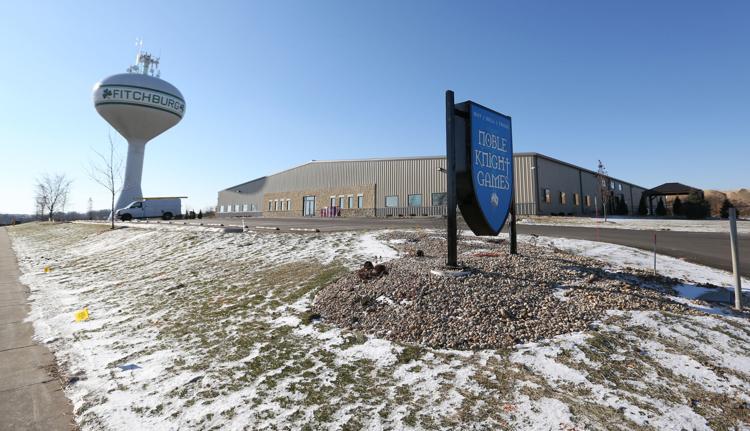 Leeder also noted that they've also found a local market for one of Noble Knight's claims to fame: Their inventory of hard-to-find, out-of-print games. In the store's inventory are things like first-edition copies of Dungeons and Dragons signed by its creator Gary Gygax that retail for $9,000. Just last week, Leeder said he sold a limited edition set of Catan for four figures.
"We've got a lot of signed copies of games by the designers or the original creators of the games," said Leeder. "In every category, we have something special."
The small trove of rarer items is highlighted in the business's motto: "Where the out-of-print is available again."
Now, every Tuesday, Leeder said there's a group of passionate board gamers who come in weekly to play those exclusive titles.
Leeder stressed that while the business has an appeal for hardcore collectors, the store is for a general audience. And even as board games increase in their popularity — a trend Leeder attributes to the success of Marvel movies and other nerdy franchises — he said many people who come in are still new to the expansive world of tabletop gaming.
"There's a bit of a stigma about it, even though it's mainstream," he said. "There really is a game for everyone."
Leeder said the company wants to get plugged into the community. He said he hopes to visit places like schools and retirement communities to introduce gaming to new audiences. He also said he hope to host mini-conventions and community events: In January, he's planning a marathon D&D session to raise money for the charity Extra Life.
Also in the works: An 80-foot-long steel-and-aluminum castle wall in front of the warehouse's entrance, complete with ramparts and a royal seal. Leeder said that the castle wall, which fits in with the medieval vibe of the Noble Knight brand, will be complete in the spring.