Gregory wakes up at 4:30 a.m. every day to wait in line for a shower at the men's shelter in Grace Episcopal Church on the Capitol Square.
He's been on and off the streets in Madison since 2008 and has followed the same morning schedule for years.
"It's just get the eating done, get the showering done and get out," said Gregory, who asked that his last name not be used.
Now, a Milwaukee-area outreach group is making it easier for Madison's homeless to stay clean through the use of a portable shower trailer.
Mr. Bob's Under the Bridge, which started the shower trailer in Milwaukee nearly two months ago, debuted the truck in Madison Tuesday night. The trailer has four shower stalls, each with an area to sit and get changed. It provides people with soap, a towel and washcloth, flip flops and clean socks and underwear. The truck began the night on State Street before moving to the Capitol Square to offer people showers in that area.
"This is all about hygiene," said Bob Burmeister, who created the outreach group nearly 12 years ago near Milwaukee. "I don't care where this thing goes. I want anybody that wants to use it to use it."
Burmeister called the first night in Madison "pretty successful" and estimated that about 20 people used the showers. He said he plans to bring the trailer back once a week starting in April 2020 but didn't rule out visits in the next few weeks.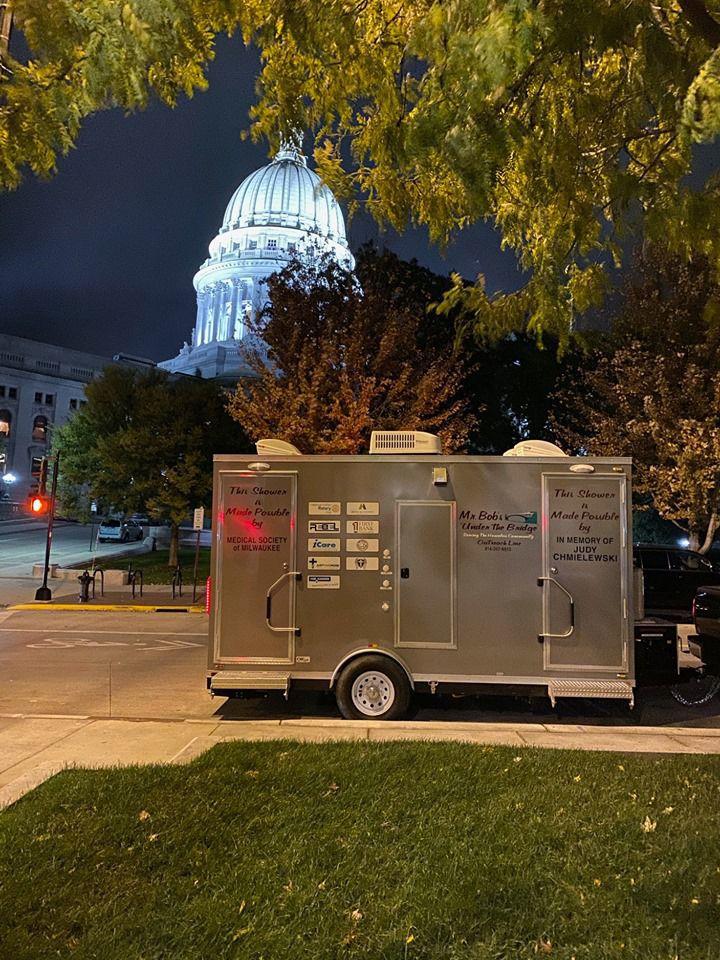 "I definitely could run (the shower trailer) in the winter," he said. "The only fear that I have is the travel up."
Burmeister emphasized that his outreach — which includes serving about 125 people every weekend at Kosciuszko Park in Milwaukee — is about letting people know that they are cared for.
"This isn't about me," he said. "This is about showing compassion and love for people that are on the streets that need that and letting them know that we care about you. They don't get that very often."
Data from a Homeless Services Consortium of Dane County survey show that there were more than 578 people homeless in the Madison area on a single night in January. The report noted that 13 percent of these people were sleeping outside "or other places not suitable for human habitation" on a night that saw temperatures in the single digits. The same one-day survey conducted in July found that more than 650 people were homeless.
Mr. Bob's Under the Bridge recently partnered with Dane County outreach group Friends of the State Street Family, which provides food, clothing and other items to homeless people on the streets in Madison every night.
Friends of the State Street Family outreach director Beth Maglio said the two groups have "really learned a lot from each other" and are focused on serving people in both Milwaukee and Madison.
Maglio noted that Madison has resources to help the homeless but said some people avoid shelters and other places that can get crowded. She said the portable shower trailer provides people with both dignity and options.
"We're talking about a lot of people with a lot of trauma," Maglio said. "What an ultimate act of dignity to give people (the opportunity to) just be clean and healthy."
For Gregory, the showers from Mr. Bob's Under the Bridge, as well as the food and clothing from Friends of the State Street Family, are an "extra added aid" to help people take care of their "basic needs."
"It's a wonderful thing that they do," Gregory said. "To come out here and make someone feel human."