When Rafeeq Asad flew into Madison in 2013 for a job interview, he wasn't initially impressed with what he saw.
The Miami native loved big cities. From what he could tell after spending time on the north and west sides, Madison was a patchwork quilt of residential neighborhoods, commercial strips and even the occasional piece of farmland.
"My first view of Madison was cornfields and silos," he said. "I was like, I cannot live here."
On his ride back to the airport, Asad saw downtown Madison, which swayed him a little. But most exciting to him was the Constellation — a mixed-use 12-story building at the corner of Livingston Street and East Washington Avenue. It was the first high-rise structure that opened in 2013 as part of an ambitious urban renewal plan for the Capitol East District, a 200-acre stretch of the isthmus.
Six years later, Asad is living in Madison as a happy resident of the Galaxie, a high-rise that sprang up across the street from the Constellation in 2016.
He likes walking down East Washington Avenue, flanked by steel-and-glass high-rise buildings on either side. He likes hanging out on his building's rooftop, and listening to cheering crowds at Forward Madison games at Breese Stevens Field. He occasionally walks up to the Capitol Square, he said, but usually he sticks around the neighborhood. Everything he needs, from groceries to bars to "foodie restaurants" is right there.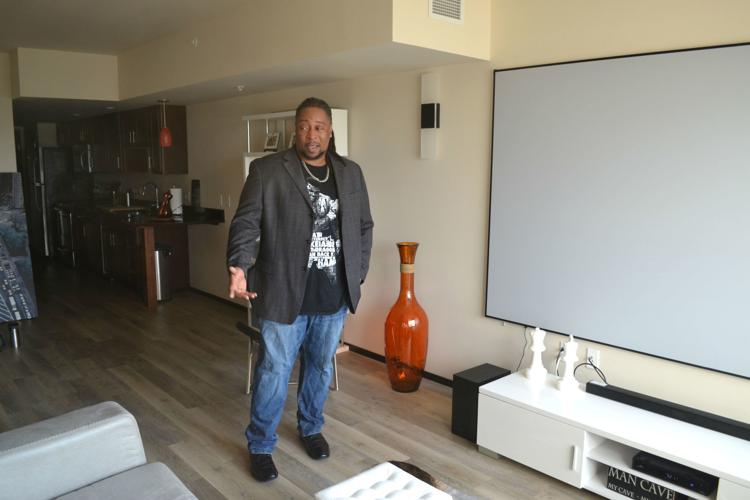 "I love it. There's always something going on," he said. "There's people, activity, lights, noise."
Eleven years have passed since the city approved a 40-page document laying the groundwork for an ambitious plan to overhaul the district where Asad lives, which stretches along East Washington Avenue from Blair Street to the Yahara River. For years, "Cap East" had been an industrial area marked by public works facilities, aging concrete commercial buildings, used car lots, and old factories.
Today, those structures share space with high-rises that locals describe as "urban," "shiny" and "glitzy." Eight years of rapid development have yielded over 1,195 new housing units, and 556,900 square feet of new commercial space. There's a new 2,500-capacity concert venue, a renovated soccer field brimming with events and a 144-room hotel, all of which routinely bring throngs of visitors to the area.
Many residents, workers and business owners say they're excited about the growth, while others have reservations about the transformation. All have varying degrees of concern about the neighborhood's character, its crime rates, flood risk, traffic, noise, and above all else, its affordability.
As development continues at a fever pitch, some residents say the corridor is no longer just an arterial roadway, or an outgrowth of the Tenney-Lapham or Marquette neighborhoods.
"I think we're finally starting to consider ourselves our own neighborhood of sorts," said Jon Reske, the co-owner of Robinia Courtyard, a resident of the Lyric apartment building at 1010 E. Washington Ave., and the president of the brand-new Capitol East Business Association.
'A real eyesore'
The East Washington Avenue corridor has been an on-and-off source of concern for city leaders through the past century. In 1911, the influential planner and architect John Nolen bemoaned that while the roadway was "the main approach to the State Capitol," parts were still swamped with marshland.
More pressing than swampiness in recent decades has been the corridor's unattractiveness and inactivity.
"I've long felt that the city suffers from a severe image problem because of the appearance of the East Washington corridor," said District 2 alderman David Wallner in a 1985 Cap Times interview. "As the major East Side entryway into the city … the street's appearance is a real eyesore."
Patty Prime, the president of the Tenney-Lapham Neighborhood Association and a longtime resident of the area, said that before redevelopment, the area's property values had been in decline, and the neighborhood did not feel walkable or accessible.
"Breese Stevens was like a hidden castle, or like in that old story 'The Secret Garden,'" Prime said. "You couldn't see in. Sometimes it'd be open, and you'd hear stuff, but you wouldn't know what was going on."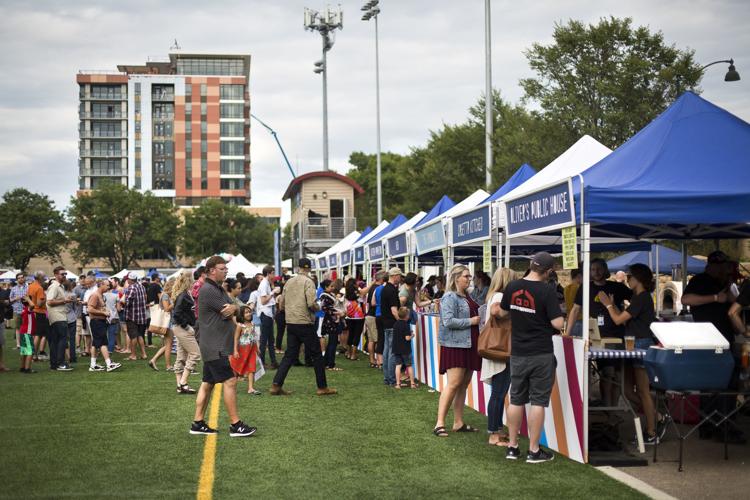 Concerns over blight and underutilization resulted in the city convening the Capitol Gateway BUILD Committee in 2005, an ad hoc group with a mission to create a blueprint for urban renewal in the corridor. After three years, it came up with the Capitol Gateway Corridor Plan. The document envisioned a vibrant neighborhood for both work and life, with transit-friendly and walkable streets, a robust mix of businesses and residential spaces, and buildings up to 15 stories tall.
Heather Stouder, the city's Planning Division director, said that one strength of the document was its level of detail: It outlined block-by-block design elements, from the shape of buildings to how far they could be from the street, to ensure that developments would integrate with the existing community, preserve views of the Capitol, and create a "consistent rhythm of street-level facades."
"I think the predictability did help. It helped to have such a prescriptive plan in place," she said.
The city adopted the plan in 2008, and while the financial crisis slowed its implementation, Stouder said a few early decisions helped things along. In 2005, the city had agreed to make a tax increment financing district in the neighborhood to incentivize development. To date, $33 million of TIF funding has gone into the district, which the city says has leveraged $300 million of private investment.
Stouder also cited land banking — the public acquisition of land for future sale or development — as a key ingredient in implementing the plan. In 2011, the city acquired eight acres of land owned by a Don Miller car dealership, and issued a series of requests for proposals for high-profile, mixed-use projects. So far, the land-banked lots have yielded the Constellation, the Galaxie, Starliner Condominiums and Lofts, the Gebhardt Building, Frank Productions' new concert hall the Sylvee, and American Family Insurance's Spark building.
Stouder said the city could set the pace and tone of growth thanks to the land banking.
"We need to be able to land bank to say what happens next," she said.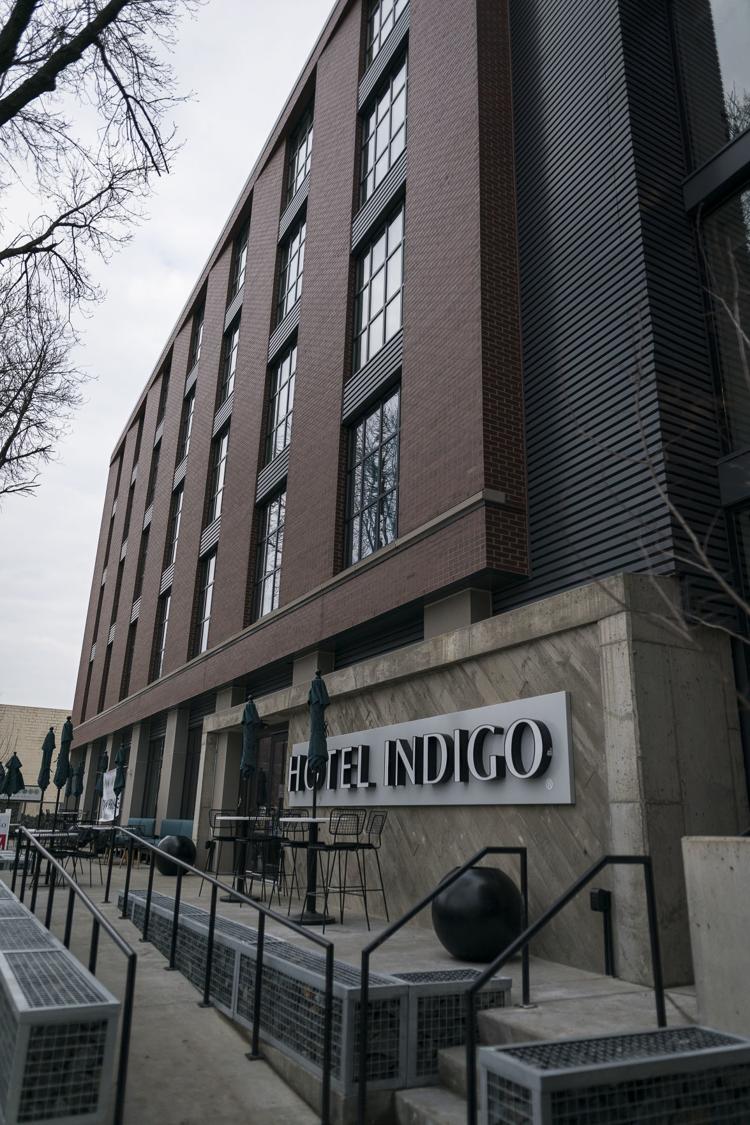 'Bright and shiny and new'
Other critical points of the Capitol East District's transformation have included a reimagining of Breese Stevens Field. The city has spent $6 million on facility upgrades since 2007, including an artificial returfing, and established a management partnership with Big Top Events. Thanks to the new management, the site now boasts a robust calendar of events, from farmers' markets to big-ticket concerts to Forward Madison FC soccer games.
The city also invested in new infrastructure, including upgraded crosswalks and a new 650-stall parking garage that Stouder said was "absolutely critical" for supporting the Sylvee and American Family Insurance buildings, in particular.
Beyond the former Don Miller lot, the area has seen a flurry of development including the construction of the Lyric Apartments on the 1000 block of East Washington Avenue, the renovation of a former Mautz Paint Co. warehouse into the Hotel Indigo, and the proliferation of residential complexes like Veritas Village.
And while the epicenter of change is around Breese Stevens Field, development has happened further down the avenue as well. The Factory District Apartments at the corner of East Washington Avenue and Few Street went up in 2016, with the Marling, a mixed-use building adjacent to the Yahara River, soon after.
Ald. Patrick Heck of District 2 said that the neighborhood is now teeming with buildings that are "bright and shiny and new" with older structures that "provide a link to the past." He said that while the area bridges the Tenney-Lapham and Marquette neighborhoods, it's also developing an identity of its own, and is increasingly "self-sufficient."
"It is certainly more possible than it used to be to not leave this neighborhood very often," he said.
Bridget Maniaci, a former alder for District 2 who now lives in Washington, D.C., played a key role in the development of the Capitol East District. She pointed out that while the development has resulted in a cluster of upscale housing and prime commercial and office space, she also appreciates that the neighborhood is now home to the Beacon — a resource center and day shelter for Madison's homeless population — along with the Salvation Army's Dane County headquarters.
"There are many neighborhoods in Madison that are very homogenous. What I love about the Capitol East neighborhood is that it is truly diverse," she said.
Population boom
It's not just the district's skyline that's changing, but its people as well. While the city does not have up-to-date data on the current population or demography of the neighborhood, Stouder said there's little doubt the area has grown. According to the city, new projects have increased housing stock in the neighborhood by 60 percent since 2013.
Josh Massey moved into the Constellation last year because he liked the idea of a commute that entailed crossing the street: He's the founder and CEO of a tech startup called Carepool, which operates in the entrepreneurship center StartingBlock within the Spark.
"I wanted to be as efficient as possible. I didn't want to waste more time," he said, explaining why he moved so close to work.
Massey said he's loving life in the Constellation. He said he enjoys being able to access a coffee shop and a gym without having to leave the building — a big perk during winter, he noted. He also finds it meaningful that he's running his business on what used to be a used car lot: His uncle, he said, was also a car dealer.
"It felt like it was meant to be," Massey said. "This has always been a place of business and commerce."
Like Massey, Lisa Hoffman moved to the neighborhood from Madison's west side for an easy commute: The 52-year-old resident of the Galaxie is a business analyst who works at the American Family Insurance building.
"It feels lively and vibrant," she said of the neighborhood. "Everybody has dogs — that's one thing I've noticed."
Residents interviewed for this story said that many of the newcomers seem to be young professionals, typically without children.
"There are a fair number of relatively young tech workers, Epic workers and all the other related entities in town," Heck said.
Not all newcomers are young. Many of the residents of the Starliner Condominiums complex are "empty-nesters," Heck said. Prime, the Tenney-Lapham Neighborhood Association president, added that she's seen a handful of retirees moving in.
"I was really surprised. In some of the new condos, we have people who are treating those like vacation homes. They have second homes somewhere else, like Chicago," Prime said.
Asad said that with regard to race, the area seems to be diversifying.
"I've seen more African-American residents. It's weird to notice it. I'm not the only black guy in the neighborhood anymore," he said.
Tim Flores, a longtime Tenney-Lapham resident who now lives in the Galaxie, said the neighborhood also feels more affluent.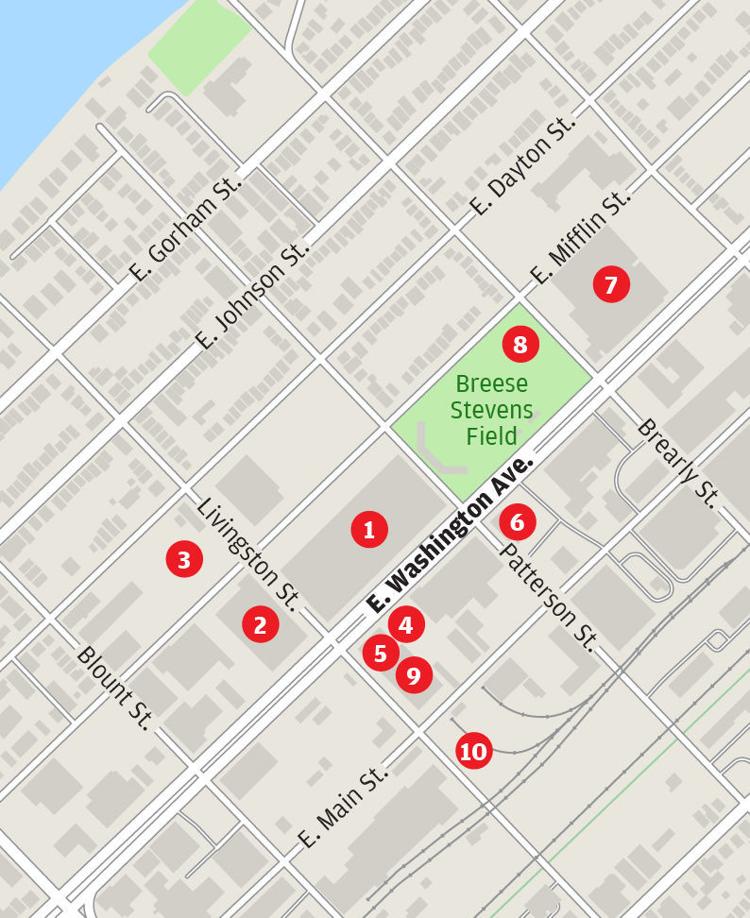 "I'm seeing a lot more Teslas, Mercedes and BMWs in the neighborhood than I used to," he said.
The redevelopment has also resulted in an influx of businesses. Companies like Google, American Family Insurance and Deloitte have established offices in the Don Miller high rises, as have service businesses like Omni Fight Club and Kismet Salon. Festival Foods has become a local fixture, according to Prime.
"Once the grocery store came into the picture, it was like a slap on the forehead — that's what was missing," she said.
Johnny Kavanaugh, owner of LJ's Sports Tavern and Grill on the ground floor of the Galaxie, said business is booming, especially with the increase of events at Breese Stevens.
"It's kind of the hot spot in town," he said.
Reske said that he decided to open Robinia Courtyards — a small restaurant complex at 829 E. Washington Ave. that includes Black Locust Cafe, MadisonTap, and Jardin — in anticipation that redevelopment would make the area a prime dining spot. He and co-owner Armando Magaña acknowledged that they initially felt "growing pains." Two enterprises in the space, the restaurant Julep and the wine bar Barolo, shut down in 2017. Reske said that their closure may have reflected that "there was not enough of a critical mass" yet in the neighborhood.
Now, however, with more buildings online and an uptick in activity around Breese Stevens, Robinia is doing well, the co-owners say.
"Breese Stevens shows are bonkers," Magaña said. "That Hall and Oates show — it was a Sunday, and it just exploded on us."
Even older businesses say redevelopment has been good for them. Steve Bozeman owns Steve's Auto Sales, a small used car lot at 648 E. Washington Ave. He knows he's now considered part of the old guard of the neighborhood, but that doesn't bug him.
"There's nothing old about the cars we're selling," he said. "Everything's got to evolve eventually. In the meantime, we keep making money hand over fist."
He said that the neighborhood feels quite a bit different, but that he's fine with the changes.
"The city should grow. It shouldn't go backward. It shouldn't be looking dilapidated. It's doing what it's supposed to be doing," he said.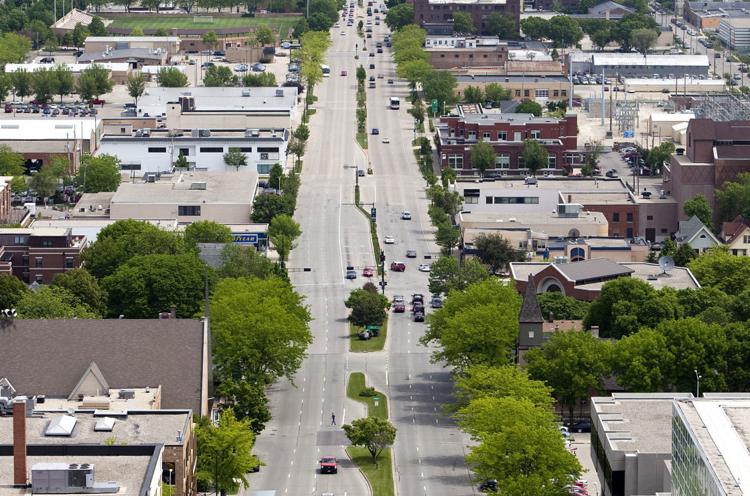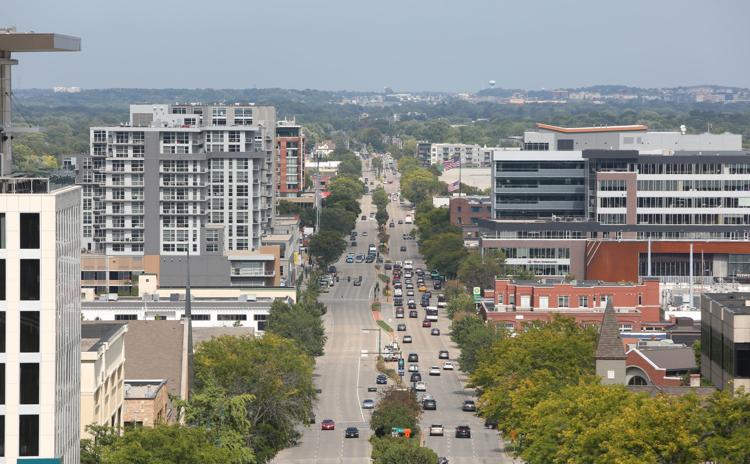 'This isn't the way it was'
Not everyone is a fan of the changes along the Capitol East Corridor.
McKayla Golomboski, a 26-year-old Alzheimer's care specialist, is a renter living in a house across from the construction site where the third phase of the Lyric complex is underway. She said she hates the new buildings, and not just because the banging of piledrivers makes art fall off her walls.
"It's very, just, industrial looking," she said. "(The overall neighborhood) is still very pretty, once you get past all the big buildings."
Other residents are more indifferent. David Zoppo, a 31-year-old attorney, owns a house along East Mifflin Street behind Breese Stevens Field. He said he doesn't spend much time around the cluster of new buildings, and isn't sure if they're for better or for worse. He said he did have some concerns that the new buildings weren't necessarily "integrating" with the old look of the neighborhood, and also expressed some minor gripes over the noise that comes from Breese Stevens Field.
"There are times you're sitting around on a Saturday afternoon, and you'd just like to listen to the birds instead of music on the PA," he said.
Prime said that there are plenty of folks in the Tenney-Lapham neighborhood who remain critical of the changes.
"There are plenty of people who feel disoriented. This isn't the way it was. It's noisy, it's busy. There's piledriving going on," she said.
Still, Prime said that most of the people she speaks to in Tenney-Lapham say they're supportive of the transformation.
Lynn Lee, president of the Marquette Neighborhood Association, said that the same is true for residents south of the corridor. He said it's been exciting to see more people strolling toward East Washington Avenue on weekend nights, and to see more young people attending the Marquette neighborhood's festivals.
"It's brought a lot of activity to a pretty dead area," he said. "It's really nice to see that whole corridor activated."
While most of the residents interviewed for this story said they were excited to see the new neighborhood cohere, all of them also expressed concerns. Some said they perceived an uptick in crime in the area, while others said they hoped future development would mitigate flood risk. Others have concerns about parking, traffic and bikeability.
Far and away the biggest concern is affordable housing, and socioeconomic diversity.
"I'd like to see this grow into a neighborhood that's affordable for everyone," Flores said. "It'd be nice if there was an apartment building that was very tall, very dense, that wasn't so fancy, and with lower rents."
Maniaci said that while she's been impressed with the neighborhood's growth and its "hip" factor, she also said affordability and access need to be prioritized.
"It's not fair to only build really expensive, nice things," she said. "You should be equally building spaces that are accessible to folks that are making working-class incomes."
Stouder acknowledged that when the BUILD committee drafted the Capitol Gateway Corridor Plan, affordability and access were not given the attention they likely would have today.
"Something we could have done better was plan earlier for investment into affordable housing," said Stouder. "As we plan more corridors, we want to acknowledge and make affordable housing (a priority)."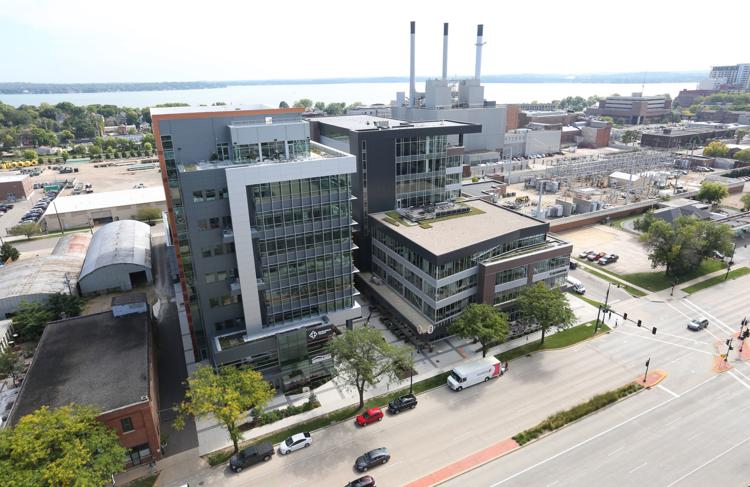 Looking forward
Stouder said that the city hopes to replicate the revitalization success in other parts of the city, although she said that no neighborhood is going to become "the next Cap East." The district, with its dramatic underutilization and proximity to the Capitol Square, was too unique in its geography to be a perfectly replicable model, she said.
"The two corridors are very, very different," she said. "I don't envision South Park Street becoming a line of 10- and 12-story businesses, for example."
Meanwhile, more change for Capitol East is imminent. Stone House Development is constructing the third phase of the Lyric, which will include a youth arts center on East Mifflin Street. Next to the Indigo, developer Curt Brink has proposed a 11-story office building. At the far end of the district, the city is slated to begin construction on its long-awaited public market.
Some proposals have stirred up opposition. A plan by the Salvation Army to construct a new headquarters with a larger shelter, increased medical and mental health services and new apartment units has been met with some backlash from Tenney-Lapham residents. At a recent neighborhood meeting in September on the proposal, residents said they were concerned over crime and safety due to "anti-social behavior" around the facility.
"That's a very controversial subject in the neighborhood," Heck said, regarding the Salvation Army proposal.
Stouder said that overall, the neighborhood's growth is "moving along at a pretty practical rate."
"We were very lucky as a city to have this as an opportunity," she said. "While there certainly have been some tensions and concerns, it's largely been something that's been welcomed and embraced."
Stouder said that on a personal level, she's been enjoying the new Cap East. She said that she enjoys going to frisbee games at Breese Stevens, and biking through the neighborhood with her 7-year-old son in the morning en route to Lapham Elementary School.
"It's something that's finally walkable," she said. "It's finally an engaging place to be."
Editor's note: An earlier version of this story misidentified the name of the gym located in the Galaxie building. It is Omni Fight Club.